The popiah in Padang Brown is perhaps one of the best popiahs in Penang. And it has been rather blogged to death. But I just couldn't resist doing a post on this. Mainly because the photos are amazing! (step by step photos on making the popiah!)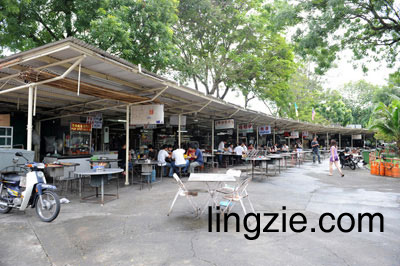 Lest you think that my photography skills have suddenly improved, I shall now admit that these photos are courtesy of Yap, a friend who was here in Penang recently for some good food. And I as usual became the designated food guide.
Another reason for the post is of course the fact that I do adore these popiahs, though I seem to overlook them sometimes. Must make it a habit to come to this place more often! And popiahs are really a much healthier teatime snack!
What's so special about these popiahs? Perhaps its the use of crab flesh. Or perhaps its their way of cooking the vegetable filling. Whatever it may be, I'm just thankful that the son of the original owner (Mr Ong Eng Hock) decided to continue with the business!
Onto the popiahs! First step – hoisin sweet sauce and chilli sauce on popiah skin, place a piece of lettuce on top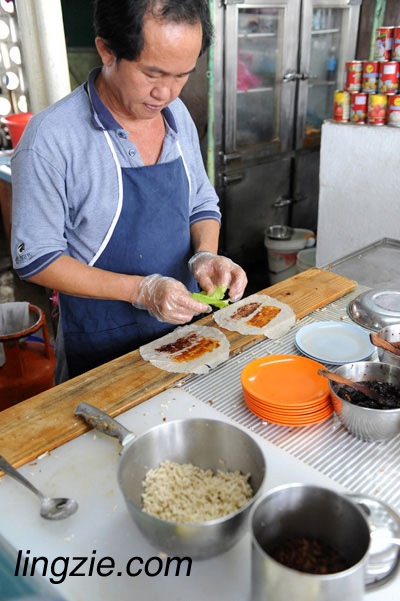 Second step – place veggie filling, crab meat, fried beancurd minced finely, fried egg, fried shallots..etc and wrap!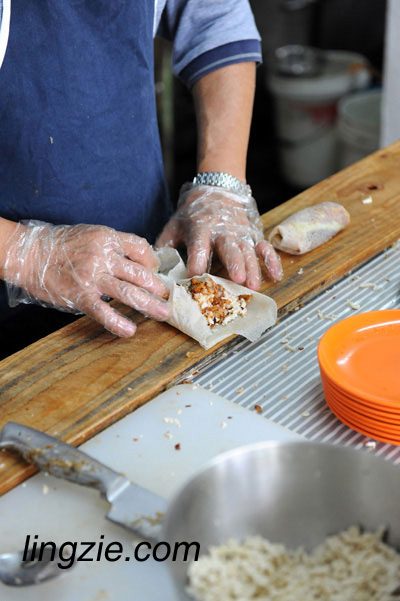 Next step – drench in soup from the vegetable filling. If you like your popiah dry, you can request for the uncle to skip this step.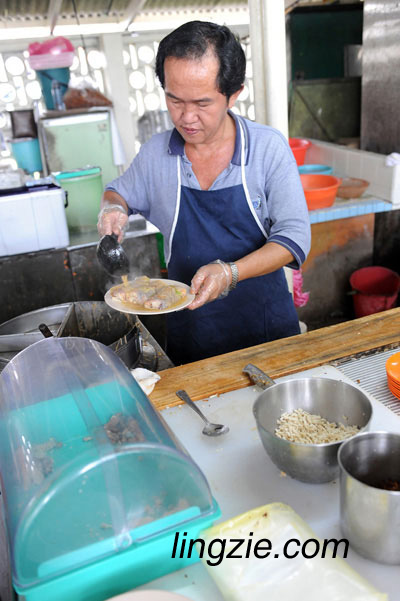 Finally…. crab meat popiah! *salivates*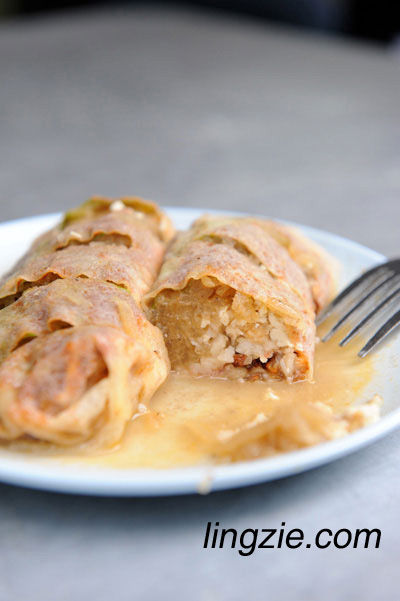 Padang Brown is located at the junction of Perak Road and Anson Road, opposite Convent Dato Kramat school. Besides popiah, this place is also popular for lok-lok, pasembur and sup kambing (available at night). Various other hawker stalls also available such as char koay teow and fried oysters. Opens in the afternoons til late evening about 6-7pm.
Other reviews: