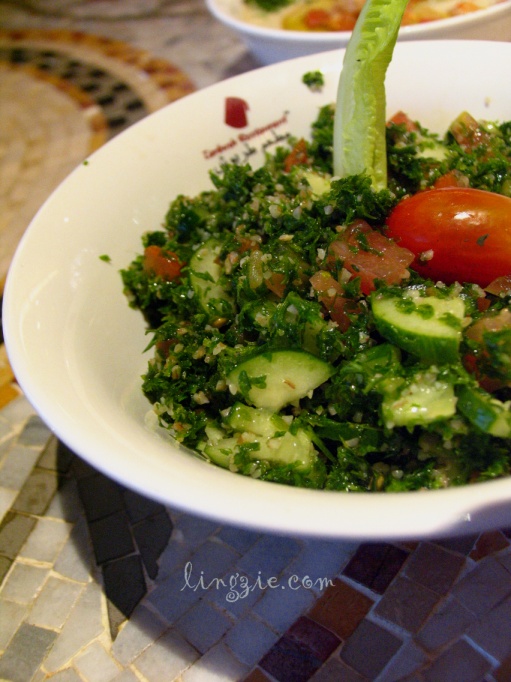 First up was a common Lebanese Mezze – the  Tabouleh salad(RM12) which is made up of chopped parsley, tomatoes and cucumbers with a drizzle of lemon juice and olive oil. The salad was refreshing although I found it a tad too sour for my liking. Also, people who are new to Lebanese cuisine may not like the large amount of parsley in this salad.
We tried another salad – The Tarbush Salad (RM13). This salad sat very well with everyone as it had a creamier dressing. This signature salad is made up of cucumbers, tomatoes and white radish and topped off with toasted Lebanese bread. The white radish gave the salad a refreshingly sweet taste and much welcomed texture. Meanwhile, the crunchy bits of Lebanese bread definitely sealed the deal in this salad!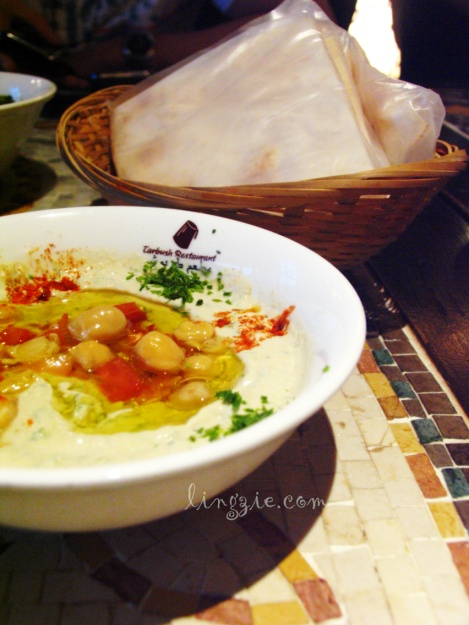 And to round of the appetizers, the Tarbush Hommus (RM12) was a must order for me. Somehow I just love the taste of this delicious chick pea and sesame paste dip  – creamy and healthy too! Wonderful when eaten with the accompanying Lebanese bread.  Other appetizers that caught my eye  for the next visit include the Mutabal (grilled eggplant dip) and Hommus Meat (hommus topped with sauteed lamb)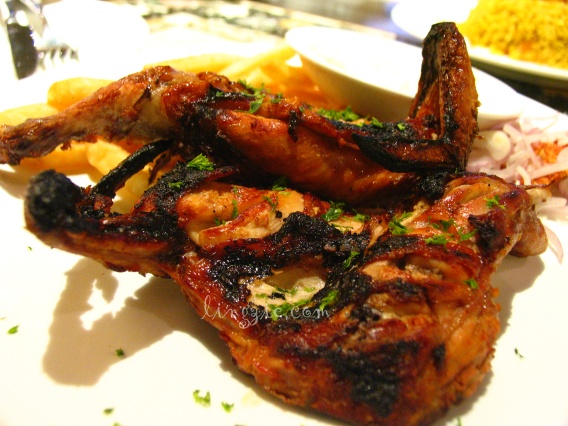 For the mains, we ordered the Grilled Spring Chicken (RM24) which is served with their excellent garlic sauce.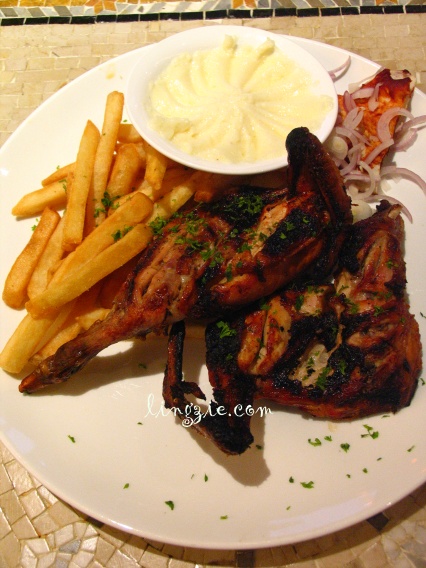 I did find the side of fried rather odd though, but they were nevertheless very delicious especially with the garlic dip. However, the spring chicken although well marinated tasted rather dry, perhaps left on the grill slightly too long?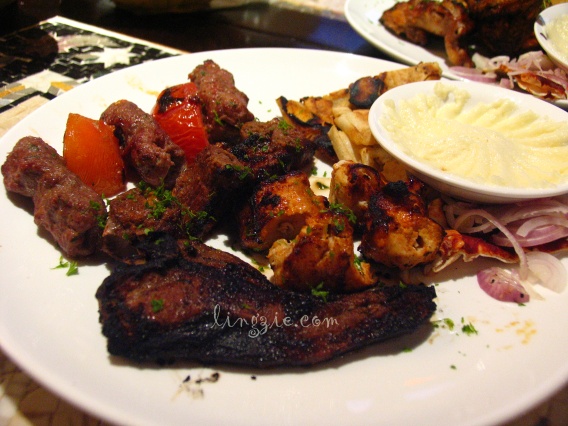 We also tried the Tarbush Mixed Grill (RM35) which is a combination of lamb chop, lamb cubes, Shish Tawook (skewered grilled chicken), Shish Kebab (skewered minced lamb) and Grilled Arayes. Again this platter came with garlic dip.
When I asked the waitress what Grilled Arayes was, she described it as kind of like a Lebanese pizza but with the filling on the inside. Upon arrival, I found that it was indeed Lebanese pita bread stuffed with the meat (lamb) filling. Most interesting! Out of all the different types of meats on this platter, I enjoyed the Shish Kebab and Arayes the most. The lamb Shish Kebab was tender and flavorful. The lamb chop tasted good too but lost some points for being over-grilled (notice how charred the meat is?)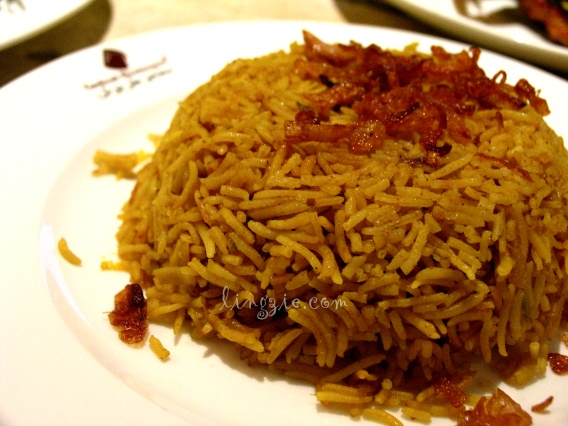 We being Chinese and our usual 'fan tong' (rice bucket) selves, just had to order a rice dish. So we had a plain Briyani rice (RM7). Tarbush offers a variety of grilled meats to go with the Briyani rice (such as lamb, chicken etc) But we chose the plain one for fear of having too much meat. The briyani rice was lovely! Long-grained rice steamed with lots of herbs and spices.
One thing to note is that lamb features quite a bit on their menu. But fret not for they do have some chicken dishes, grilled fish, grilled prawns and even fish and chips!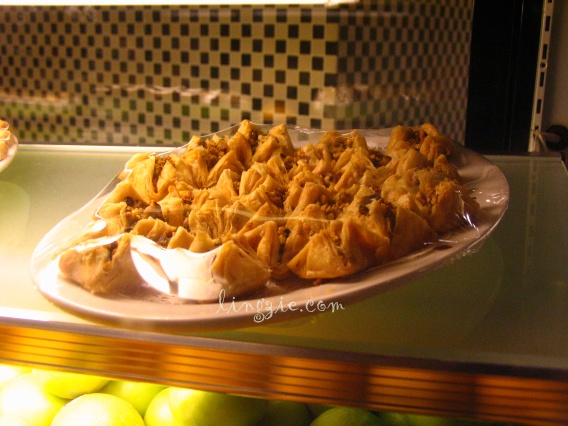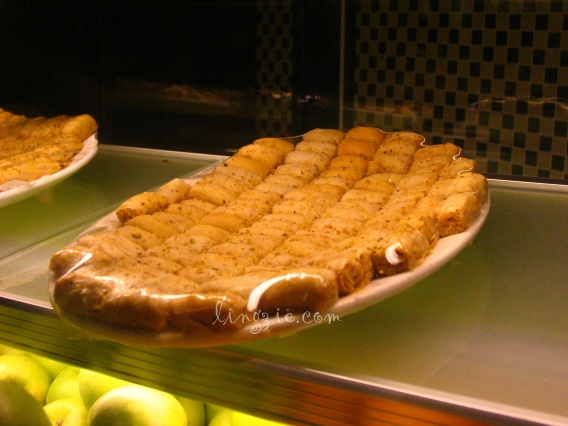 Tarbush's desserts which I didn't get to try since we were too stuffed from the mains & appetizers. The dessert above I believe is the Baklawa.
Overall, I am thrilled with Tarbush. I could probably just visit them again and eat a whole bowl of hommus by myself! lol
Tarbush in Penang is located next to The Ship at Batu Ferringhi. Address: Lot 4134 Section 1, Batu Ferringhi, Penang
Tel: +604-885 2558
For more gorgeous photos of Tarbush and more Lebanese food, hop on over to this great review.