If you frequently pass by Gottlied Road (where the famous Chinese Girls School – Peng Hwa is) you'd be familiar with New Bob Centre which houses a row of shoplots made up of various eateries and offices. Currently, it also houses a new Korean restaurant run by a sweet Korean husband and wife team – Sa Rang Chae (which has taken over the previous restaurant, Arirang)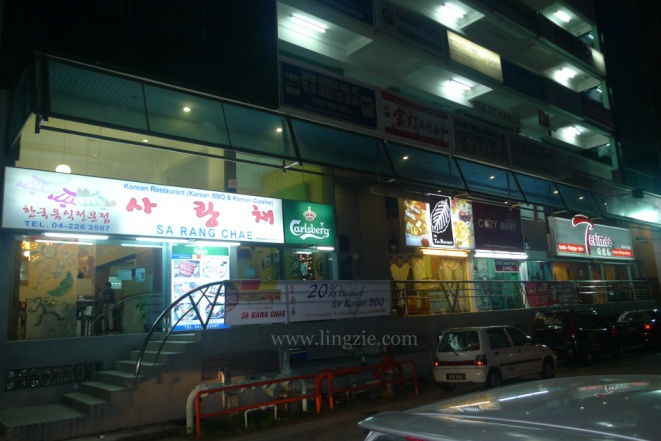 I'm a fan of Korean food, even though I haven't had the chance to visit Korea just yet. And I've always been curious to know what Korean cuisine has to offer besides the famous Korean BBQ and chicken ginseng soup.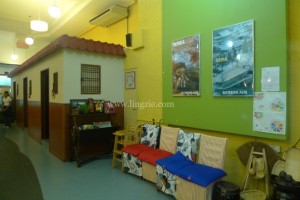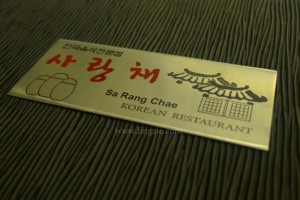 Therefore I was most pleased when informed that Mdm Lim would be letting us try some interesting home cooked Korean dishes, including some dishes she created on her own.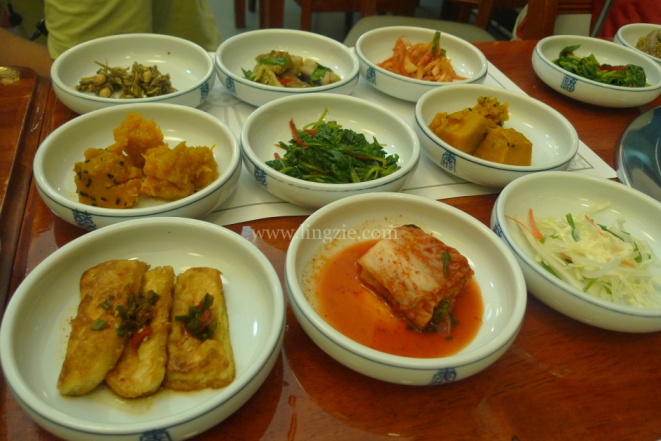 The usual array of Banchan's which come with Korean BBQ. I loved the sweet pumpkin and the tofu banchan the most!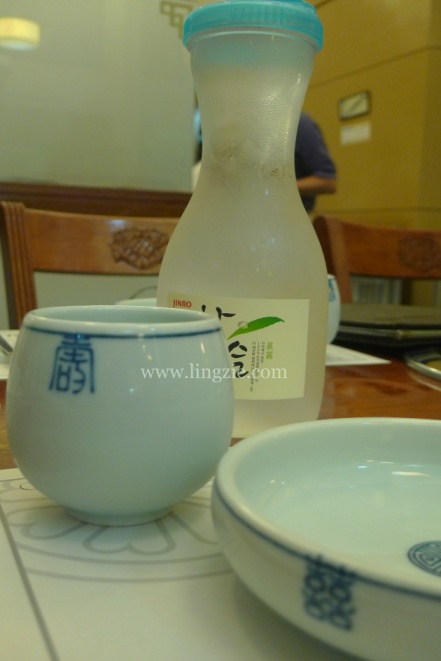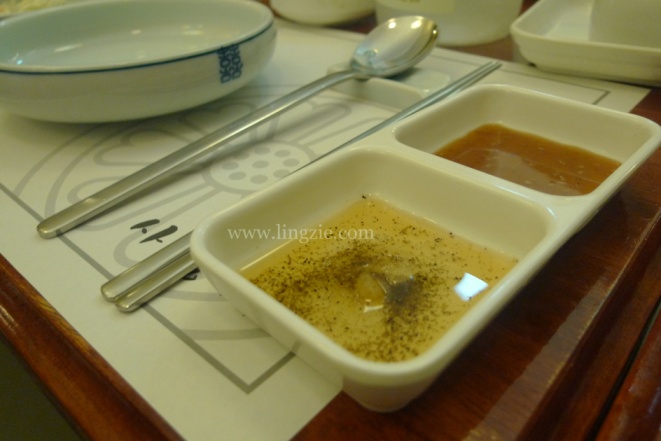 Very tasty dipping sauces. I especially love the sesame oil dipping sauce mixed with salt and black pepper.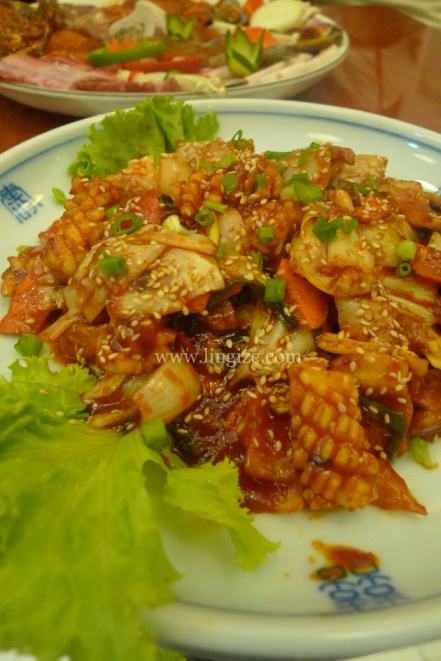 Let's start with the Ojingeo Samgyeopsal Bokkeum (wah lau!! such a mouthful and I really dont know how to pronounce that! But basically it's Stir Fried Squid and Pork Belly RM30) This is a spicy dish. But I found the spiciness not too overpowering for me. Plus the squids had a nice crunchy bite to it without being rubbery. Would be a really good eaten with a hot bowl of rice!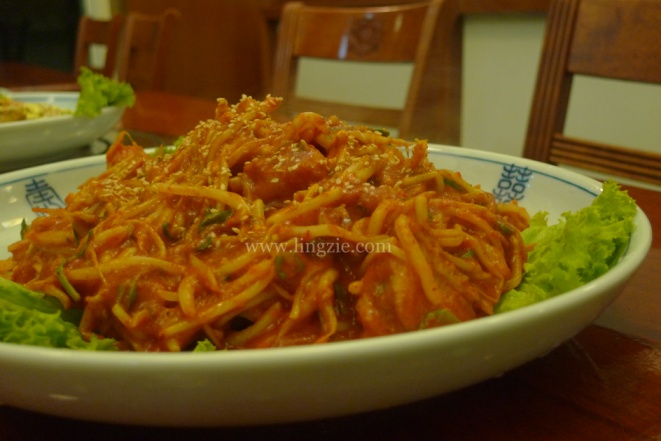 The next dish, Agwijjim(RM80) is a very unique dish – Spicy angler fish with bean sprouts. We were told that this angler fish is only found in Korea and Mdm Lim imports it from the fresh waters of Korea. While this dish may look similar to the squids above, it tastes very different! For this Agwijjim is really very spicy! The spiciness being the kind that shoots right up to your brain! (akin to wasabi I reckon) Therefore, this dish didn't really sit well with me. Nevertheless, it was an interesting dish. The fish has a slightly chewy springy texture which reminds me of mussels! Smaller sized portion avaible for RM60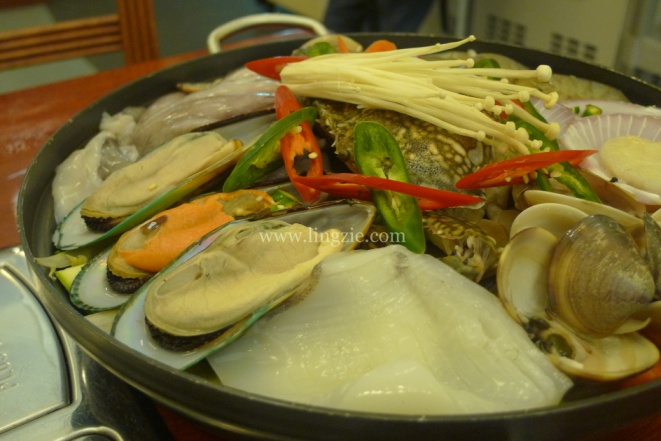 This dish came looking like every seafood lover's heaven. Crabs! Mussels! Squids! Scallops! Prawns! (major cholesterol alert!!) But the Haemultang – Spicy Hot Seafood Stew (RM80) would easily convince you to throw caution to the wind and dig in anyway.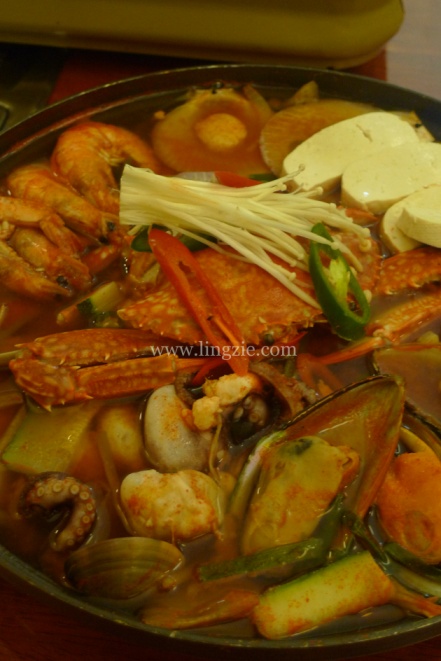 The Haemultang after the soup's been added in. The soup is light, clear and filled with delicious sweetness from all the seafood. Surprisingly it wasn't really spicy to my taste buds. Smaller portion available at RM60.