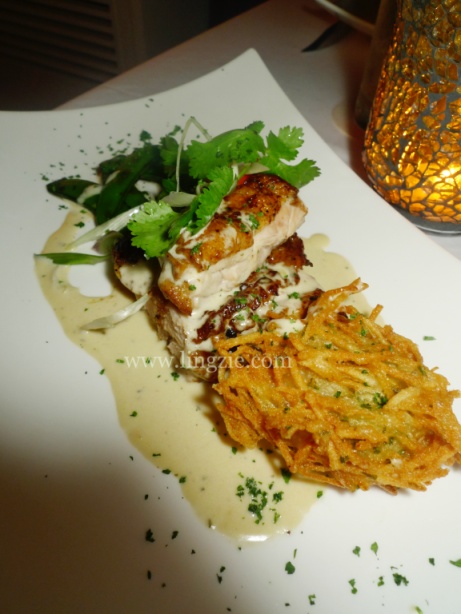 Suffolk House offers a choice of 5 main courses – cod fish, prawns, beef, lamb or chicken. We chose the Grilled Spiced Chicken with tarragon cream sauce (RM85). The grilled chicken was very tender with a mild creamy sauce that paired well with the fried potatoes and snow peas.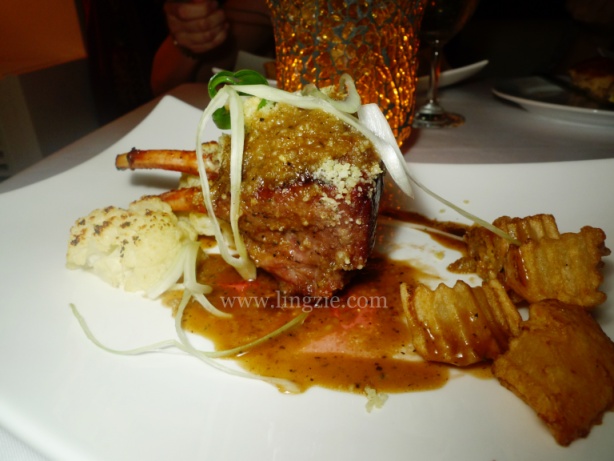 We also tried the oven baked macadamia thyme crusted rack of lamb (RM110) which won us over immediately with its tender succulent meat. I also very much enjoyed the macadamia and thyme combination which gave the this much texture and bite. Served with a side of potatoes and cauliflower au gratin.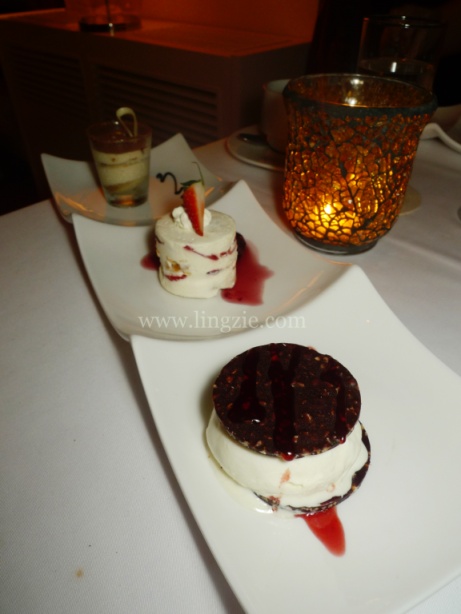 By this stage of the leisurely meal, we had forgotten what was in store for us for dessert (now really who could remember what was on that long list of items on the menu?!) And we were also feeling rather full. Yet, imagine my delight when we were served with not one but THREE desserts!
Oh Suffolk House people, you guys have just earned mucho brownie points from this girl here!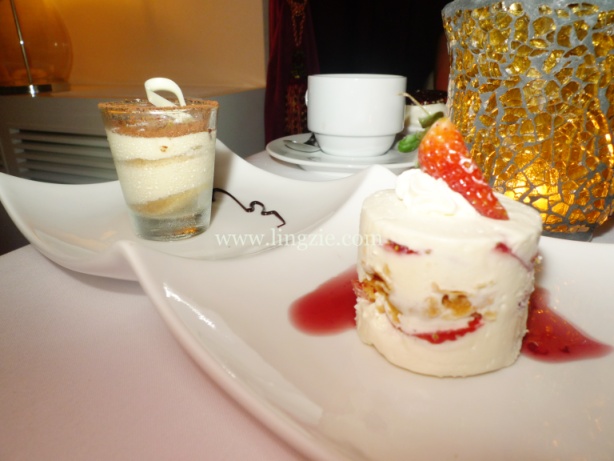 We had vanilla ice cream with chocolate biscuits, a Strawberry napolitana which tasted mousse-like and a tiramisu.
The Strawberry napolitana was definitely the most unique of the three. Hidden inside were layers of crunchy buttery pastry complimenting the soft creamy mousse with that lil bit of tartness from the strawberries. Meanwhile, their tiramisu got nods of approval from all of us. And how can you go wrong with ice cream? 🙂 Needless to say, the dessert trio went down very well with us.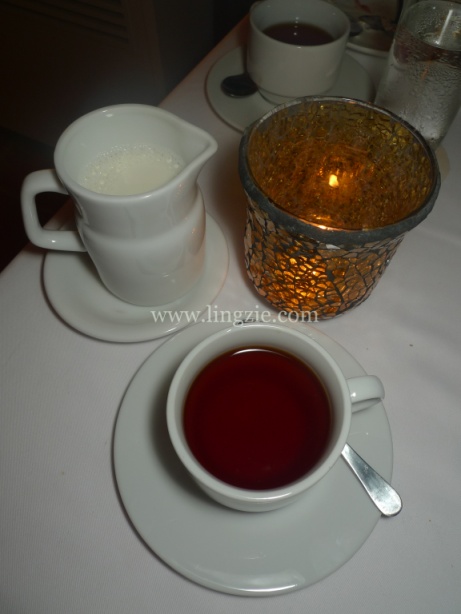 And finally, coffee or tea to end the meal. Complete with frothed milk!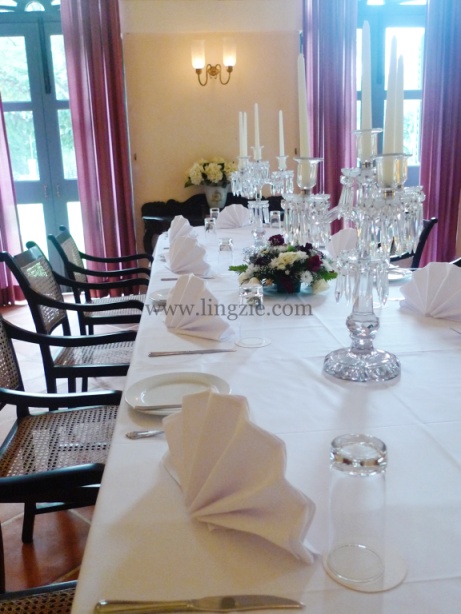 As we ended our meal stuffed to the brim, we commended the service staff for being attentive to our needs. As we were sitting on the couch with the beautiful drapes and next to a potted plant (i.e. major mosquito alert!), we asked if something could be done about the mosquitoes. Service staff promptly brought us a lit mosquito coil to place underneath our table.
Also, as we finished each course of the meal, the service staff would miraculously appear almost instantly to clear our plates and serve the next course. They were observant and attentive without being intrusive.
But I do have to mention that the air conditioning needs to be up-ed a notch since we are in Penang – very humid weather and all. And perhaps they could switch to odorless mosquito repellents? Otherwise, dining at Suffolk House has been a most pleasant experience for us with a unique dining concept.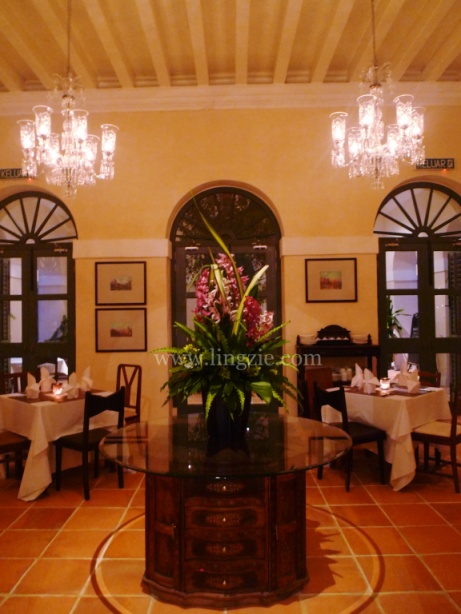 Essential Facts about Suffolk House Restaurant:
Suffolk House Restaurant,
250, Jalan Air Itam, 10460 Penang
Suffolk House Location Map (located next to Malaysian German Society, turn into the small road before Methodist Boys School with the Malaysian German Society signboard)
Restaurant Tel: 04-228 3930
Restaurant Opening Hours: Lunch 12noon-3pm, Afternoon Tea 2.30pm-6.00pm, Dinner 7pm-11pm
Dinner Price Guide: Currently serves set meals with FIVE main courses to choose from ranging from RM85-RM120. Price inclusive of all the amuse bouche, various appetizers, soups and salads plus dessert and coffee/tea.
Suffolk House, Garden & Gift Shop Admission: Mon-Sat 10am-6pm (last admission 5.30pm) RM10 (free for children under 6)
Suffolk House Guided Tours: RM15 (by appointment only) For more info, call 04-228 1109
More photos of Suffolk House Restaurant on the next page…