With Chinese New Year just a week away, Penang is a hustle and bustle. Roads are packed with people out and about running errands, preparing for the new year. While the heat wave that we're experiencing of late is causing trees to shed leaves, making Penang feel like autumn!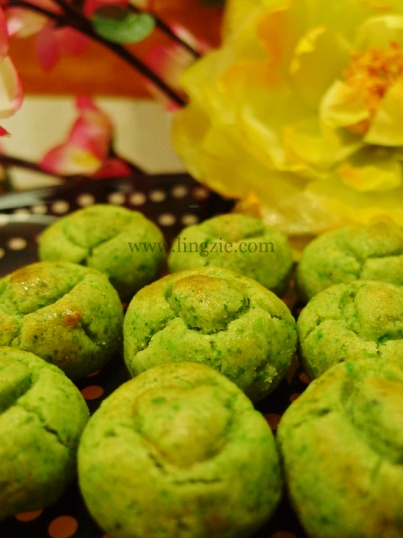 It's been so hot that I didn't feel like slaving away in front of the hot oven, but I had already bought all the ingredients and didn't want to see them go to waste. So I decided I had to catch up on my Chinese New Year baking! In addition to pineapple tarts, I had also wanted to bake green pea cookies which have gained popularity of late. I must admit though, that I've never actually eaten a green pea cookie. But I do know that they are similar to the traditional peanut cookies.
I was lucky enough get a hold of a bag of freshly ground green peas from a colleague who had a cousin working in a nuts and grains wholesaler. Anyway to cut the long story short, I didn't have to pound my own green peas, and I didn't have to buy the green pea cookie mixes from the store (don't really like those since everything's all mixed into one bag and I can't adjust the sugar content!) 🙂
Green Pea Cookie Recipe (adapted from a friend's recipe)
300g ground green pea
175g icing sugar
300g all purpose flour
1/2 tsp salt
200g corn oil/peanut oil
20g sesame oil (optional) – original recipe doesn't call for Sesame Oil, but I like it and decided to experiment by adding it in 😛
1 small egg (for egg wash)
Method:
1. Weigh ground green pea, flour, icing sugar and salt into a large bowl. Mix with a whisk/spoon/hands.
2. Add oil gradually and knead into a dough (all the dry ingredients come together). You may not need all of the oil, depending on the consistency of the dough. If the dough is still crumbly, add more oil as needed.
3. Roll the dough into small balls and place onto a baking tray.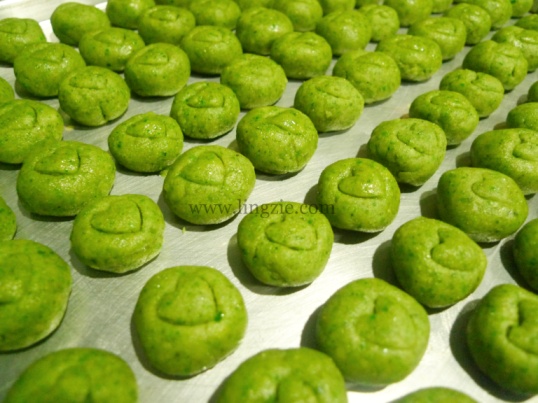 Green Pea cookies waiting to go into the oven
4. Use a round tip to make small round indentations onto the small cookie balls. Since this year's CNY falls on the same day as Valentine's Day, and I had a small heart shape tip lying around, I decided to make heart shape indentations! 🙂
5. Brush the top of cookies with egg wash.
6. Bake in an oven at 170 degree Celcius for about 10-20 minutes.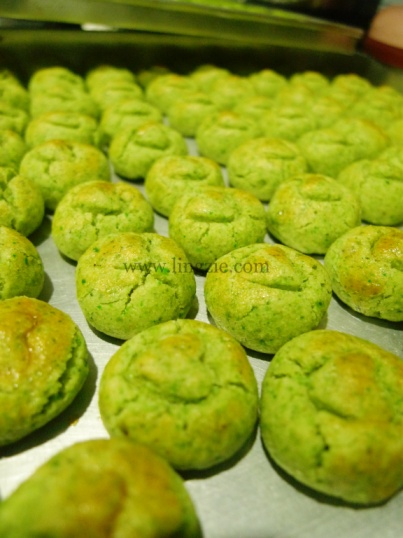 Note: Cookies are soft when they first come out of the oven, so let them cool without touching/moving them. These cookies are in general very easy to make and almost fool proof! The only 'hassle' would be rolling the dough into small balls, so get your family to grab some chairs, sit down, talk about your day, while you roll roll roll. 😛
I like the touch of sesame oil in these green pea cookies, but if sesame oil ain't your thing, feel free to omit.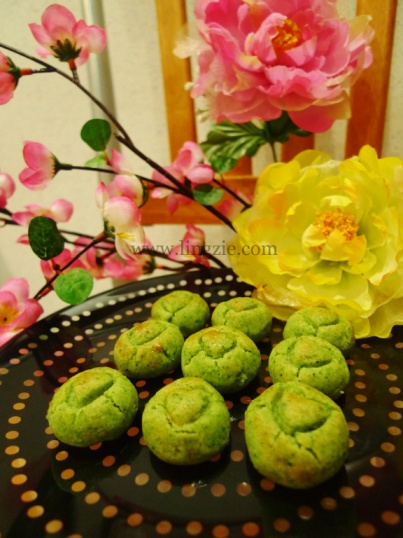 Green Pea Cookies… ready for Chinese New Year and Valentine's Day!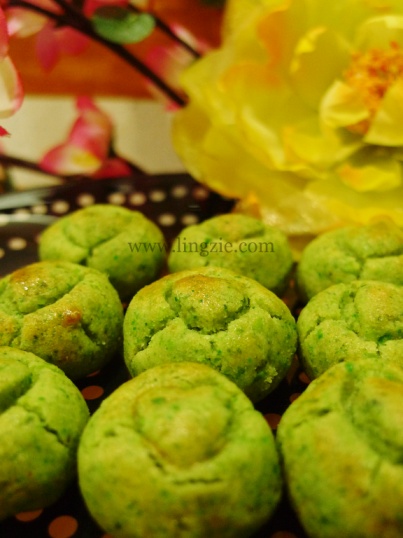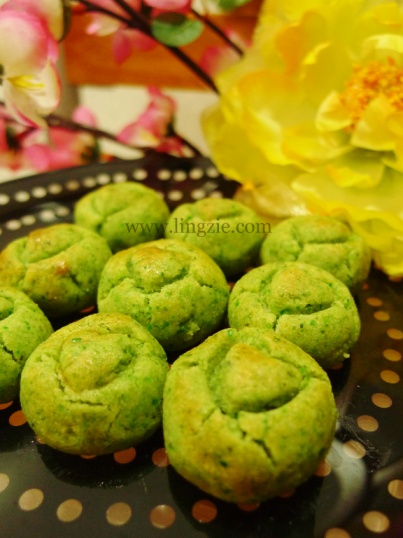 Easy green pea cookies! Make them for Chinese New Year today!
Oh, and if you need to find ground green peas, I did manage to spot them at a baking supplier shop at Siam Road – Hong Yap Trading. They sell them as a green pea cookie mix, but the good news is, the flour, sugar and ground green pea are all packed separately! So you can still adjust the amount of sugar to your liking 🙂
Happy Baking!