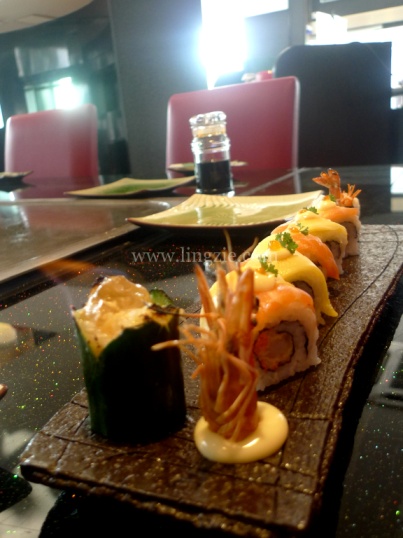 Kicking things off with a most impressive looking Fire Dragon Maki (RM13.80) which is made up of raw salmon, tempura prawns, salmon roe and shrimp roe. The resulting sushi had a lovely crunch to it thanks to the tempura prawns.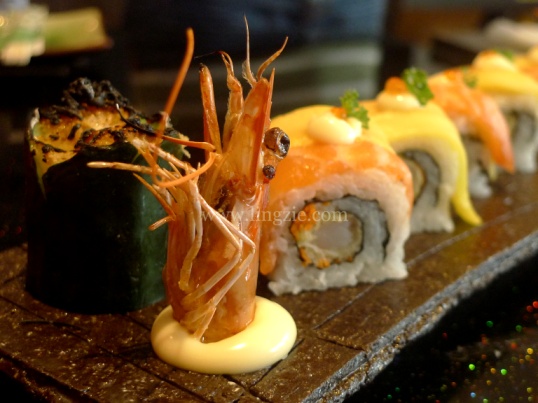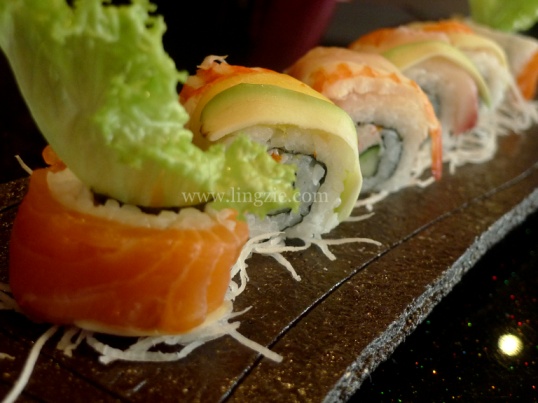 Next was the Rainbow Maki (RM12.80). A wonderful sweet medley of raw salmon, avocado, red snapper, prawn, crabmeat and mango.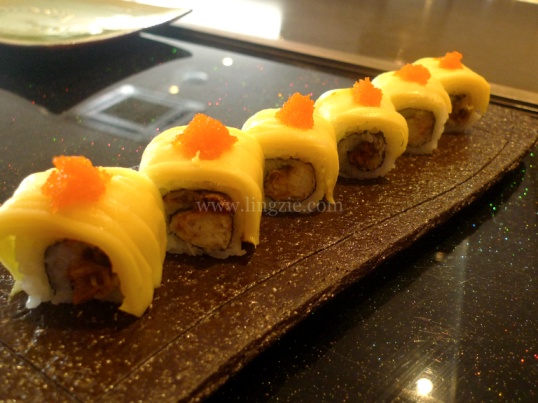 To round off the sushi offerings, we had a crowd favourite – the Mango Soft Shell Crab Maki (RM12.80) Definitely one of my favourite sushi rolls!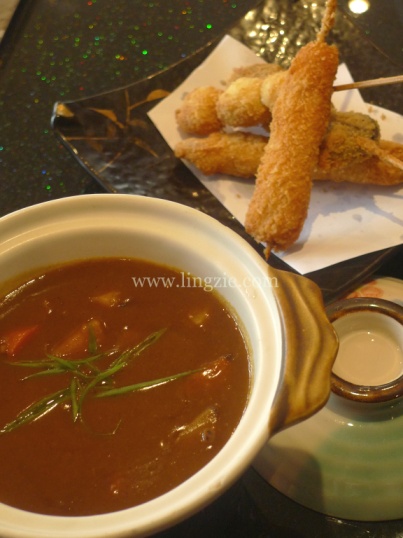 For a light snack, one could choose the Mixed Agemono with Japanese Curry (RM15.80). The mixed agemono is made up of fried breaded chicken, quail eggs, salmon and Shitake mushrooms. The best part of the dish is that the curry is served with a warmer thus ensuring that the curry remains hot. A pretty delectable snack.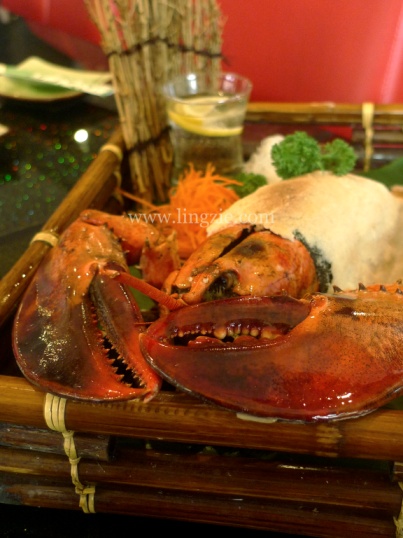 On to the mains, Sakae Teppanyaki boasts a few new set menus including this impressive Live Baked Lobster set (meant for two, RM129.80). The live Boston lobster is coated with sea salt and baked, letting patrons taste the lobster meat's natural sweetness.
The whole Live Baked Lobster set consists of quite a variety of seafood and meats. Just perfect if you want to try a lil bit of everything! Not to be overshadowed by the lobster, the set also boasts live seabass, chicken, squids, oyster sashimi and a side of vegetables to whet your appetite. All cooked Teppanyaki style right in front of your eyes! Served with two bowls of rice, appetizer and miso soup. While I had thoroughly enjoyed the lobster, I must also mention the seabass and squids which I thought were cooked to perfection!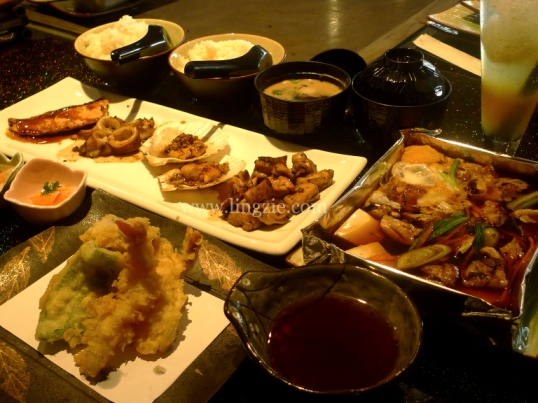 For something a lil less extravagant, but tasty no less, patrons can opt for the Sweet Romance set (RM49.80 a set meant for 2 persons). The Sweet Romance set is made up of Sukiyaki chicken, teriyaki salmon, assorted tempura, teppanyaki chicken, squid, half shell scallop and even a mocktail! Served with 2 bowls of rice, miso soup and appetizers. I must laude Sakae Teppanyaki for putting in so much variety in their sets! This is one of the main reasons my family and I keep going back to Sakae Teppanyaki.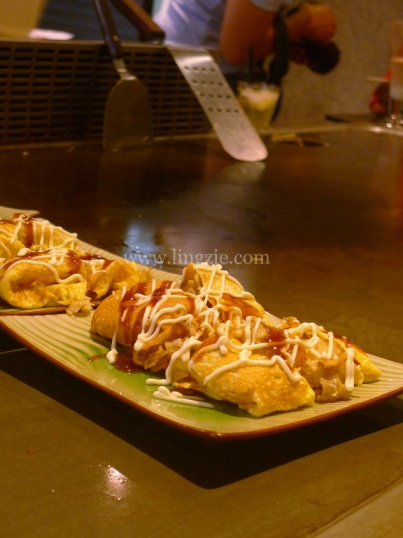 We also got a chance to try the Omo Soft Shell Crab (RM7.80 for 2 pcs). Don't see the soft shell crab in the photo? Well that's because the soft shell crab is encased inside the egg crepe! Topped with bonito flakes, sweet sauce and mayonnaise. While this was a tasty dish, I would have preferred mine with a lil less sweet sauce next time. 🙂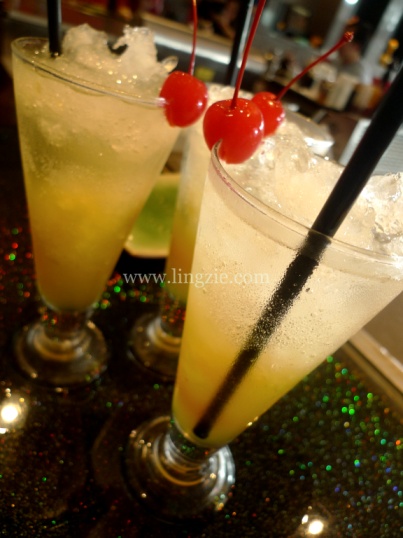 Some drinks we got to try from their visually enticing colorful drinks menu include the Bubbling Passion (RM8.80) – a bubbly passion fruit drink which I instantly took a liking to, being a huge passion fruit fan 😛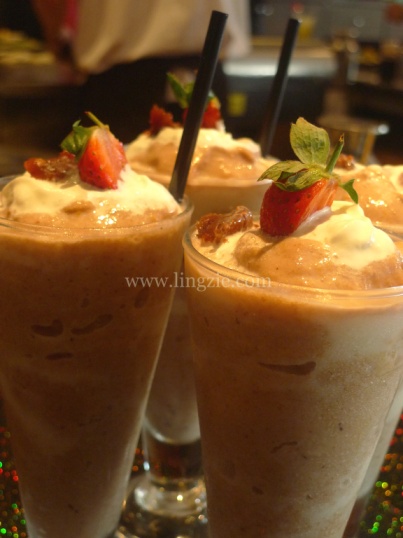 Another drink that rivaled for my attention was the Azuki Smoothie (RM11.80) which was blended with vanilla ice cream and shiratama. It was nice and thick while not being overly sweet! Splendid!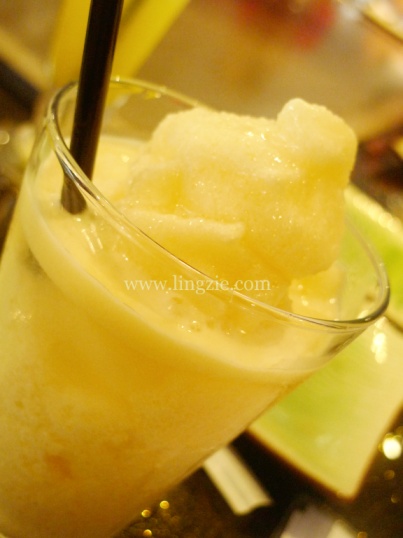 Finally we had the Kyoto Sunrise (RM9.80) which is a mango based drink. This reminds me of the Sunrise Ice Blended drink at Coffee Bean which is the only drink I take at Coffee Bean. So needless to say, I liked the Kyoto Sunrise too!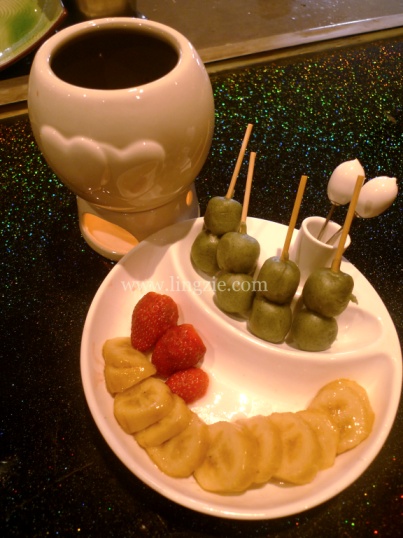 For dessert, couples would definitely take a liking to this Love Chocolate Fondue (RM19.80). Fresh fruits and green tea mochi served with a chocolate dip.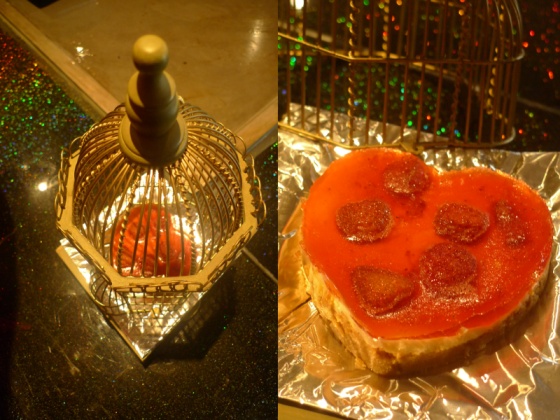 Another interesting dessert would be Sakae Teppanyaki's Love Cheesecake (RM9.80) – a homemade strawberry cheesecake. One thing for sure is that Sakae Teppanyaki definitely takes extra pains to be unique in their food presentations!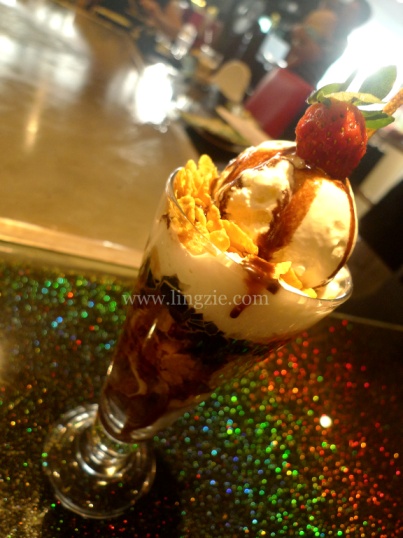 Chocolate Parfait (RM12.80) – a delightful dessert consisting of vanilla ice cream, peanuts, cornflakes and topped with chocolate sauce.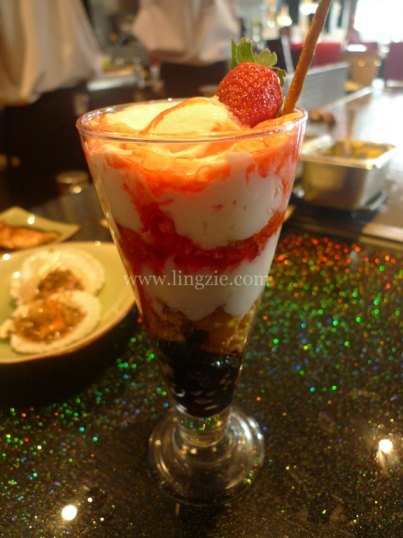 The Chocolate Parfait's cousin – Strawberry Parfait (RM12.80) I prefer the chocolate, simple because I'm a chocoholic! 😛
So the next time you're in the mood for something Japanese, try Sakae Teppanyaki & Izakaya, for a lil live Teppanyaki show from the friendly chefs and relax over drinks and dessert after that.
Many thanks to Yi Wen for organizing this interesting, fun and educational blogger event!
Sakae Teppanyaki & Sakae Izakaya
1815-B Jln Perusahaan, Auto City,
North South Highway, Juru Interchange,
Prai, Penang.
TEL: 04-508 0268
Opening hours: Mon-Thurs 11.30am-10.30pm, Fri-Sun 11.30-11.30pm