One fine Saturday, grandpa suddenly said 'let's go for Curry Fish Head'. We were intrigued. And so we made our way with directions from grandpa, to Tanjung Tokong where the Uda Flats are. And nestled in the small lanes and on the ground floor area of the flats is this Nasi Melayu stall..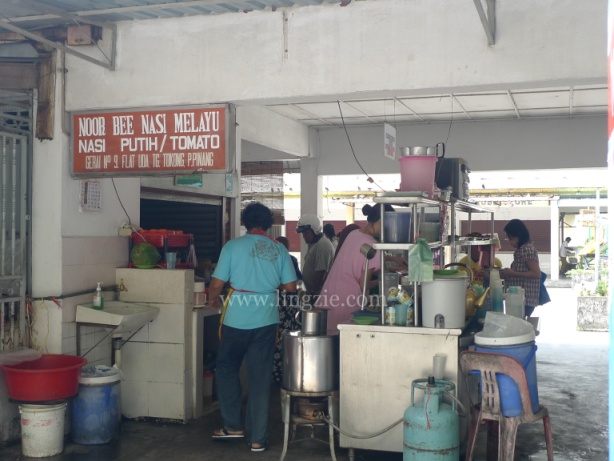 The place is nothing fancy – your standard economy rice style stall with plastic tables and chairs. But we didn't mind, since there was promise of good curry fish head!
Most of the dishes are lined up in a row, with plenty to choose from. Dad went overboard and ordered a whole bunch of dishes!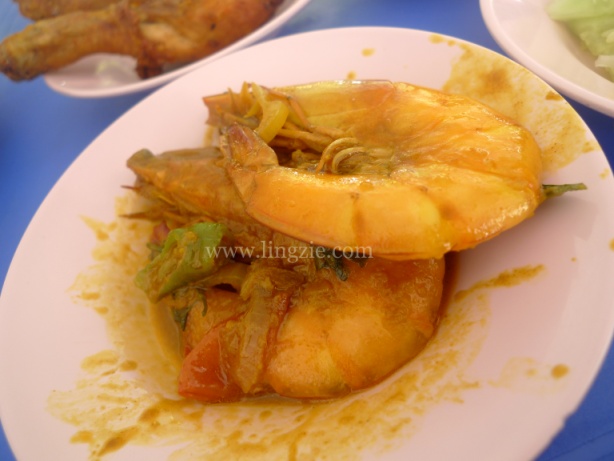 The curry prawns were huge, succulent and fresh! And not sure why dad only picked out the prawns without the curry! But we didn't mind for there was plenty of yummy curry to drench our plates of rice with from the Curry Fish Head (more on that later)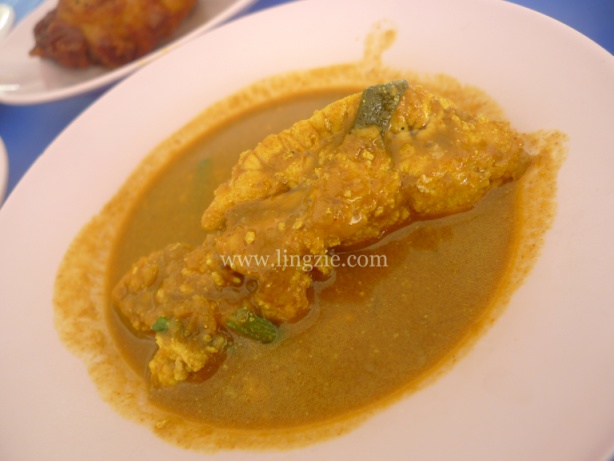 Dad loves this – 'perut ikan' (fish's stomach) but I don't really fancy it. But I reckon it must be good cos he polished it off on his own (with grandpa's help)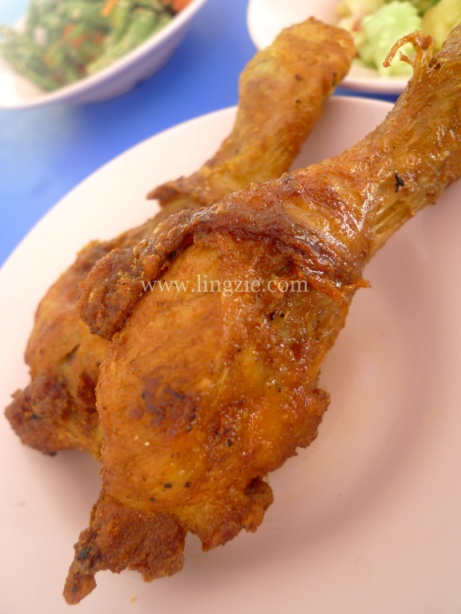 Then we had something that I really liked – the Fried Chicken! I was very thankful that the fried chicken, though no longer piping hot, was still juicy and sweet!  Not overly battered, but well marinated with hints of tumeric, I had to get another piece of this chicken for myself 😛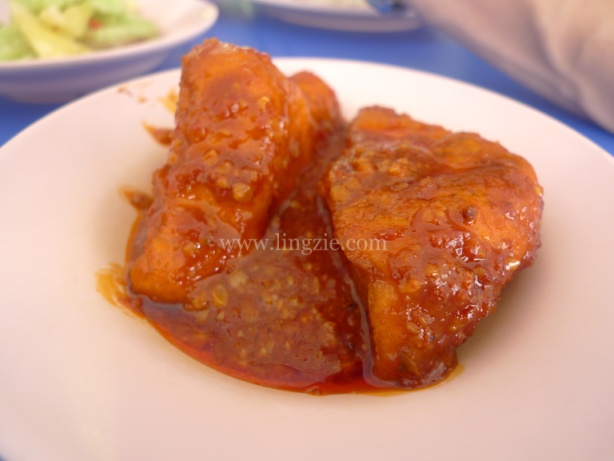 We also tried their 'tuakua' (beancurd) with a sweet 'sambal' and ground peanuts. This is usual Malay style of preparation which I enjoy immensely.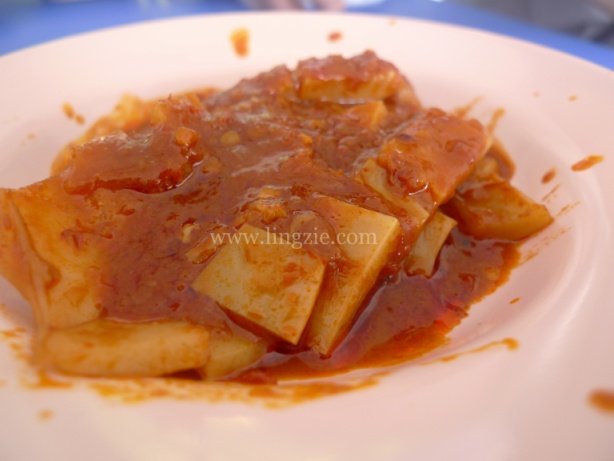 The cuttlefish was pretty fare too. Again this dish is more sweet than spicy, so don't be fooled by its fiery red colour!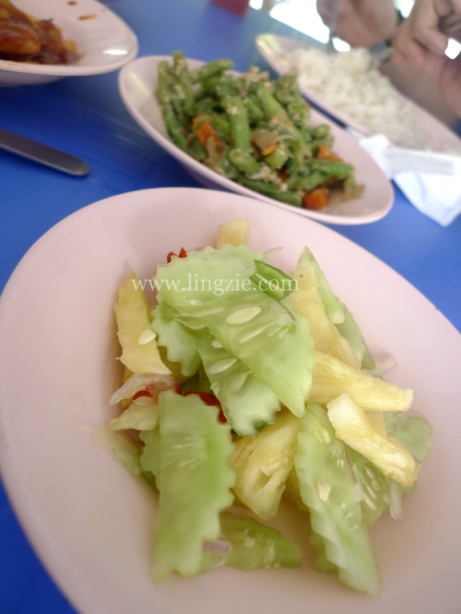 I also chose this Malay style 'salad' which is commonly found in almost all Malay economy rice stalls. It's a sweet and slightly sour 'salad' made up of chopped cucumbers, onions and pineapples with a bit of chilli thrown in for some heat. I simply love this vegetable dish as its very light and refreshing to balance up the heavier curries.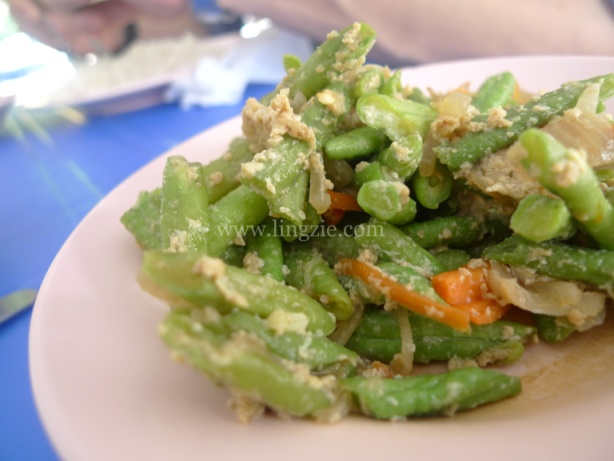 We also tried this simple stir fried long beans with eggs. A simple but satisfying dish.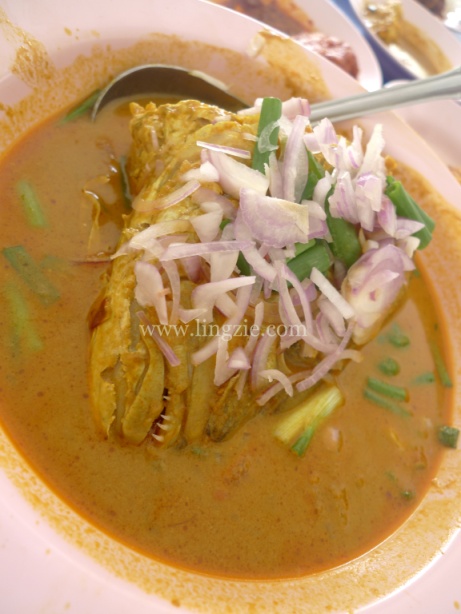 And now, for the main attraction – the Curry Fish Head! Its stated on the menu that the curry fish head is from RM12 onwards depending on the size. You have to order the curry fish head from the counter and the friendly Malay aunty will show you the fish head to see if its a suitable size.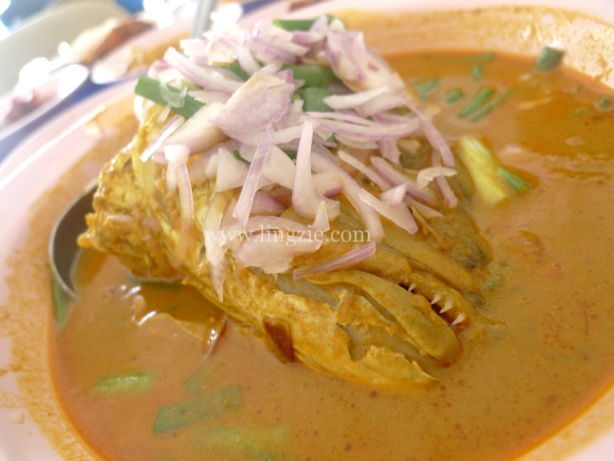 It's quite unusual for me to see Curry fish head served this way with a generous topping of freshly chopped onions. But the dish was delicious. The curry was hot and steamy and the fish head actually had quite a bit of flesh too. We all enjoyed this thoroughly, vowing to come back again soon!
The total bill for 4 of us including drinks came up to about RM40+. Not bad for an economical curry fish head meal!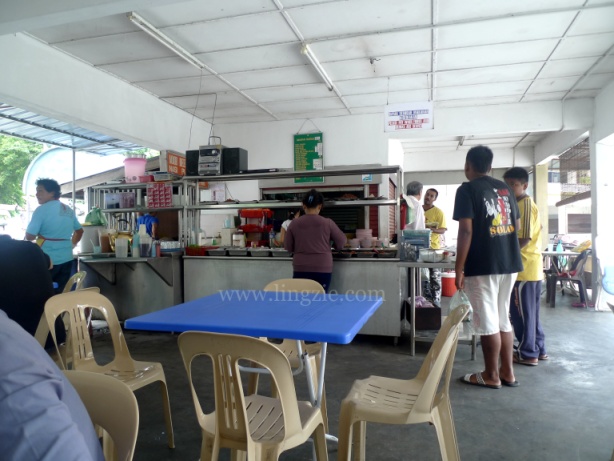 All in all, we enjoyed the food at Noor Bee Nasi Melayu. I did find that most of the dishes on the counter were cold, probably because they start cooking early in the morning. But the curry fish head's steaming curry made up for it. Not a bad place for a quick, economical and satisfying meal.
Noor Bee Nasi Melayu is located at Flat Uda, Tanjung Tokong. To get here, if you're travelling from town towards the Penang Chinese Swimming Club, before you reach the club, there's a small traffic light which allows you to turn right into the old Uda Flats. Turn right there, and immediately take another right. I'm told they start business as early as 8am. If you go on weekends make sure you go early (before 12noon) as they may run out of fish head curry by then.