Lingzie.com is back!!
I know, I know, I've been guilty of neglecting this poor lil space for a long long time. I didn't mean for it to happen but I've found myself so pressed for time of late, food hunting has taken a back seat. I still am rather busy with a new venture. But this being the new year and all, I thought it would be good to get things started back again over here on lingzie.com. Updates may not be as frequent as before, but I will still try to post something 🙂
So since this is a brand new year, I thought it would be appropriate to blog about a brand new Chinese Restaurant to grace Penang's food scene. Located at the newly re-furbished Penang Plaza (where Giant is), Hei Yeong Seng Chinese Restaurant has breathed much life to the place. There are hear says that the chefs at this new restaurant was previously from Tian Tian Chinese Restaurant, and we did spot some familiar faces amongst the service staff. Looking at the menu, it seemed reminiscent of Tian Tian as well as CRC. But nevertheless, the verdict lies with the taste of the food.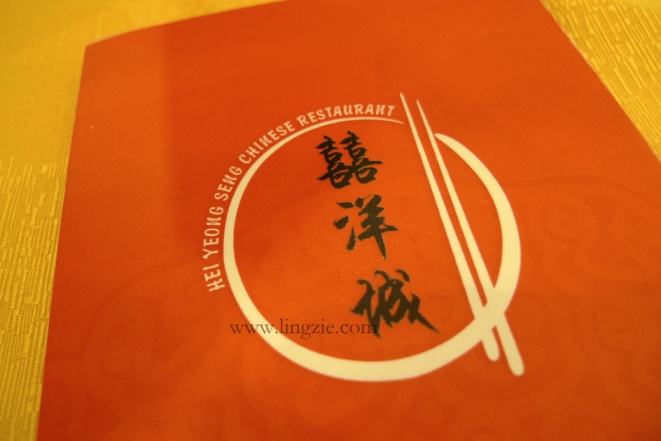 The restaurant occupies a large space. Decor is quite simple and looks like its geared for maximum space usage if the need arises (read: chinese weddings). In fact the stage even has the Double Happiness symbol ready. 😛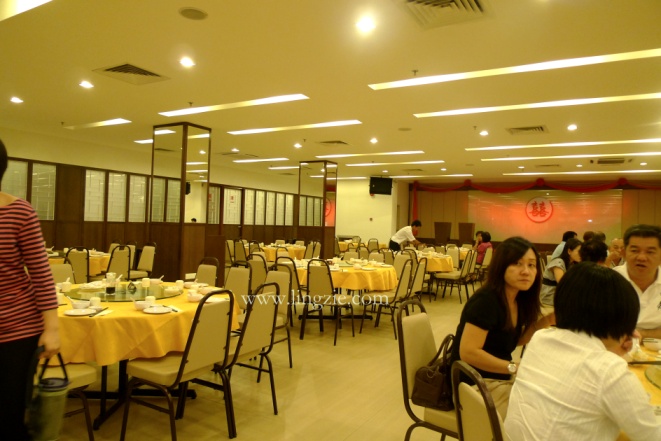 When we arrived on a Saturday evening, the place was quickly filling up. Surprisingly service was quite efficient and the dishes came after about 15minutes of waiting.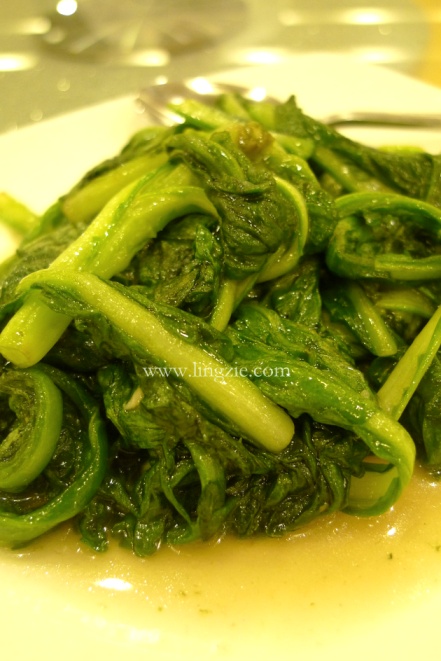 Leafy green vegetable RM12
We kicked things off with a leafy green vegetable. Not too oily and just right.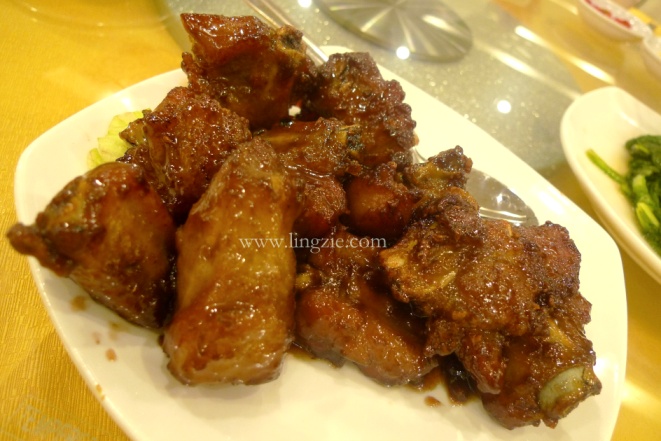 Grape Sauce Pork Ribs RM18
Next we tried the Grape Sauce Pork Ribs which was one of their signature dishes. The sauce was rather sweet perhaps due to the grapes, though we couldn't really taste the grapes. But the pork ribs were tender, thus making it a rather enjoyable dish.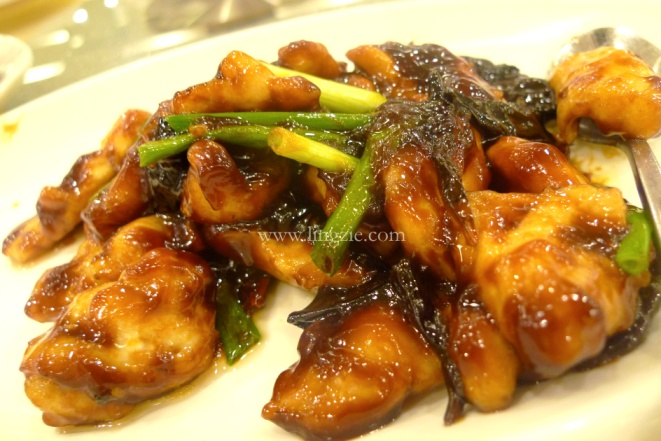 Kung Po Fish Fillet RM25
Next came the "Kung Po" Fish fillet (stir fried with dried chillies). While I liked the "kung po" sauce, I personally felt that it would taste better with chicken.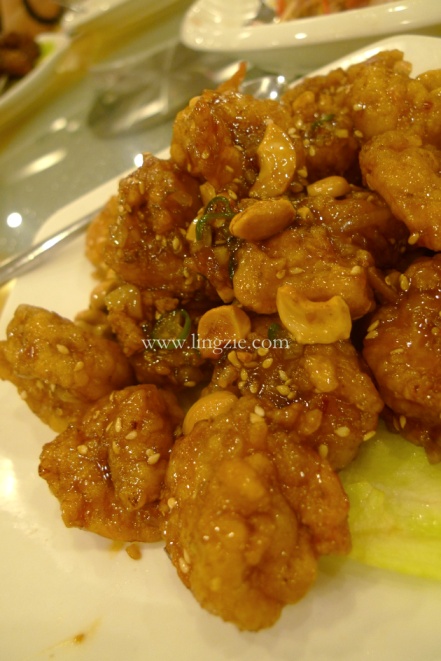 Prawns RM25
I can't remember the name of the prawn dish (as I didn't do the ordering) but it came stir fried with garlic and cashew nuts. A pretty interesting dish that went down quite well with us, though not earth shattering.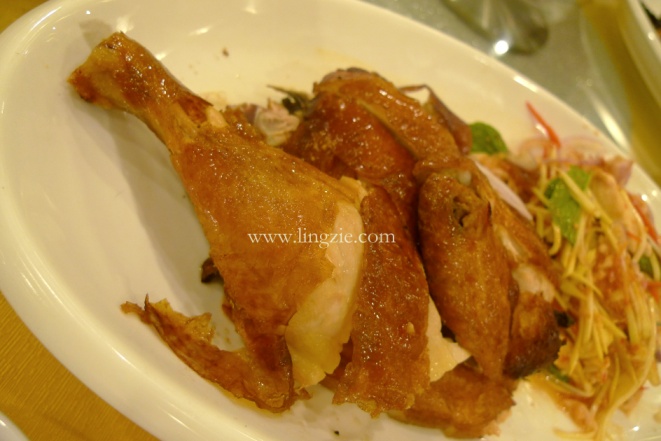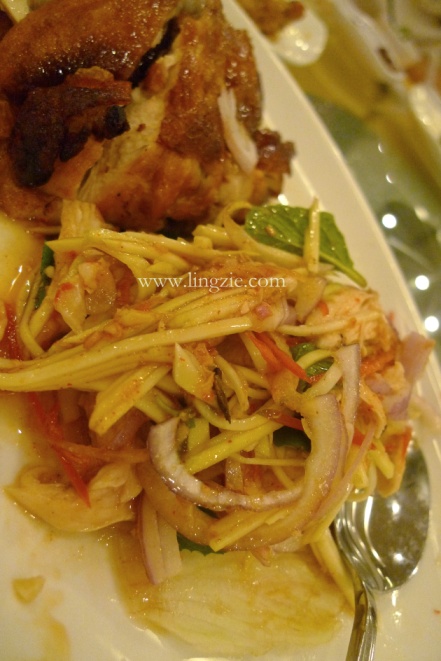 Double Taste Chicken RM16
Next, we had the Double Taste Chicken which consisted of a roast chicken and a Thai style Kerabu chicken. This was a good dish. The roasted chicken was tender and tasty, while the Thai style Kerabu was very flavourful with lots of shredded mango and onions. My favourite dish of the night!
Finally we had a dessert – Oo Kio Jelly. (there was some miscommunication with this order and led to me not being able to snap a photo of it). I found the dessert too sweet, though the portion was big. Not something I'd order again as it was too sweet.
The total bill for the 5 of us plus rice and tea came up to RM122.35 including 5% service charge.
Overall we found the food pretty good and reasonably priced. I spotted the Thai Style Claypot Sharkfin and also the Curry Prawns served with fried mantau on the menu as well. 😛 Based on this first visit, I would go back to try out the other dishes.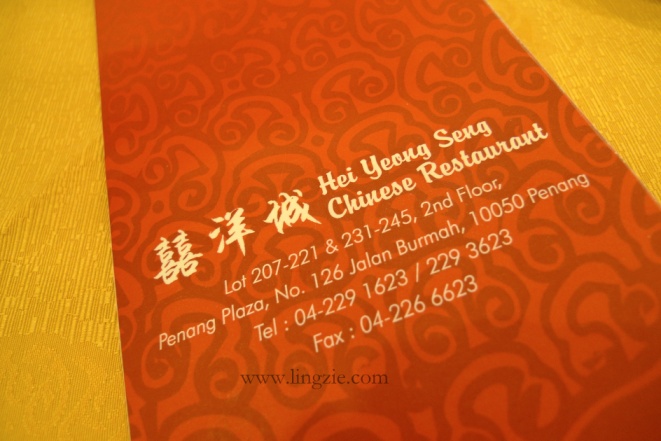 Hei Yeong Seng Chinese Restaurant
Lot 207-221 & Lot 231-245, 2nd Floor,
Penang Plaza
No.126 Jalan Burmah
10050 Penang.
Tel: 04-2291623 OR  04-2293623