One of the best Char Koay Teow available in Penang is Ah Leng Famous Char Koay Teow located in a kopitiam (coffee shop) along Jalan Dato Kramat, opposite the old Federal cinema (currently known as Honolulu cafe where Clark Hatch Fitness center is)
Ah Leng has been around for a long time at various locations, this being the latest one.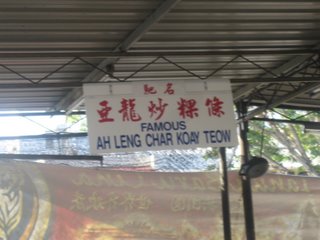 This Char Koay Teow is so famous that they can charge RM9 a plate and still have customers coming back for more! I once brought some friends from outstation who had 2 plates each at one go! It is value for money because the RM9 special comes with 4 big succulent prawns, mantis prawns and duck egg. (It's RM8.50 a plate if you swap the duck egg for normal chicken egg).
Having not eaten at Ah Leng's for about half a year, it was a joy digging into my plate of spicy special and savouring the sweet juicy prawns….(cholesterol? what cholesterol?!)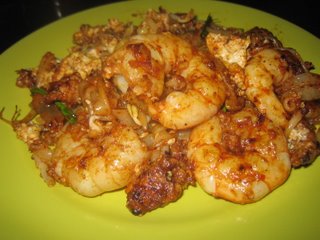 Ah Leng's Char Koay Teow with chilli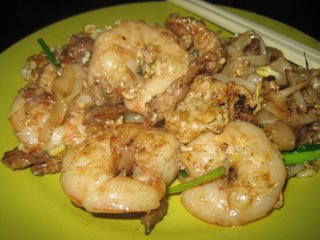 Without chilli
I've noticed that Ah Leng tends to undercook his prawns a little so if you prefer them more cooked, all you need to do is to remind Ah Leng when ordering.
The standard plate is also available at RM5 each. Ah Leng is open during the mornings as early as 8am til about lunch time. Open on Sundays as well.