When I was younger, I'd never tasted Pan Mee before. I only discovered this delicious off white homemade noodles made out of flour, when I studied in KL. I remember tasting my first bowl of pan mee at a road side stall along the streets of Wangsa Maju. And have been a fan ever since.
When I came back to Penang, I was most disappointed to find that there were no good Pan Mee stalls in Penang, until…. I discovered this little gem, 'Hou Mei Yuen' kopitiam, tucked away in the flats opposite Vistana Hotel, near Bukit Jambul Complex.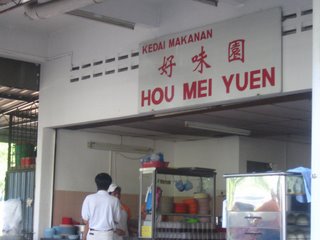 This kopitiam only sells Pan Mee, served dried or with soup. The 'mee' (noodle) comes in 2 varieties – thick and flat, or thin. I like my Pan Mee thin and will always order the dried version, which looks something like this….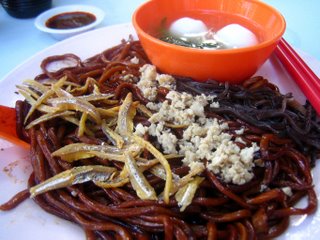 The dried version Pan Mee has mee mixed in yummy black sauce and comes with minced meat, crunchy 'ikan bilis' (anchovies), black strips of 'bok nee' (dried black tree fungus, ok it tastes better than it sounds!!) and a bowl of soup with fish balls. Best of all, the chilli dip that they serve is also two thumbs up! Its not too spicy and slighty tangy…makes for a great companion to that scrumptious plate/bowl of pan mee!
This being a kopitiam, and a very popular one at that, there are no frills. You write your orders on little stacks of papers and hand the paper with your table number written on it to the girls at the stall. You also have the option of adding extras like 'ikan bilis' and fish balls. They usually only serve "leng teh" (cool tea) either hot or cold.
'Hou Mei Yuen' is open Monday-Saturdays 8am-3pm. Happy eating!