I must admit that I'm not a big fan of Chee Cheong Fun (rice sheet rolls) unless, the Chee Cheong Fun is from the stall at Macalister Lane. I can't help it, I'm picky when it comes to my Chee Cheong Fun because, in my humble opinion, not everyone can make a yummy-licious plate of Chee Cheong Fun. It takes a certain skill. The 'fun' or rice sheet rolls need to be just the right thickness and not too soft or too dry. Plus, I must make sure that the person who makes my Chee Cheong Fun is willing to 'open' the rolls. What do I mean?
Well, first, for those not in the know, Penang Chee Cheong Fun is a world of difference from the KL Chee Cheong Fun. In KL, this dish is served with 'sides' like fish balls and stuffed ladies fingers much like Yong Tau Fu. But in Penang, all you get is the 'fun'. No meats or sides. Some may argue that this means the Chee Cheong Fun has hardly any nutritional value, except maybe carbs… but hey, its not like you eat it every day right?
The Penang Chee Cheong Fun comes with the rice sheet rolls usually mixed with dashes of sesame oil, 'he ko' (prawn paste), 'ti chiao' (sweet sauce) and chilli sauce, topped with sprinkles of sesame seeds. Some people claim that adding some peanut butter into the mix makes it taste better….but I have yet to confirm this. My favourite Chee Cheong Fun stall at Macalister Lane (the small road right after Hong Leong Bank on Macalister Road) makes a mean plate which looks something like this….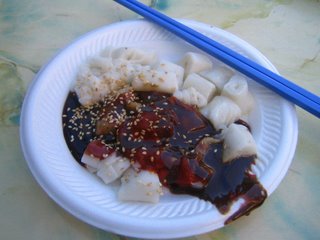 Best of all, the uncle 'opens' or unrolls slightly the rolled up noodle just before cutting them up. This way, its easier for most of the noodle to be coated with the sauce. And what you get is mouthfuls of yummy soft and smooth chee cheong fun, slightly salty and slighty sweet!