There is little kopitiam at Sg Tiram (along Jalan Sultan Azlan Shah, on the way to the airport, after the factories Osram, Bosch and Amphenol) which is famous for its seafood porridge.
This kopitiam is popular with the factory crowd as it is nearby and opens for breakfast. For breakfast, they serve simple items like nasi lemak and fried bee hoon. For some reason, the best seller is their 'roti bakar', which is really actually very normal and something you can easily prepare at home. But like I said, for some reason, their toast bread with butter and sugar just sells like hot cakes. In fact, its so sellable that they even have it at night, for dinner! No complaints there, cos I'm a sucker for toast bread with butter!! Yummy!!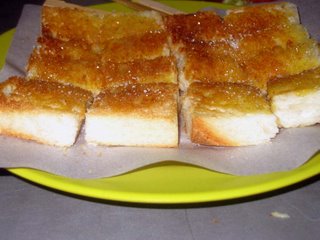 During dinner, patrons will go to the counter and pick the various types of seafood that they would like with their porridge, 'bee hoon', 'mee suah' (rice flour noodle) or yellow noodle soup. You can choose from a variety of fresh fish slices, fish balls, prawns, crabs, fish cakes, pork balls etc… When I was there recently, I picked fish slices with 'mee suah' soup. The soup was flavorful and the fish was fresh.
Other choices available include satay and salted chicken. Both items are not bad and tasty.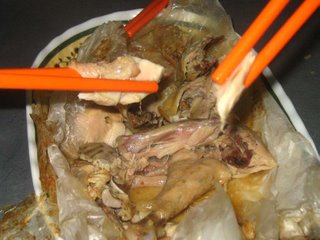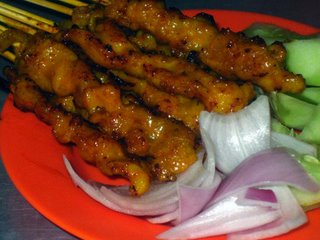 They enjoy very brisk business and you will need to go early during dinner in order to get a table without having to wait. Some people have commented that their food is not really that special, while some find the seafood porridge/noodles a bit expensive (depending on what you order, but average bowl is about RM6-8). But, business is booming for them!
After enjoying the food here several times, I recently noticed the name of the kopitiam!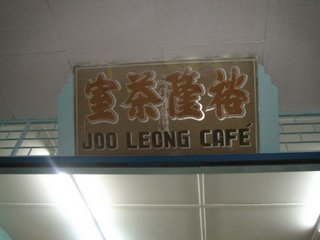 This signboard is not noticeable from the road, but you'll be able to recognize the kopitiam from the big "salted chicken" banner outside the shop. Happy eating!