I have to admit, that while I'm born and bred in Penang, I have the worst sense of direction ever when it comes to roads around Penang Road. All those small, narrow, some of them one way streets off Penang Road (eg Chulia Street, Carnarvon Street, Kimberly Street, Rope Walk…etc) are just a maze to me! And for the life of me, I can never get them quite right…!
So when I drove some of my friends to the famous Teik Seng foodstall along Carnarvon Street, I just drove like I knew where I was going (but was making wild guesses inside my head!) Worse come to worse, I'd have to call my grandpa and ask for directions loh!!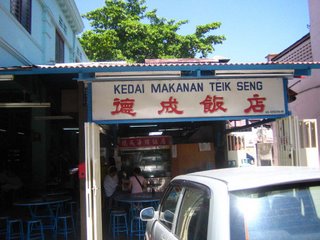 This place has been around for a long time (according to my grandpa) and its always packed. Penangites love their food and would brave the hot sun and the crowd, especially if its cheap and good!
This place is famous for its pork stir fry with soya sauce or "Char Siew Bak" and they can make it spicy (by adding chili padi) if you wished. This dish has been officially dubbed 'toxic' by my brother because of the amount of pork fat and oil it has….but I always say "eat first regret later" and trust me, this dish is worth throwing caution to the wind! *salivate*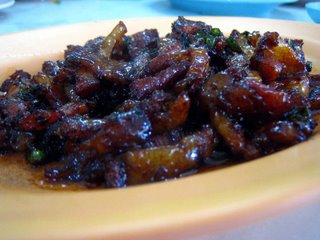 Next up is the equally delicious curry fish. Since I'm not a fan of fish head, we decided to have it cooked with 'ikan bawal' (white pomphret) instead. Another favourite is to cook it with stingray. The curry is just nice, not too spicy with a tinge of sourness. Comes with generous helpings of ladies fingers. I like this curry poured over my white rice!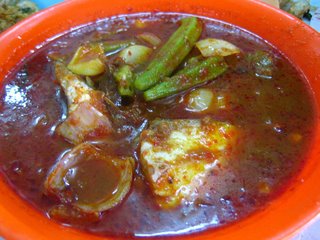 We also ordered butter prawns and stir fry veggie. The butter prawns were very tasty and the veggie was fresh and not too oily!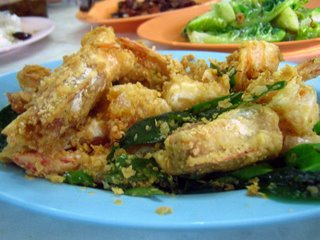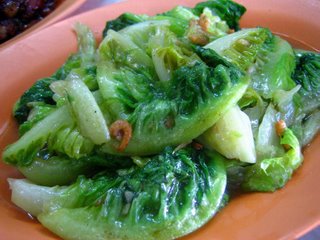 All in all it was definitely a tummy treat! Oh and just one other thing I noticed about this place… the owner of this coffee shop must like clocks. Because the whole shop is just full of clocks!! Different wall clocks of all shapes and sizes! Thank goodness, they don't chime…otherwise, can you imagine what it'd be like when the clock strikes 12?!
PS: Sorry, no photos of the wall clocks…got too distracted by all the good food!!