Over the weekend, a few friends and I decided to go on a day trip to Ipoh. Bright and early on Sunday morning, we left for Ipoh and arrived in time for breakfast. We were headed to the famous Foh San for some really good dim sum (only the lure of good food could get me out of bed so early on a Sunday morning!!) I was excited because I'd never eaten at Foh San and was desperately deprived of good dim sum in Penang. We arrived around 9.30am and it was unusually packed (due to the school holidays)!! It was chaos everywhere. People were standing by the tables, waiting for the existing patrons to finish so they could grab a table. But all the waiting was definitely worth it when I was presented with…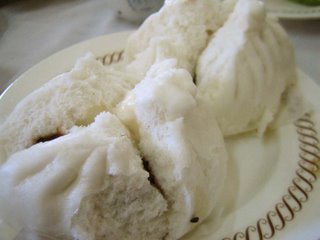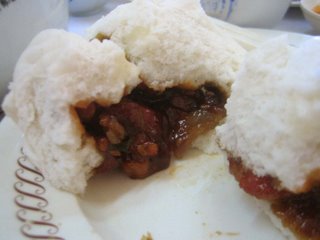 I am a big fan of paus especially char siew pau…and biting into the Foh San 'char siew pau' sent me into pau heaven!! The char siew was cooked with Chinese red wine giving it a very disctinctive flavor, unlike any other I've tasted in Penang.
I was also quite surprised to find that service was actually quite good, despite them being so overly busy. We still had out teas refilled with hot water and the waitress checking on us from time to time to see that everything was in order. Usually at chaotic dim sum places like this, everything is self service to the point of fighting with the next person to get food!
On the way back, my other gastronomically inclined friend and I began to contemplate wild thoughts of driving all the way to Ipoh the following Sunday for dim sum and back!
Trust me, we just might do it!