Oooh…finally Dragon-i makes its debut in Penang! I've only tried it once in Midvalley KL and absolutely fell in love with their "Xiu Long Bao". So I was absolutely dying to go to the new outlet in Penang and managed to pay them a visit on Wednesday.
First things first, Dragon-i is located on the 2nd floor Centre Court Queensbay Mall, opposite Swensens and Sakae Sushi. Thinking that I was clever enough to find the place on my own without asking for directions, I ended up walking for 15 mins before I found out where it was. (and that's cos I stopped to ask a security guard too!) So… I ended up at Dragon-i at 7.30pm and there was already a long queue. Typical Penangite behaviour to flock to a new place and wait like hell, when a few months down the road, the place would be 'pak bang' (swatting mosquitoes in hokkien) empty!
Now I understand why they need to have the see through open kitchen at the front of the restaurant…to keep waiting patrons entertained!!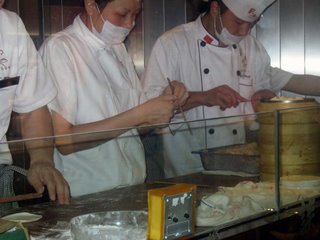 After a 20 minute wait, we were shown our table and we took our orders quickly.
Surprisingly we didn't have to wait long for our food. First up was the Hot & Sour La Mien (hand pulled noodle), which was a tad bit too starchy for me and not spicy enough. But it was still tasty and given a stamp of approval by my grandpa (not easy to get you know!)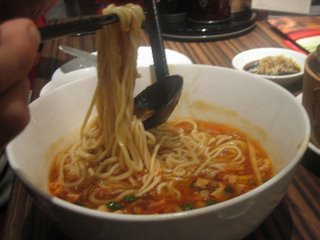 Then came the Cold Pig Shank with Seasoned Jellyfish. This I like! The jelly fish is very much like the Japanese Chuka Karage which is another one of my favourites. And the cold pig shank definitely tastes better than it sounds. It was lovely with the special soya sauce dip.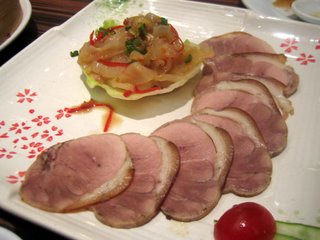 The famous "Xiu Long Bao" needs no introduction. They even have a write up placed on each table educating customers on how the perfect "Xiu Long Bao" is made and what it should taste like. Definitely a must try!!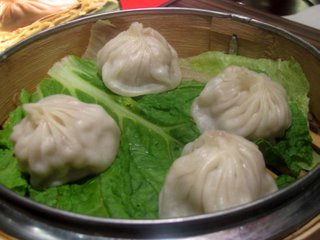 Another must try is the Sauteed Chicken with Dried Chilli. This dish, for some reason is much bigger in portion compared to the other dishes. But since I love it so much I don't mind. The chicken pieces are nice, crunchy and spicy!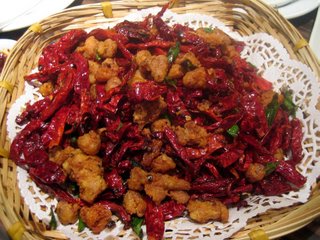 We also had the Fried Rice with shrimp which was tasty but nothing fancy.
Next came dessert, Mango and Pomelo Sago Cream. It was good, but not something I'm crazy about. I will definitely try the other desserts on my next visit as they have so many!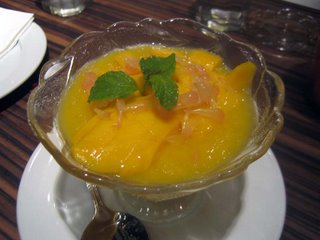 Service was fast, friendly and efficient…until we had to wait a whole half and hour for our last item – deep fried durian pancake! I'm not sure what went wrong but we just waited… and kept reminding the waitresses…and waited some more!! I was fuming mad by that time, cos we'd already paid the bill and was still waiting! Finally I noticed that there was a note written that we could sms a number for any feedbacks to the management! Wah…so I angrily punched in the sms, and just when I hit 'send'…the pancake arrived…..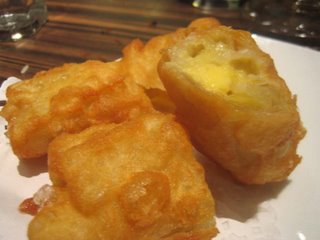 It was….rather tasteless to be honest. And definitely not worth the wait. And I'm not being bitter because I had to wait so long. But honestly, the batter was tasteless and the durian…tasted like 'watered down' durian.
But all in all, its still definitely worth a visit despite it being rather expensive for Penang (our total bill came up to about RM113 including 2 drinks) The decor is really lovely, Terracotta style. Plus, the menu is extensive and there are other things I am keen to try out in future.
And what happened to the complaint sms I sent? I actually got a reply apologizing and asking which outlet I went to. After which, they apologized once again and thanked me for my feedback. I do hope that this slight inefficiency is due to the fact that they are still new. Definitely worth a visit, but you might want to wait another month or two for the hype to die down and avoid the long queues!