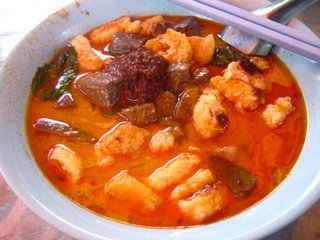 One of my favourite Curry Mee stalls in Penang is located along Weld Quay just outside the stall owner's house. If you are travelling with the jetty on your left, Tua Pui (hokkien for 'fat') Curry Mee stall is further down from the jetty, after the Shell station, on the opposite side of the road.
There you will spot a lone stall with a bright yellow signboard.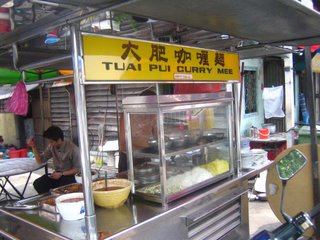 To me, a great bowl of curry mee is largely dependent upon its curry soup. The curry must be 'lemak' (creamy) enough and spicy enough, and most definitely the chilli paste that comes with it must be fragrant and spicy. What makes Tua Pui Curry Mee special is the variety of 'side dishes' you can add into your bowl of curry mee. The selection being offered here include curry chicken, curry squids, prawns, chicken feet, fish balls and gizzards (all cooked in curry). And when you order these extras, the curry from these sides will be added into your curry mee, thus making the soup thicker and tastier!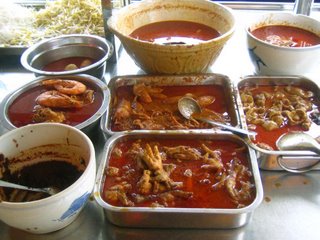 I usually drop by this place for lunch, despite it being skin burningly hot! If you prefer, you can also sit in a little corner inside Tua Pui's house so that its cooler.
And as my usual 'ritual' goes, after my bowl of piping hot curry mee, I'll make a stop at this little drinks van just next to Tua Pui Curry Mee.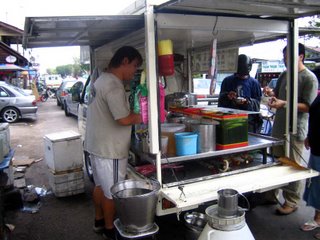 They have chendol and other drinks here, but I will always, always order the "O Kio". I have no idea what that name means…but the "O Kio" is actually "Ai Yu Ping" dessert. This dessert is more common in KL I think, because this place is the only place I know of in Penang that sells this dessert! What IS an "O Kio" and a "Ai Yu Ping"??
Its basically a jelly with a slight orange hint, topped with some canned lychee, mixed with syrup and fresh lemon juice. This stall tops is up with ice shavings, delivering a refreshingly cool dessert!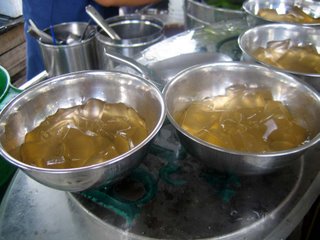 The "O Kio" or "Ai Yu Ping" Jelly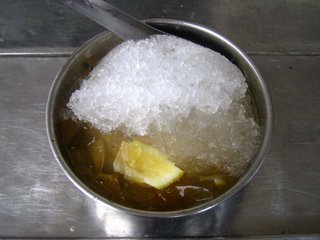 This drinks stall is located a few steps way from Tua Pui Curry Mee, at the corner of Weld Quay and Gat Lebuh Acheh underneath a big tree. Open for business most afternoons.
Meanwhile, Tua Pui Curry Mee is open from about 9am-4pm, closed on Thursdays (if i remember correctly!!)
And oh yes….opposite Tua Pui Curry Mee is this heavenly 'goreng pisang' stall…but that's another story altogether…!