Had previously spied this place earlier on and finally….its open!!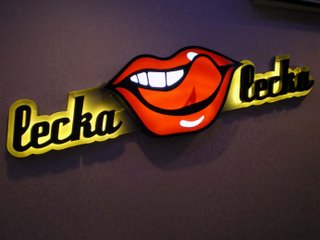 Upon visiting the newly opened Lecka Lecka on Sunday night we were greeted by the ice cream bar…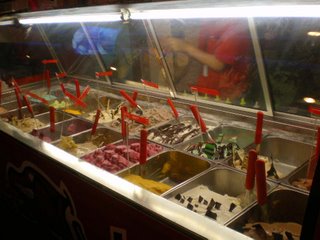 I have tried Lecka Lecka in KL but it was a long time ago and I couldn't remember what the flavours taste like…so my family and I had a pretty interesting time trying out almost all the flavours. I do remember the outlets in KL having more flavors though. Finally, we settled for Bacio, Creme Brule and After 8.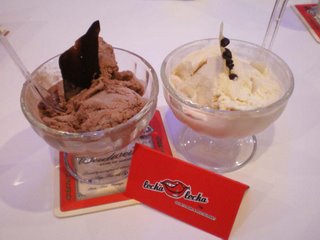 Bacio on the left and Creme Brule on the right
The waitress told us that there are a few types of basic bases for the gelatos – water mixed with milk, water with yoghurt and water with fruits. All milk based gelatos are 94% fat free while all fruit based gelatos are 99.9% fat free! Cool no?
Since we tried the milk based gelatos, I'd have to say that they don't taste as creamy as say Basking Robbins or Haegen Daez. So I think I'll try the fruit based ones next time as I do believe they will fare better. Also, we found the gelato too soft and was melting rather quickly. Coincidentally, we met the manager Darren, who told us that the texture of the gelato that day was really a bit too soft as the actual texture is supposed to taste sponge-y. But he assured us he had a new refrigerator from Italy coming in soon in time for their Grand Opening this coming Saturday.
With cool and comfortable decor, WIFI, healthy gelatos (they're about Rm5 per scoop) and a good selection of cocktails and alcoholic drinks available, I reckon this place will be the next hip hang out. This Lecka Lecka outlet also serves main meals (mostly Western food). Looking forward to trying their main meals as well the brownies which I heard are really good.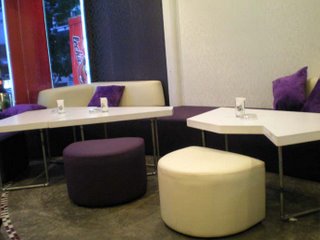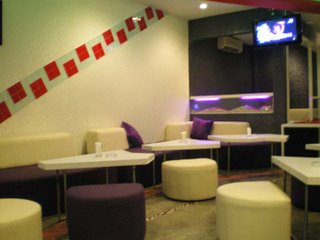 Lecka Lecka is located at Pulau Tikus at the row of shoplots next to the Burmah House Maybank. It is two doors away from Nippon Yataimura Japanese Restaurant, next to Teow Chew Meng restaurant.