Soy is G Hotel's newest restaurant, opening its' doors just this Monday. It's so new I didn't even know of it's existence and when I was told to go for lunch at G Hotel, I thought I was going to the Japanese Restaurant, Miraku!
Soy is actually one part of the restaurant. The other part is called Sesame, which will only be opened mid July.
This was a really impromptu visit during lunch on a weekday, and I didn't have a camera with me, so had to resort to using my camera phone because the food presentation was just too good to resist! Plus, I had to 'say grace' as a blogger mah! 😛
Soy serves Chinese fusion food with a simple two page menu consisting of about 10 starters, 12 mains, a few desserts (all with really lenthy names) and a drinks list.
I arrived a bit late, and so food was already ordered on my behalf. We had three starters – the Garlic Prawn Caesar Salad, Gado gado and Soft Shell Crab XO Sauce.
I loved the Garlic Prawn Caesar Salad! It was served with just the right amount of salad sauce with cripsy garlic crisps and prawns on a bed of fresh greens!
As for the Soft Shell Crab, it was fried with batter and I couldn't taste the XO! Not one of my favourites. I still prefer the soft shell crabs served at Japanese restaurants in a handroll.
Next up came the mains. We were very ambitious indeed, ordering one main each, even after having 3 starters!! I had the Crispy Pork Spaghetti Aglio Olio, which is actually 'siew bak' with aglio oglio pasta. A nice chinese twist to this popular Italian dish. I enjoyed the spaghetti but the crispy pork wasn't as tasty.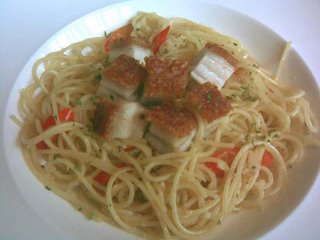 Other mains we had… The BBQ Coffee Cocoa Pork Ribs & Garlic Fried Rice was tasty though the Garlic Fried Rice needed more oomph! It wasn't 'garlicky' enough and tasted rather bland.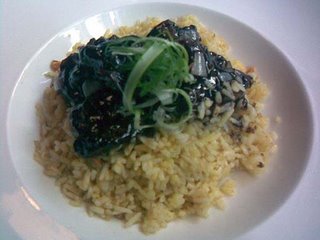 The Slow Cooked Pork Belly & Spicy Dried Shrimp Rice was well received. The pork belly was soft and tender but the rice was a bit hard.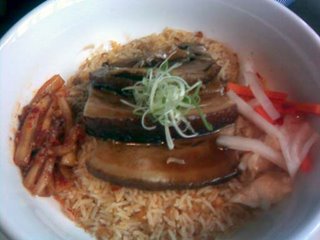 The Steam Egg Custard & Tiger Prawns & Shanghainese Noodles looked the best out of all the dishes due to its interesting presentation. And to me, it tasted the best among the four mains.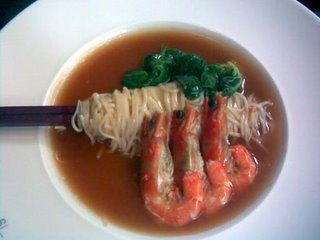 After all that, we still ordered dessert – the Sweet Yam Pudding with Gingko Nuts served with Vanilla ice cream and Warm Chocolate & Nuttella Tart + Banana Fritters + vanilla ice cream.
I was really looking forward to the Choc & Nutella tart, being a huge nutella fan. But to my disappointment I couldn't taste much Nutella. It was definitely chocolate…but no taste of nutella, plus the crust of the tart was a bit too hard. Otherwise, the desserts were passable.
For all that we ordered including 2 drinks and chinese tea, the total bill came up to about RM216.
All in all, I found the food at Soy to be passable. If you're looking for something new to try with interesting food presentation and combinations then Soy is the place. I think the concept at Soy is great and a pretty good try in the direction of the many Chinese Fusion Foods that are available in KL right now. When we asked
what food Sesame (its 'other half') would be serving, the manager told us it would be Chinese Fusion Food served as a set meal with about 6-7 mini courses, which kinda reminds me a bit of Eest at Westin Hotel KL. Meanwhile, I wouldnt mind if Soy gave their food a bit more 'oomph' in the taste department!