Despite the fact that Deluxciuos Cuisine has been around for quite awhile, I have only started frequenting the place late last year when a friend had his son's birthday party there. After that…I was hooked! Deluxcious Cuisine serves Western fusion food and they have really good set lunches and dinners.
So, when my friends who are back from overseas wanted to have a nice dinner, I suggested Deluxcious, since I've never done a food review of the place yet. My friends were thrilled to be doing a blog review with me as well!
We all ordered the set dinner except for myself. The set dinners are 5 course sets which include a salad, a soup of the day, main course, dessert of the day and coffee/tea. Set dinners range from RM30 to RM55 depending on the choice of main course. There's a good selection to choose from, and if you prefer a main course from the ala carte menu, there's an additional RM10 charge.
First up came the salads – which was a smoked salmon salad with a hint of wasabi in the sauce. Everyone thought the salad was tasty.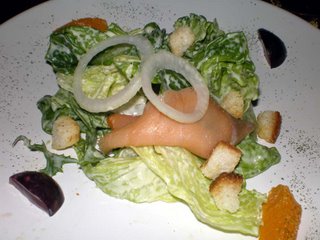 Then came the soup of the day which was a clear tomato tomyam soup. It was very tasty, not too sour and not too spicy either.
Moving on the main courses, we had the Confit Salmon with Caviar, Red Miso Lamb and the Lobster Bisque with seafood.
I had the red miso lamb, one of their signature dishes. And it was fantastic! The meat was tender and it was very well marinated with a hint of spiciness from the black pepper. A definite must try!
The other star dishes at Deluxciuos would be the Lobster bisque which came served with mussels and clams in a sweet & sour spicy sauce. Everyone unanimously loved it!
The dessert of the day was Panna Cota topped with passion fruit sauce. But their famous signature dessert is a chocolate torte, so most of us upgraded to the torte for an additional RM6.
The Panna Cota was a nice mixed of soury passion fruit on top and creamy coconut cream.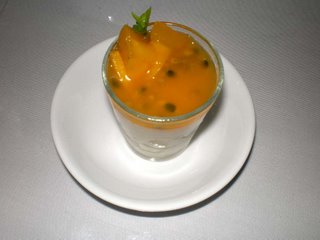 Meanwhile, the chocolate torte was a hit. It comes served with a scoop of vanilla ice cream which pairs really well with the torte which was slighty crispy on the outside and really chocolate-y on the inside!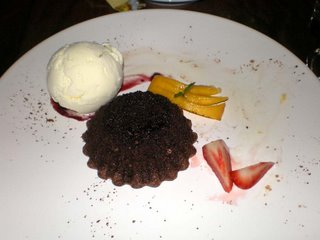 Everyone thoroughly enjoyed the food and comments of "Ooh, this is really good" kept coming up from time to time! Definitely worth a second visit!
Other good dishes to try include the steak and pan fried butter fish.
Deluxcious Cuisine & Cafe is located along Jalan Sultan Ahmad Shah. Its the lovely white bungalow opposite Citibank and KWSP building. There's also a very very posh looking spa upstairs which is open til 11pm. One sister runs the spa, while the other sister runs the restaurant.
Deluxcious also caters for private functions upon request. To get in touch with them call 04-2610288.
*PS: This is definitely NOT a paid post. I just totally love this place! Try it and let you know what you think!