Apologies for my disappearance! Have been so bogged down by work…and then when I managed to clear most of it, I immediately laid hands on the last Harry Potter book….and after staying up for 2 nights reading…I FINALLY know what happens…….!! won't go into that…cos it's time for…a food update!
I have been craving for tasty char siew…and I immediately thought of this…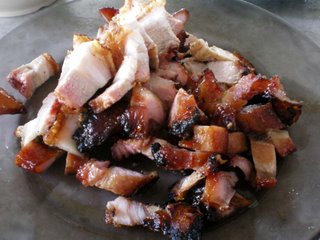 Probably one of the best 'char siew, siu baak' (BBQ Pork) rice in Penang, can be found at a corner kopitiam at Sky Hotel (blue-y building) along Chulia Street. It's been operating for a long time and I think most Penangites would know this place. It is almost always packed and getting a table may be quite difficult, but sharing tables with other strangers is the norm here. All for the sake of good food.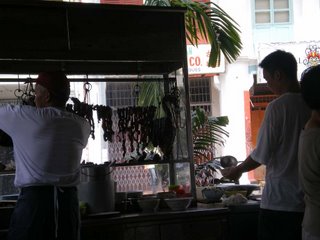 The char siew here is definitely worth a mention. I have never tasted char siew so delicious, with the sides slightly burnt giving a nice crispy bite to it while the sui baak is average.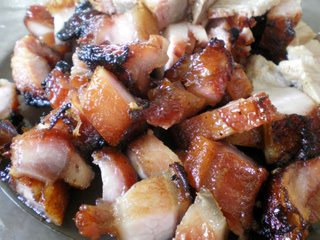 Doesn't that look 'evil'?? Enough to make a person's mouth water….!
They also have other meats – intestines and duck meat I think. But I always order the char siew, siu baak rice. The rice served here is normal white rice, not the chicken rice variety. You can also opt to include a bowl of soup and a plate of steamed veggie (to make it a healthier meal). Char siew, siu baak rice for 2 including soup and veggie will set you back about RM12.
One more look at the scrumptious char siew…. ok no more pics….am getting hungry just looking at them! And it's almost midnite!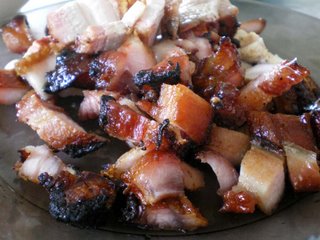 Only open for lunch. Try it and let me know if you adore it as much as I do!