I've mentioned before that I'm a fan of Starbucks. So is a friend of mine. And we both LOVE visiting new Starbucks outlets. Yes, they all look almost the same….but we get a thrill out of it no less!
And so, one night, we both took a drive to the newest Starbucks outlet – the one in Sunway Carnival Mall Seberang Jaya. Yes, we actually drove 45 mins (due to the jam on the Pg bridge) just to get frappucinos we could have gotten in like 7 other outlets on the Island!
This was my first visit to the new Sunway Carnival Mall. And I must say it looks lovely! Very spacious and big with nice layout. We didn't get to shop around much because we arrived at nearly 10pm and most of the shops were closing. So we made a beeline for Starbucks.
We ordered their new frappucinos – Mango Passion Fruit and Raspberry Black Currant. They already have an existing Mango and Raspberry Frappucinos but these new ones have different ingredients. I expected to like the Mango Passion Fruit because I was told that they add Passion tea (which I like) into it.
However, when we tasted both drinks…. we didn't like them at all! We found the Mango Passion Fruit a bit to artificial, while the Black Currant taste in the Raspberry, made it taste rather like cough mixture. I did prefer the Raspberry Black Currant out of the two. Needless to say, my friend and I were disappointed.  Looks like I shall be sticking to my standard drinks at Starbucks – the signature hot chocolate, Ice Tazo Lemon Zen and their Caramel Macchiatos…!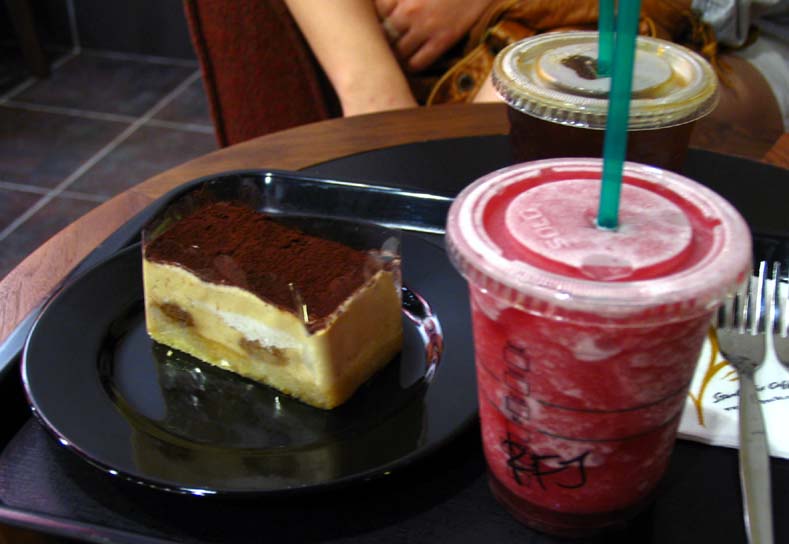 Raspberry Black Currant & Iced Americano in the background
Luckily, the Espresso Tiramisu cake saved the day. It is said to be made out of Starbucks Espresso powder. And at first I thought that the coffee would be overpowering… but I loved it the moment I took a bite. It had just the right proportion of cake and cream, not too sweet with just the right amount of coffee taste! Bliss!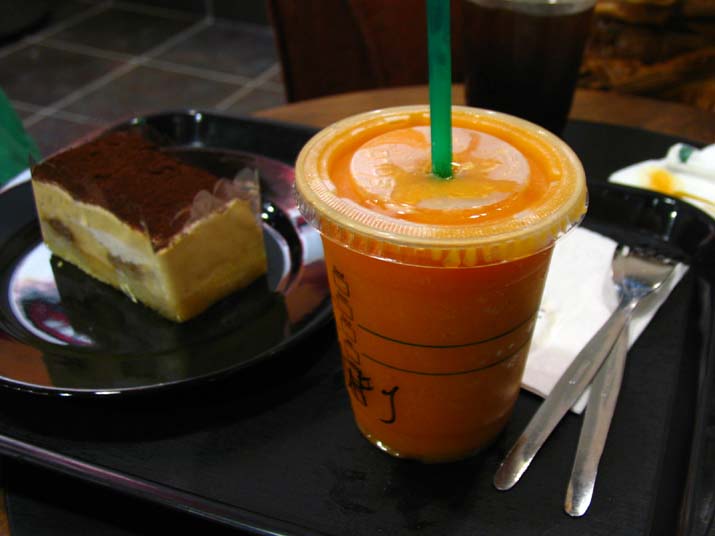 Mango Passion Fruit Frap & Espresso Tiramisu