Oh I am so excited! Cos I'll be making cupcakes tomorrow for a friend's open house party.
Have been hit by another bout of domestic-ness, which always brings out the baker in me…
I already had an idea of what I wanted to do, plenty of yummy looking cupcakes photos out there on the blogosphere… so I went over to Cooking Island last night, got my ingredients and all the colorful decor. I had so much fun talking to Erina, as she gave me lots of ideas and tips on what I could do. As though I'm doing like some big mega project like that! heehee…
This will definitely be the first time I'm making cupcakes that are so elaborate (with toppings and decors etc). Usually, I'll just bake a cake/muffin/cupcake and that's it. No frosting, no choc topping, nothing. Cos I usually can't be bothered with such 'fine' work. Clumsy ol' me will probably kill the cake while trying to pipe butter cream on top or something….
But… I just walk into the shop and ask for this and that like I'm so pro like that! heehee..hopefully everything will turn out ok! I'll be making carrot cupcakes with cream cheese topping…. oooo I can't wait, I can't wait…I hear the kitchen calling out my name!!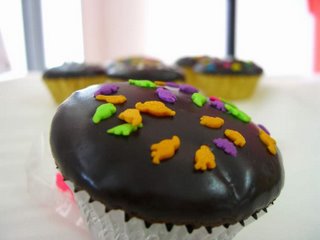 photo taken from Erina's blog
Will be back tomorrow for updates on photos (hopefully looking as nice as I picture them in my head…!)