The long awaited photos from my China Gourmet Tour are finally here! To kick things off, I'll be posting our first dinner of the tour at Tai Wing Wah Restaurant in Hong Kong.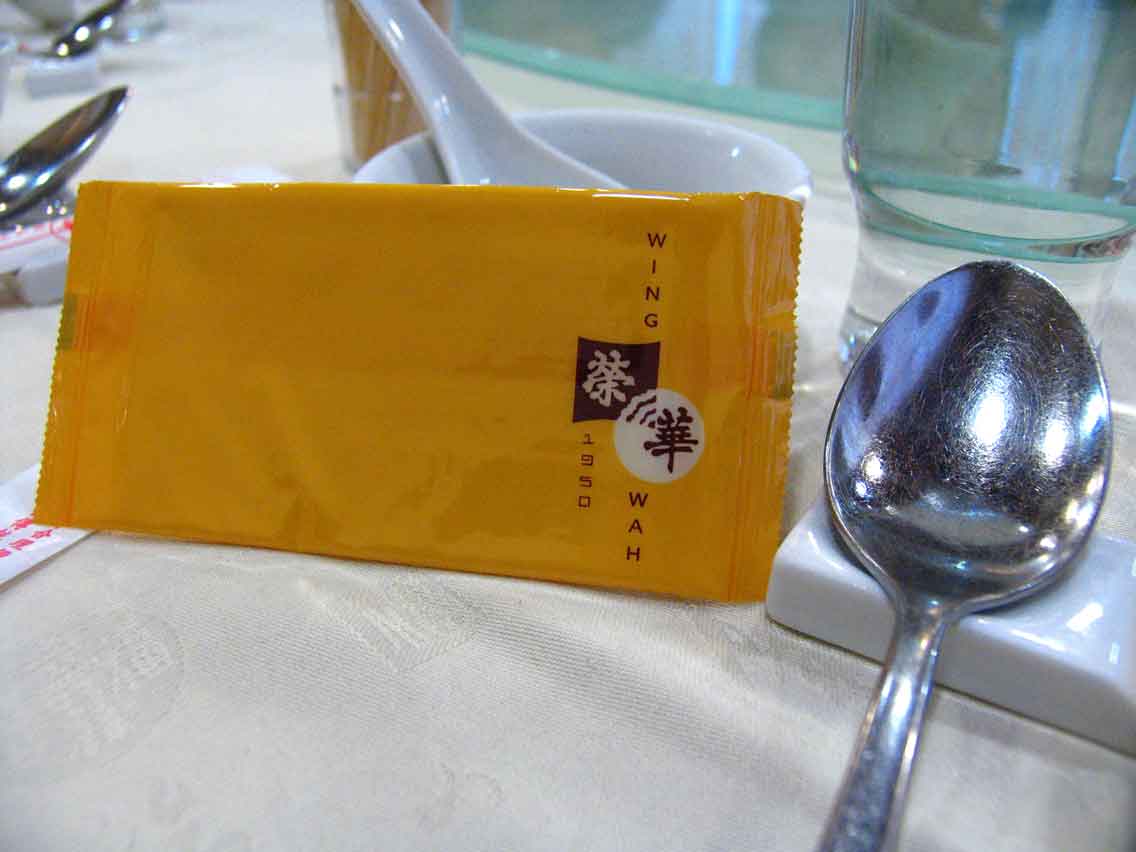 We were all very excited because its the very first dinner on the tour. Expectations were high and with our tummies already growling, we scanned the menu… (which unfortunately didn't make much sense to me!)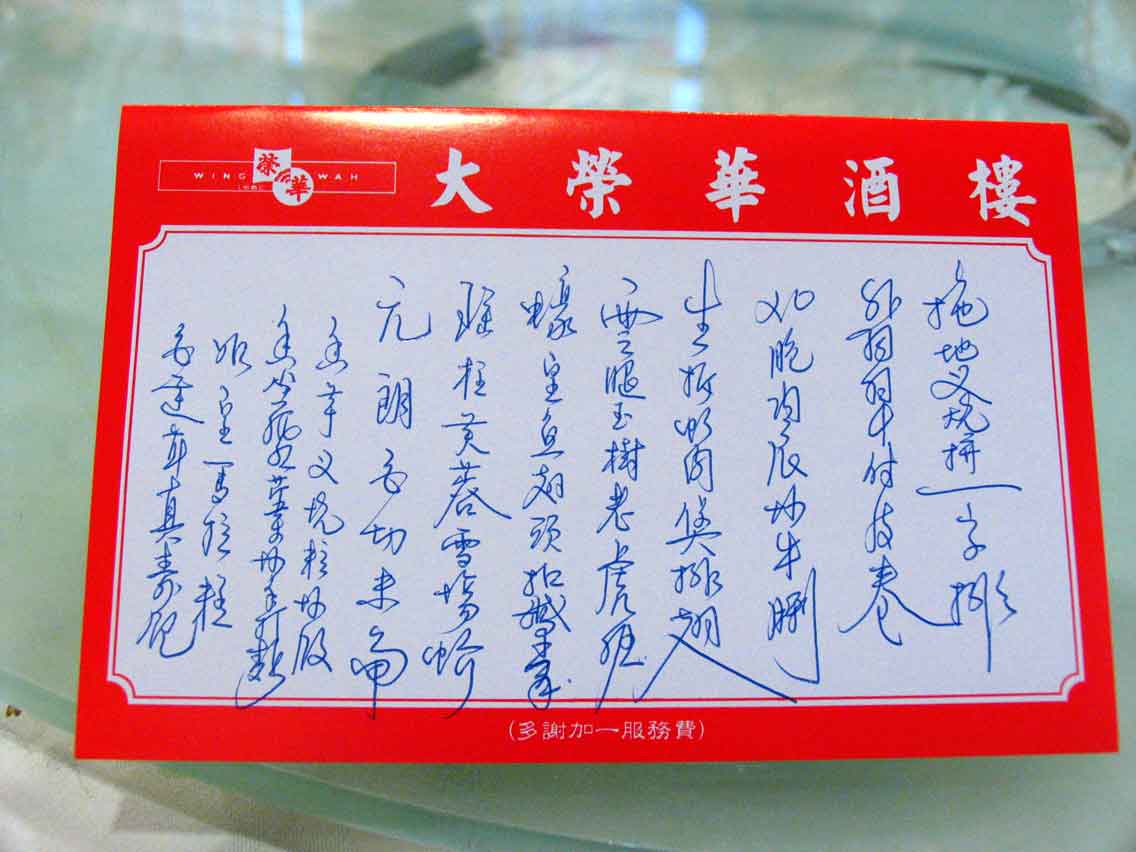 Service was at their level best, because famous Hong Kong 'sek sun' Hugo Leung Man-To (owner of Tai Wing Wah) was with us. And not long after, we were presented with our first dish of the night…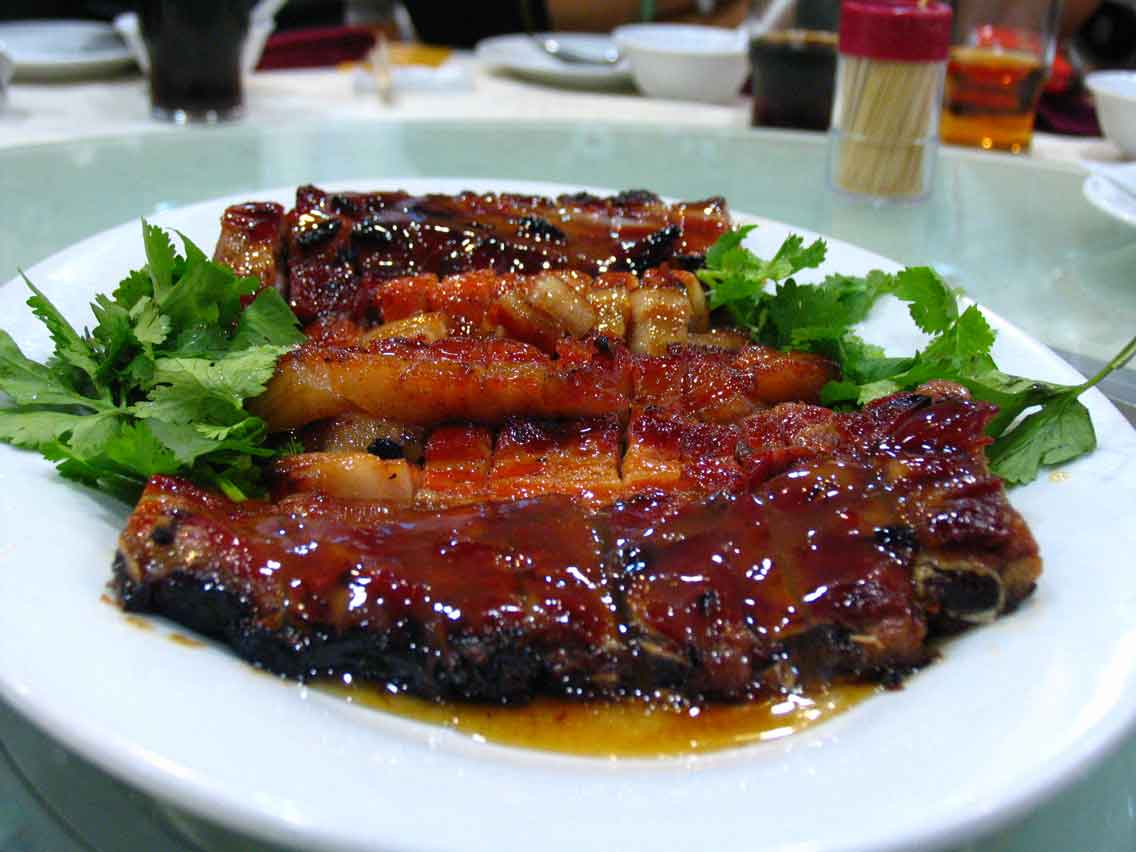 "Char Siew" (roasted pork) roasted to perfection accompanied with a sourish sauce. We were told that the meat was taken from free range pigs with no growth hormones injected into them. The "char siew" tasted very tender and best of all…no gamey taste detected. 🙂
Next up was a fried vegetarian roll or "Chun Fa Kuen" (in Cantonese). A nice crunchy bite!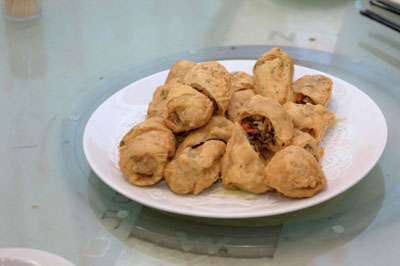 Then came the stir fried XO Cow's Tongue. When I heard that it was cow's tongue, I had my apprehensions… for I have never taken something so…exotic! But then I thought I've traveled this far…and its time to be adventurous! And so I took a bite…… and reached for more! It was utterly delicious! (tasted just like thinly sliced beef!). Hugo Leung explained that this dish was inspired by the Korean BBQ.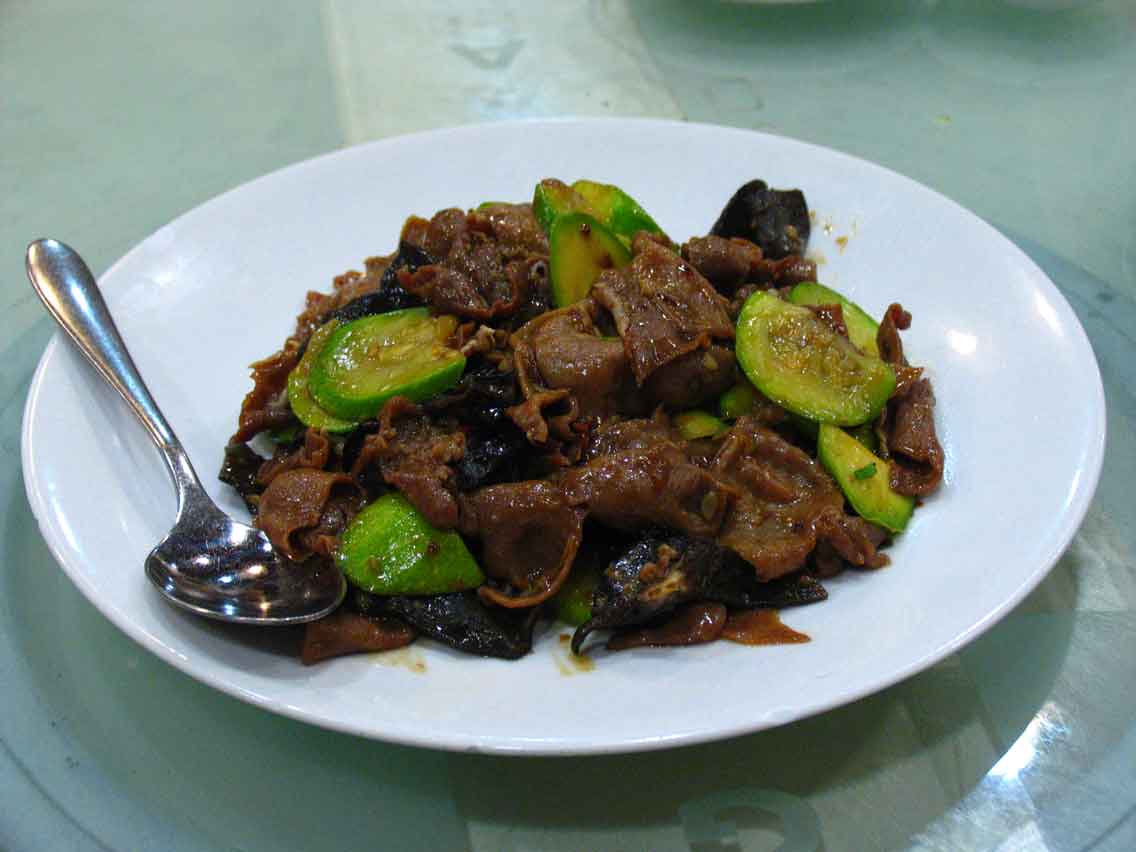 We were then served another one of Tai Wing Wah's specialities… the rice with pork lard. It's something ridiculously simple – rice mixed with pork lard and a bit of their soya sauce. Who would have thought that something so simple could taste so good? And it sure did taste absolutely wonderful!!
Fluffy morsels of rice, delicately coated with the smooth fragrant pork lard…with a zing of saltiness from the soya sauce. I could eat a whole bowl just by itself and die happy!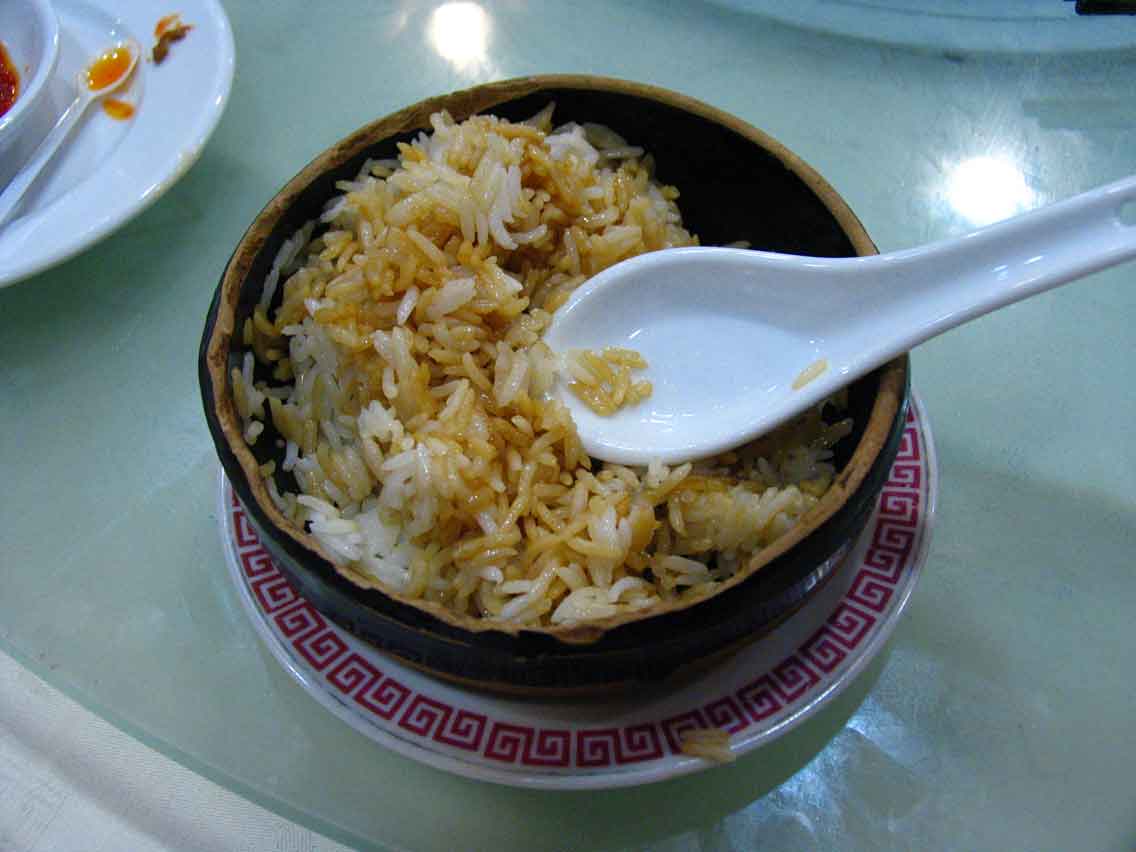 But alas, I could only take a few mouthfuls as I knew there were lots more decadent dishes to sample…
We then had shark fin soup.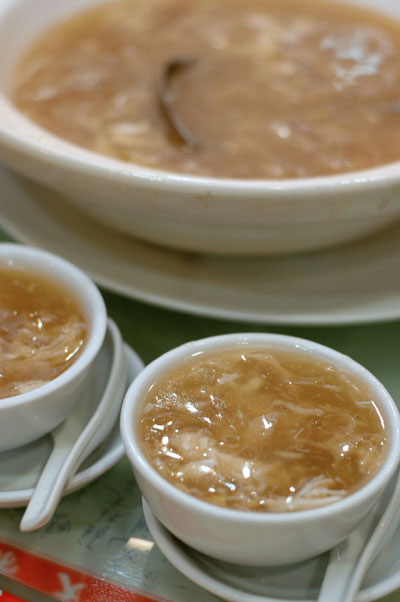 By this time, I was already feeling full… but then came the tiger garoupa fish…
And then came a very odd looking dish…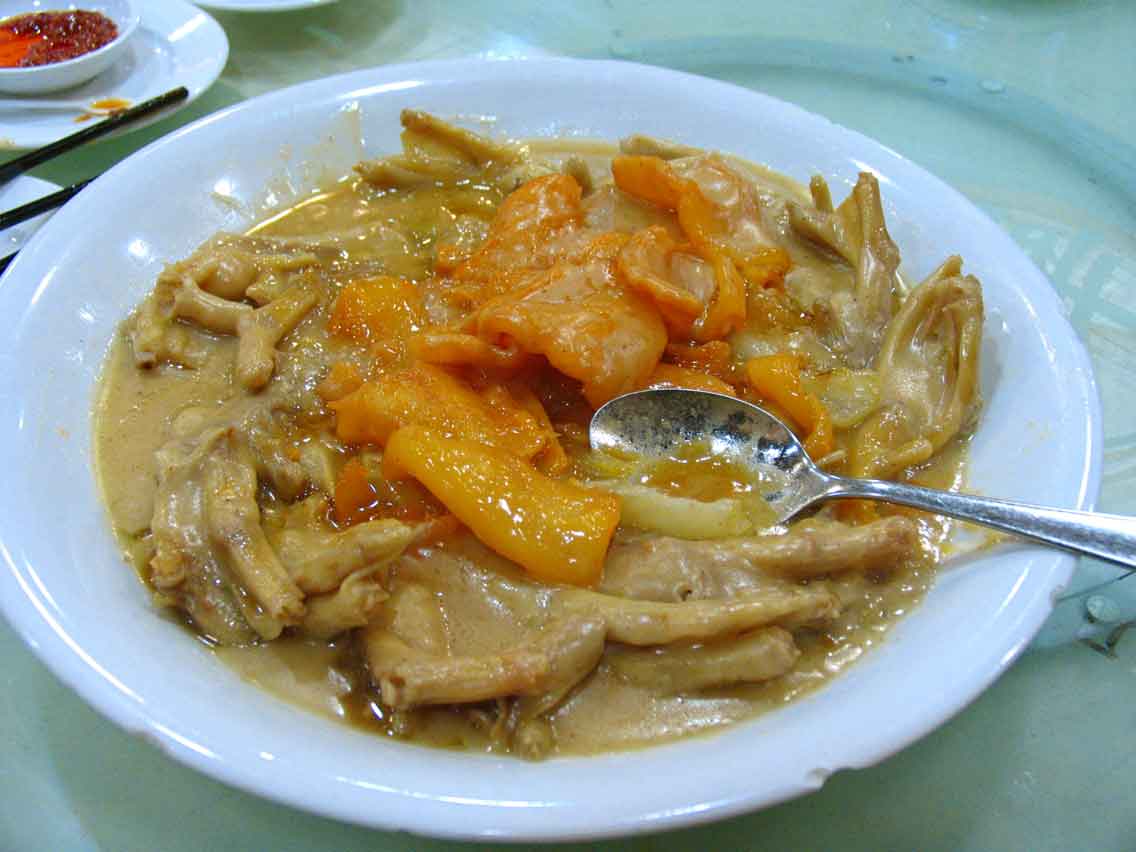 Hugo Leung explained what the dish was, but with my horrid Cantonese, I only managed to catch the term 'kuan ji tau' (in Cantonese) which was what the orange looking substance was supposed to be. Hugo Leung further explained that they used pork trotters to broil the sauce and that this 'kuan ji tau' is very nutritious as it is rich in collagen. Very good for the ladies who want smooth wrinkle free complexion! With lots of questions racing through my mind, I asked a fellow tour group mate sitting next to me, what 'kuan ji tau' was. He explained that it was part of the fins of the shark!Until today, I'm not too sure what it was… anyone can decipher what it is from the menu above?
I gingerly took a bite and didn't quite like it as it tasted a bit 'fishy' and chewy with a slight crunch to it.
The following dish was not as 'exciting' but still good nonetheless… duck eaten with vinegared ginger.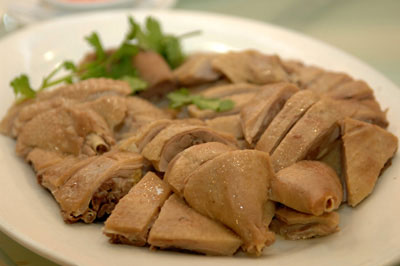 And then came another stunner… the snow crab steamed in egg.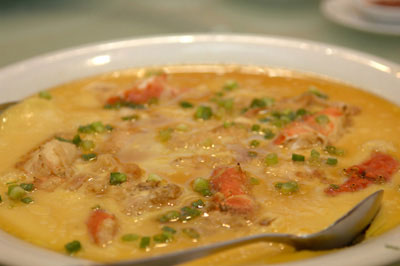 The crab shell was very soft as we just needed a pair of scissors to cut through the shell, to reveal the sweet succulent meat within… I dug in with much glee!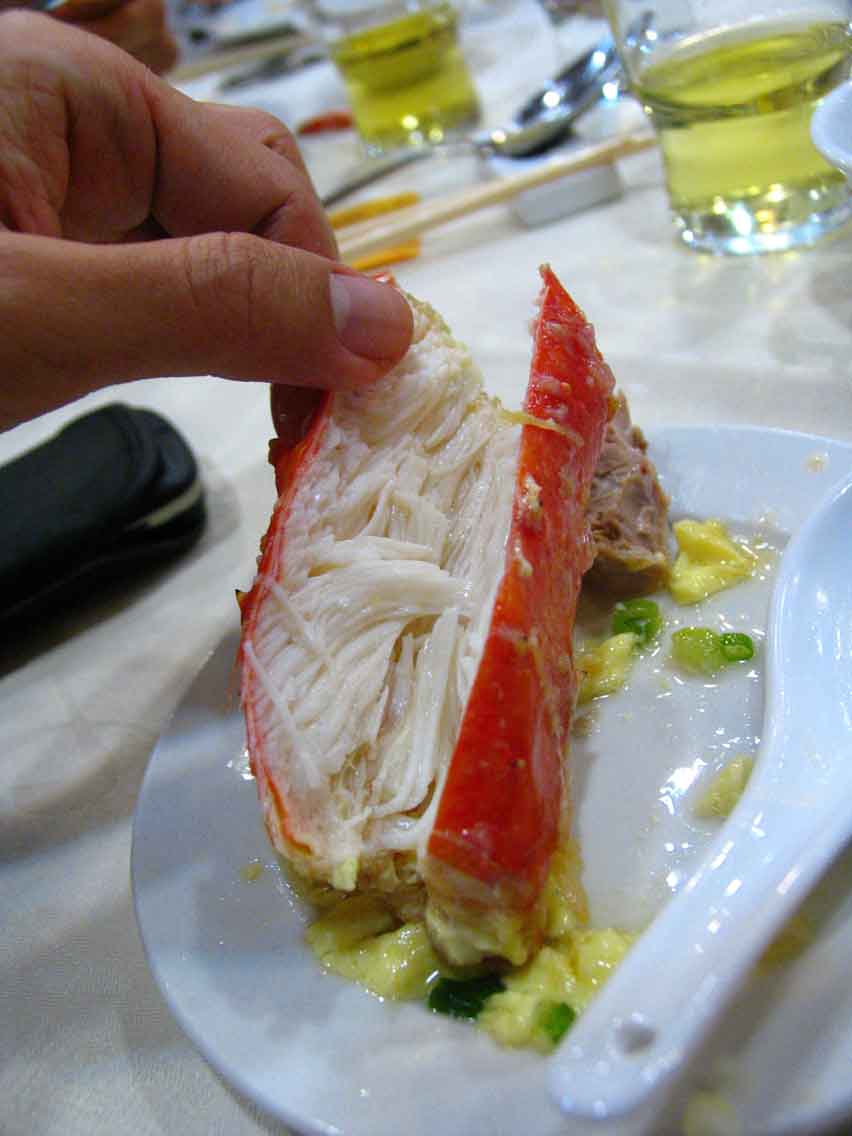 By this time, everyone had almost surrendered, with little or no stomach space left… but then we still had to make room for the "Char Siew Fried Rice" and vegetarian fried noodle…
May look very simple… but the taste… awesome! Definitely got 'wok hei'.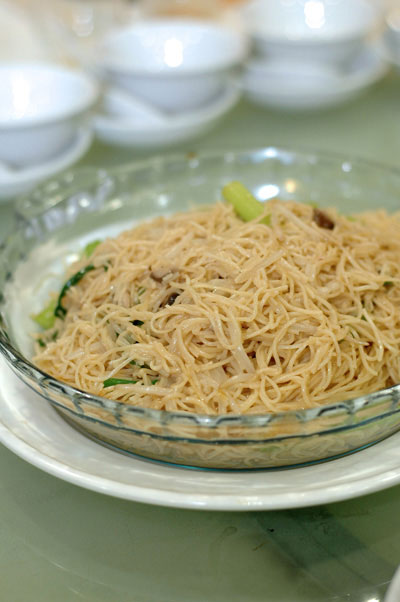 We were told that this vegetarian fried noodles (fried with red fermented beancurd) came about as a request for something tasty but simple from a Hong Kong celebrity's wife. 'To Kor' aka Hugo Leung explained that good food does not necessarily mean expensive or exotic food. Instead chefs should know how to get the best flavours out of normal everyday ingredients and use them in such a way that it tastes good.
Then came Tai Wing Wah's famous dessert – the 'Ma Lai Ko' (literally translated to mean Malay Kuih) It is a Chinese version of the English Sponge Cake which is steamed instead of baked. No oil is used in preparing this dessert. I somehow found it's sweet fluffy texture very comforting to taste. Reminded me of home. 🙂
Another dessert we had was the white lotus paste pau. I was already filled to the maximum by this time, and very nearly wanted to forego the pau. But I kept hearing everyone else exclaiming how fragrant the white lotus paste was… and so… I reached for a piece and ate it very slowly, enjoying each morsel… until I climbed onto the tour bus!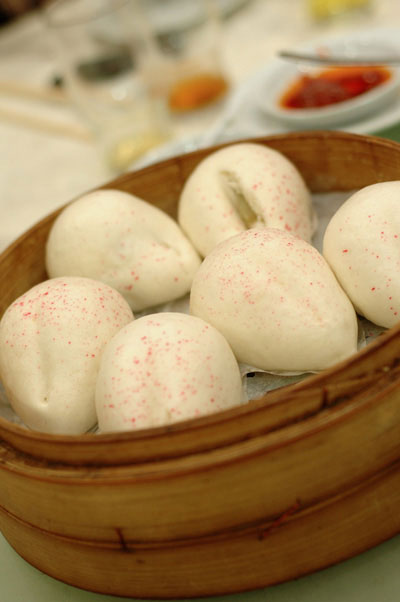 And with that we ended our very first Gourmet Tour dinner…filled to the brim with glorious food and great company. More to come in Part 2. Stay tuned! 🙂
Me with Hugo Leung and wife (both are very friendly, humble people)
Tai Wing Wah Restaurant is located at 2-6 On Ning Road, Yuen Long, N.T, Hong Kong.
T: (852) 2476 9888
*UPDATED: This gourmet tour with Hugo Leung is organized by Anne of Blue Pacific Tours. For more details, you can contact Anne at 03-9200 9191.