Taking a short break from the China Gourmet Tour series to come back to good ol' Penang food. 🙂 (Part 2 of the gourmet tour series in the next post!)
Being a foodie… I'm always on a lookout for exciting new additions to our local food scene. Therefore, I spied this Vietnamese restaurant taking over another restaurant (Beguadro) at the end of April. They were scheduled to open in May. And so I decided to give them about a month to iron out any initial kinks they may have had. I was excited about this place, though I've never really had authentic Vietnamese cuisine.
We visited this place on Monday evening. And for a weekday, this place quickly filled up! Guess Penangites really love flocking to anything and everything new!
Miss Saigon is a lovely cosy restaurant, with nice dark wooden furniture and really cute wooden utensils.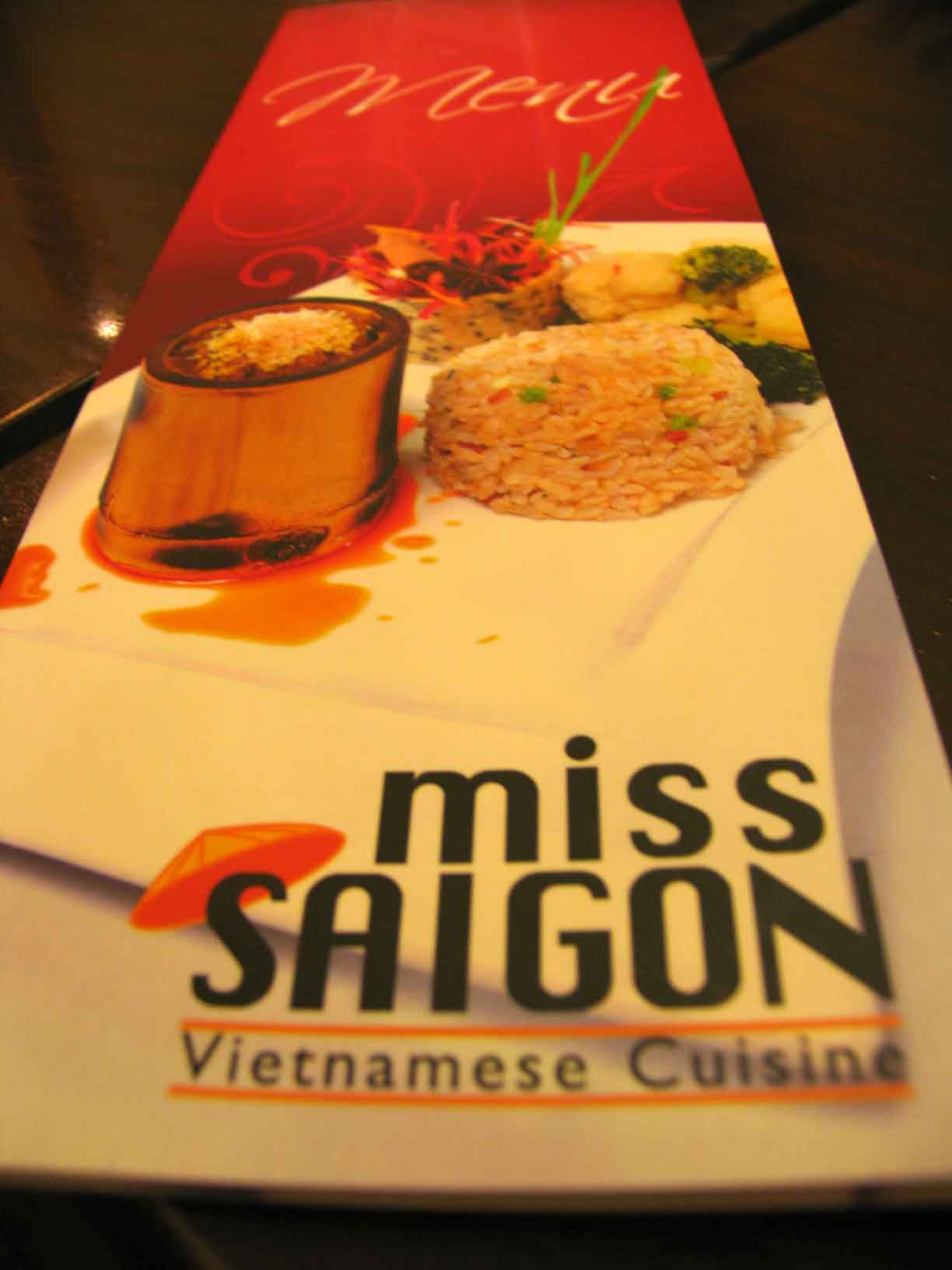 They serve mostly 'one plate meals' with a variety of appetizers, noodles and rice dishes.
We ordered their recommended Summer Style Northern Roll – prawns and vegetables wrapped in rice paper with a special dipping sauce. Quite a small portion, but I really enjoyed the spring roll. Lots of fresh vegetables. A refreshing appetizer indeed. Other appetizers that appealed to me on the menu included their prawn past with sugarcane. I've been wanting to try them since it made its appearance on Asian Food Channel's Restaurant Makeover!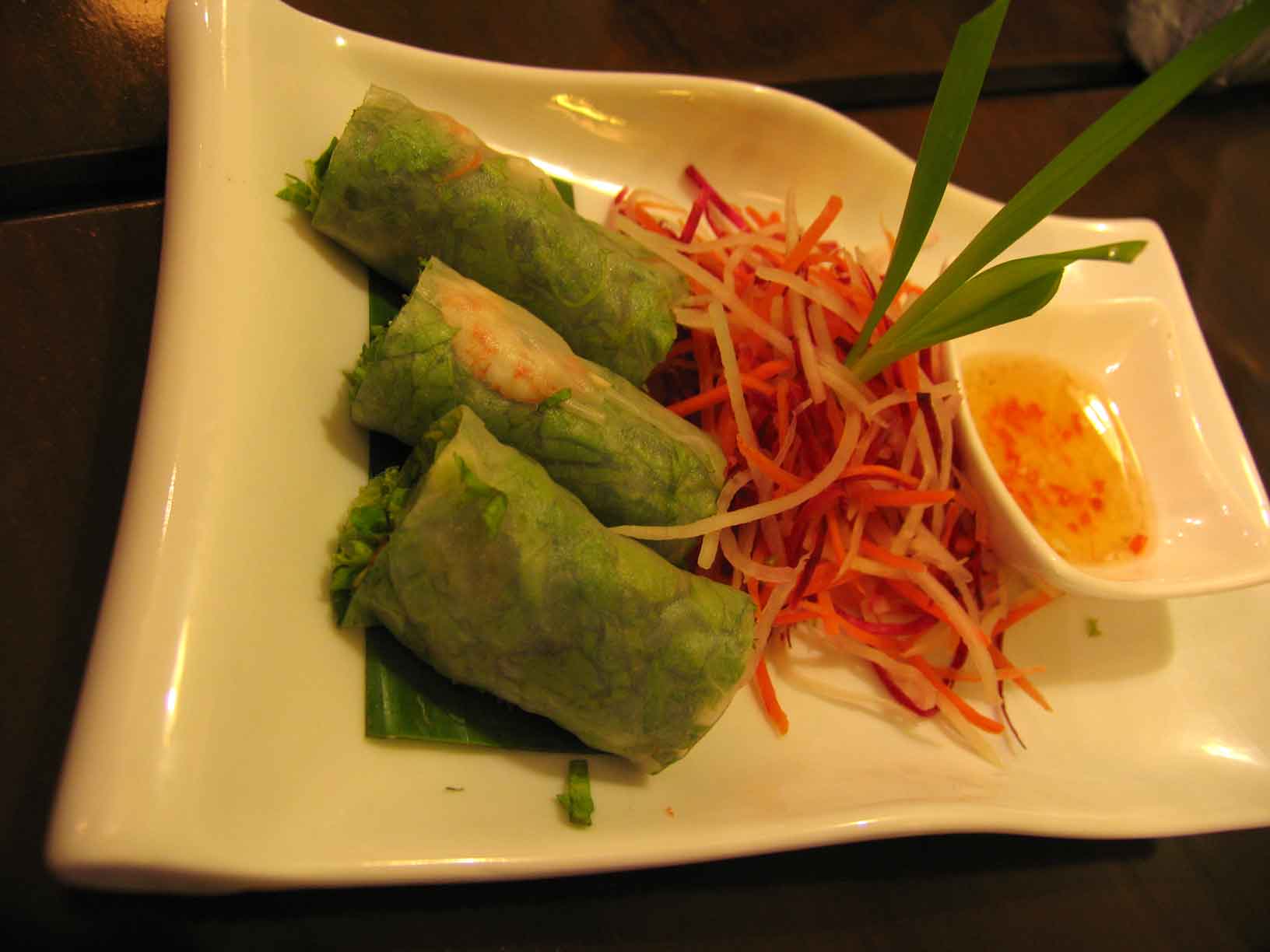 And of course when one is in a Vietnamese restaurant, there is no escaping their Vietnamese Beef Noodle Soup! A generous portion indeed loaded with thinly sliced beef. I didn't get to try this but my grandpa thoroughly enjoyed it!
Miss Saigon also offers the chicken version of this dish, perhaps being aware that most Chinese do not take beef. This is the Vietnamese Chicken Noodle Soup with the rest of the condiments.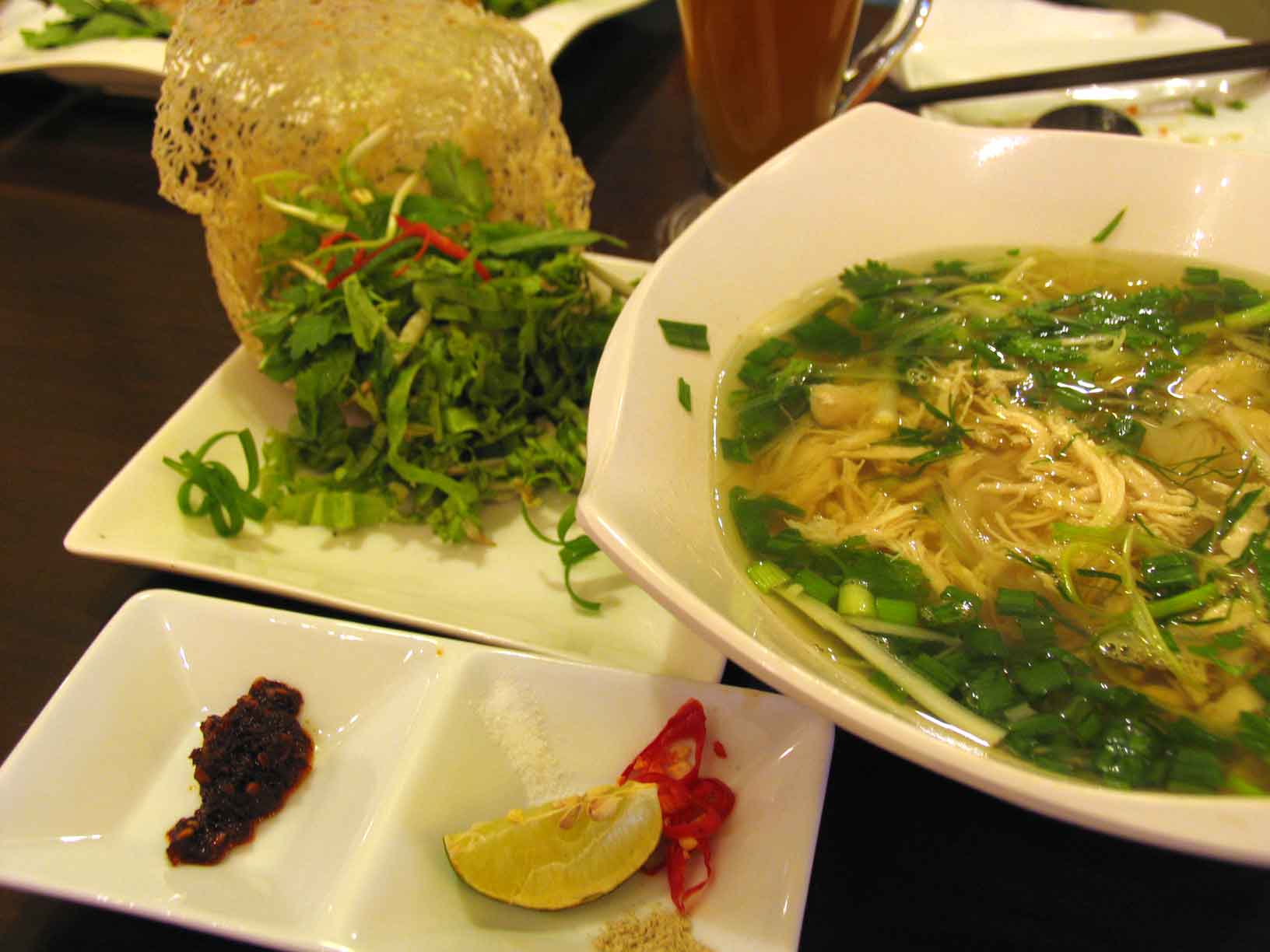 I had the Fragrant Paste with 'La Lot' Leaf. The menu indicates that the fragrant paste is made up of chicken, crab and prawn if I'm not mistaken. I loved this dish! The rice was a combination of different grains, which added a lot of texture. While the fragrant paste wrapped in the leaf was nice and moist. I did expect it to be spicy though looking at the photo from the menu, but it wasn't. Would have preferred it to have a bit of spiciness to it. But that's just me. 🙂 Perhaps this is the original way they make it in Vietnam. I also loved the side of vegetables that came with it. Overall I would say it's a pretty healthy dish.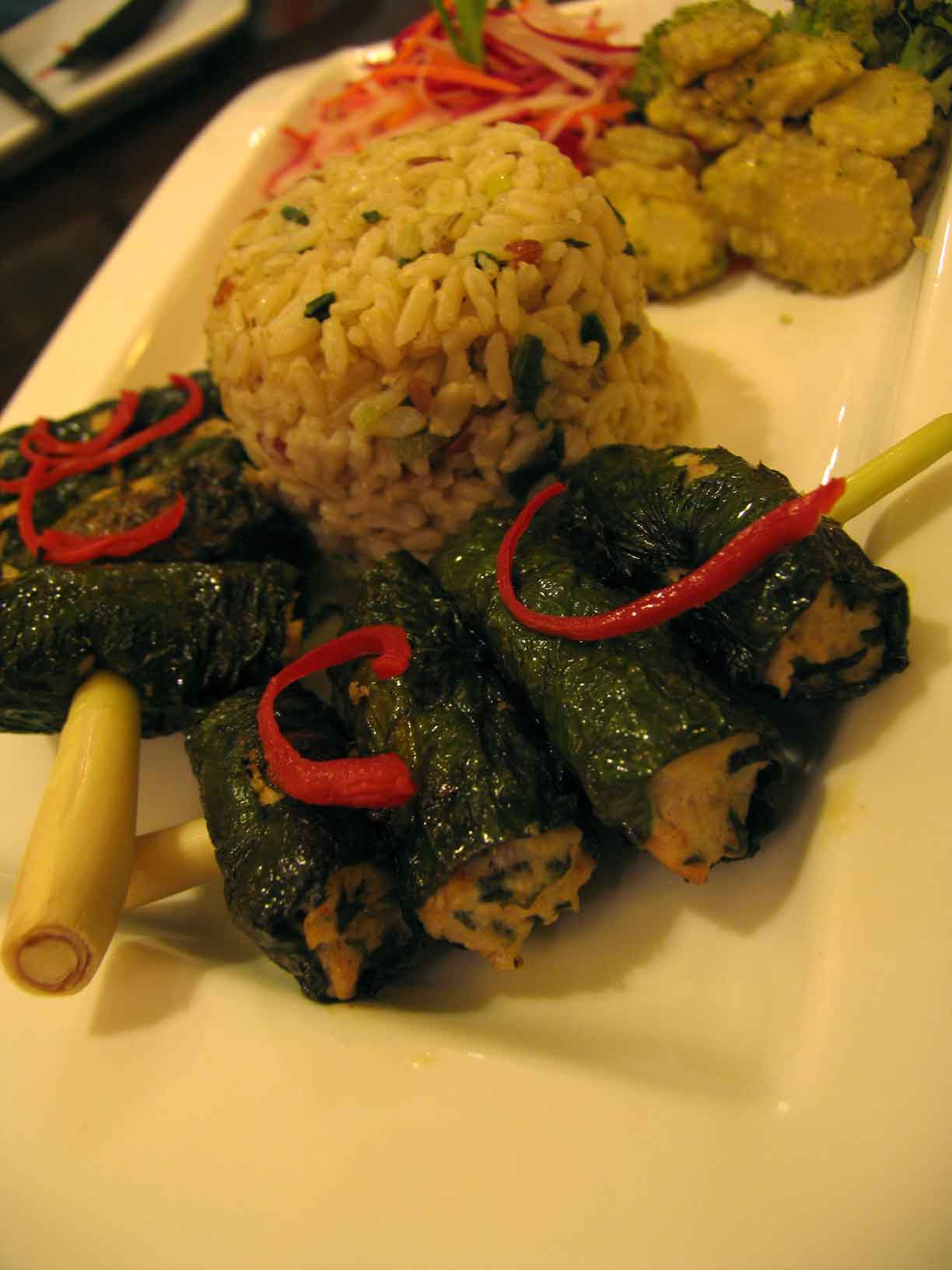 We also tried the Vietnamese Southern Noodle – Stir Fried Chicken. I had a few bites of this, and was totally sold on this dish! The noodles reminded me of our local Assam Laksa noodles, only much silkier and smooth. And I loved the taste of nuts mixed into this dish.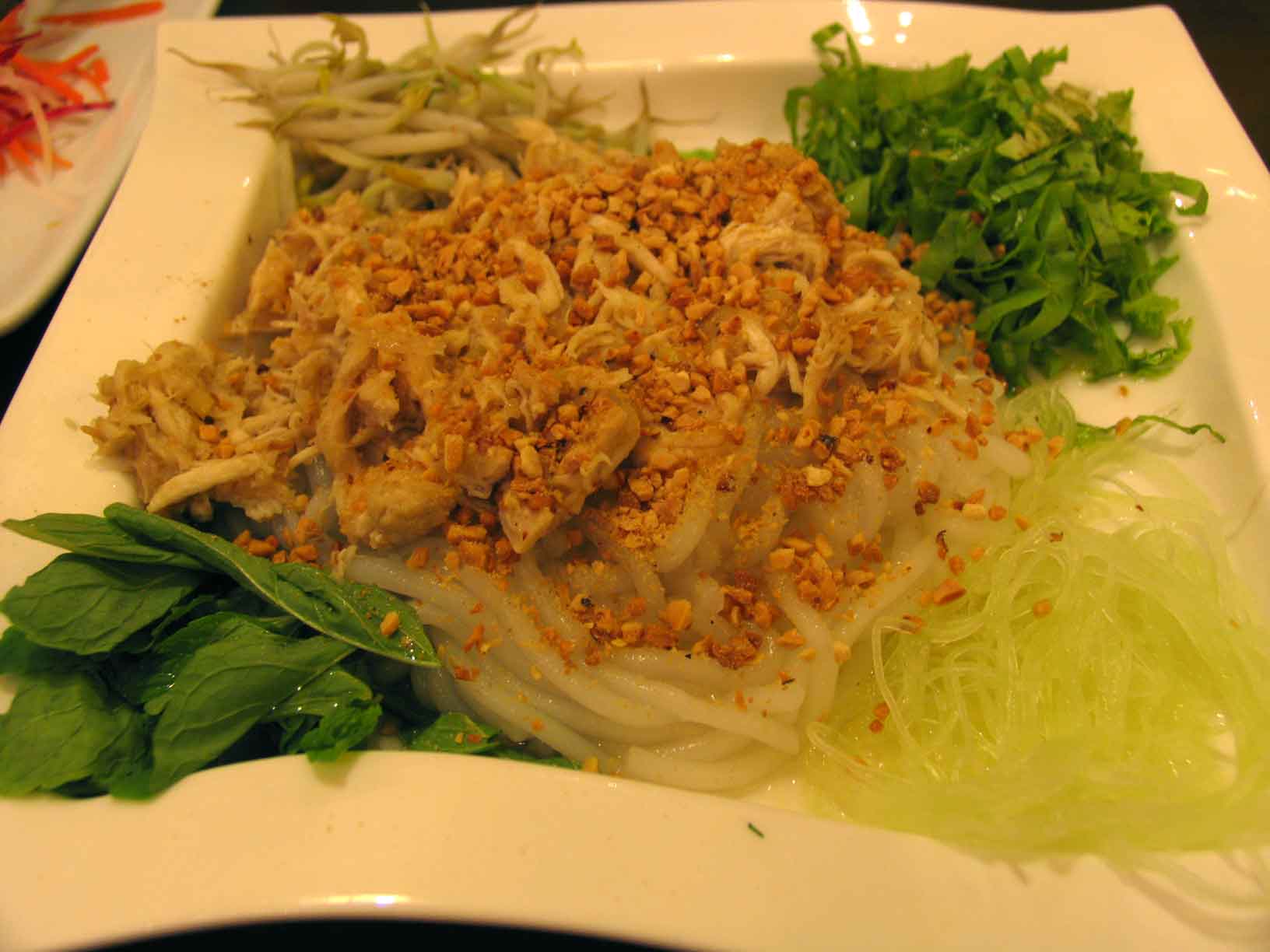 Next up, we tried the fragrant beef baked in bamboo cup. Now this I liked too! The beef was spicy, quite similar to a dried curry. While the rice and vegetables are the same as my La Lot Leaf dish. Some may find that the rice portion a bit small. But it was just nice for me. Leaves more stomach space to sample other things! 🙂
Overall, we liked the things we tried at Miss Saigon. I would have loved to sample some of their desserts (yummy looking apple pie on the menu!) But we were just too stuffed!
Drinks include their signature Lemongrass tea which I love to bits!! And their Vietnamese coffee. We did note that drinks were rather expensive though. The mains cost about RM14-Rm20 depending on what you order. We spotted a tiger prawn dish too that cost about RM30. For the 5 of us, the bill came up to about RM120 which covers the 5 mains, 2 portions of spring rolls, 3 lemongrass teas, 1 coffee and a coke.
I'm definitely coming back here for more!
Miss Saigon is located at 1-01-15 E-Gate (next to Old Town Coffee), Lebuh Tunku Kudin 2, 11700 Gelugor, Penang. For reservations you can call 04-377 6083/ 04-229 0263.
Opening hours: Mon – Sun 11am-3pm, 6pm-11pm. Pork Free