In the heart of the new Casa Permai 2 housing area is a row of shophouses built by Boon Siew Group.
And it is here that a number of eateries have opened its doors, one of them being Annabelle's Place.
Annabelle's Place is very prettily decorated, with quaint white chairs and pretty fairy lights. We went on a Fridy evening, about a month since it opened. Browsing their menu, we noticed that they had rather limited choices for main meals. Mostly pastas and sandwiches and some local fare like fried rice. They had a more extensive drinks and tea list including their English tea sets.
Although it was way past tea time, we still decided to try their basic Enligsh tea set which comes with a pot of tea and 2 scones (RM3.50 if I'm not mistaken)
I'm not too sure how authentic scones should taste like. I've only tried scones which are rather crumbly and hard. So it was a rather pleasant surprise when the scones at Annabelle's Place tasted rather chewy.
We also had their Hot Chocolate which was quite pleasant. But my favourite hot chocolate still has to be the one from Starbucks or Old Town Cafe. 😛
On to the mains… we had pastas and an Ocean Delight.
The seafood spaghetti was nice and light. The spaghetti was cooked just right – al dente. A definite plus!
The carbonara was tasty too. Rich and creamy.
Meanwhile, the Ocean Delight was a serving of stuffed crabs baked with cheese.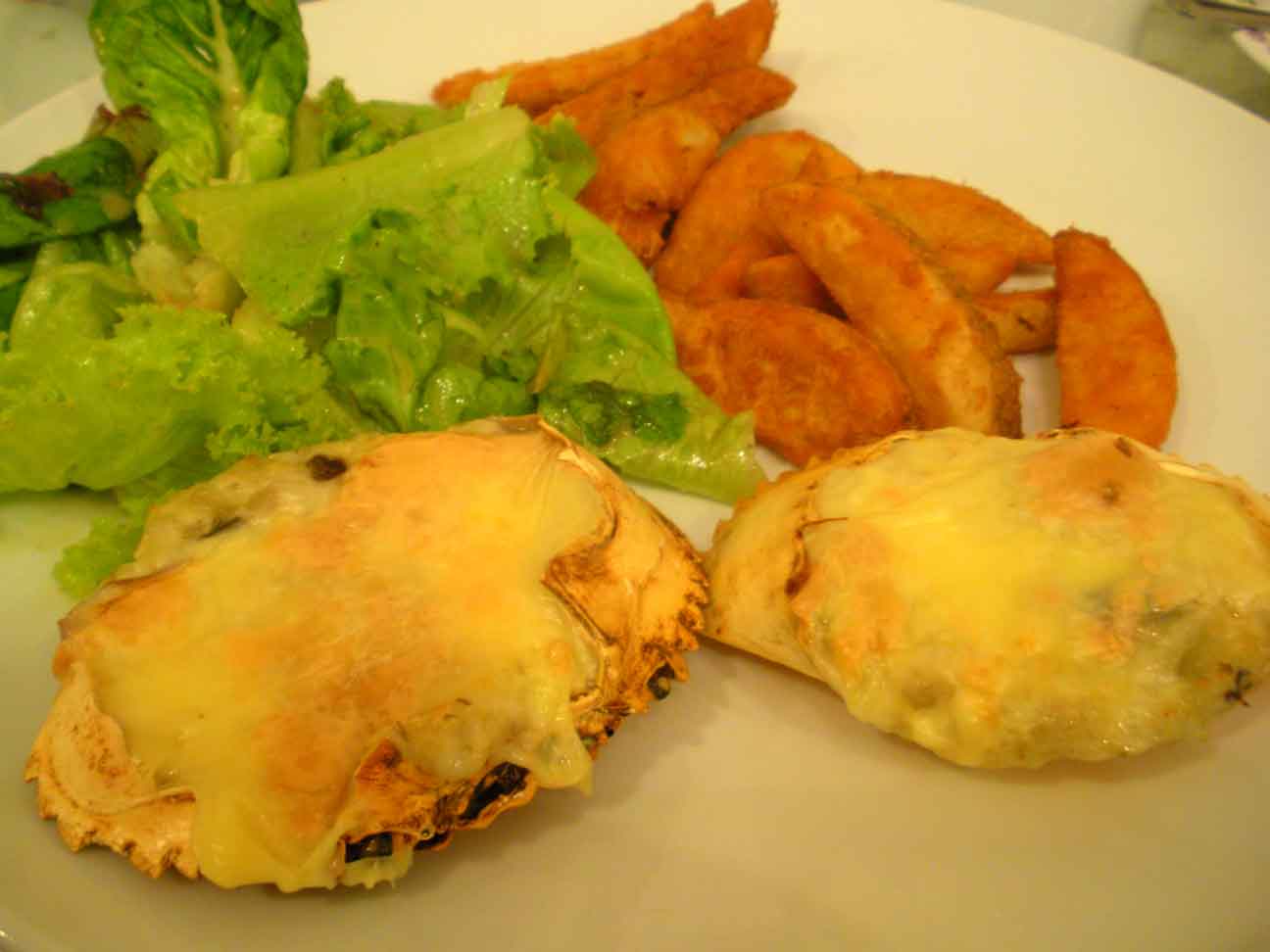 In general, the portions here may be a bit small for most. But it was just nice for me. Prices are reasonable (possibly because of the not so big portions). Pastas are about RM12 while the Ocean Delight was around RM15 (if my memory serves me well).
Service was a bit slow during our visit. Possible because there was some staff shortage on in the kitchen on that day.
I do look forward to coming back here to try their Windsor Tea Set (for 2) which has sandwiches, cakes and scones! 🙂
Annabelle's Place is located at 10 Lebuh Lembah Permai 4, 11200 Tanjung Bungah, Penang. Tel: 04-8901098. Opening Hours: Tues- Sat 11.30am-2.30pm, 4.30pm-10.30pm. Sunday – 9am-10.30pm. Closed on Mondays.
To get there, from the main road, turn into Casa Permai 2 housing area (you'll see a red color signboard that says Home Recipe restaurant). Follow that sign in and turn right towards the row of shophouses. Home Recipe is the chinese restaurant a the corner that looked really really packed. Another must try soon! 🙂