UPDATED NOV 2009 – Very sad to find that the Electic has closed down when I drove past in the beginning of Nov. No news if it is closed for good or simply being relocated. 🙁
It could only be described as sheer excitement when I read Gill Gill's post last weekend about The Eclectic. For I did mourn the closing down of the beloved 68 Kelawei early this year and have been looking out for it ever since at Hydromajestic Hotel (for there were rumours that it would reopen at the hotel)
Months passed and still no news…until… The Eclectic!
I immediately told my family and so we gleefully headed up to Batu Ferringhi last night. I wasn't exactly sure where it was, armed only with Gill Gill's map and explanation that it was at the row of shop houses somewhere opposite Rasa Sayang Resort and Golden Sands Hotel. We drove pass Ferringhi Plaza….no sign of The Eclectic… then we passed Bella Italia… and there it was!!!
Its just by the road so there wasn't any parking. We decided to turn back and park at Ferringhi Plaza and took a short walk to the restaurant.
I loved the spanking new Eclectic the moment I stepped in.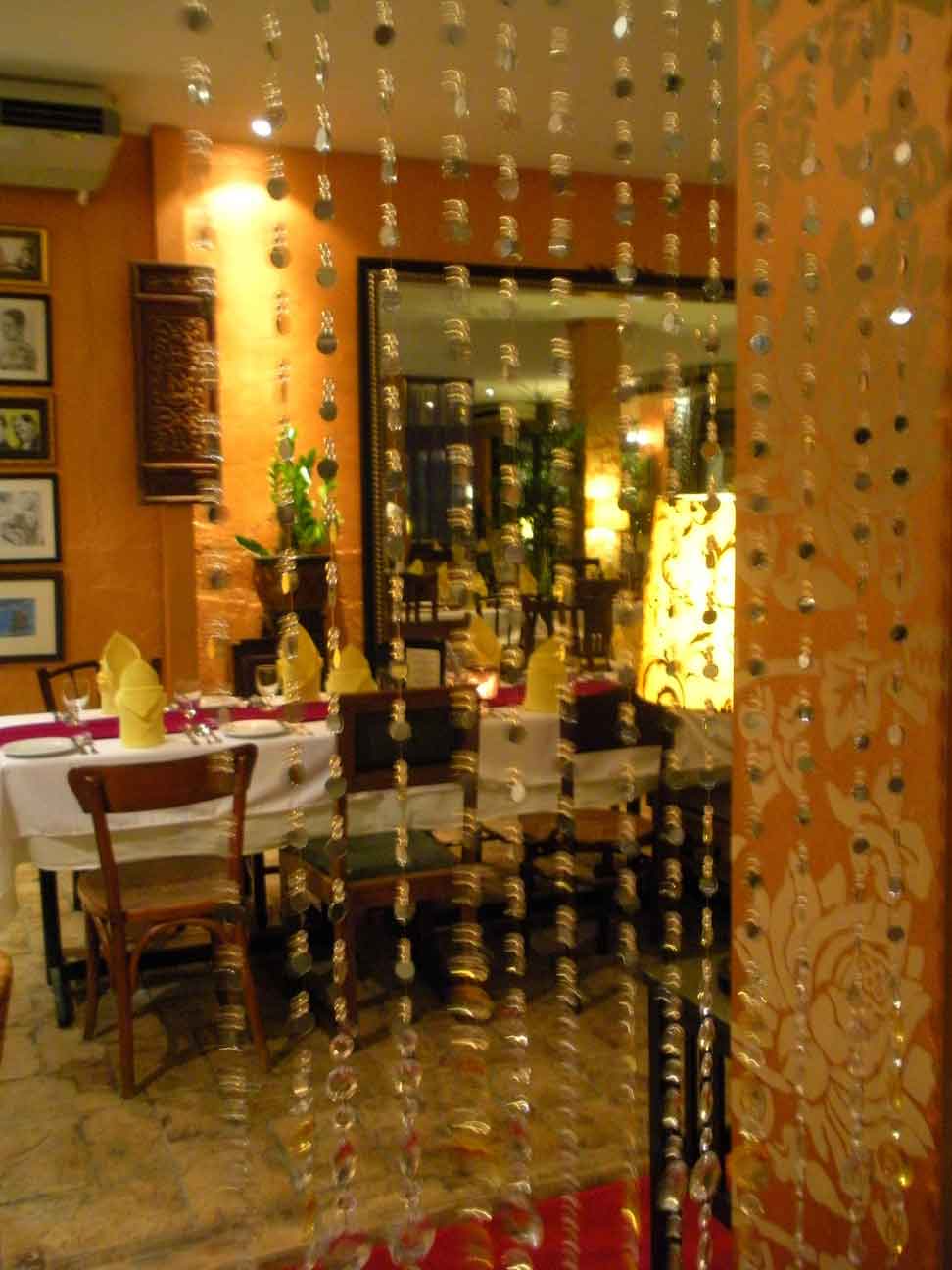 A small stage on the left of the entrance where live music happens every Friday and Saturday night from 10.15pm onwards, a very cool bar, comfy lounge area, the dining area and an outdoor dining area at the back with a small man made fountain. Even a pool table out front (I cant really tell if its a pool or snooker table, cos I so obviously don't play either game… but me thinks its a pool table)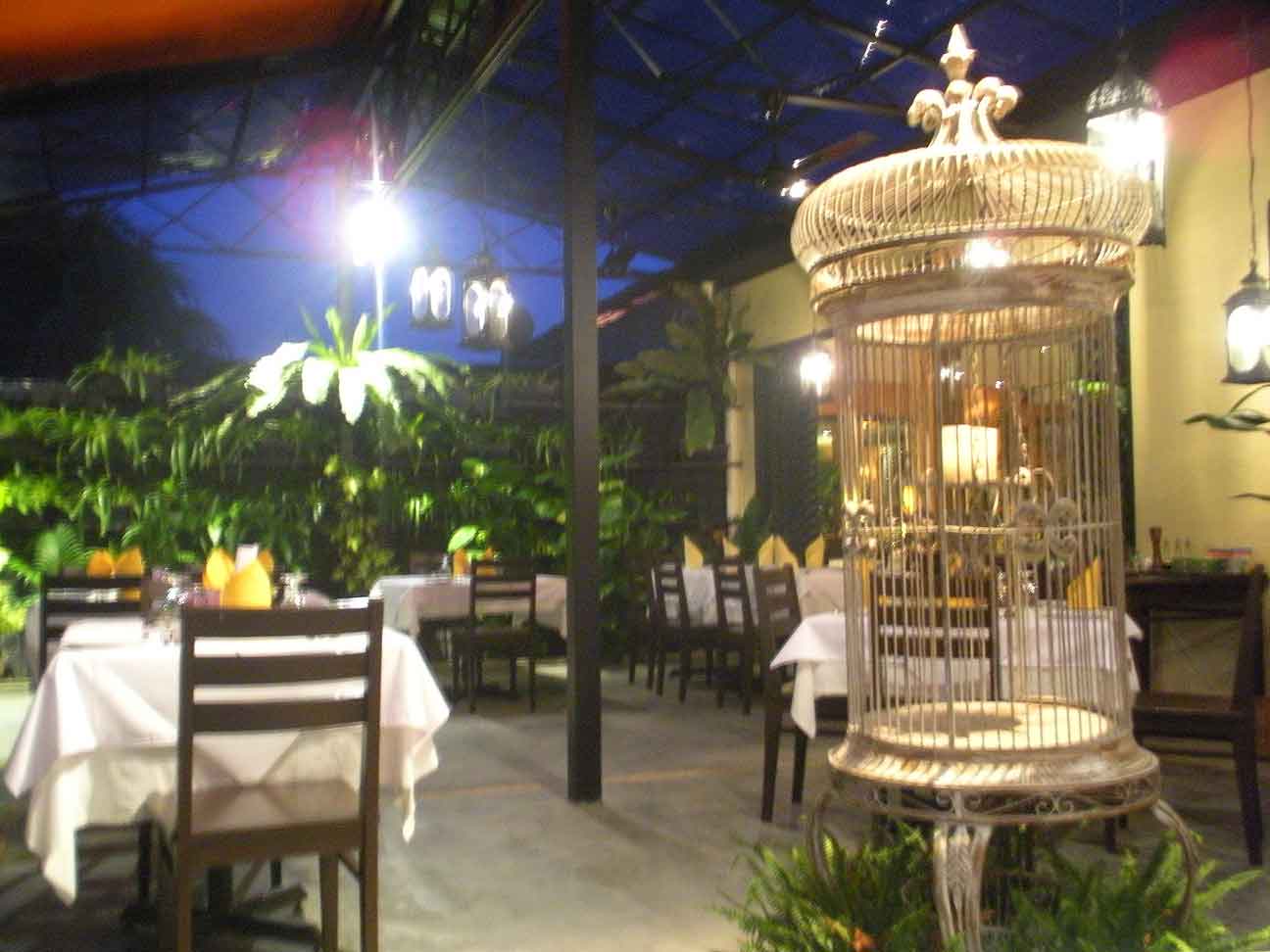 We were shown the menu and I was delighted to find that they still had the Brazilian Carvery from before. The Brazilian Carvery set now retails at RM70 (which includes a salad, soup, carvery and coffee/tea). The menu now offers some local fare, mixed with a bit of Italian and Western.
There was no doubt that we had to have Brazilian Carvery.
The piquant salad from the Brazilian Carvery set was amazing as expected. Crisp, fresh vegetables lightly coated with their signature tangy sauce.
The soup of the day was Leek Potato Soup – a creamy treat!
The carvery menu did not change from before. We were served a variety of meats – chicken, fish, beef, lamb, sausages (chicken and beef) and to help digest all that meat – juicy sweet pineapples coated with a dust of cinnamon.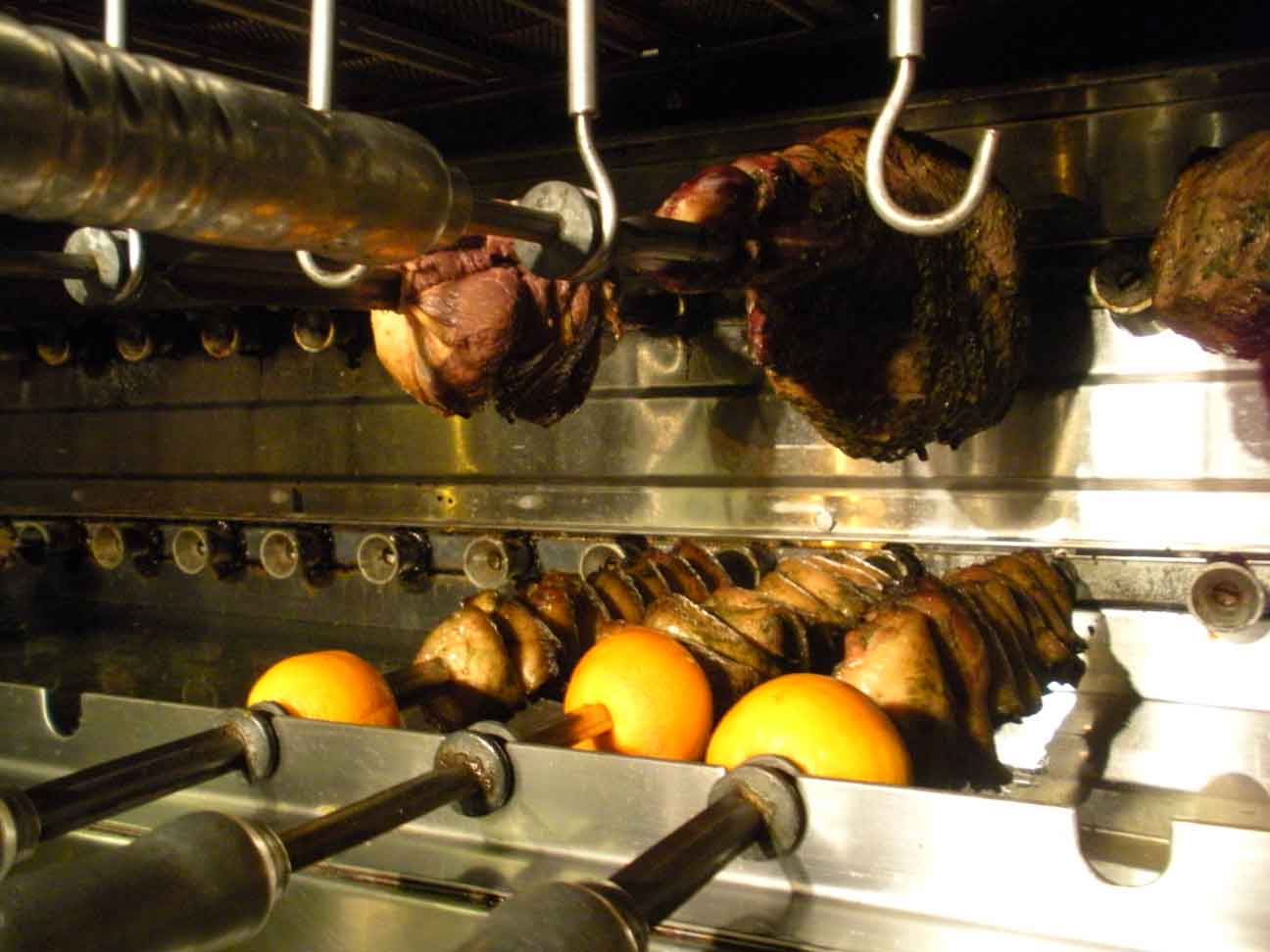 The carvery meats slowly grilling away in the oven outside.
For more photos of the Brazilian Carvery, see here.
What was new with the carvery set was a side of vegetables and garlic mash potatoes which were amazing!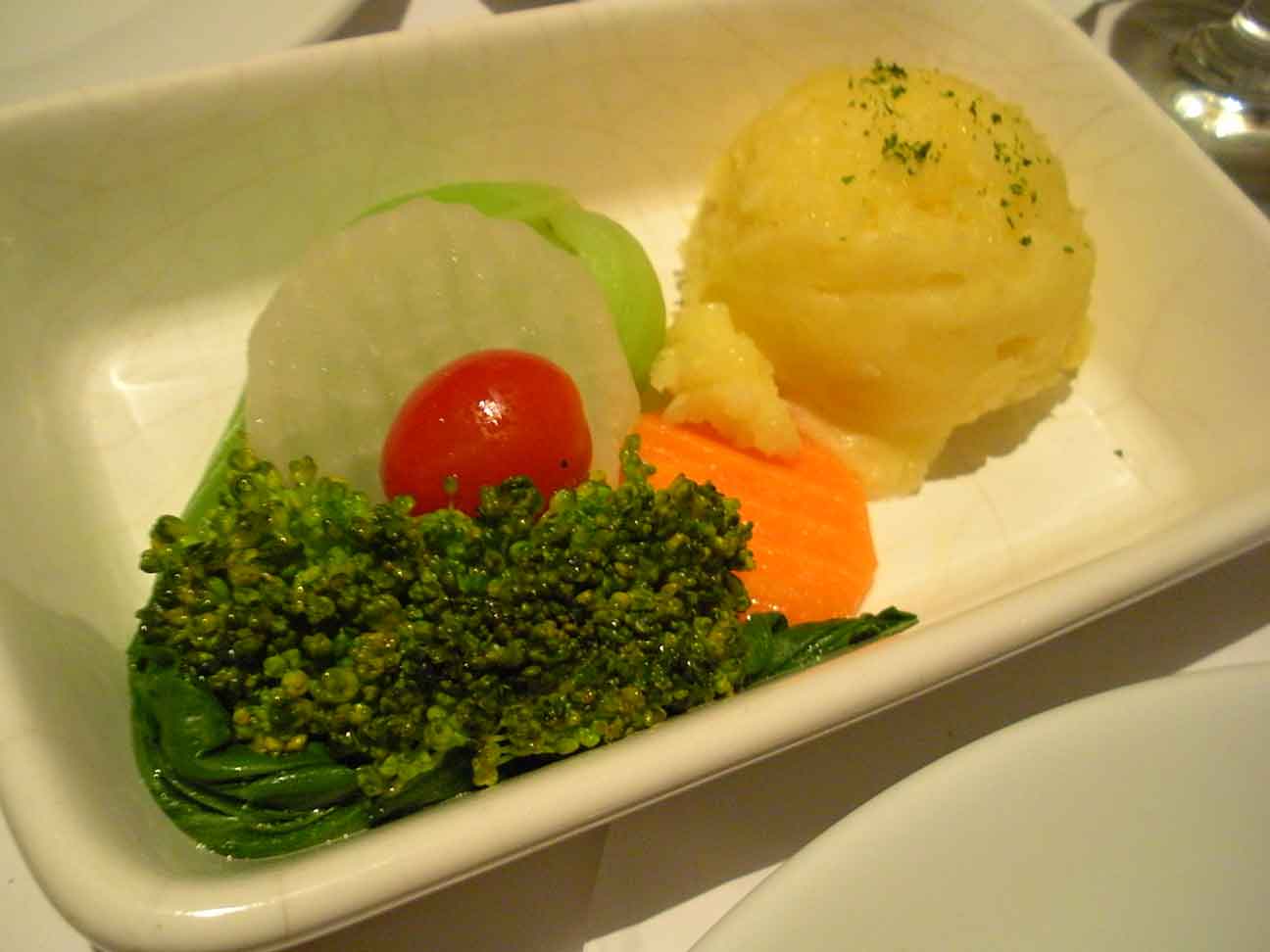 My grandfather opted for the "Sang Har Meen" (RM20) crispy noodles with egg sauce and prawns. We were rather disppointed to see that it turned out to be similar to hot plate noodles instead. Taste wise it was alright but too salty for my liking.
My dad had the Hainanese Chicken Chop (RM30). He took one bite, and refused to let me anywhere near the dish! He had wanted it all for himself! So when I countered that I needed to taste the dish in order to blog about it…. he told me "just say that this Hainanese Chicken Chop is reminiscent of the 60s Kwan Lock kopitiam". Apparently, this kopitiam in the 60s was famous for its Hainanese Chicken Chop when Western Food was something of a novelty. I suppose this would mean that the Eclectic's Hainanese Chicken Chop is a winner! 🙂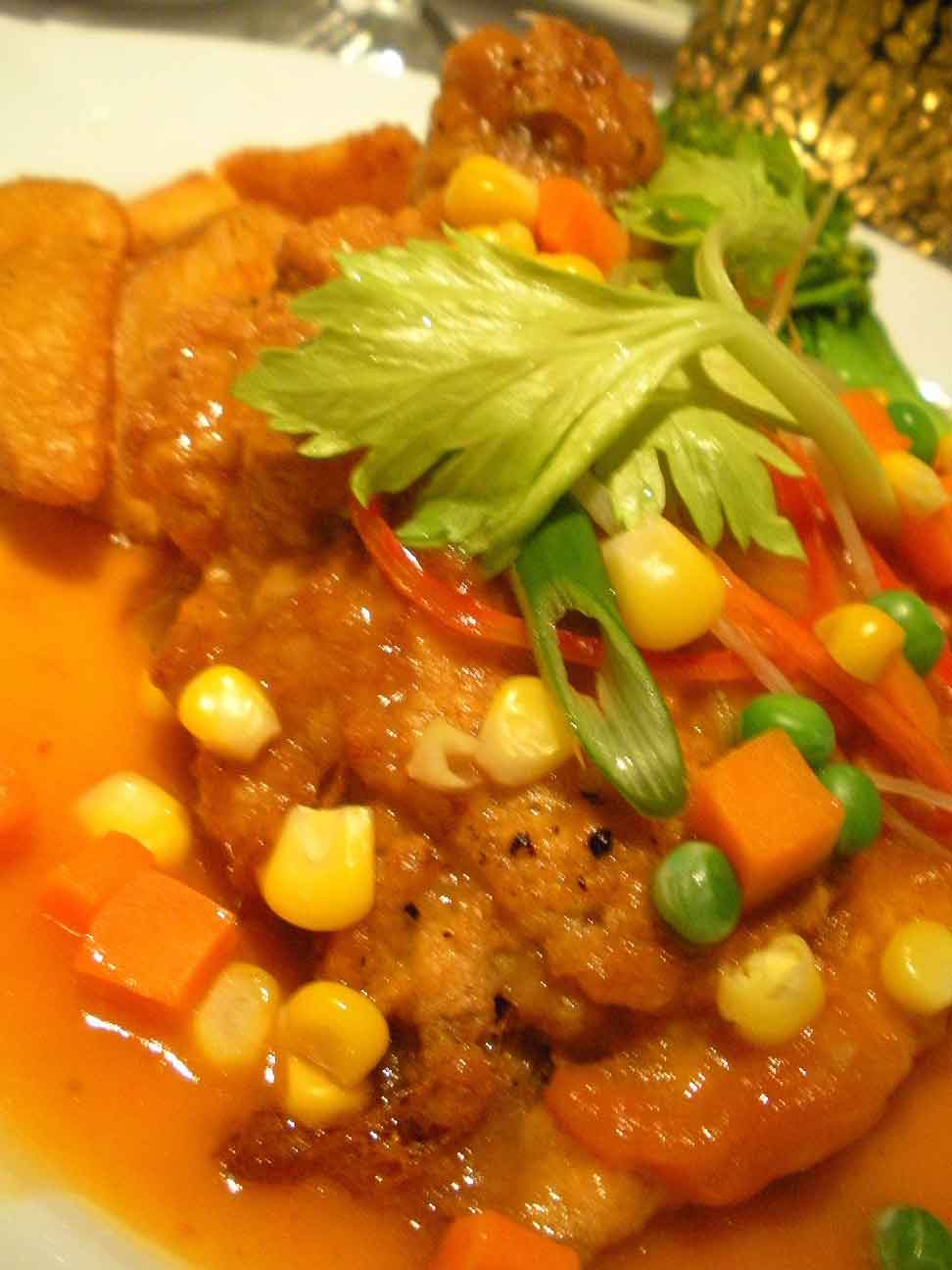 Meanwhile, we also had the Black Pepper Sirloin Steak (RM50). The thick steak was juicy and cooked just nicely medium as we had requested.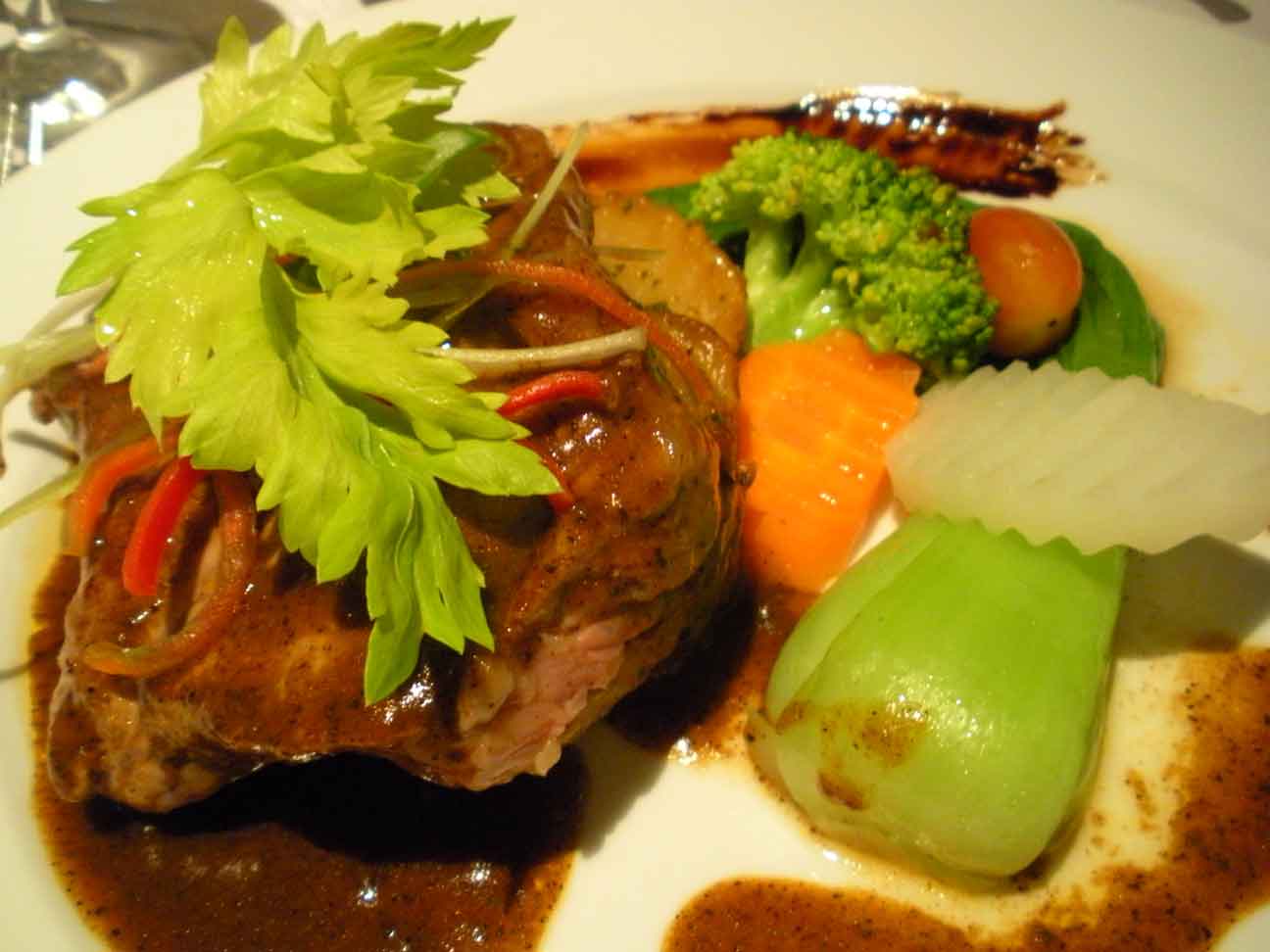 For dessert, we shared a Bread and Butter Banana Pudding (RM12). While this dessert certainly looked visually stimulating, the taste was just not that spectacular for me. But then again, I am extremely fussy when it comes to my desserts!
We left at around 9pm. The restaurant was packed, the interior dining area was full. And people were still coming in for a drink while waiting for the live music to start.
I would love to come back again, for dinner and to stay on for the live music. In fact, I'm thinking this would be the perfect place to have a relaxing girl's night out just before a friend ties the knot! 🙂
The Eclectic is opened 7 days a week in the evenings only from 5pm-1am (2am on weekends). Kitchen closes at 12am. Live music starts 10.15pm on Fridays and Saturdays. The Eclectic is located at 149 Jalan Batu Ferringhi, 11000 Penang. (along the main road row of shophouses in between Bella Italia and Magic 1 Restaurant, opposite Rasa Sayang Hotel) For reservations, call 04-881 4287.