I love Indian food with its rich exotic tastes and generous use of fragrant spices! And luckily Penang has no shortage of Indian food.
The most recent discovery is Karaikudi Restaurant, located at Hillside, Tanjung Bungah. This restaurant is said to specialise in Chettinad cuisine which is the cuisine of the Chettinad region of Tamil Nadu state in South India.
I'm not too sure what authentic Chettinad cuisine tastes like, but what we had at this place certainly agreed with our palates!
Pouring over the very extensive menu, we decided to order some vegetables and salads for a start.
The salad with lemon juice and fresh coriander herbs was refreshing indeed.
Despite the extensive menu, somehow we tend to order something that's familiar to us. And thus we had the tandoori chicken with garlic naan.
The tandoori chicken was good – deep smoky scents and infused with flavour! The garlic naan also did not disappoint as we kept reaching into the basket for more!
I had a craving for butter masala chicken that night. While the gravy was deliciously smooth, I would have preferred it if they had used boneless chicken in the preparation of the dish. Makes it much easier to eat.
Still, I happily drenched fluffy morsels of briyani rice in the masala gravy. 🙂
We also had their fried Chicken (i think it was Chicken Rose on the menu). I did prefer the tandoori chicken to this fried chicken. But it got nods of approval from the rest of the family. Best thing about the fried chicken was that it was served hot and crunchy! Cold hard fried chicken is just not worth eating.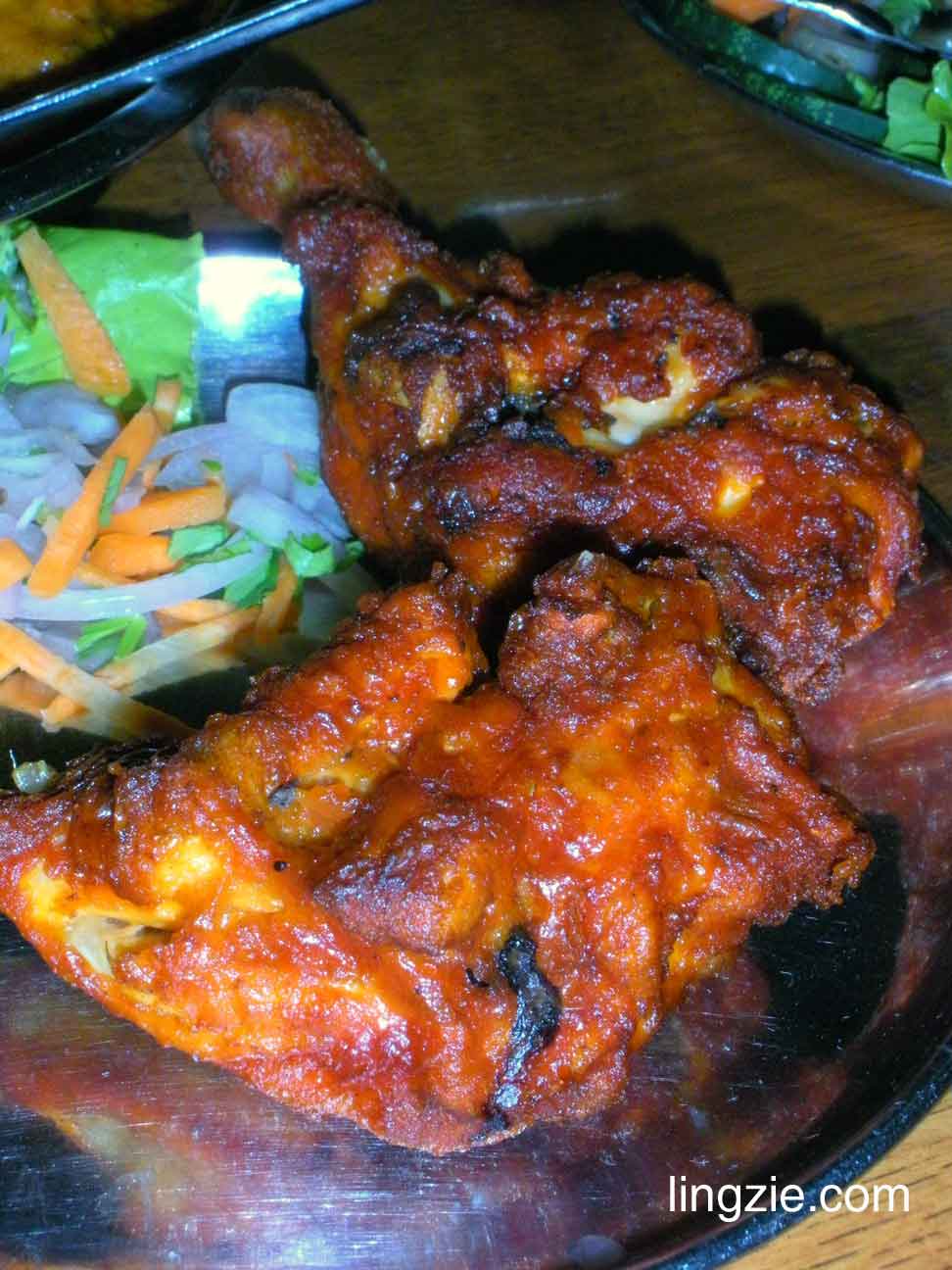 We also tried their fish curry (more curry to pour over the briyani rice!)
What I really liked about this place were the portion sizes which were just nice. Not too big so you still have room to sample other dishes. And do they have a lot of dishes for you to try!
Price wise, its quite  reasonable. For the 4 of us, the meal cost about RM75 including an orange lassi and a Diet Coke.
Karaikudi Restaurant (Hillside) is located at 1K, Jalan Sungai Kelian, Taman Sea View, Tanjung Bungah, Penang. Open daily from 11am-11pm. T: 04-8996466.
They also serve vegetarian set lunches. And while we were leaving the restaurant, I spotted this mouthwatering looking tosai…
Have a good weekend everyone! Happy eating!