Vietnamese Street Food. These words certainly conjures up images of dog meat (!!), fried creepy crawlies like scorpions (!!!), snake meat, tucking into hot bowls of Pho along cramp narrow streets…
However, at Miss Saigon, you get a (tamer) taste of Vietnamese Street Foods in a cosy environment. Sorta like a teaser to the myriad exciting flavours of Vietnam.
The new menu at Miss Saigon offers various finger foods, salads as well as noodles. One thing that is quite apparent from the start of the food tasting session, is that Vietnamese cuisine tends to have a less intense flavour and relies heavily on the freshness of the ingredients. We started off with the healthy, veggie packed rice paper rolls.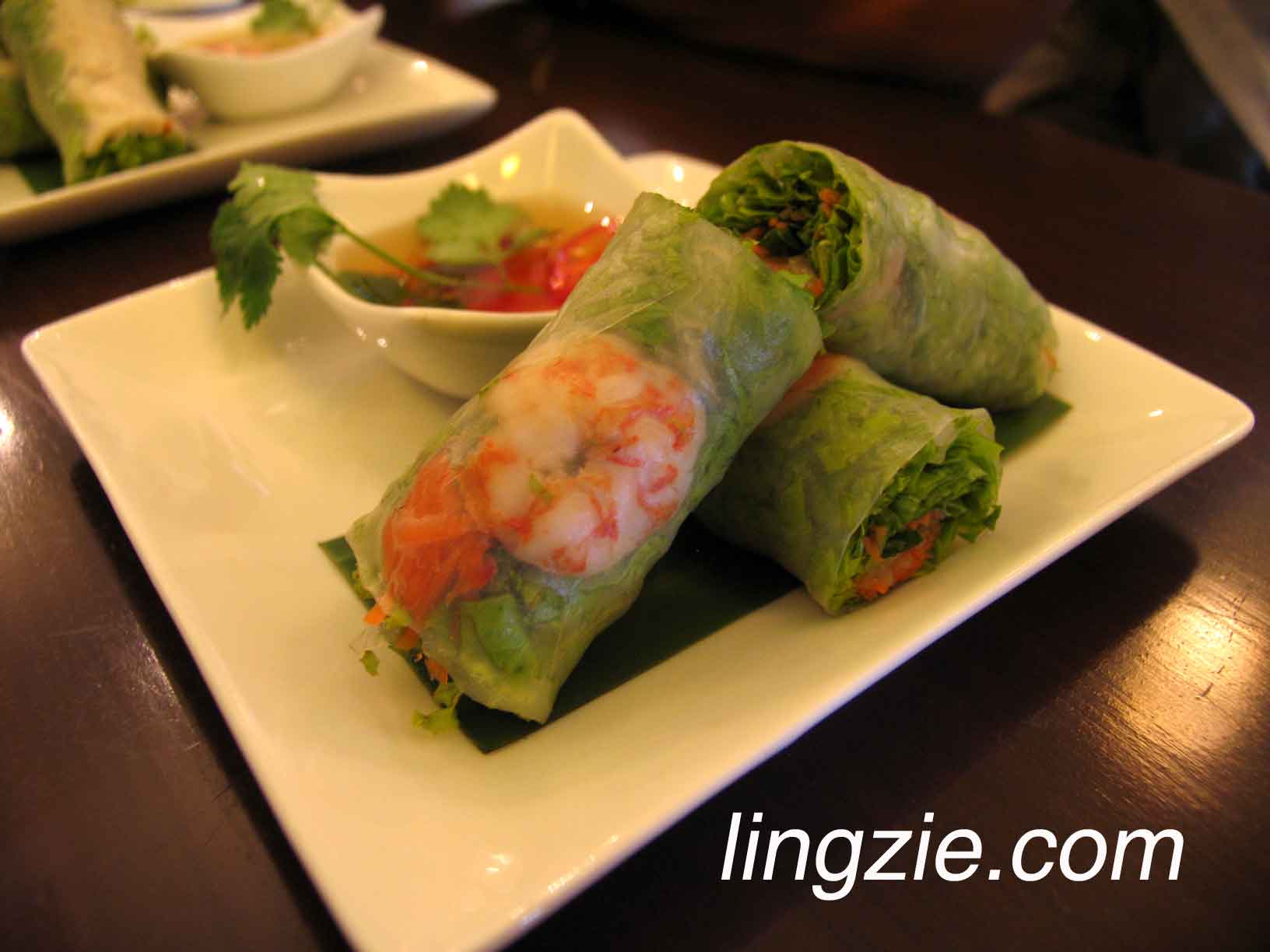 The traditional northern roll comes with prawns and a sweet chilli dipping sauce. While the Traditional Southern Roll comes with chicken and a creamy peanut butter based dipping sauce. Both are equally refreshing to the palate.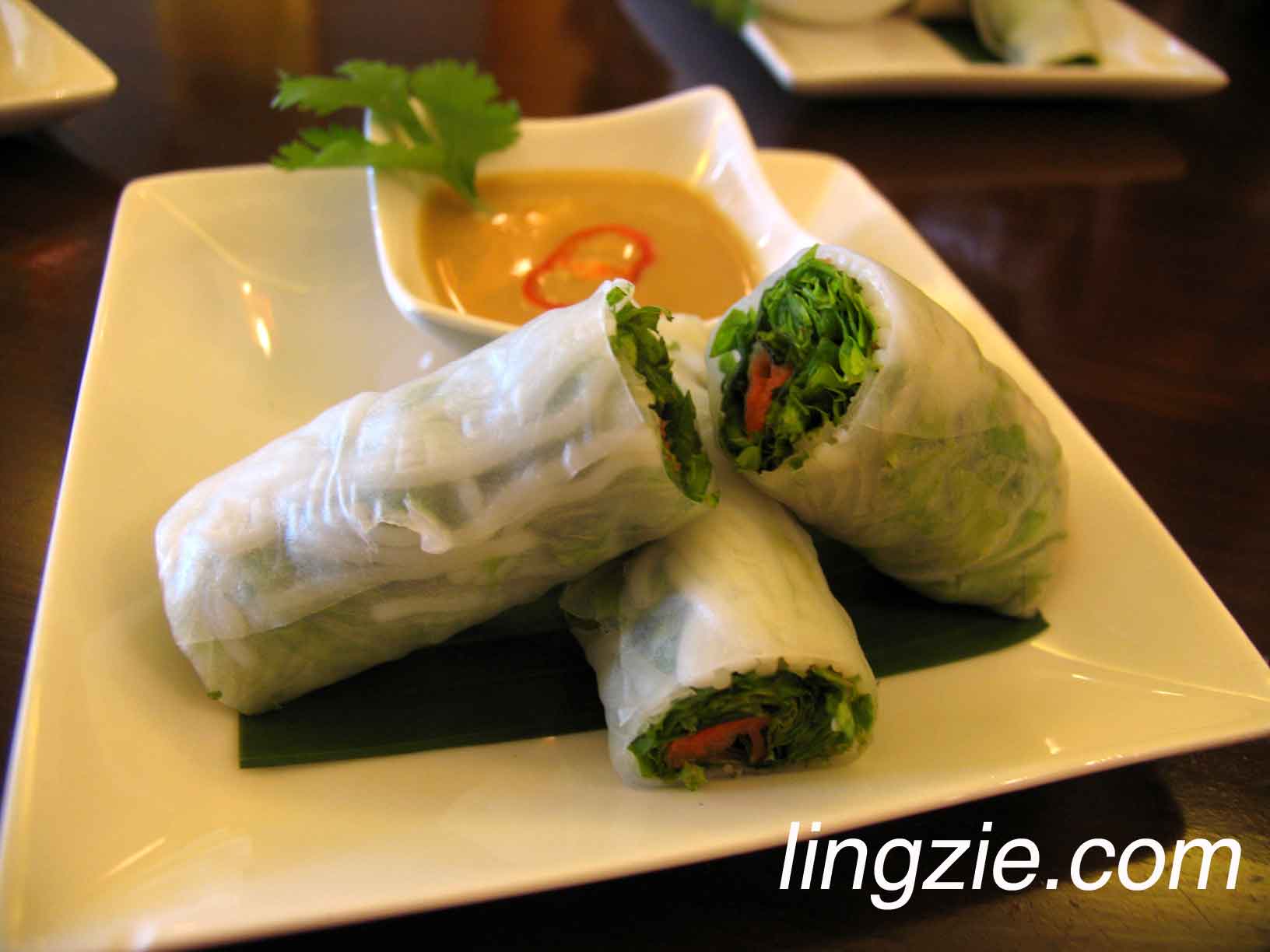 Various other rolls available include the Fresh Vegetarian Roll (which has laska noodle inside), Southern Fish Roll and Farmer's Egg Roll. The most unique roll was probably the Classic Hor Fun Roll which is available with either beef or chicken. Sinking one's teeth into the Beef Hor Fun Roll is indeed a delight. Silky smooth Hor Fun encasing tender strips of beef.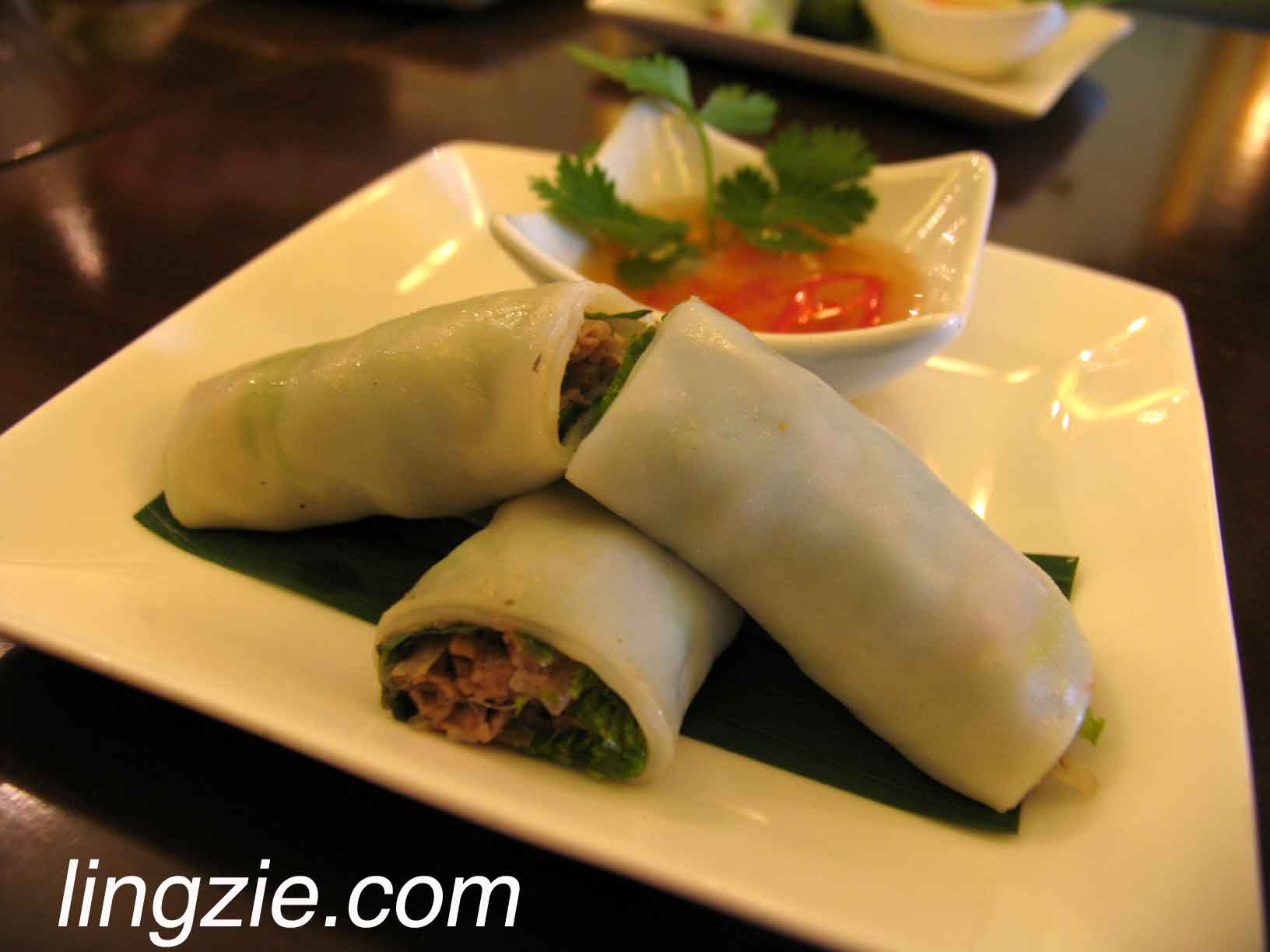 Another treat was the fried rolls – Crispy Gourmet Seafood Roll. Light, Cripsy yummy-ness enveloping a mix of seafood.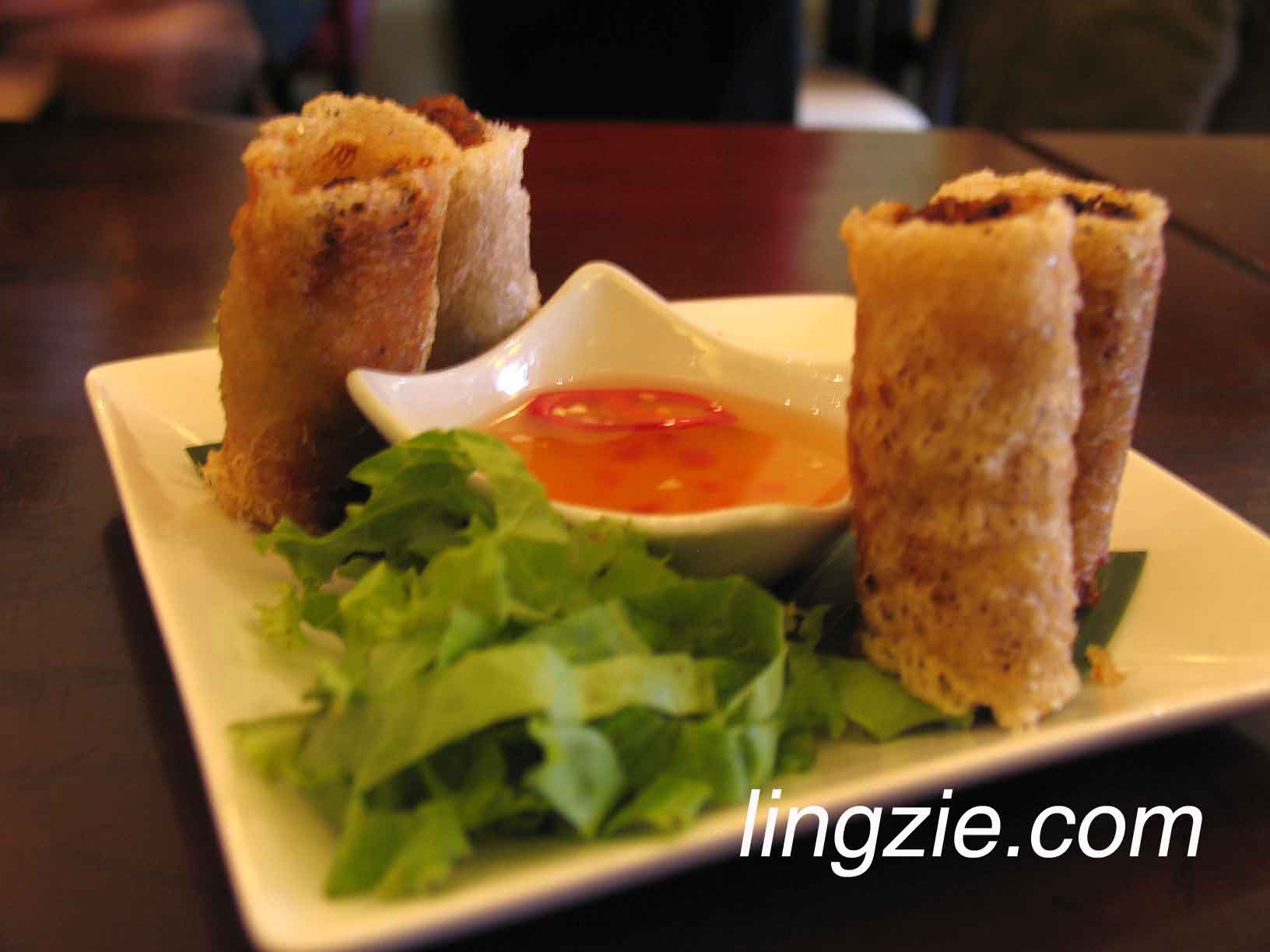 Then came our first taste of the more 'wild' side of Vietnamese cuisine – Spice Grilled Eel Cake and Villagers Grilled Snail Cake (both RM12.80). Similar to the Thai fish cake and reminiscent of burger patties, these were a great snack! I could easily polish off a plate on my own! Also, this is a good dish to slowly ease your palate into something as exotic as snails. The cakes are mixed with minced chicken so the eel/snail taste is not as apparent.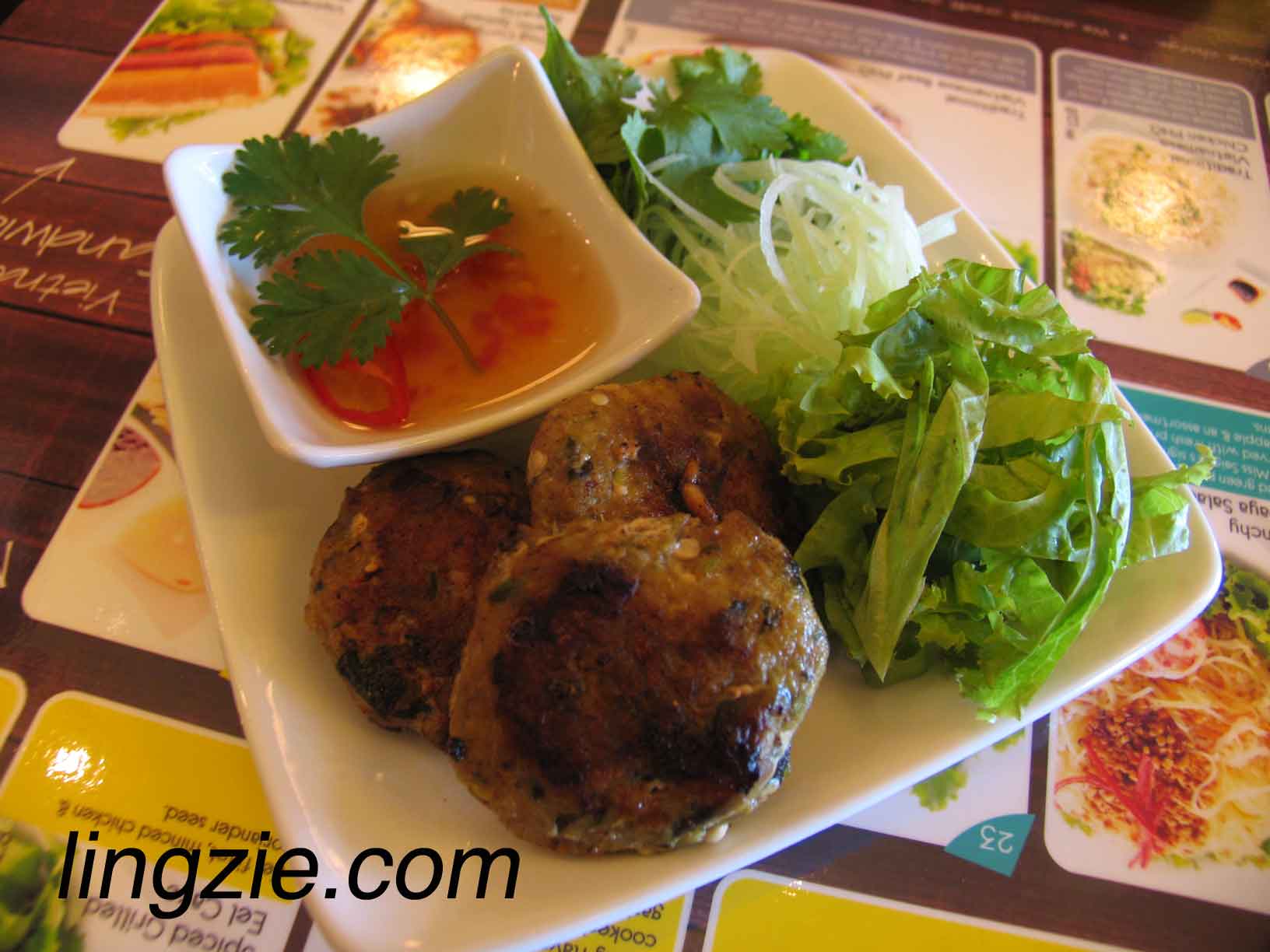 Continuing on with the healthy food trend is an array of salads – five different types in all! Each salad is tangy and refreshing, with a slightly different twist to it, be it the addition of glass noodles, crunchy papayas or jellyfish. All the salads suited my palate very well.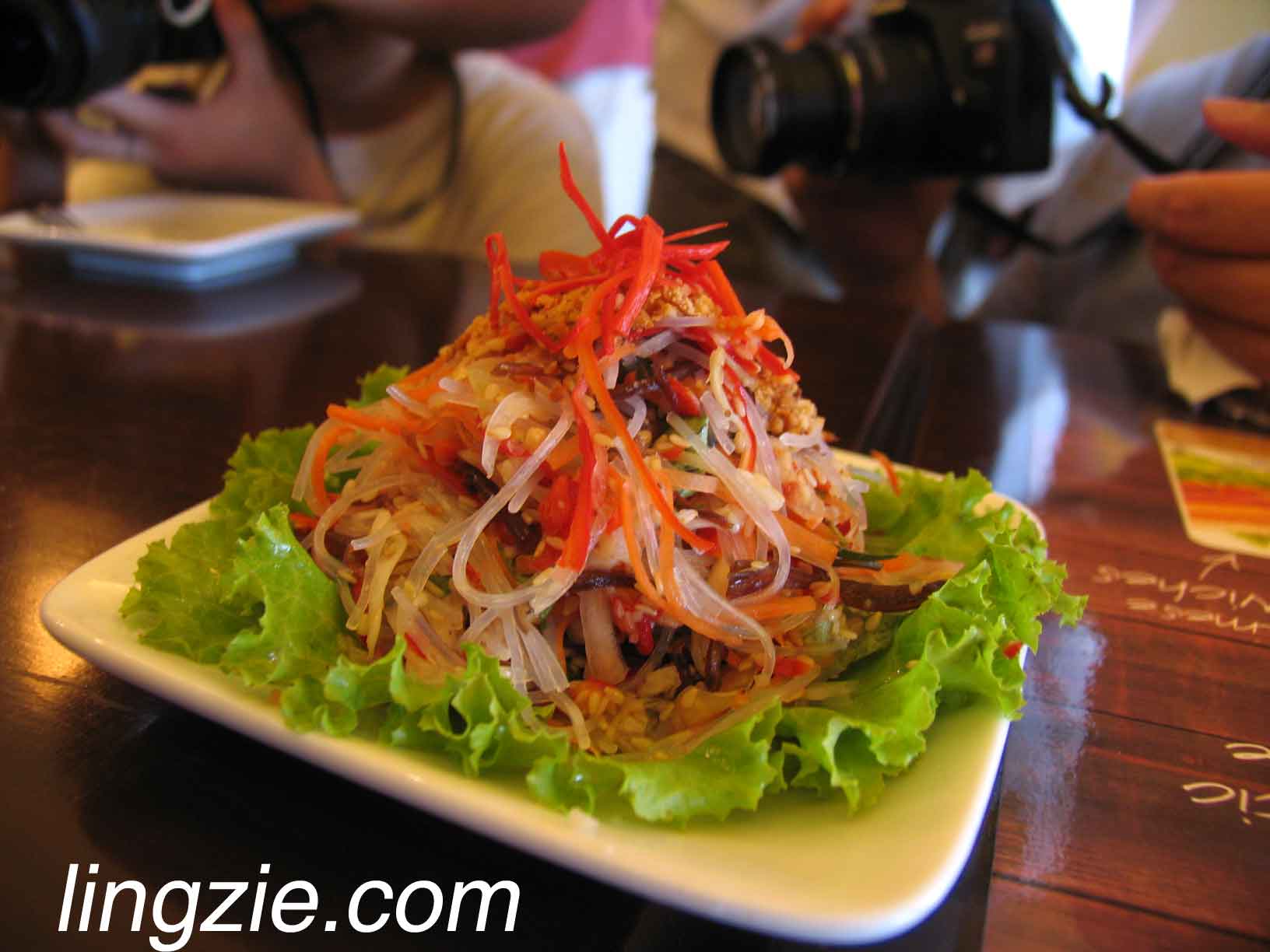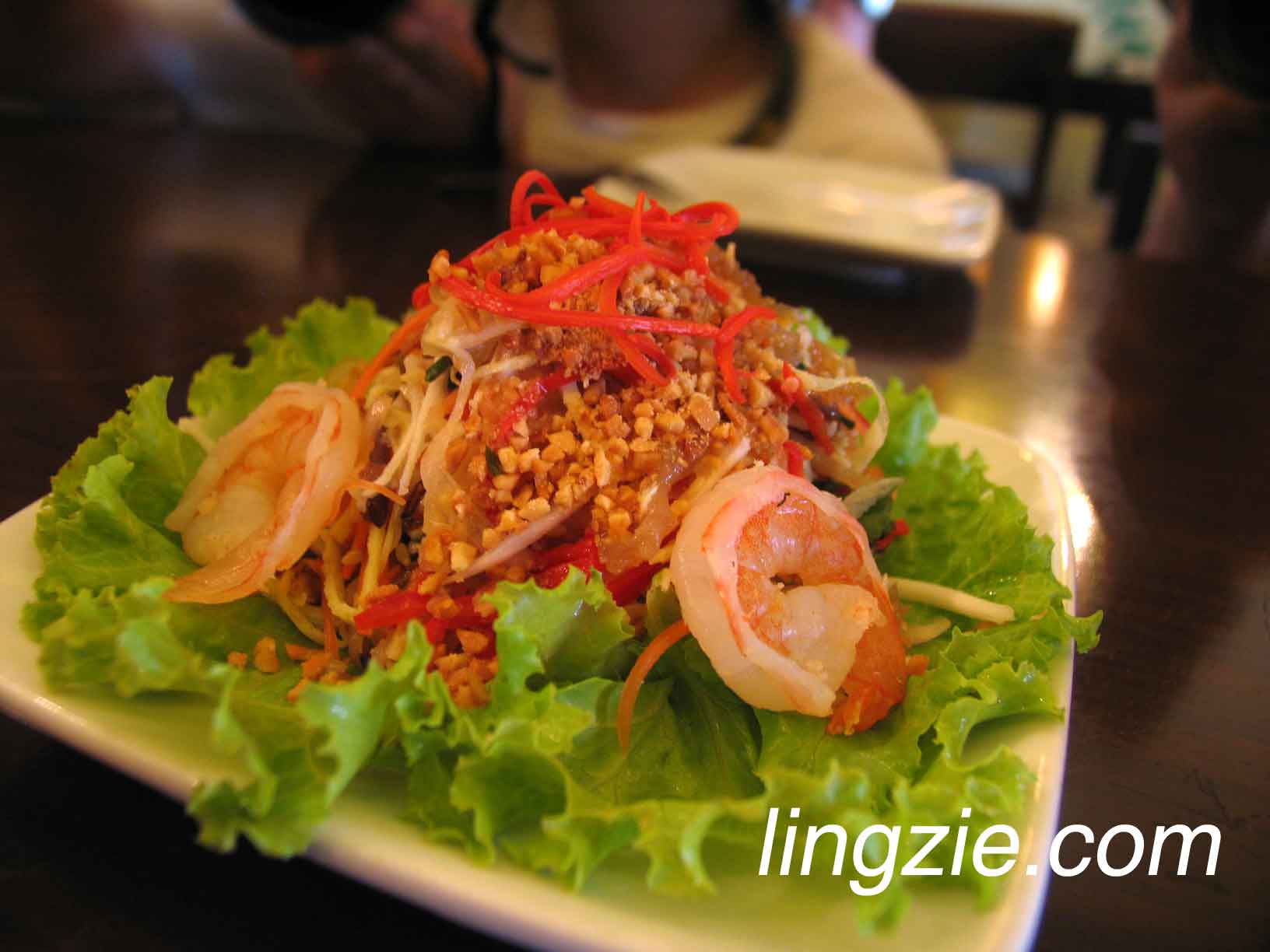 The Street Style Salty Soft Shell Crab lived up to its name. It was salty, it was crispy, it was good!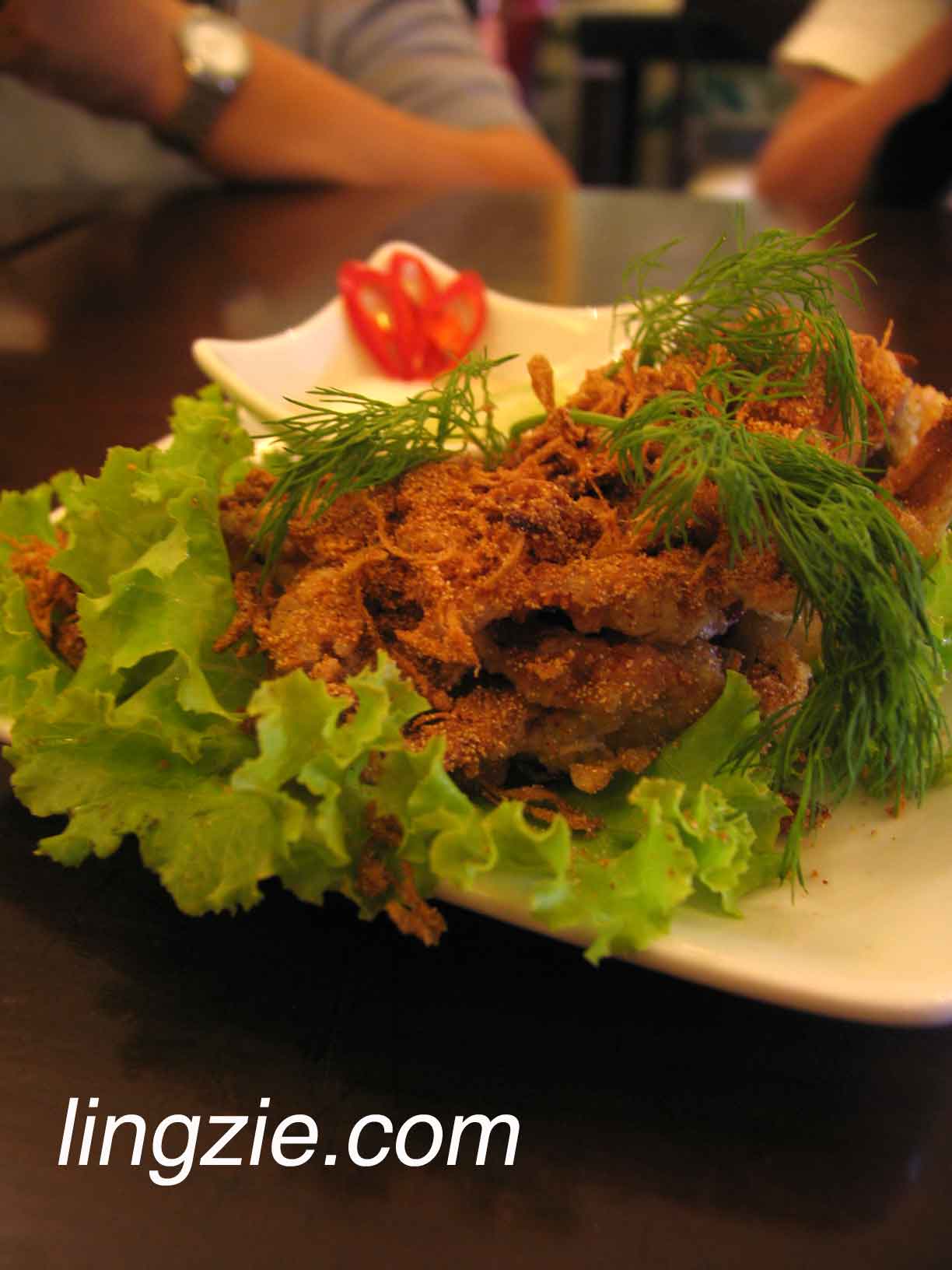 Meanwhile, the Wok-Fried Flower Chicken/Beef was an instant hit. The 'flower' used here is the wild Pergularia minor. We were told that it needs to be plucked just before it blooms to get the best flavor.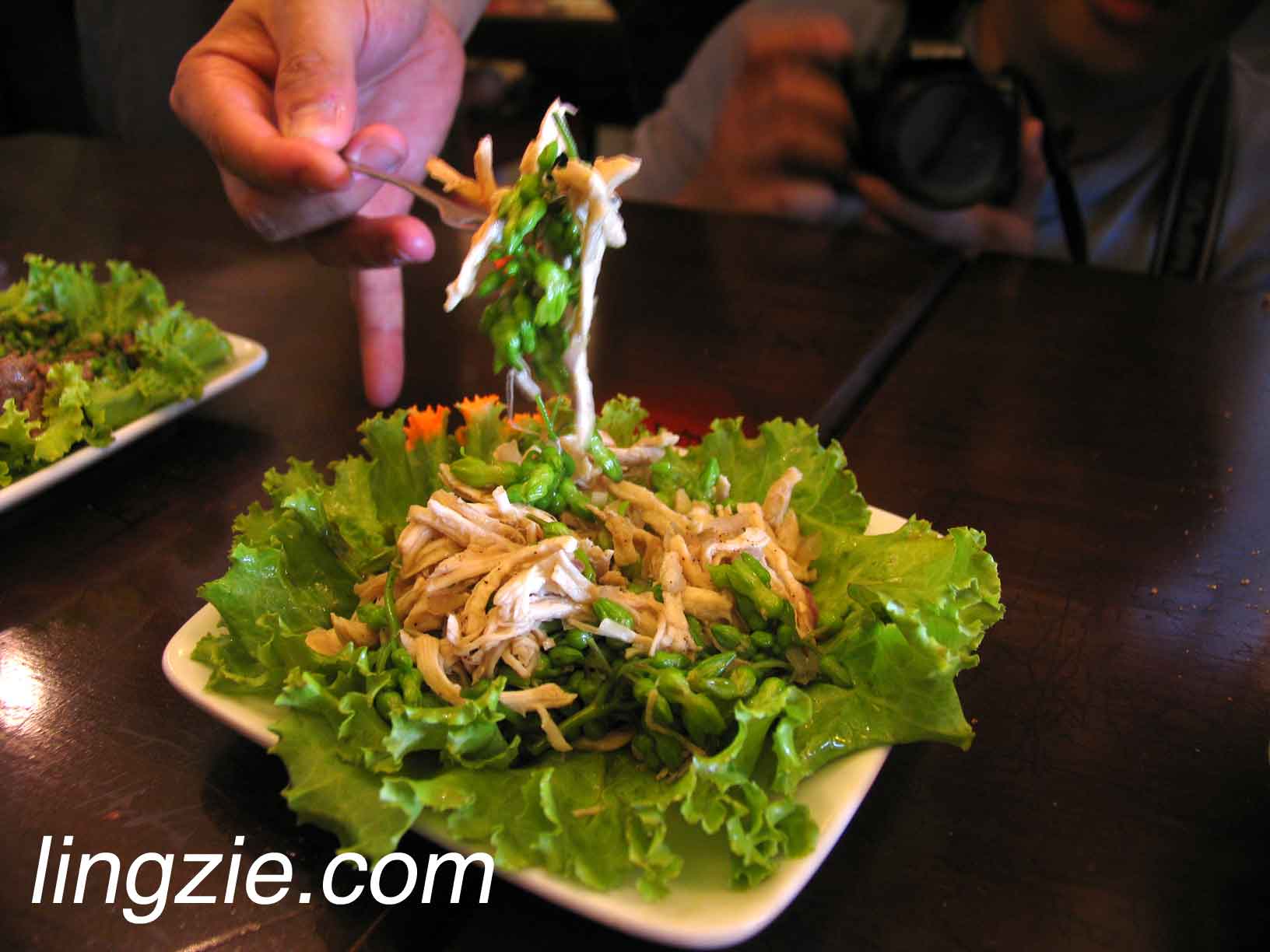 Then came the staple of Vietnamese cuisine – rice noodles! I liked the Traditional Southern Chicken Bun noodles from my first visit. So this time I tried the Beef version and found it just as good. Thick chewy rice noodles similar to our Laksa noodles, again loaded with fresh vegetables, sweet slices of beef and topped with nuts. A winning combination!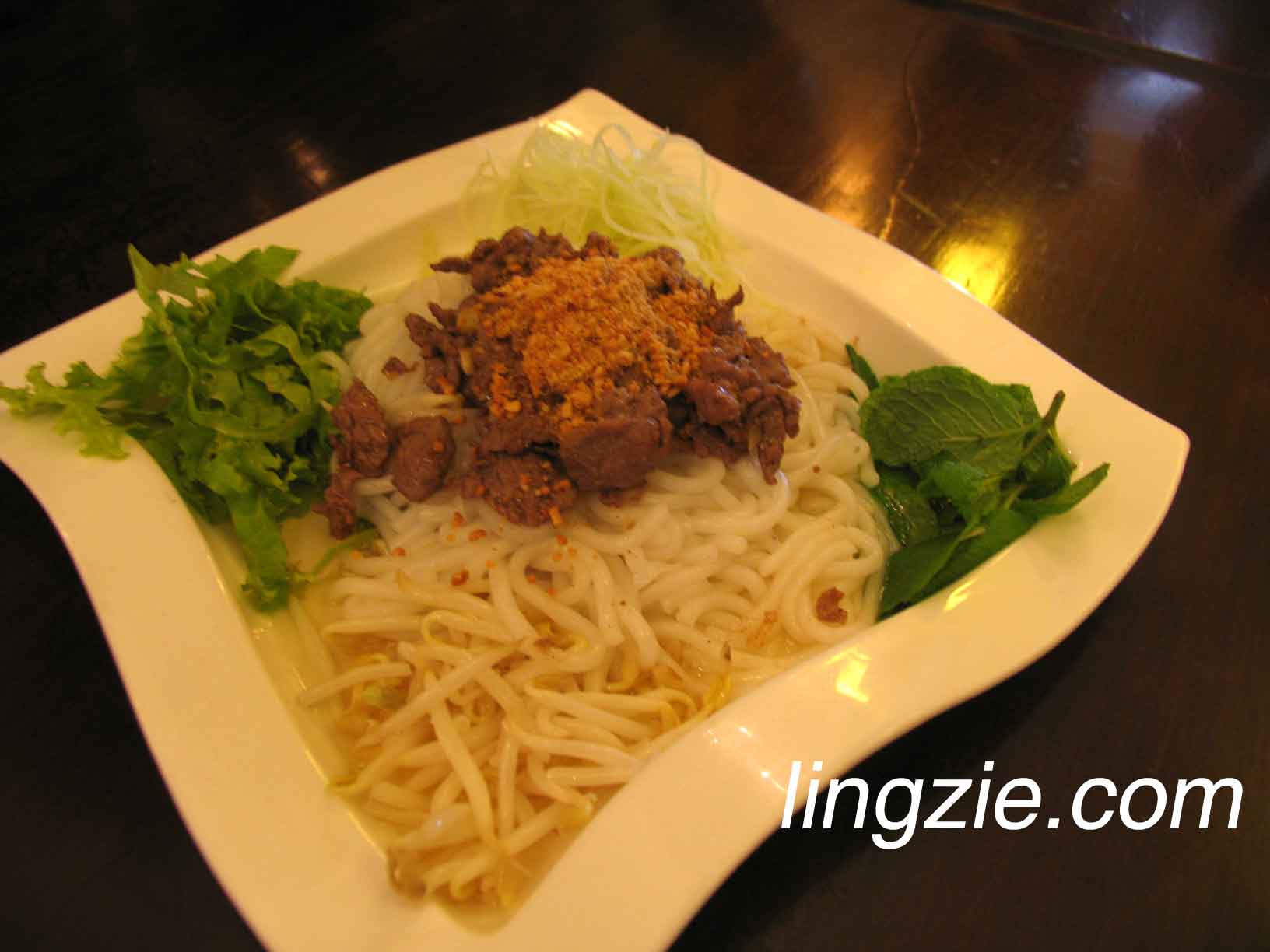 The Crunchy Eel Glass Noodle Soup tasted unique – sour and rather pungent, somewhat similar to our laksa soup.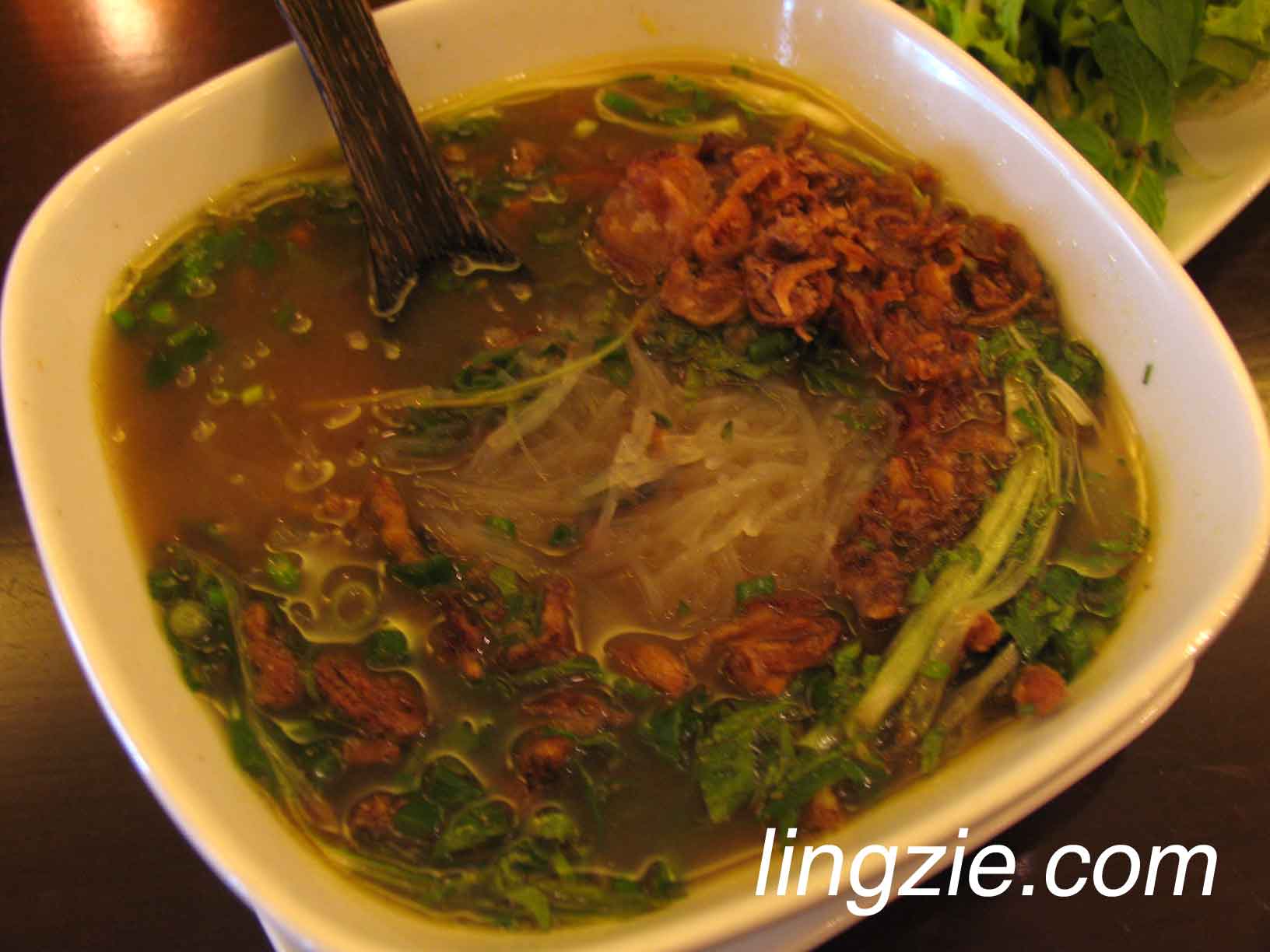 And for the gastronomically adventurous, the Villagers Snail Noodle soup should tickle your taste buds. The snail is crunchy to taste and most interesting were the banana 'chips' that garnished the dish. Comes with the thick Laksa noodles in a tasty sour and pungent broth.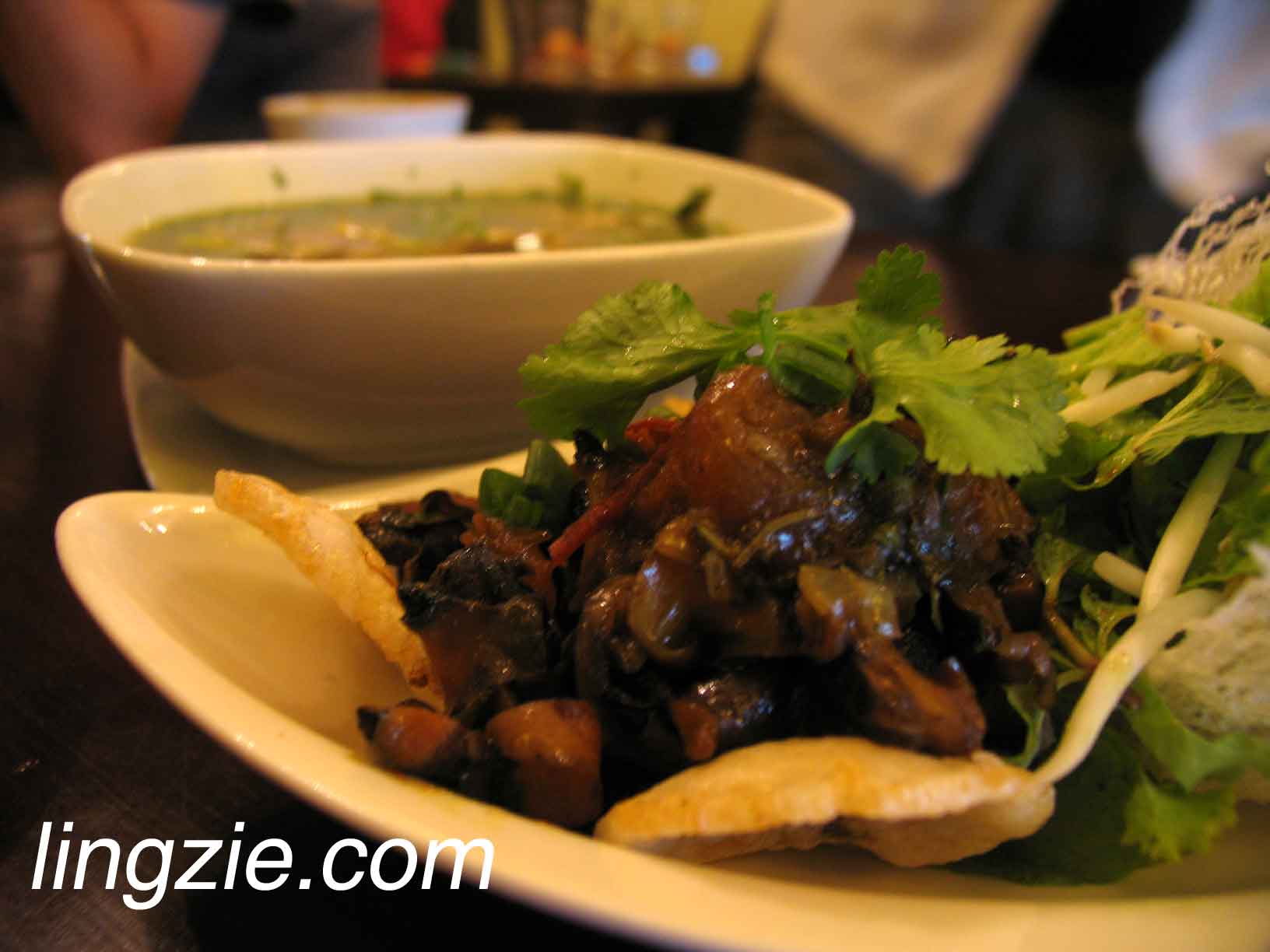 Finally, the Vietnamese sandwiches, which largely came about due to the French colonization of Vietnam. It is most interesting to note that while on the one hand Vietnamese cuisine offers noodles and stir fry dishes influenced by Chinese and Thai style cooking, on the other is something totally opposite – French style dishes! I suppose Vietnamese cuisine really marries the East and West influences!
But i digress… back to the sandwiches… The Vietnamese Street Baguette may look like just any other normal baguette. But do not be fooled, for inside the baguette is a layer of creamy chicken pate, sandwiching the chicken/beef cold cuts.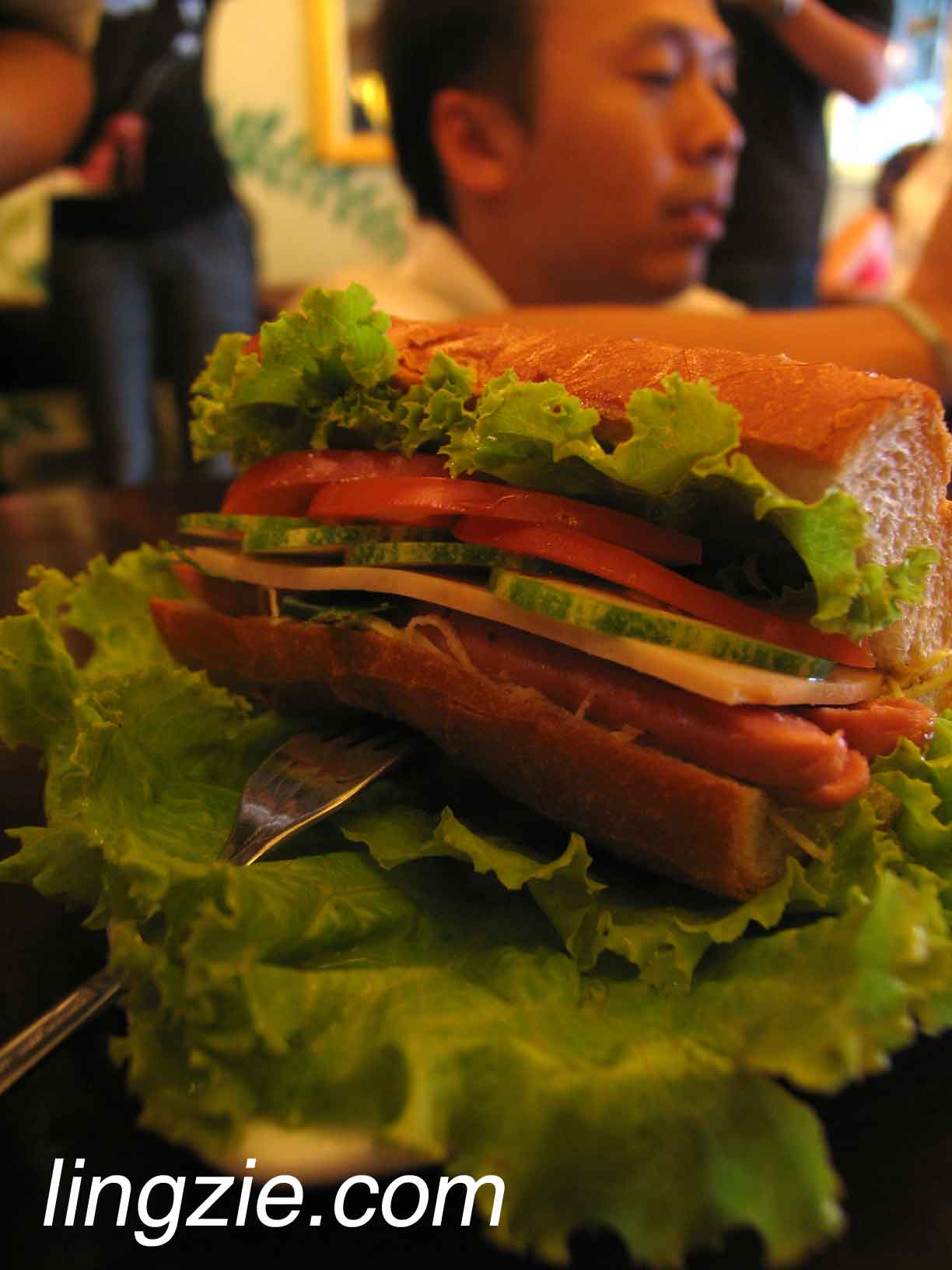 Another exotic offering is the Frog Curry with Garlic Spiced Baguette (RM10.80) The curry was not very spicy. Instead it was thick and creamy. Best to take a mint after this though, judging from the amount of garlic on top of that baguette!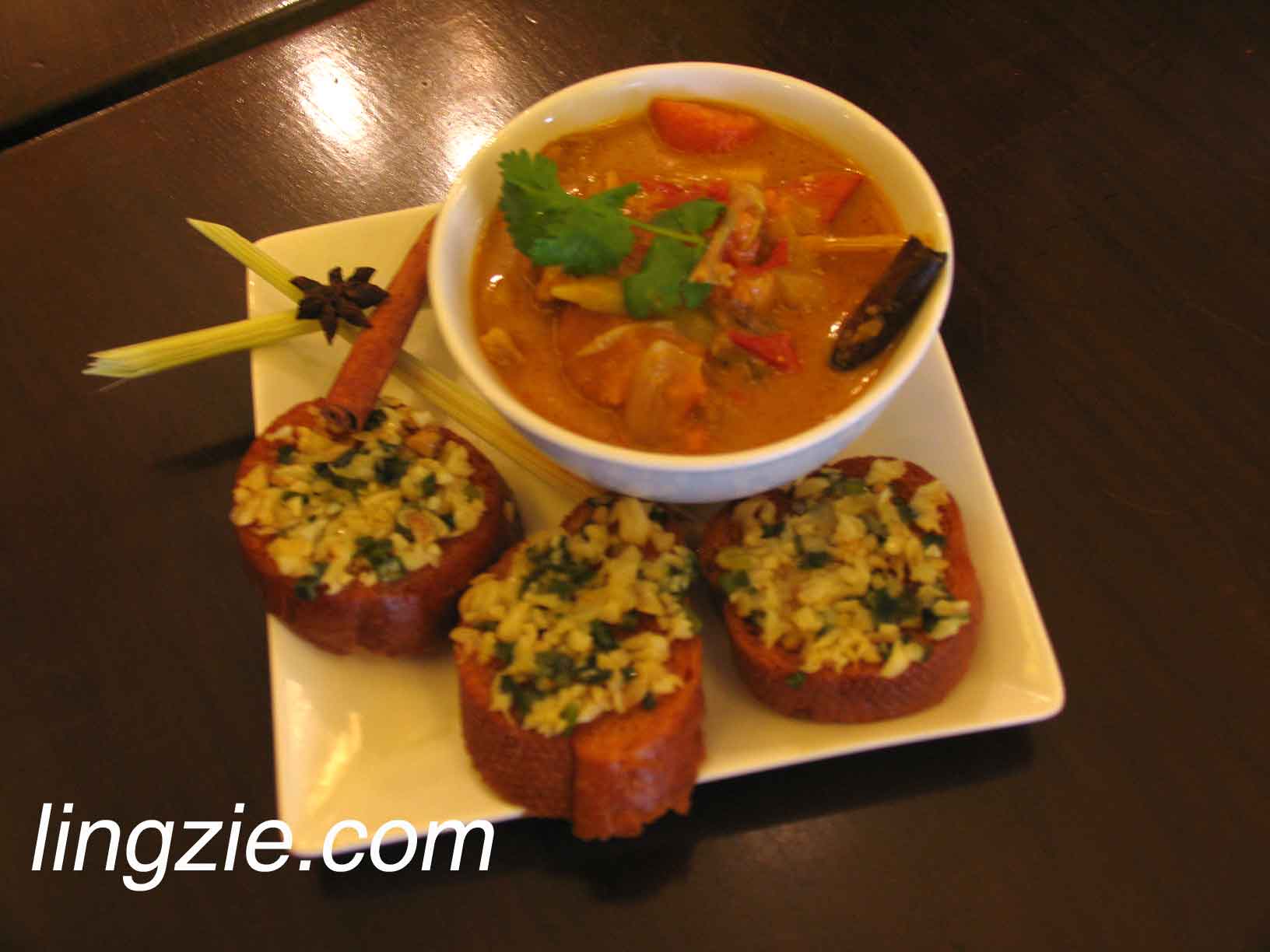 Overall, this was a most pleasant experience. Vietnamese cuisine is still something new to the Penang food scene, but should suit people looking for healthier foods as most of the dishes had minimal oil in them. I especially enjoyed the rice rolls and the rice noodles. Many thanks to Leslie for the invitation. One should applaud his pro-activeness in constantly trying to improve the quality of service and food and in bringing something new to the plate.
Miss Saigon is located at 1-01-15 E-Gate (next to Old Town Coffee), Lebuh Tunku Kudin 2, 11700 Gelugor, Penang. Pork Free. For reservations, call 04-377 6083. Opening hours are 12pm-12am.