Continuing the second part of this Valentine's Day special (read the first part here), this post is for those of you who believe in the sure proof 'tradition' of wining and dining. One of the most important criteria for me personally on such an occasion would be ambience coupled with good food.
So, here are my top restaurant picks for Valentine's Day suited for various budgets.
1. Topping the list would definitely be David Brown's in Penang Hill. The view is breath taking (even more so at night) and coupled with the cool weather, this place is definitely romance material!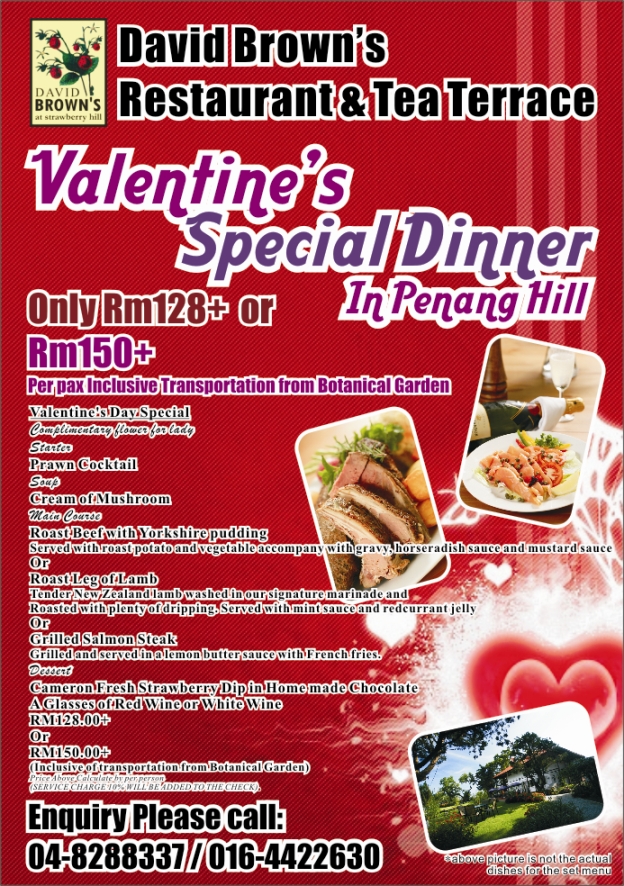 And no worries on how to get up to Penang Hill, as David Brown's has graciously arranged for transportation from Botanical Garden. Valentine's Day Set Dinner at RM128+ or RM150+. For reservations, call 04-8288 337.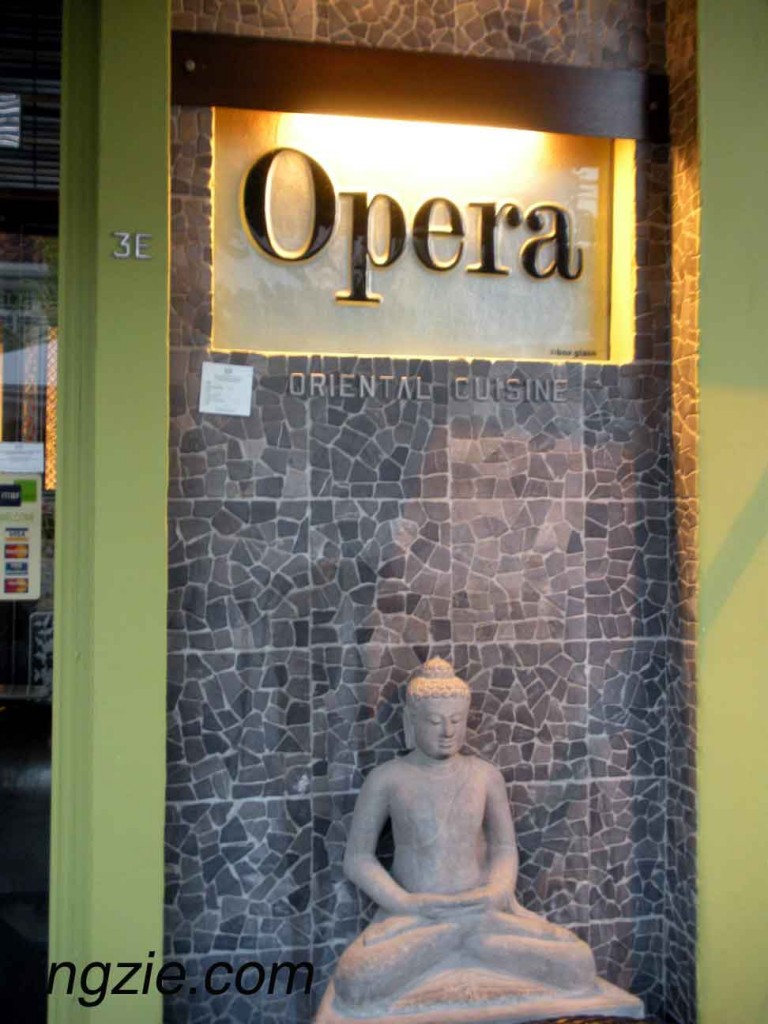 2. Opera Oriental Cuisine & Lifestyle Gallery at Upper Penang Road. Very Zen like place, lovely ambience, fusion Oriental food and impeccable service. Sounds like a recipe for romance yes? At time of writing this post, the Valentine's Day menu at Opera has yet to be finalized. But do check back with the restaurant by the end of the week. For reservations, call 04-263 2893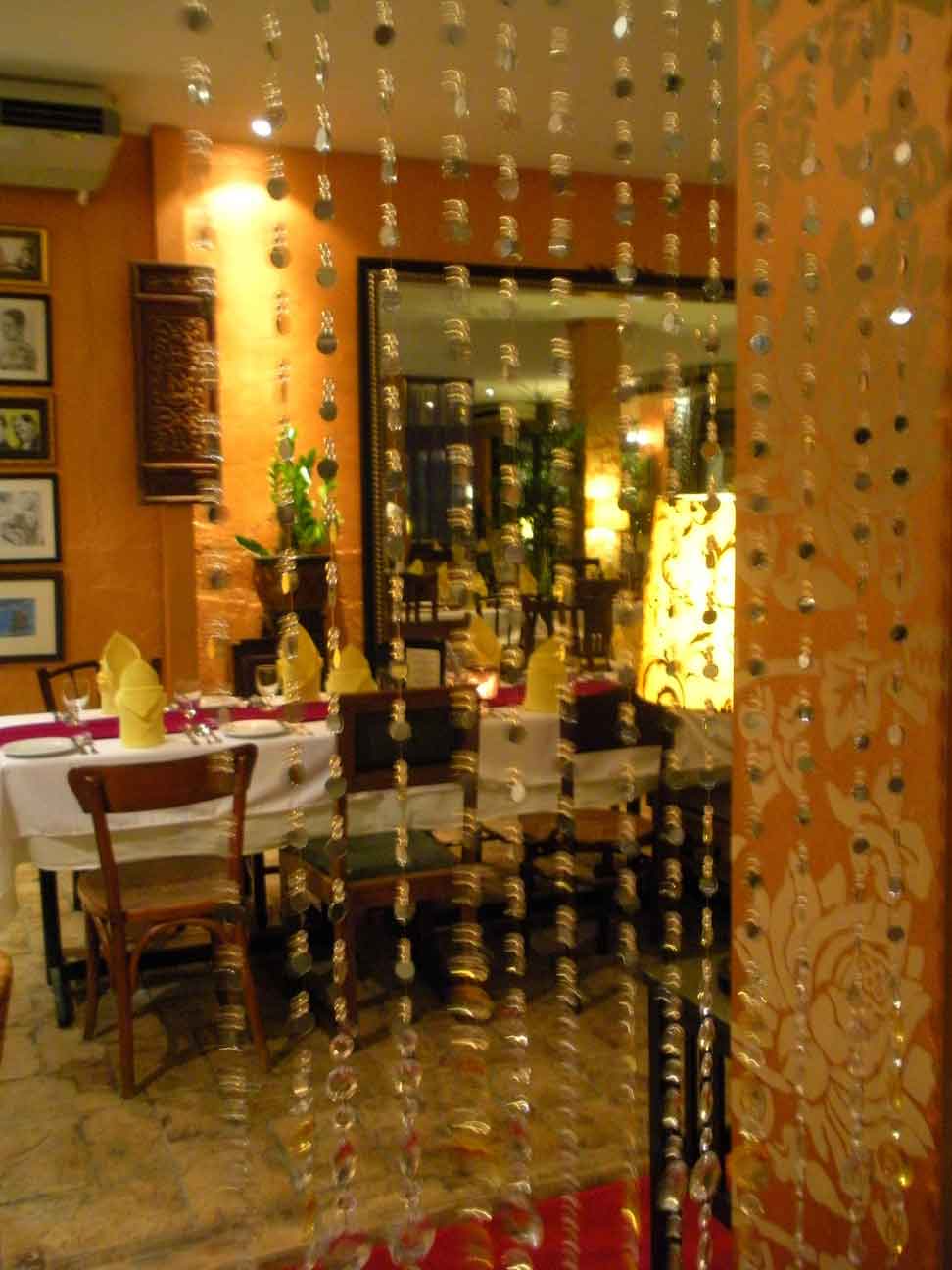 3. The Eclectic at Batu Ferringhi. Brazillian Carvery anyone?  Valentine's Day 5 Course Set dinner that includes Salad, Soup, 3 choices of Main Course, Dessert, Coffee/tea and Red/White wine. RM150nett per person. For reservations, call 04-881 4287
4. Deluxcious Cuisine at Jalan Sultan Ahmad Shah. Reasonable prices, above average food. Valentine's Day 5 course Set Dinner includes Appetizer, Soup, 2 main course of fish and chicken (thats right you dont have to choose cos you get BOTH!), and dessert. Free flow wine and fruit juice. RM99++ per person. For reservations, call 04-2610288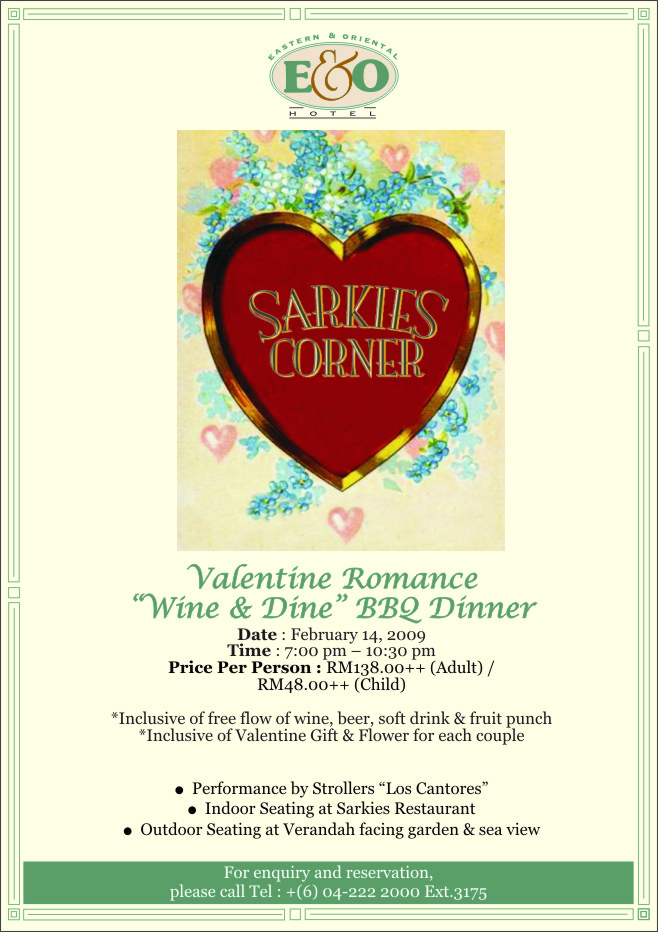 5. Buffet's anyone? If buffets are your thing, check out E & O Hotel's Valentine Romance "Wine & Dine" BBQ Dinner at Sarkies Corner. RM138++ per person. Inclusive free flow wine, beer, soft drink, fruit punch. Valentine's Gift and flower. For reservations, call 04- 222 2000 Ext 3175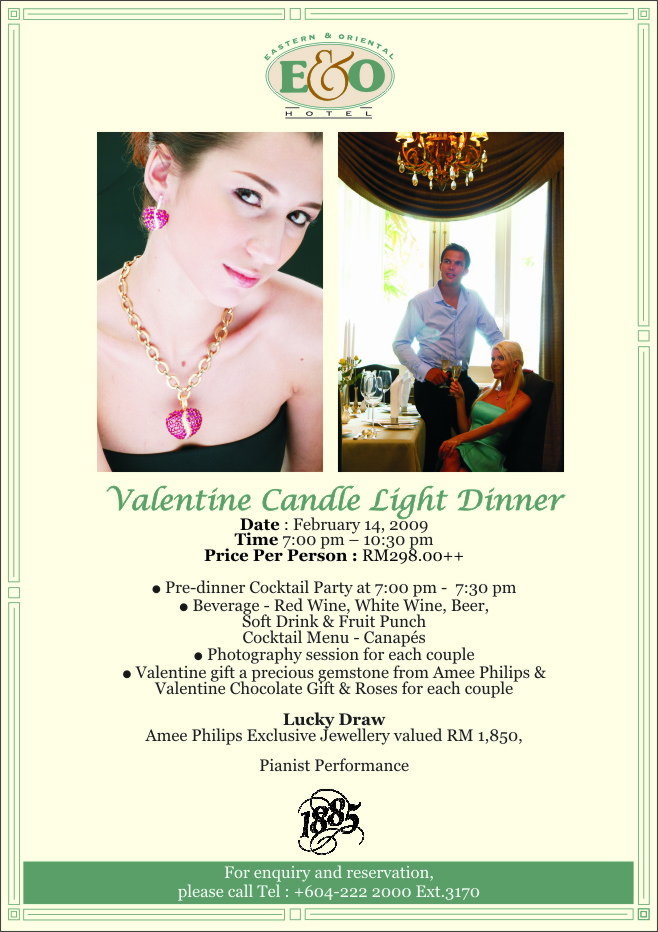 6. For something a lil more extravagant, try E&O Hotel's Candlelight Dinner at 1885. It starts with a pre-dinner cocktail party. Followed by dinner as a pianist serenades you. Valentine gift of an Aimee Phillips gemstone, chocolates and roses. Plus there's a lucky draw of gemstones worth RM1850! RM298++ per person. For reservations, call 04-222 2000 Ext 3170
7. Valentine's Day BBQ Buffet at Park Royal Hotel (Tamarind Brasserie) complete with Valentine's Day gift. RM128++ per person. For reservations call 04-881 1133.
8. Valetine's Day Candlelight 8 Course Dinner at Tiffins, Park Royal Hotel. The eight course dinner includes tapas, cold & hot appetizer, soup, sorbet, choice of main course, cheese platter, dessert and heart shaped chocolate pralines. For reservations call 04-881 1133.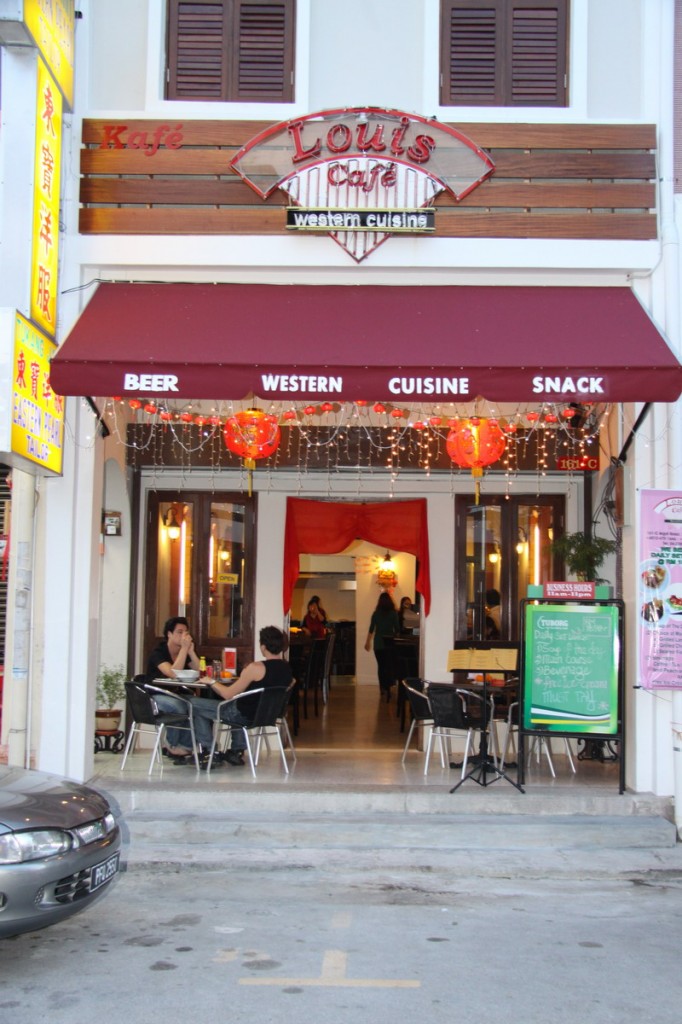 9. Louis Cafe at Argyll Road. This is a new undiscovered cafe that has a cosy ambience and is definitely value for money! Valentine's Day 5 Course Set Dinner at RM99 per couple. 10% off for the first 15 couples! Also, look out for more reviews of this place on lingzie.com in the coming week! For reservations, call 04-228 7729
Hopefully, this Valentine's Day Special has sparked your imagination and given you some ideas on how to celebrate with your loved one!
Happy Valentine's Day everyone!
PS: I've recently gotten a new RSS feed cos the previous one had some bugs. So please do sign up once again for my feed as I lost all the previous sign ups! Thank you!