Louis Cafe is a new player in the Western Cuisine food scene, having opened its doors at the end of December 2008. Tucked away in Argyll Road, it is located right opposite Mingood Hotel.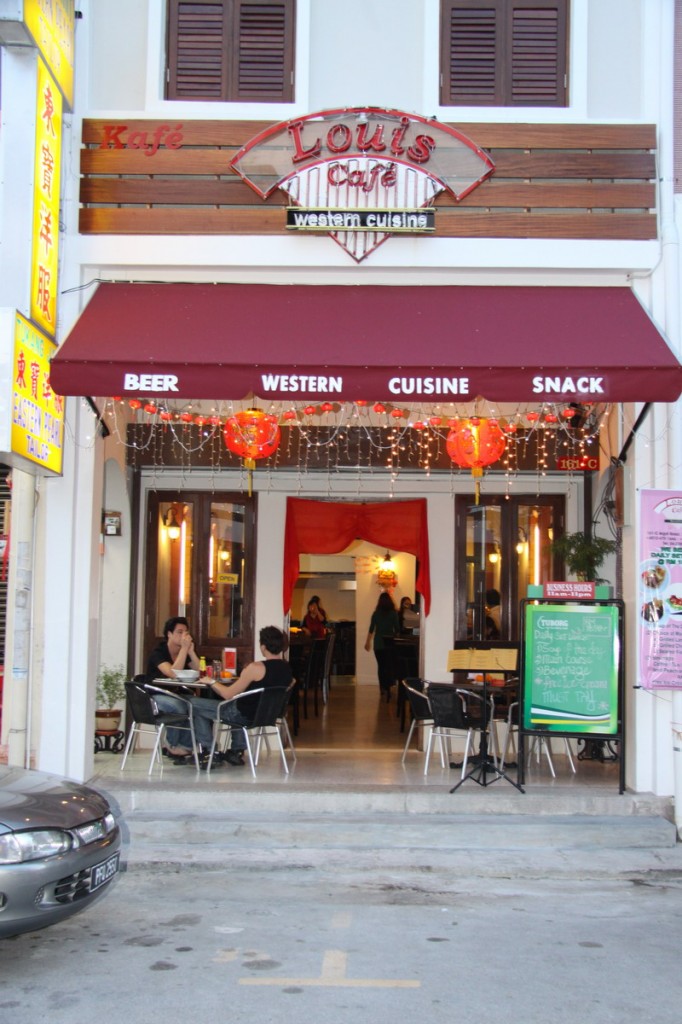 The Penang food bloggers had the good fortune of being invited for a scrumptious meal recently. And boy did we enjoy ourselves!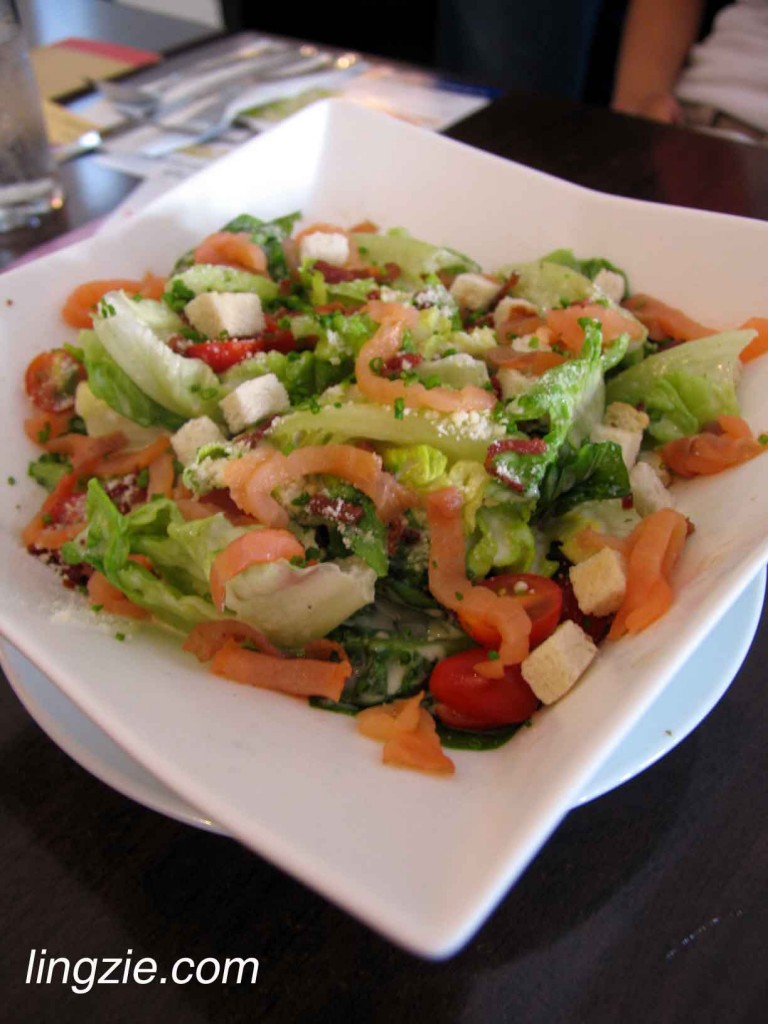 Louis Cafe offers a rather extensive menu ranging from appetizers, soups, main course and dessert. We kicked start our meal with three different types of salads. The hearty generous portion of  Caesar Salad with smoked salmon (RM18) was excellent! The dressing was just right, cheesy enough and not too overpowering. I liked the smoked salmon added to it giving it more flavour.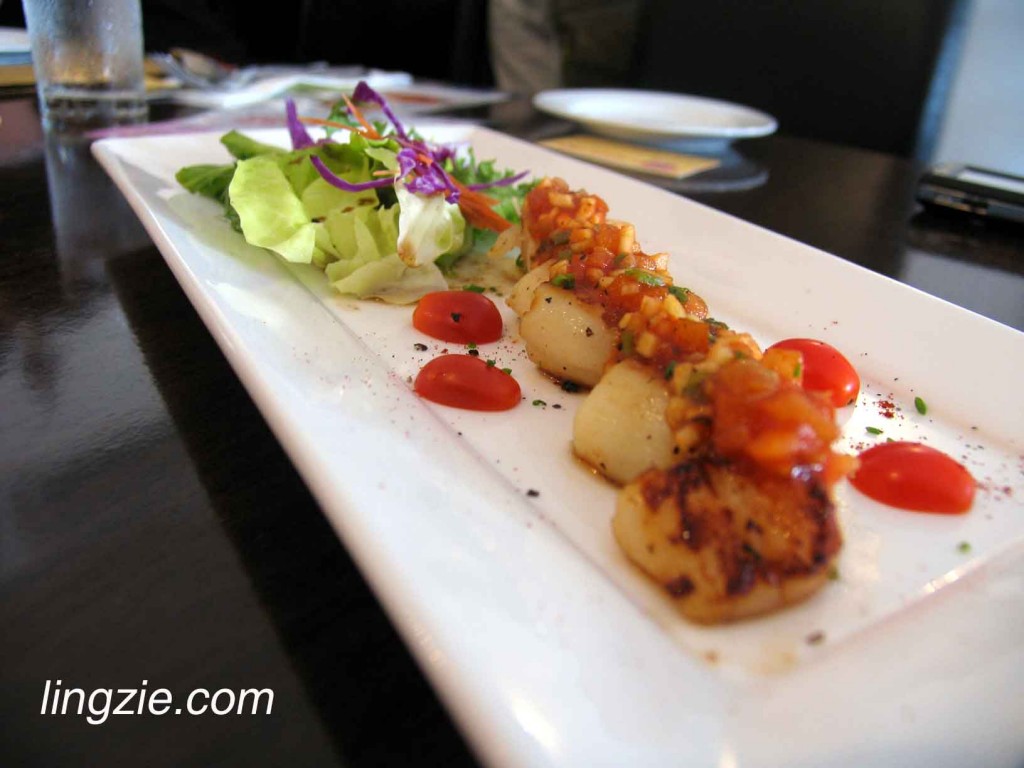 The Scallop Salad (RM20) meanwhile was also a hit! Pan seared juicy sweet scallops topped with tangy apple salsa.
Also served was the Organic Green Salad (RM15) which came with a light balsamic vinegratte. This would definitely be a hit for those wanting a lighter, healthier option. Suitable for vegetarians too.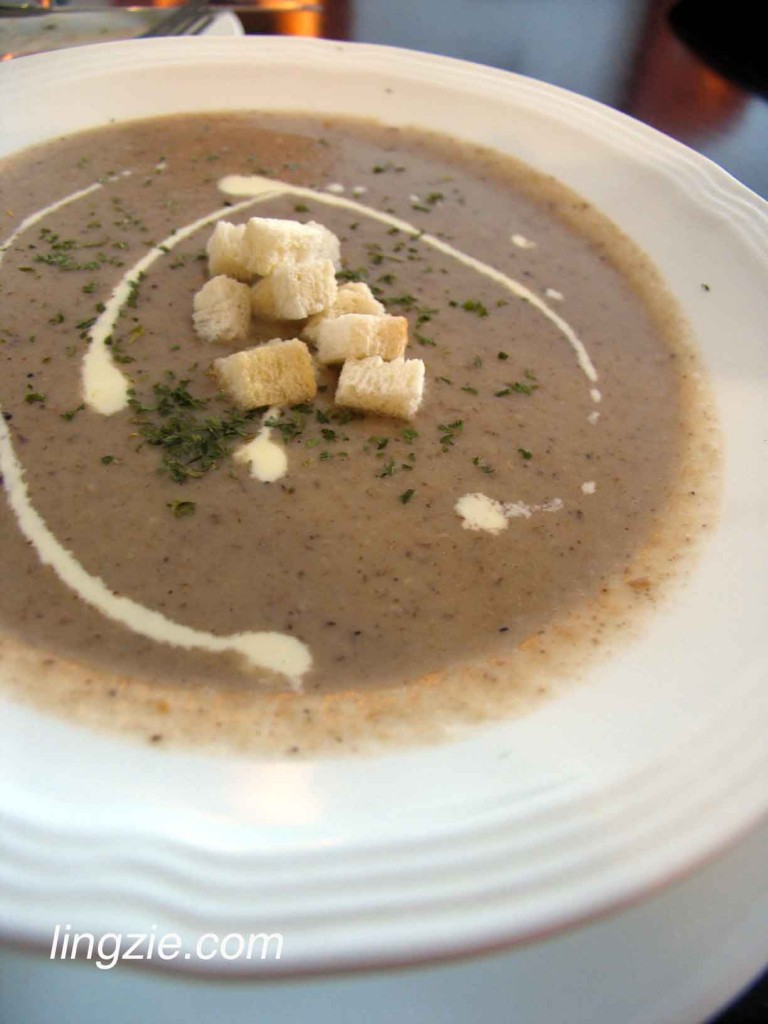 We were served 5 different types of soups – Wild Mushroom Soup, Cream of Broccoli, Cream of tomato, Cream of Cauliflower and Pumpkin Soup. My favourite of the lot would be the Wild Mushroom Soup (RM10). Generous use of herbs with a delicate hint of black mushrooms. A winner!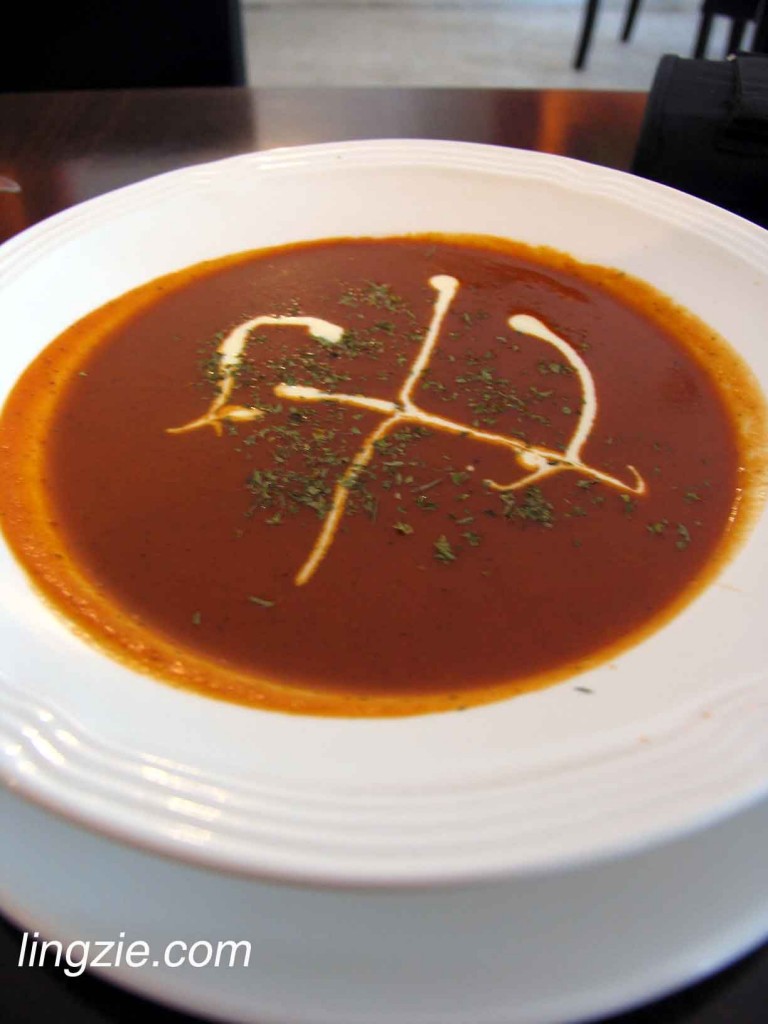 Coming at a close second would be the Cream of Tomato (RM9). Normally I avoid tomato soups like plague as I find the canned variety too artificial tasting and too sour. However, the cream of tomato soup at Louis Cafe suits my tastesbuds very well. Once again lots of herbs were used to bring out the flavour balancing the sourness. Tasted quite a bit like pasta sauce actually! lol. So please do not pair this with a pasta dish. Otherwise you would end up having similar tasting soup and main dish!
We were served a total of 12 main dishes and these are the ones that I personally liked.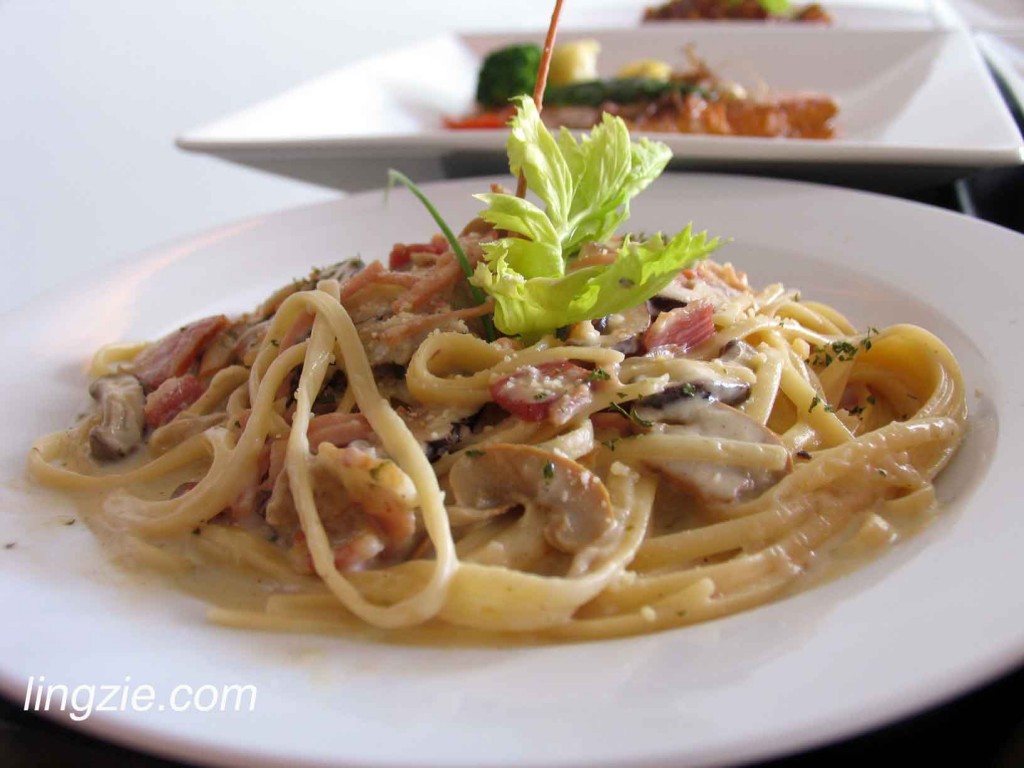 The Fettucine Carbornara (RM16) came out tasting really cheesy and rich with lots of fragrant bacon bits and mushrooms. Warning! This dish is very rich! So unless you are a huge fan of cheese, you may want to share this. 🙂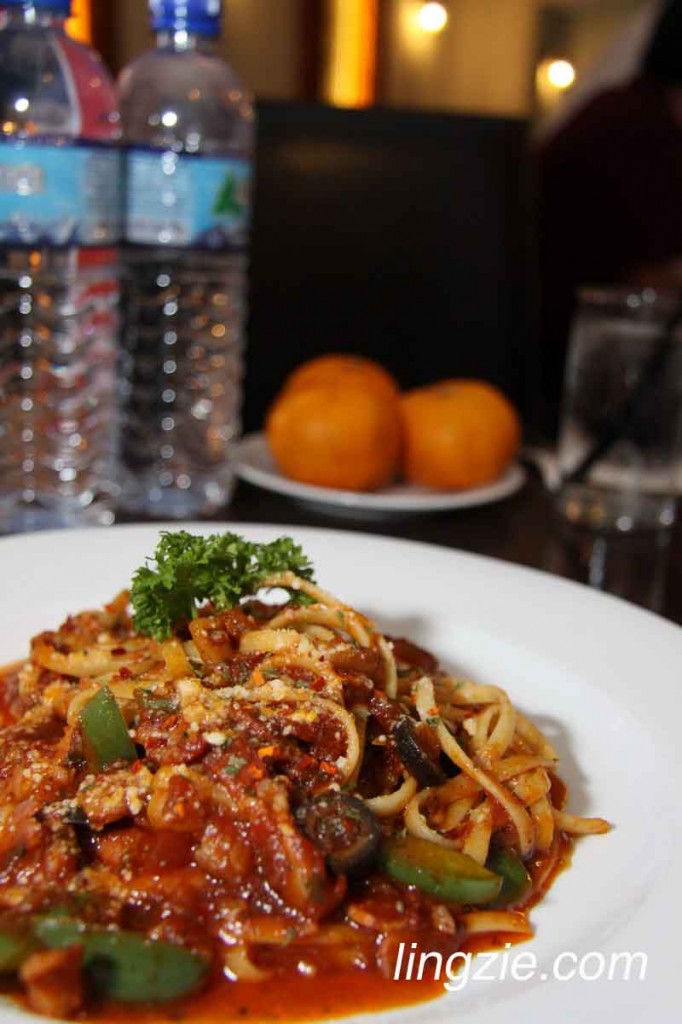 The Pasta Arabiatta (RM16) was impressive. Not many places serve this dish and so I was quite pleased that it came out lovely! Slightly spicy with lots of flavour.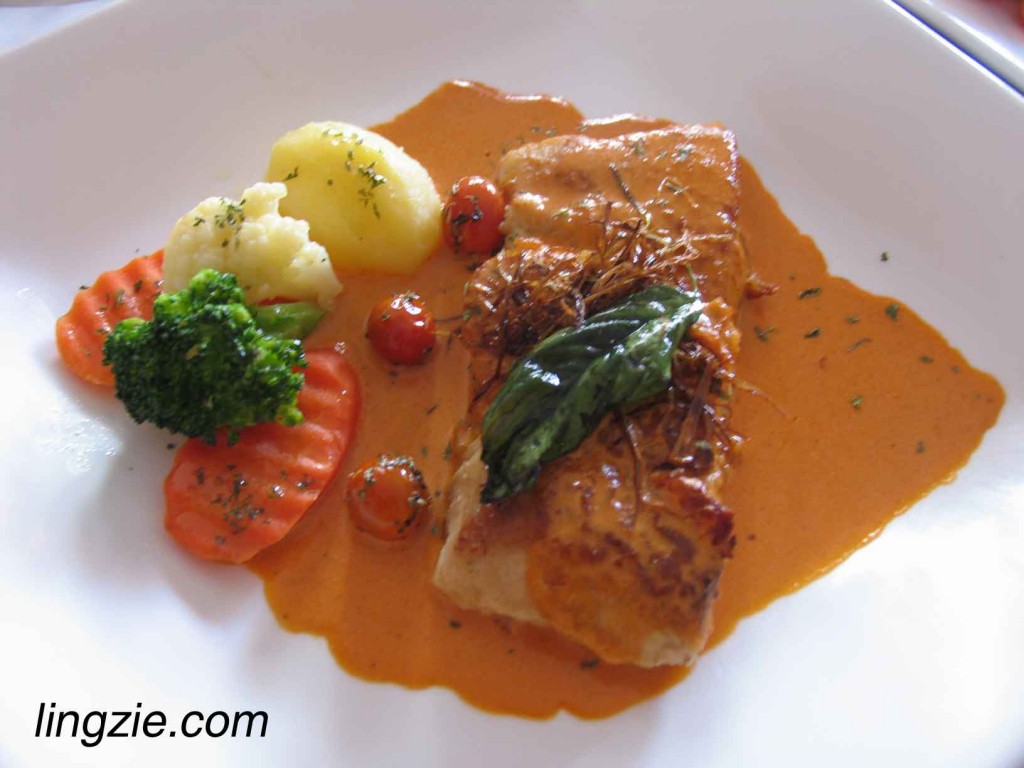 The Red Snapper with Cream of Tomato Pulp RM27 (this sauce is not on the menu, so remember to ask your server for it!) stole my heart almost immediately. The snapper was lightly pan seared and the interesting sauce complimented it well.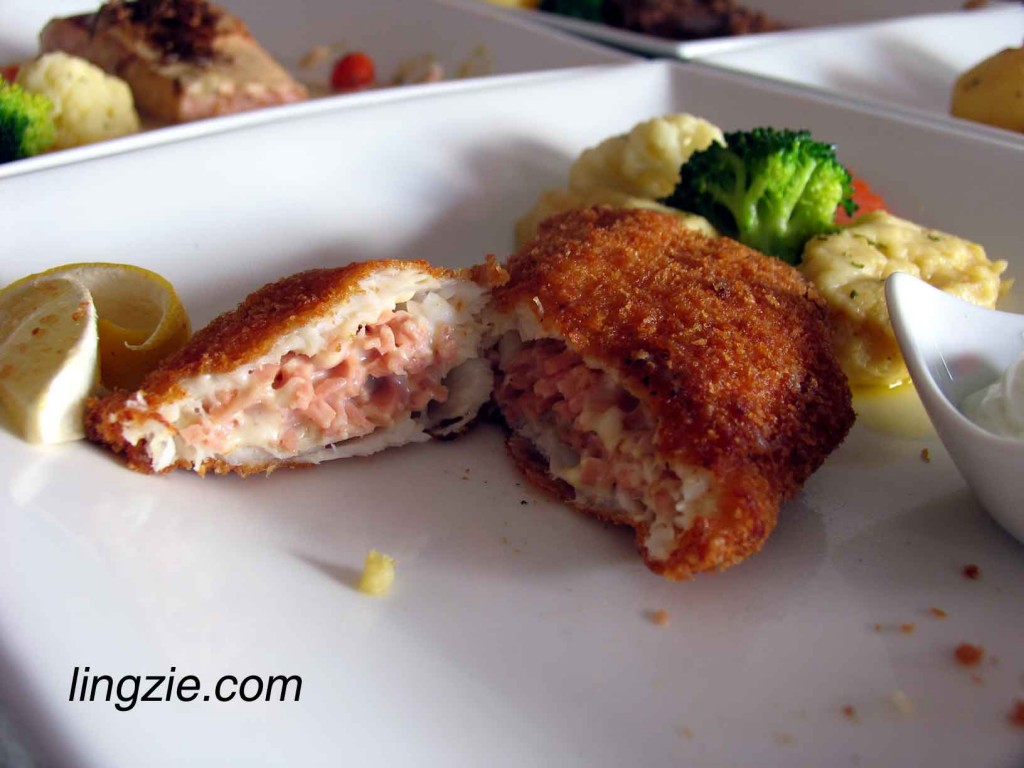 The Fish Gordon Bleu (RM25) was another hit! In fact, it was one of the fastest main dishes to disappear. Even though the fish was fried, it still maintained its juiciness. The cheese and ham filling further augmented the juiciness of the fish. Quite a small portion though which would be good for a people wanting a lighter meal.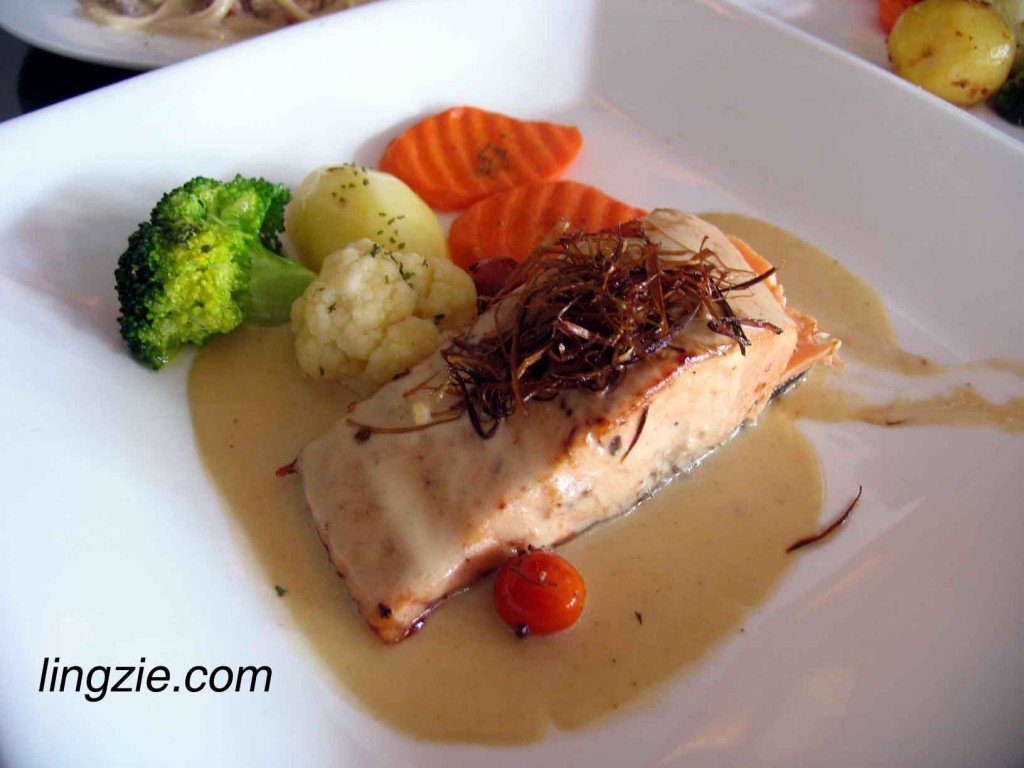 I seem to be liking all the fish dishes here! The Pan Seared Salmon Steak (RM30) came with a delicious dijon sauce. The salmon was thick and melted in my mouth. Proof that it was cooked just right!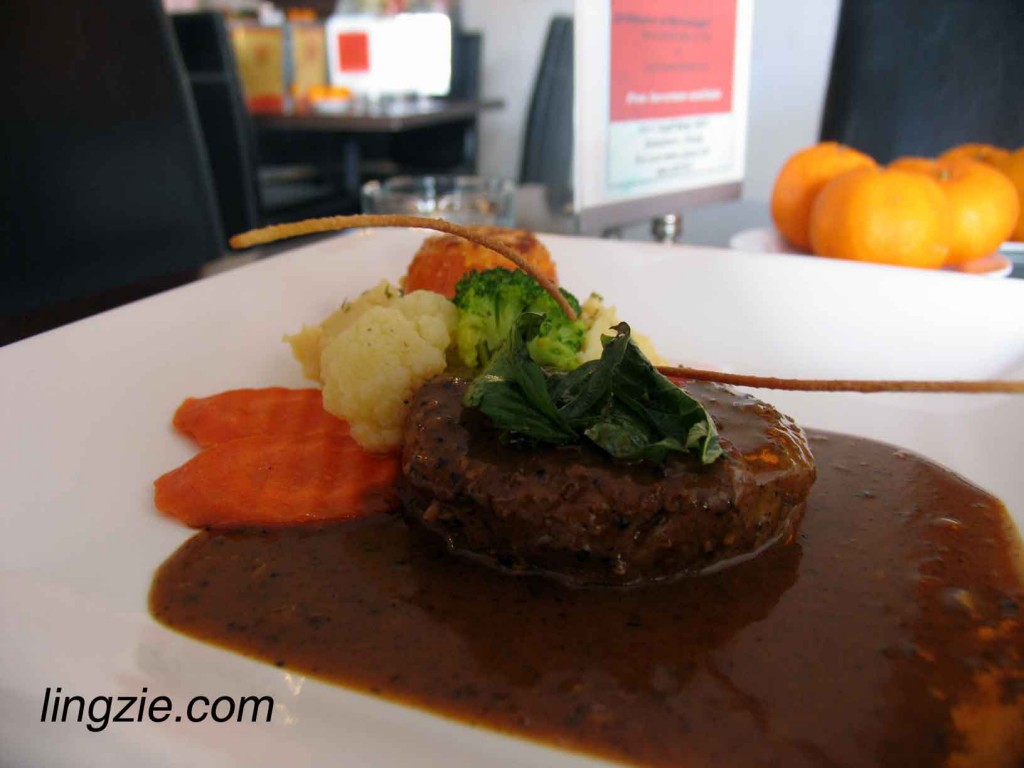 Meanwhile, the Beef Tenderloin with black peppercorn sauce (RM38) got thumbs up from me! The next time however, I would try it with the red wine sauce which lends the beef an amazingly tasty flavor. The Sirloin Steak (RM28) was served with red wine sauce. And would have been perfect if the steak had been a bit more tender. The meat was very well marinated. Alas, rather tough. Therefore, if you're going for steak here, the Beef Tenderloin with red wine sauce gets my pick!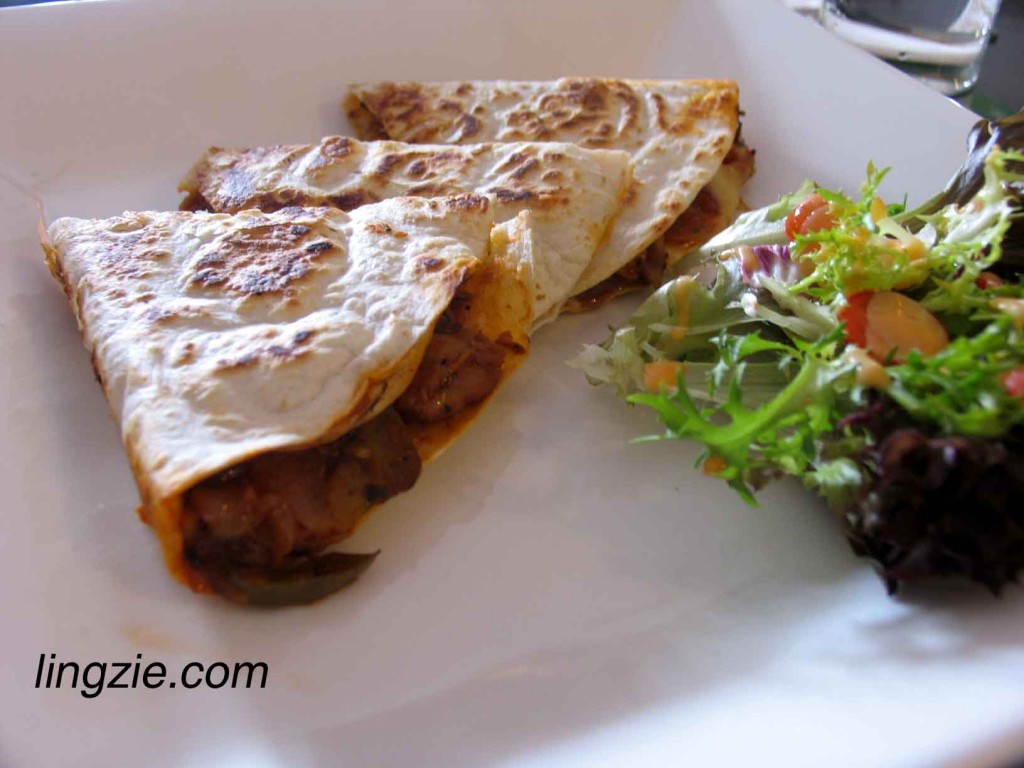 Another must try is the Chicken Tortilla (RM15.90). This is a new dish that's not on the menu. Similar to Quesadilla, this dish had Mexican and Spanish influences. Best eaten warm, these tortilla breads were wrapped around a tangy chicken filling.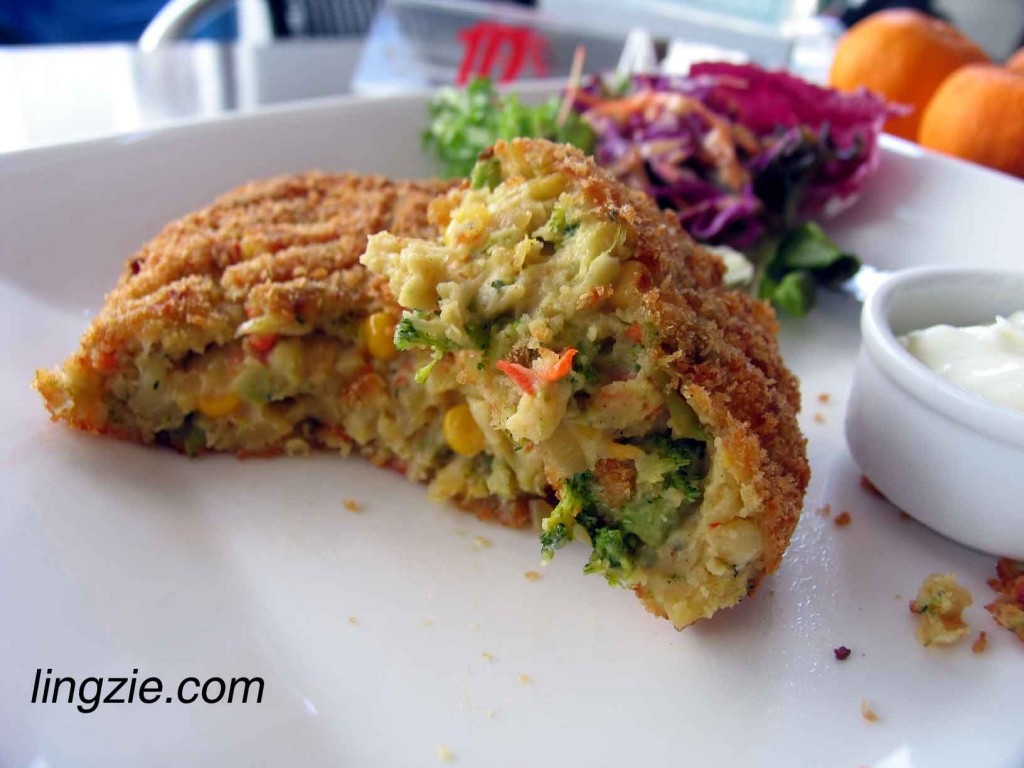 Finally, the Vegetarian Cutlet (RM15.90) was created due to requests for vegetarian meals. Its a blend of potatoes, broccoli, cauliflower, corn and carrot. And its even aesthetically shaped into a leaf! Comes with a creamy dipping sauce.
We thoroughly enjoyed ourselves in the cosy environment of Louis Cafe. One great point about this place is that it offers free WIFI.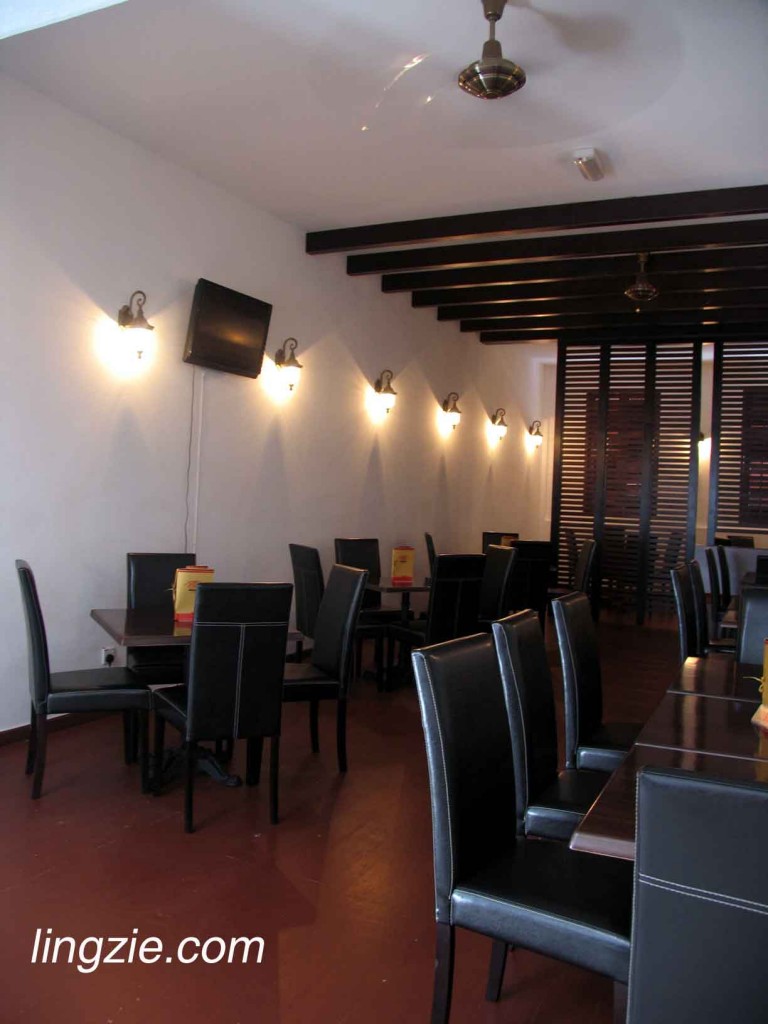 Louis Cafe is opened from 11am-11pm daily. Set lunch is available at RM18.90 and set dinner at RM26.90! Set meals change on a daily basis with 3 different choices of main course meals every day.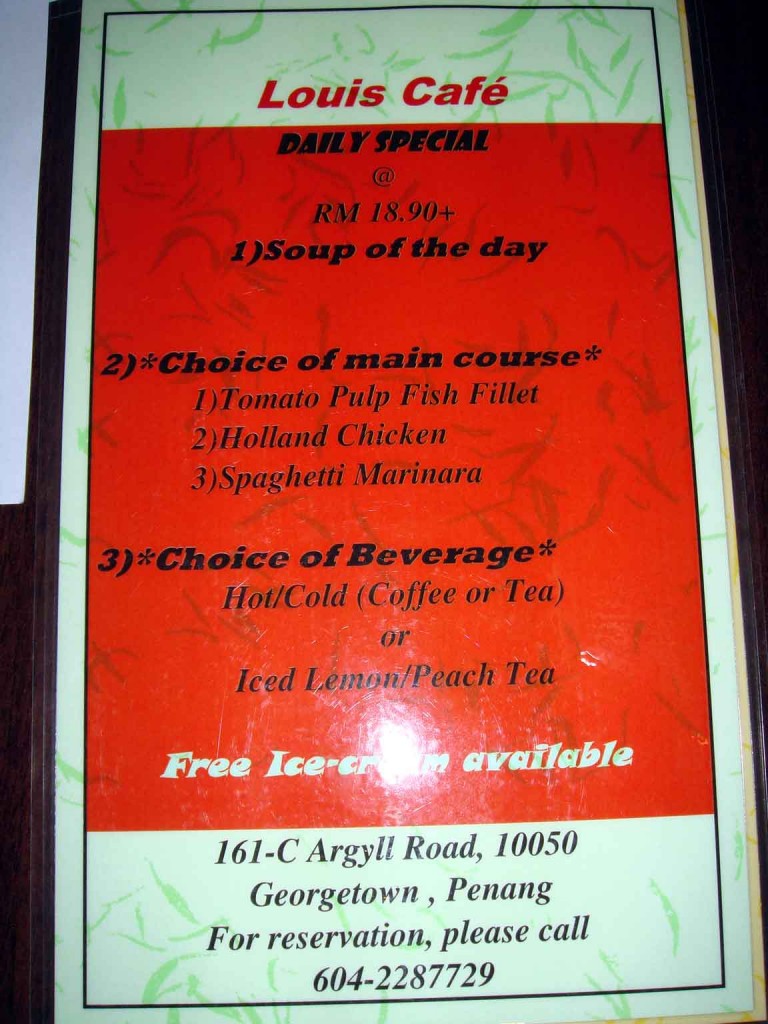 Other reviews of this place can be found at:
Criz Food, What2See, Cariso, Steven Goh, Yummy Station, Gourmet Garden, Food Paradise, Nomad Gourmand, Buzzing Bee, PenangTuaPui
Louis Cafe is located at 161-C Argyll Road directly opposite Mingood Hotel. For reservations, call 04-2287729.