Chocolate oh chocolate, how I love thee. Let me count the ways….
Anyone who knows me well would know what a chocoholic I am. There is something so soothing and so exquisite in a piece of really good chocolate melting slowly in your mouth…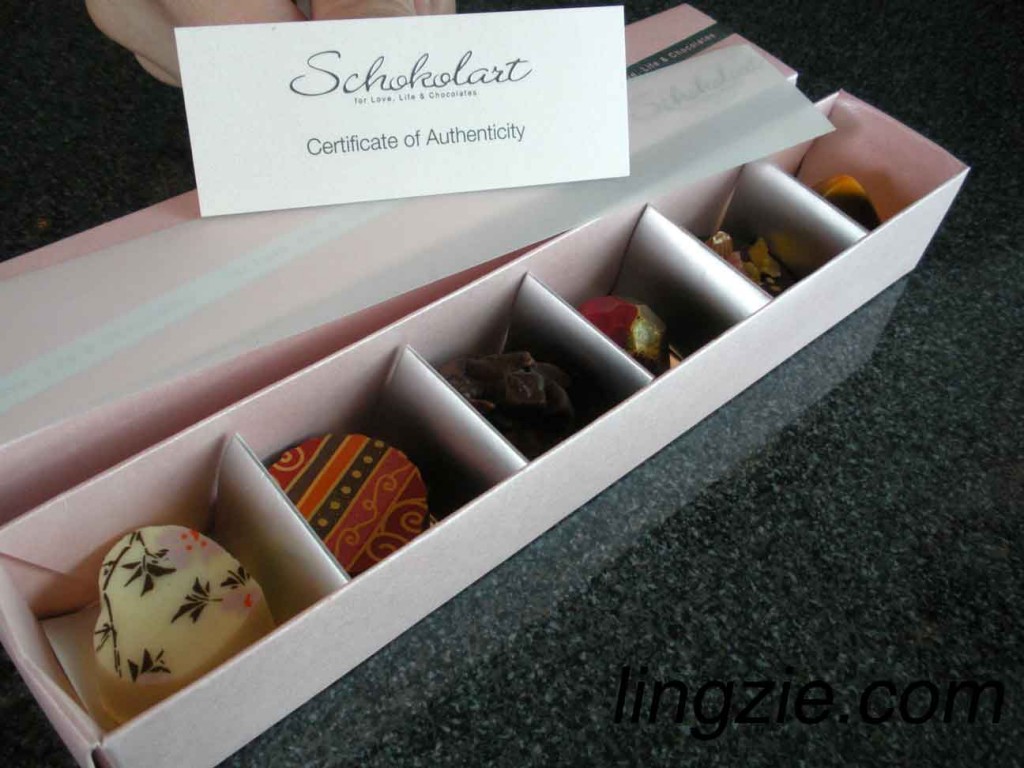 And so I practically jumped for joy when we headed to Schokolart at Solaris Mont Kiara. My first time going to Solaris Mont Kiara too!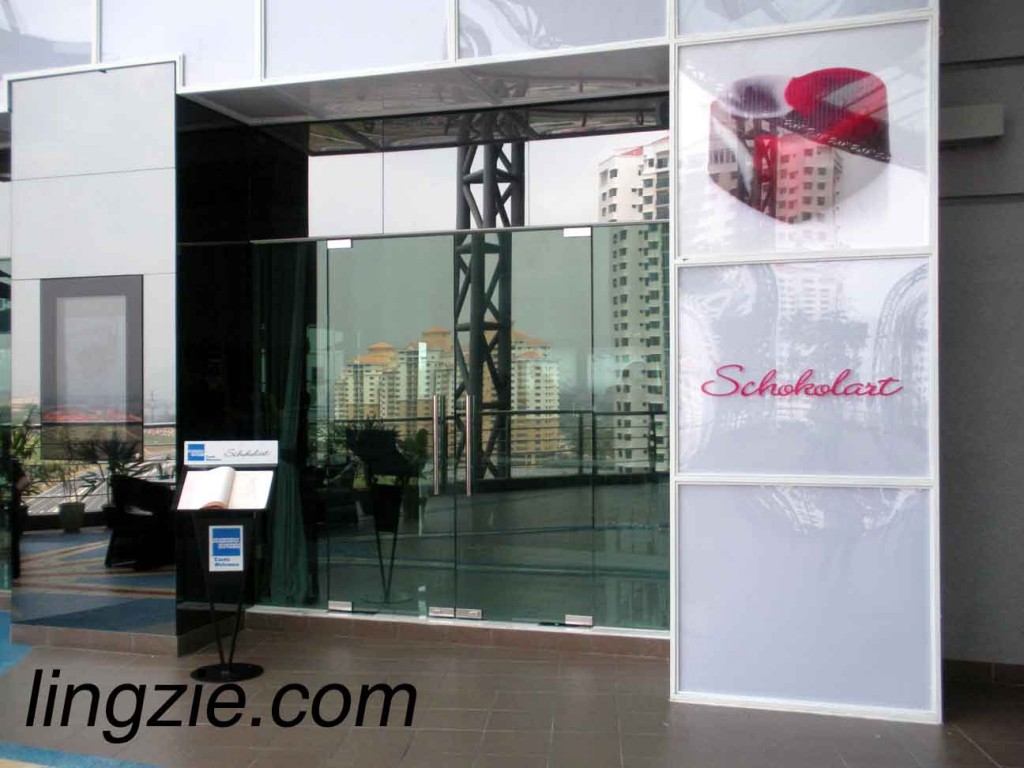 White, black and pastel pink is the theme of the interior of Schokolart. And there's even a more private corner with seating for two, separated by fringed curtains. I would have picked those seats had I not wanted more light for photography sake!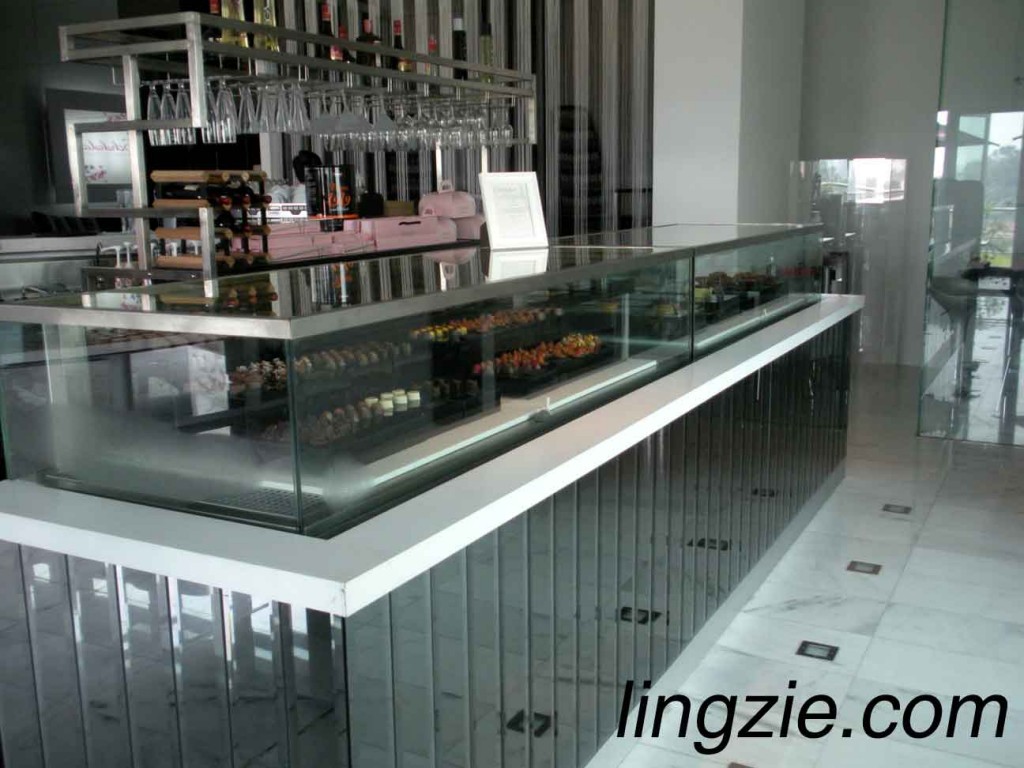 Upon entering Schokolart, a glass case of chocolates and cakes greet you. I was estatic!
After glancing through the menu, we settled on a set lunch for RM18 (which includes a drink, choice of main meal – various types of Rosti or sandwiches, and a chocolate praline)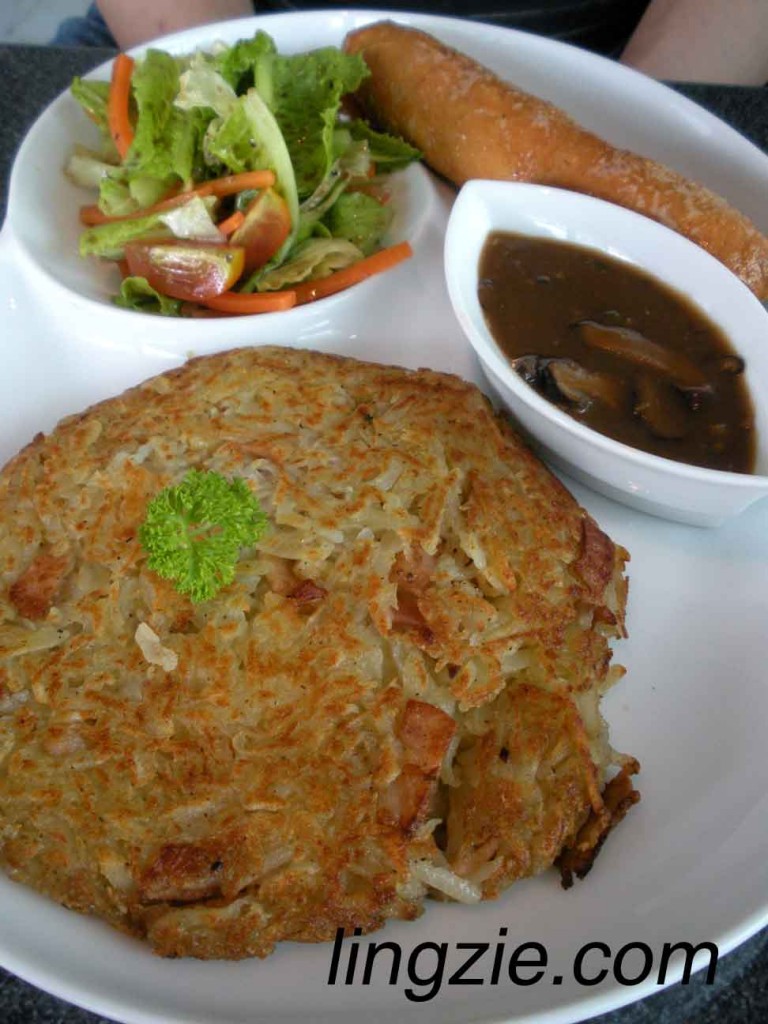 We tried the Apenzeller Rosti with a Jalepeno sausage. The generous portion of Apenzeller rosti came with bacon bits inside. I've tried the Rosti at Marche in the Curve but found that theirs was drenched in oil. Not very appetizing at all. Fortunately the rosti here at Schokolart fared much better! Crisp external layer and soft flavorful shredded potatoes on the inside. It paired well with the salty and spicy sausage.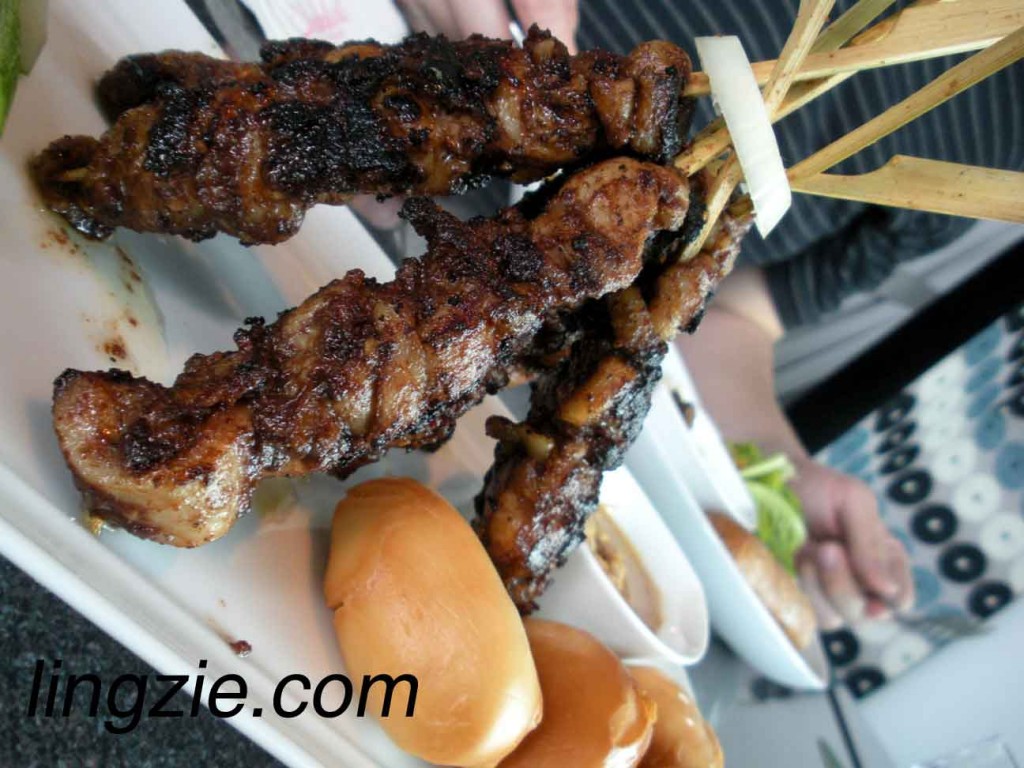 The Schokolart Satay (RM20.90) immediately caught our eye and it came highly recommended. I just could not imagine how satay would taste, coated with chocolate!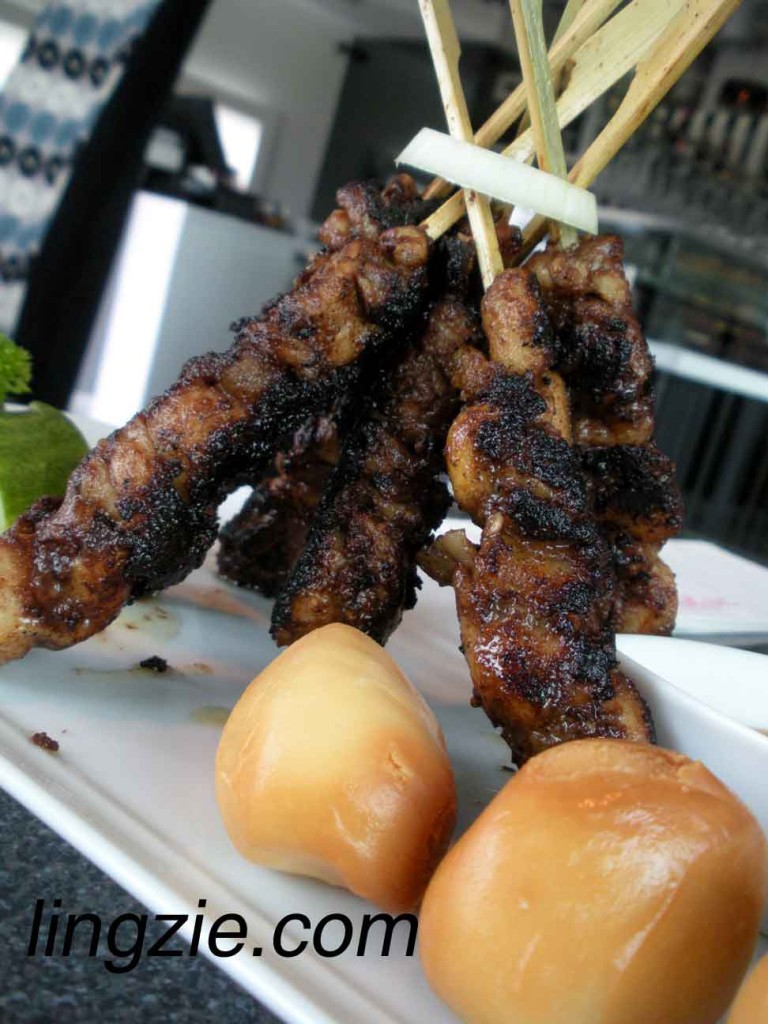 I just loved the presentation of this dish! The chocolate satay came with fried 'man tau' and a very mild peanut sauce (tasted like it was made out of peanut butter!) So how did the chocolate satay taste? It was good!! I loved it! Very delicate hints of chocolate which your tongue might miss if it eaten with too much of the peanut sauce.
After much debate between getting chocolate pralines or a chocolate drink (I was trying to do my waistline some favors by not indulging in both), I finally decided to go for the pralines. A box of 6 pralines would set you back RM27. For dine in, they offer you 100gm of pralines  (9 pieces) on a platter at RM36.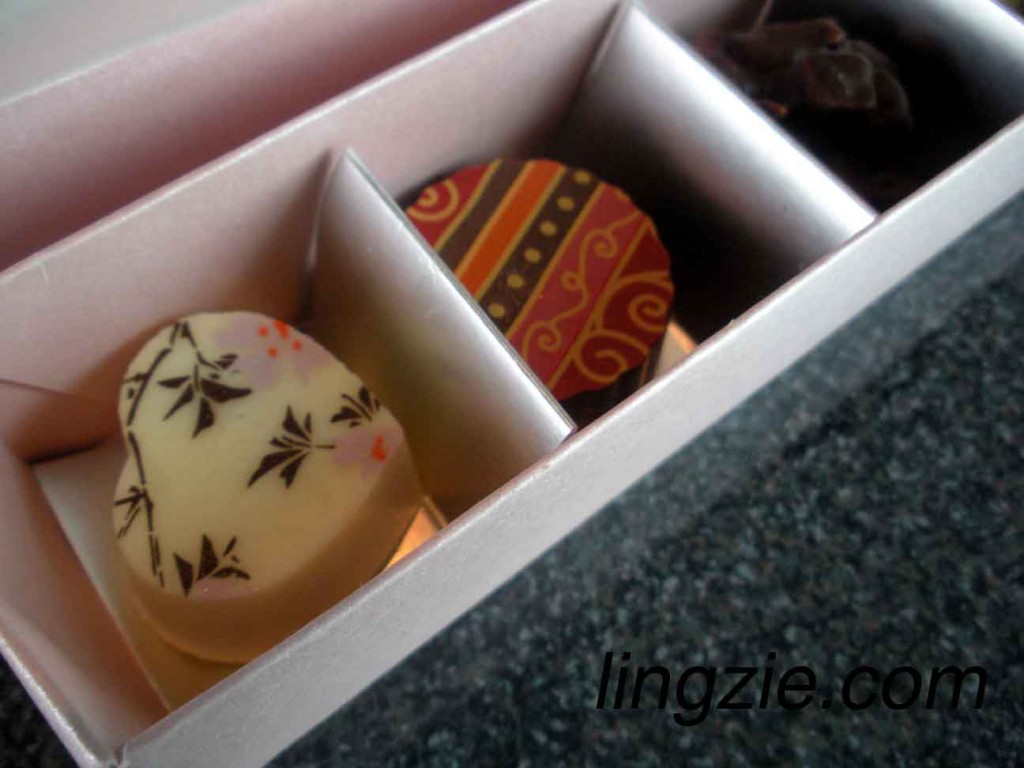 Raspberry Wasabi (white praline on the left) and Sweet Spice (on the right).
The Raspberry Wasabi consisted of white chocolate encasing a raspberry and wasabi center. Odd as it may sound, this combination actually works very well! The sweet white chocolate was balanced with the sour raspberry while the wasabi center gives it a lil bit of kick.
Meanwhile, the Sweet Spice was a combination of chilli, cinnamon and chocolate. Another winning combination! Don't be alarmed by the chilli as it isn't at all spicy. Just enough to give you a hint of spiciness.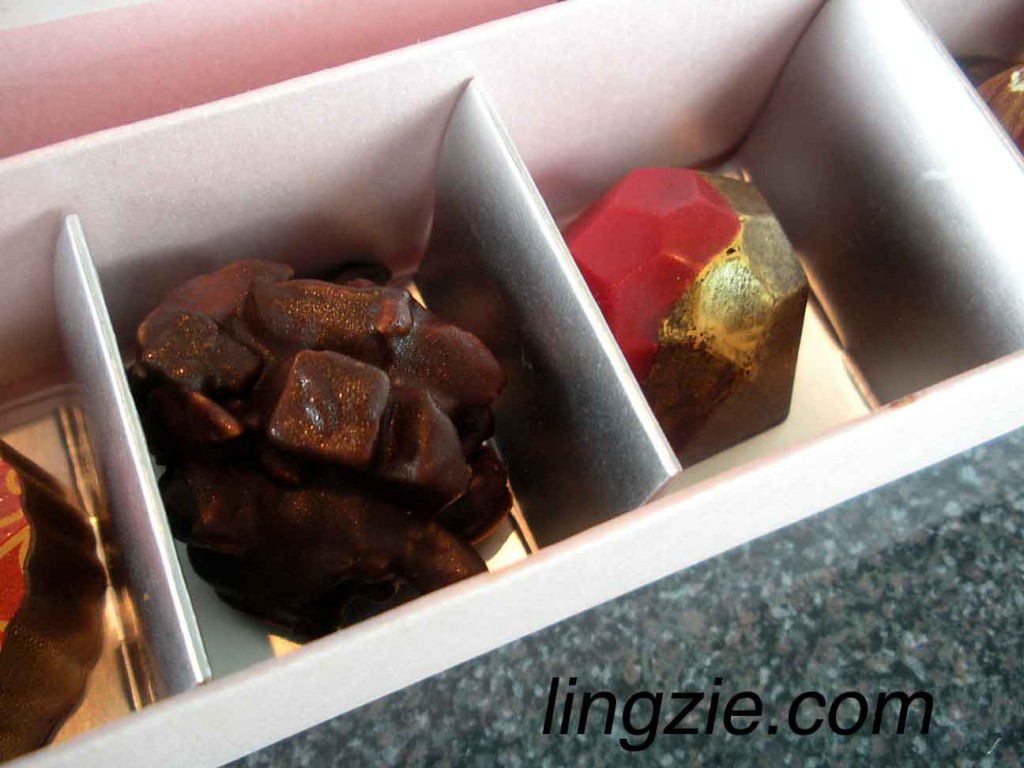 Rocker praline (on the left) and Sesame praline (on the right).
I didn't quite fancy Rocker as it had orange peel in it. I liked the nuts though. But I'm the type who likes my chocolate as is – no nuts, no fruits and most definitely no orange peel!!
Now the Sesame praline on the other hand, was a different story altogether. It was perfect!! Chocolate encasing a smooth nutty flavored center that melts in your mouth! ~swoon~ I heart!!!!!!!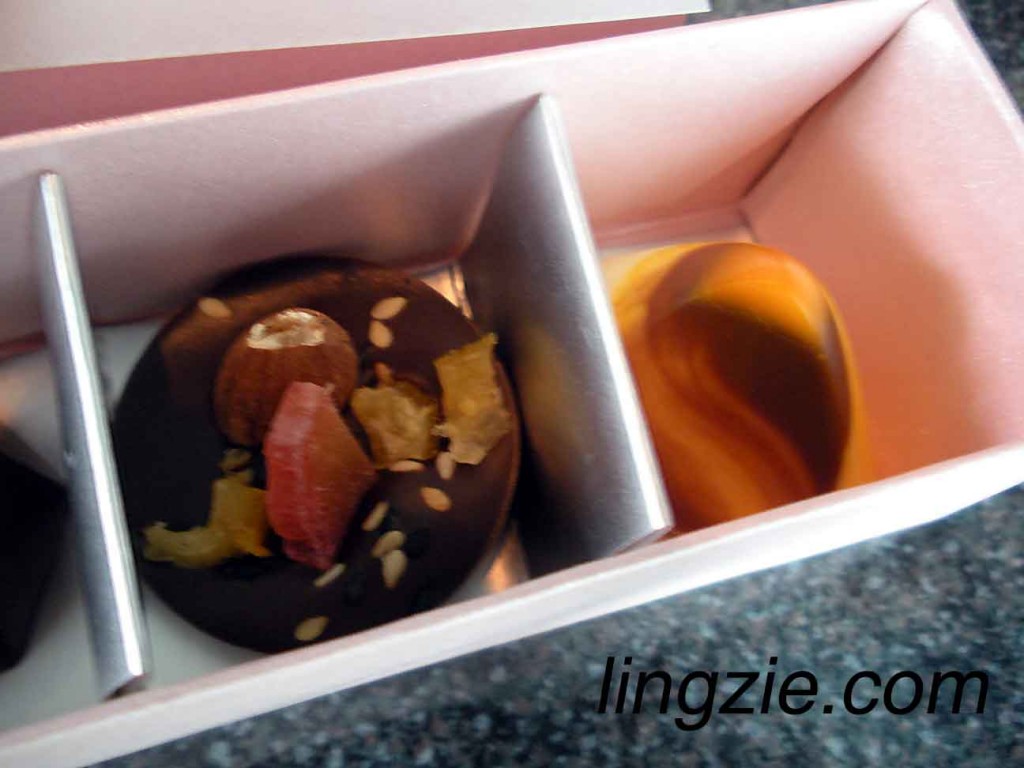 Almond & Fruit Chocolate (on the left) and Mango Passion Fruit (on the right).
For the almond & fruit, I chose the bitter chocolate version. There's a milk chocolate version too. I liked the bitter chocolate. But again, did not like the orange peel.
The Mango Passion Fruit was another winner for me. I have always liked both mango and passion fruit, so these flavors mixed with white chocolate were a delight for me.
There were a few other chocolate pralines that I didn't get to try, not to mention a whole glass case of mini cakes. For the pralines I've tried so far, my favourites would definitely be Sesame, Sweet Spice, Raspberry Wasabi & Mango Passion Fruit (in that order).
I have not been to the other chocolate specialty place – Theobroma, so I wouldn't be able to compare the two. But from this particular experience, I must say that I do like Schokolart. I'm not crazy in love with it, but thats just probably cos I would need to sample their menu in more detail. I would like to see more chocolates though. And I will definitely come back to try their chocolate drinks. Alcoholic drinks available too!
Schokolart is  located at Solaris Mont Kiara – opposite Tenji, above COld Storage. Block K-01-05, SohoKL @ Solaris Mont Kiara 2, Jalan Solaris, 50480 Kuala Lumpur. T:03-6203 0968
Other reviews: