M and I wandered into Jaya 33 late one evening when we were driving around PJ. I had read about Bruno's a while back and it piqued my interest. The initial intention was to eat at Bruno's. But somehow I felt like going Italian that night (plus Bruno's was really empty which made us rather doubtful of walking in…)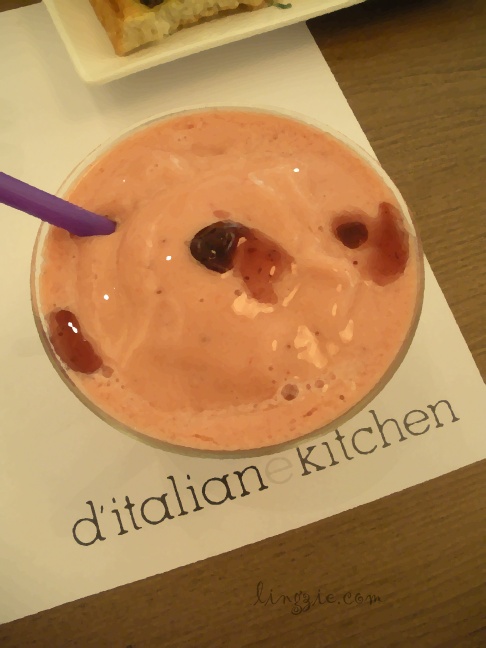 I was thankful for the cool air conditioning since it was such a humid night. We were ushered to our seats immediately by a most attentive waiter.  Both M and I zeroed in on the 'Everything but the Kitchen Sink' drink (RM9.90) which was a combination smoothie of raspberry, strawberry and…dunno what other berries (ok I forgot!). Most refreshing! And a definite refuge from the heat.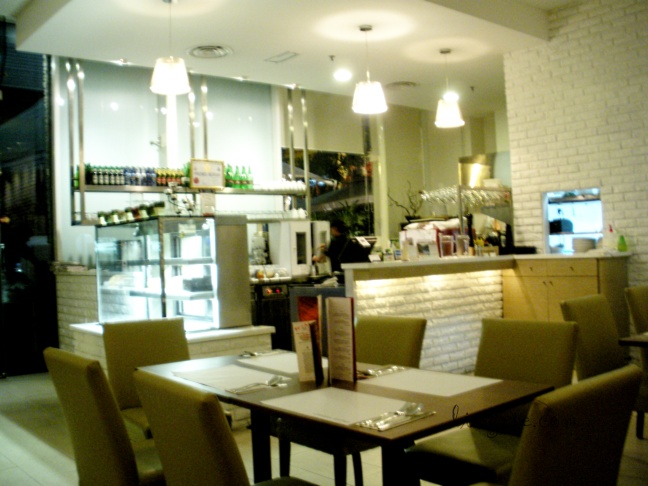 Our drinks being prepared at the bar…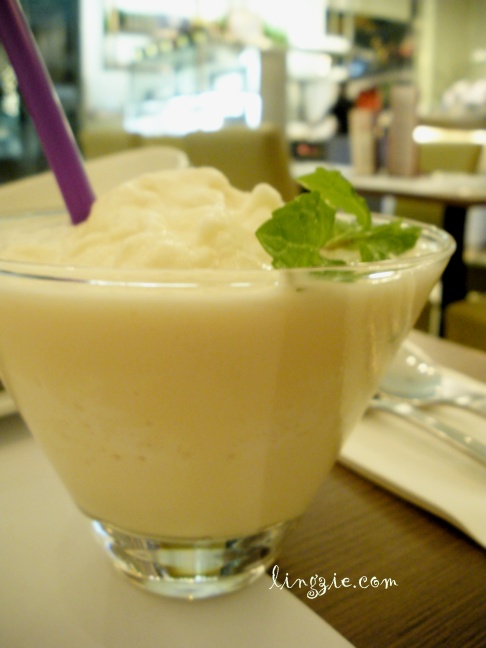 The Vaniglia Granita (RM8.90) was supposed to be a vanilla, chocolate and milk smoothie. But there was no signs of chocolate when the drink came. Perhaps I read the menu wrong? Was the heat messing with my mind? Or was I just too distracted by M making funny faces at me? 😛 Anyway… the drink was pretty good albeit no chocolate. Everything but the Kitchen Sink wins though! (and it's not just cos it's got a cuter name!)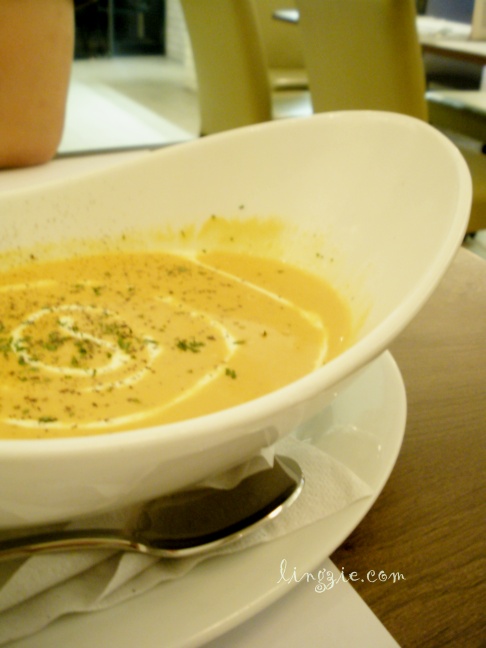 Pumpkin and Tomato Soup (RM7.90) I seem to have a thing for pumpkin these days. The soup was fair. Would have preferred it to be thicker. But I liked the subtle sourness the tomato brought to the soup.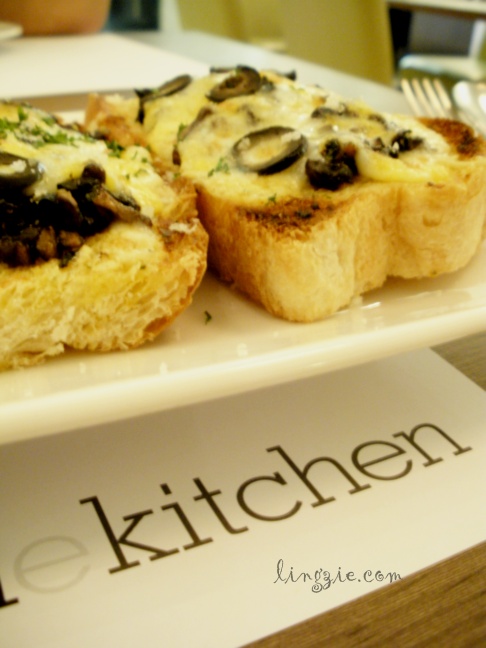 The Mushroom Crostini (RM15.90 for 3 slices). I immediately ordered this when I saw it on the menu. It's got everything I like – bread, mushrooms and cheese! Not a big fan of olives but I didn't mind them in this appetizer. They were very generous with the cheese as well!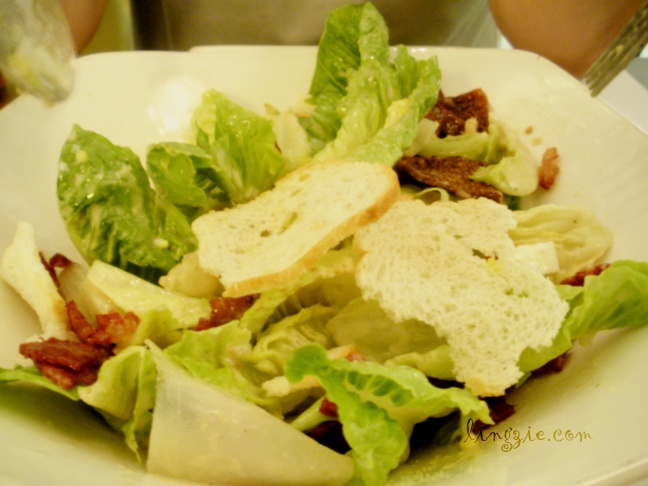 M is trying to up my veggie intake as usual… and thus he ordered a Caesar Salad (RM18.90).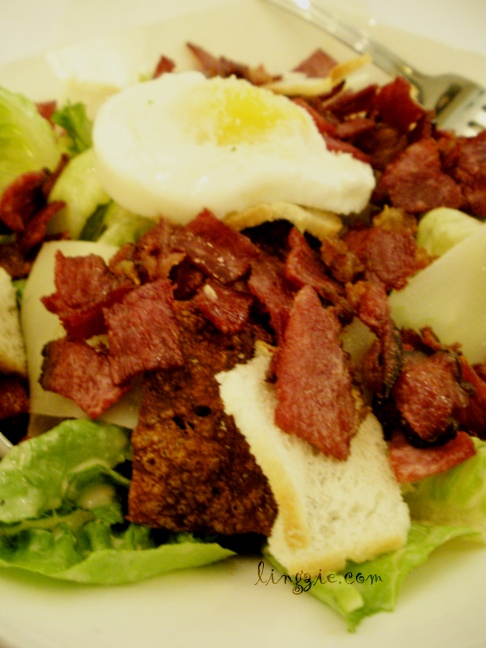 This was how the Caesar Salad looked before it was tossed. We added Beef Bacon (add RM4) to the salad. I had at first thought that paying an extra RM4 for beef bacon was pretty hefty. But I understood why when the salad came. It was a LOT of beef bacon! In fact, this salad could be a meal by itself!
I would have preferred the egg done hard boiled instead of sunny side up, while M would have preffered the cheese shredded instead of thinly sliced. But I liked the salad overall. The crispy beef bacon gave it lots of crunch and flavor. And it was seasoned just right!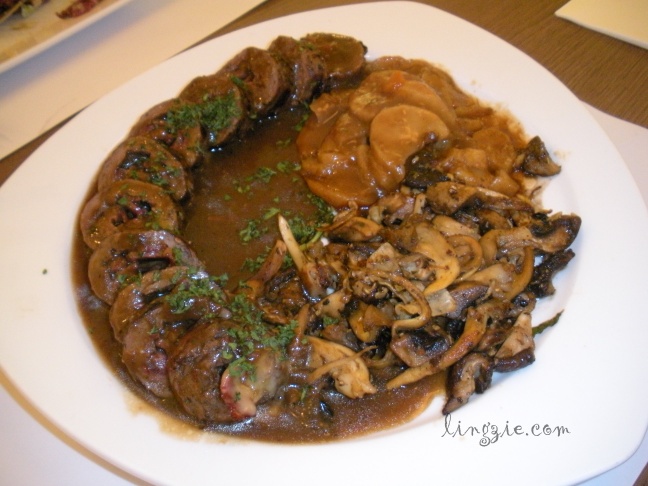 Fortunately we had the sense to only order 1 main dish, for I was almost full after the soup, bread and salad! M chose the Cheese stuffed Beef (RM38.90). It turned out to be beef fillets stuffed with cheese and bacon, rolled and then sliced. I liked the presentation of the beef itself, but thought that the overall dish could use more colour. Perhaps some carrots and some greens to brighten up the dish?
The beef was really flavorful and fresh! The meat was tender and well marinated. Meanwhile, the cheese and bacon bits gave it extra oomph! I loved that they served it with a mixed mushroom side dish. But alas, it was a lil' heavy on the seasoning and I found it a bit too salty for my liking.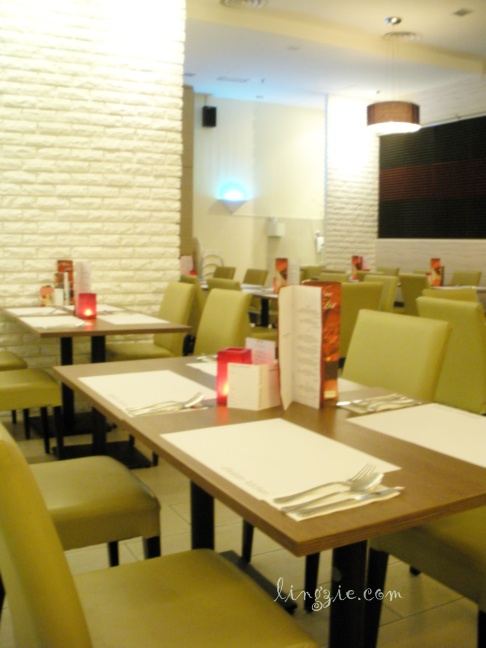 Overall, both M and I were pleasantly surprised and impressed by d' italiane kitchen. I would definitely come back again to try out their pastas (spied huge plates of pastas on the next table… 😛 ) Service was fast, friendly and efficient.
d'italiane kitchen is located next to Bruno's facing the main road. Address: PG-01B Ground Floor, Jaya 33, No 3 Jalan Semangat, Section 13, 46100 Petaling Jaya. Tel: 03-7956 3684