Finally, the last of my Macau posts… and I definitely saved the best for last. Because this post is dedicated to the food I enjoyed the most in Macau!
Anyone care to guess what it is? 🙂
Regular readers of this blog will know that I have a soft spot for desserts…. and therefore it is no surprise that my favourite 'meal' in Macau was at this place…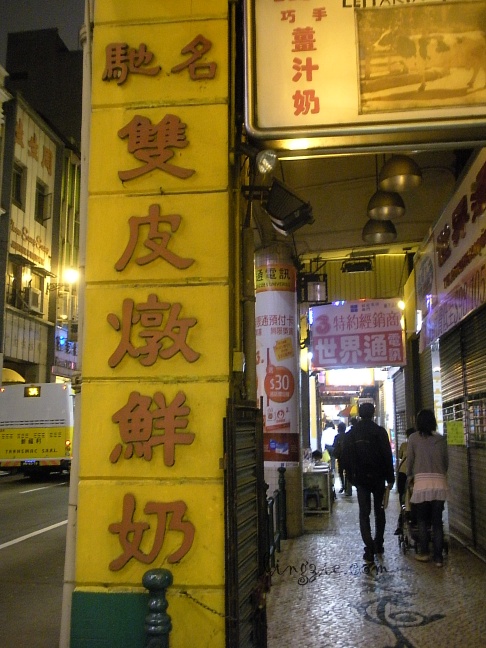 The famed Leitaria I Son dessert shop well known for their silky milk puddings and other milky delights. Those with Lactose intolerance should avoid this place at all costs as they serve a huge variety of milk based desserts.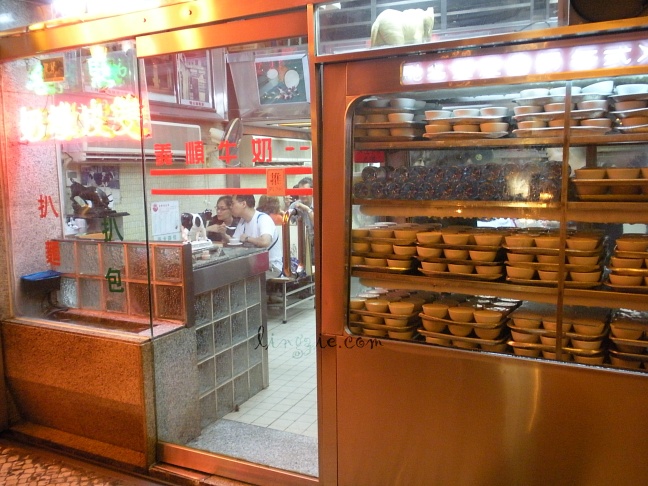 We actually chanced upon this store while walking along the streets in central Macau (just down from Senado Square). It was 7.30pm on the first day of our trip and we walked into the small unpretentious shop only to realise that they were closing! But the ladies were accomodating and said they'd take our order.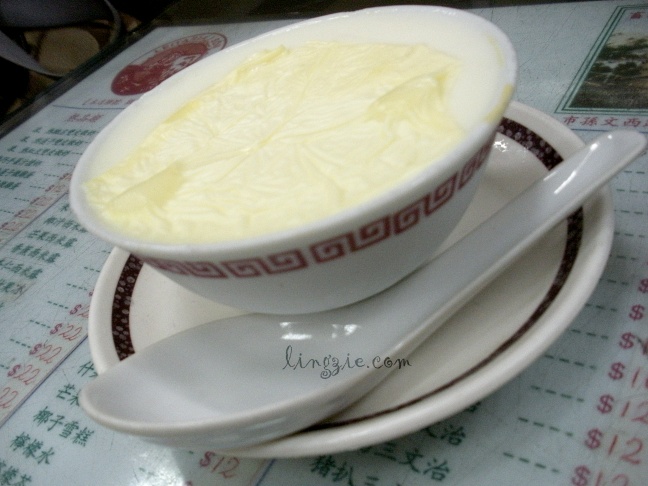 We wanted to try the Ginger Milk Pudding but was told that it was sold out for the day. They were closing early for the day because most of the items had run out. So the lady recommended their "Xiong Pei Tan Nai" (Double Skin Steamed Milk Pudding). As you can see from the photo above, there is a thin "skin" on top of the milk pudding. We tried the cold version of this pudding and were so surprised at the silky smooth texture! It literally melts in your mouth! I like to let a spoonful of the cold pudding sit for a while inside my mouth, savouring the cool smooth pudding and slowly let it melt! Ah….. bliss!!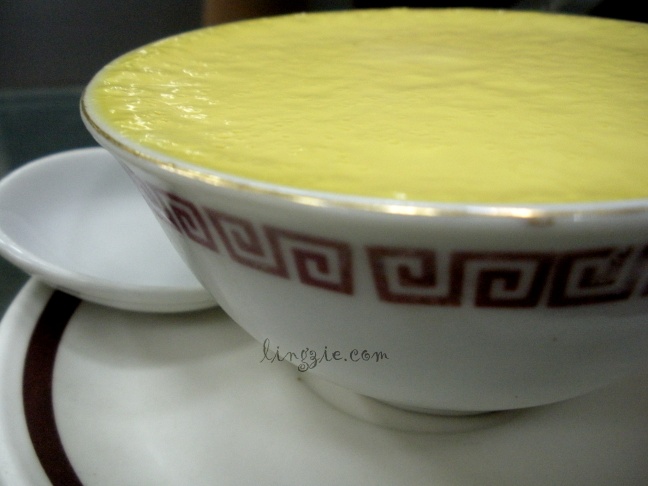 We also tried the Steamed Egg Pudding, which had a strong eggy smell to it. This was served warm and while I didn't quite fancy it (too 'egg-y' for me) my friend absolutely loved it!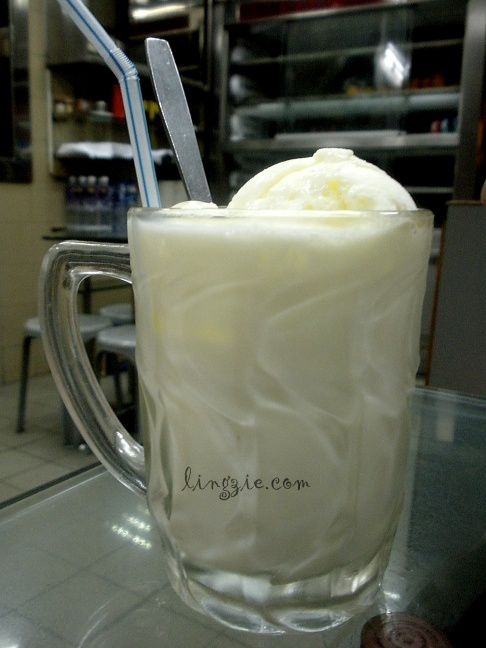 Now, this next dessert is perhaps the most satisfying dessert of all time! Ice cream in Fresh Milk! Leitaria I Son serves this dessert with a choice of coconut or mango ice cream. We chose coconut. Rich creamy coconut ice cream in fresh creamy cold milk….. the memory of it is enough to make me want to book my next flight to Macau!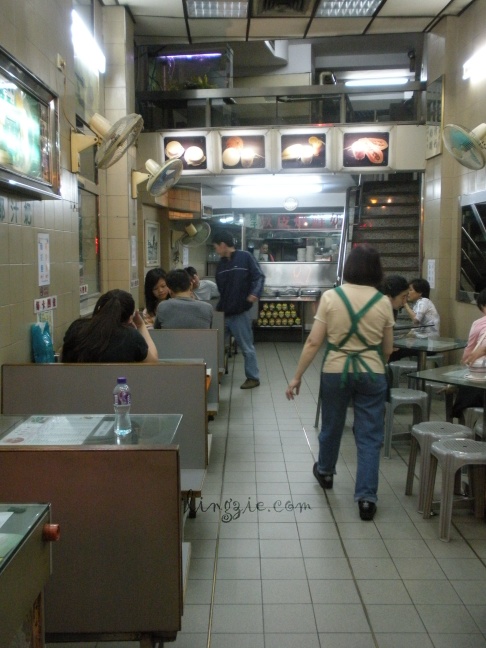 I have never tasted milk so fresh. We found out that Leitaria I Son has been around for about 150 years and they have their very own cow farm which is now in Zhu Hai (Mainland China, bordering Macau). Talk about freshness! Plus, the steady stream of customers ensure that there are almost no left overs every day and all the desserts remain freshly made!
Our total bill for the 3 items came up to MOP58. We laughed at how we skimped on dinner, just to splurge on desserts! 🙂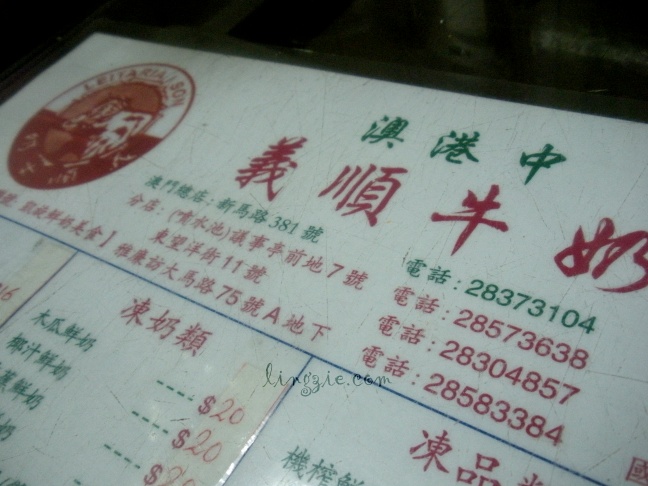 We loved the milky desserts so much that we visited the same shop every day for the remainder of our trip! (That's fresh cow's milk and other milky yumminess 3 days in a row!)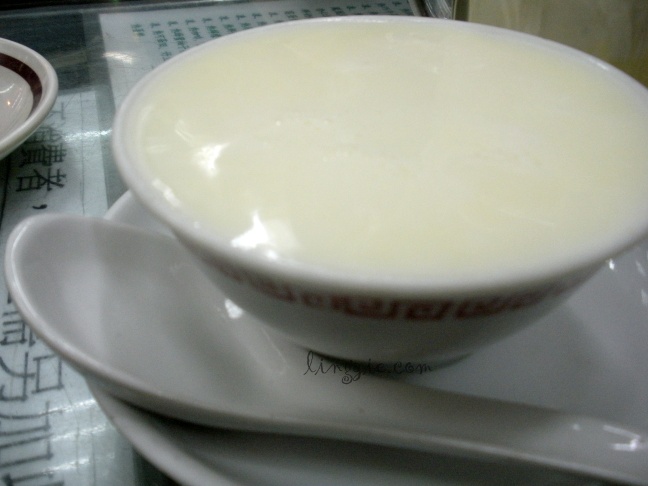 The next night, we decided to let the hot Ginger Milk Pudding tempt our taste buds. The pudding was again silky smooth with some ginger-y zing to it. I like!
We also had another Double Skin Steamed Milk Pudding but this time we tried the hot version. Having tried both, I prefer the cold version.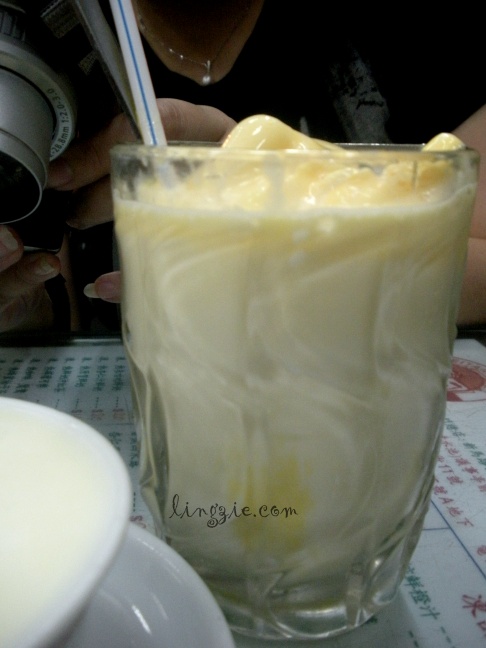 Having been converted into an Ice Cream in Milk fans, we tried the Mango Ice Cream version this time. The mango ice cream made the milk concoction a lil sour. And because of this, I prefer the fresh milk with coconut ice cream.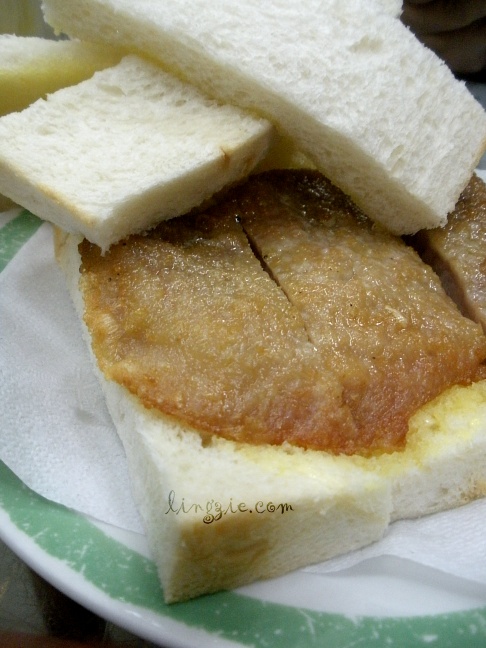 Leitaria I Son also serves light snacks and meals. We tried the pork chop sandwich (they ran out of the buns and asked if we were OK with them using normal white bread) This pork chop tastes different from the one we had earlier, being less peppery.
On our last day in Macau, we decided that we had to go for one last round of milky treats. We had repeats of the Double Skin Steamed Milk Pudding and Coconut Ice Cream in Milk. And also tried this ham and egg noodles…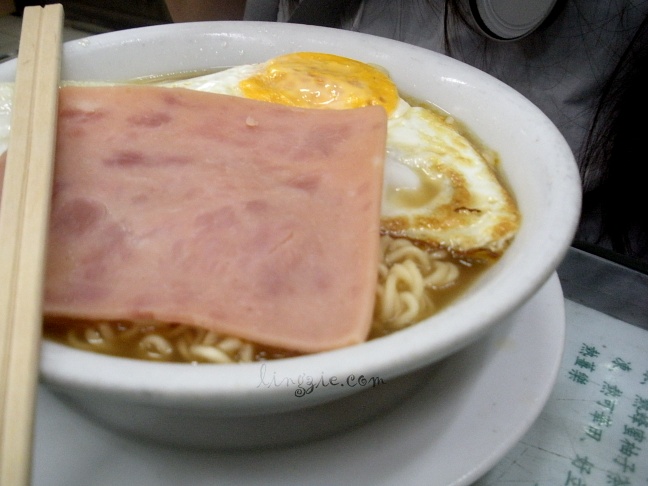 A very simple dish (similar to the ones we get here in Kim Gary and such) but one thing to note is the soup. I loved that they used sesame oil in the soup which lends it much flavor!
There are over 10 branches of Leitaria I Son in Macau, and one in Senado Square itself.
Now I really really miss the smooth silky steamed milk puddings…. won't some entreprising soul bring these delicious milky treats over to Malaysia?
Interested to go to Macau for all these mouth watering delicacies? Check out Macau Hotels for recommendations on where to stay at great prices!