This unassuming lil thai food place has been around for some time. But I've only had the chance to try it out recently after hearing raves about it from Nick. (and believe you me, I had a really hard time convincing my dad to try this place, dragging him away from his current favourite haunt for thai food)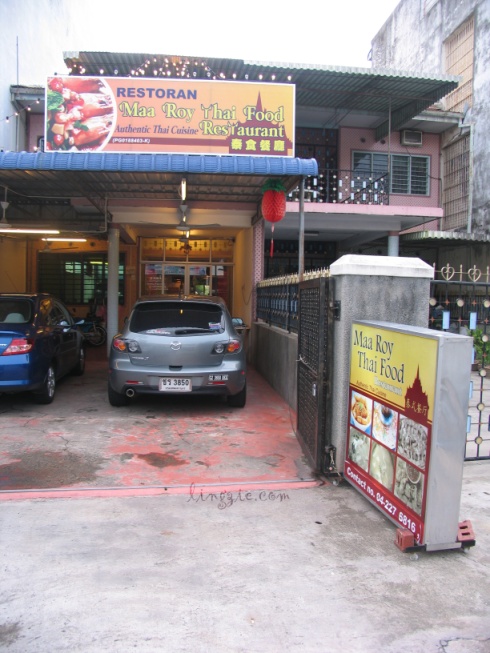 The place boasts about chefs from Thailand and so expectations were high. Also, when we dined there, we noticed a car with Thailand plates parked outside…. a Thai customer! I guess this place should be good eh?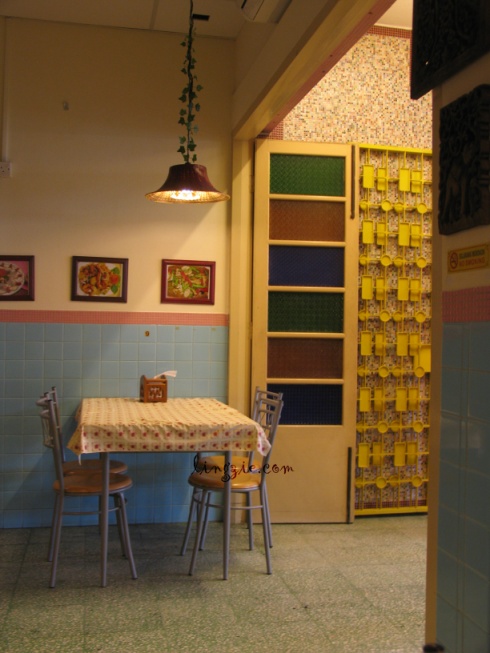 Decor is simple but tasteful. Gives you a homely feel all around.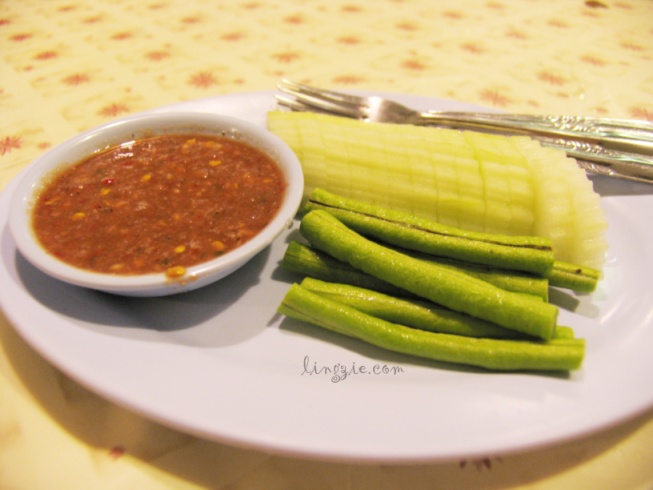 Appetizers were promptly served – raw vegetables with sambal. I normally wouldn't eat this but the sambal beckoned… It was really good! Fiery hot and spicy!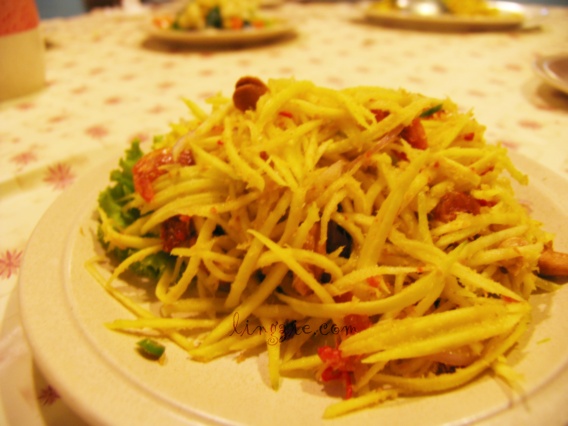 We ordered the Mango Salad (RM8) as it came highly recommended by a friend of mine. And it did not disappoint! Fresh slices of crunchy mango with lots of dried prawns and cashew nuts! I liked the fact that it was not overly sour and it wasn't soggy.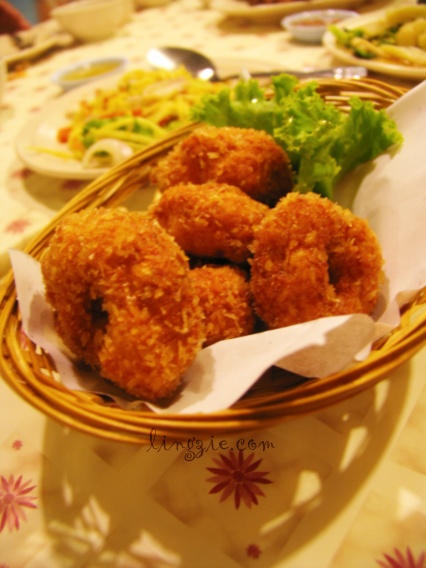 Prawn cakes (RM12) were up next. I adore these as much as I like fish cakes (but alas they didn't have this on the menu). The prawn cakes had a nice firm and springy texture. Would be a definite hit with kids and adults alike 🙂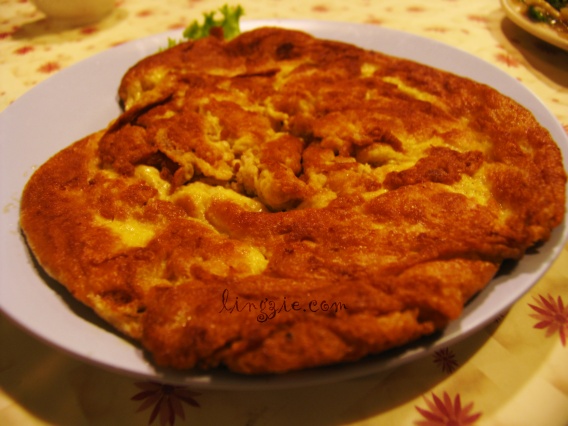 Minced Pork Omelet (RM7) was a simple dish but my grandpa likes it. I liked that it wasn't soaking in oil.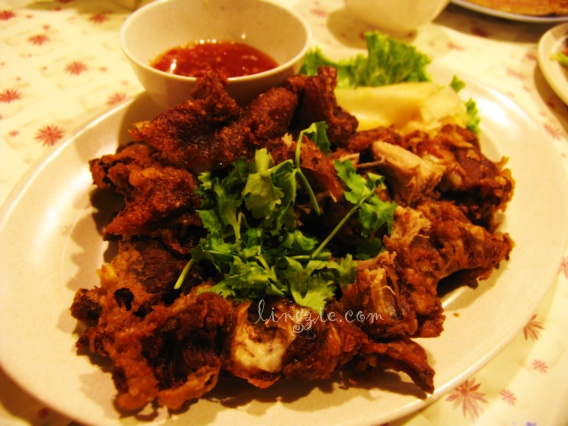 This was perhaps the star of the meal! Deep Fried Pork Leg (RM25). A very generous portion of crunchy yummy pork leg, served with Thai chilly dipping sauce. At first, I had doubts that we could finish this since it was so 'meaty'. But we polished it off leaving no leftovers in sight!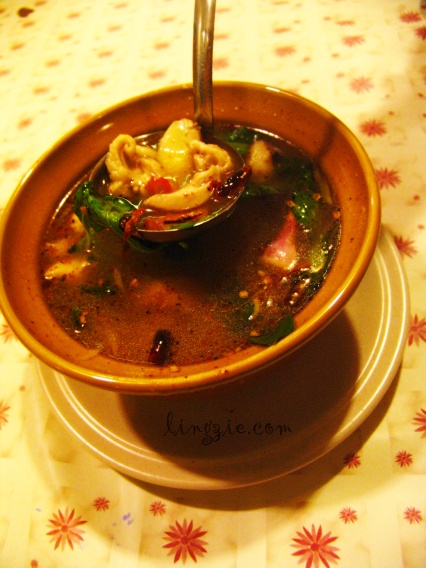 Chicken Tom Yam Soup (RM10) was a lovely addition to the meal. We ordered the clear version and the sourness was just about right without being too spicy.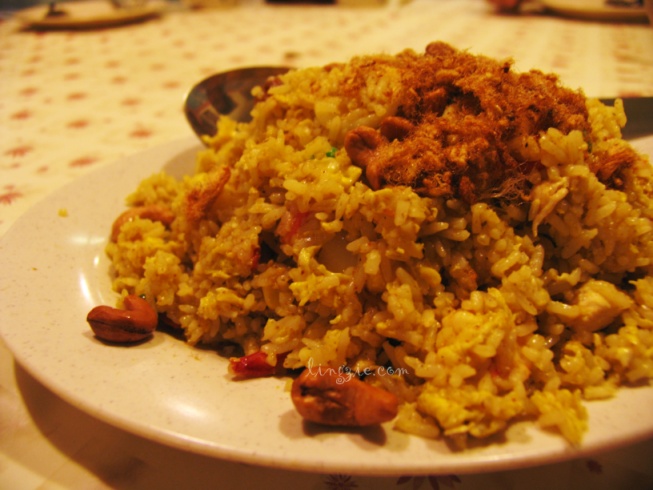 Whenever I try a new Thai restaurant, the pineapple fried rice is a must order for me. I actually rate Thai restaurants by this dish! lol
Fortunately the Pineapple Fried Rice (RM15, they have a smaller portion at RM7) here passes the test with flying colors! Flavorful and tasty with chunky pineapple bits and the all important cashews…
I'll try the Belacan Fried Rice on my next visit! 🙂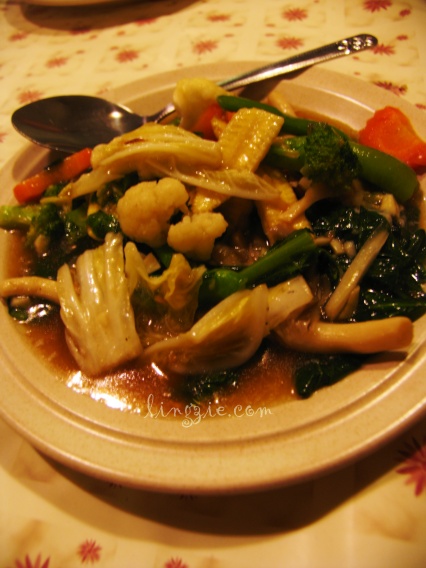 Some Mixed Vegetables (RM8) to 'fibre up' the meal.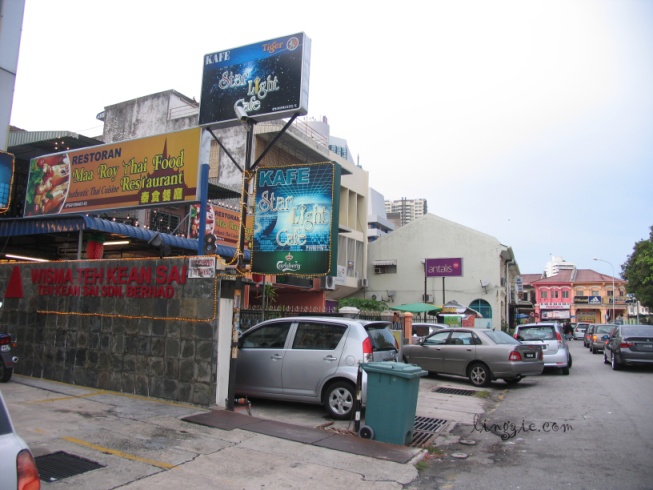 Overall, we thoroughly enjoyed our meal at Maa Roy Thai. Food is authentic and has that home cooked feel to it – hearty portions and no skimping on ingredients. We like! 🙂 And we noticed that business was pretty good as well. There were about 8 tables (including ours) for dinner on a weekday evening.
Maa Roy Thai is located at 6A Abu Siti Lane, 10400 Penang. T: 04-227 6816
Opening hours: Monday-Sunday (wah no rest day one!) 11am-3pm, 6pm-10pm.