The lack of blog updates and replies to your comments of late is largely due to my increasing workload. But I managed to squeeze in some time to blog before I rush off to another appointment in 30mins time!
The mad rush has made me wistful of lazy Sunday afternoons enjoying a cup of tea… sometimes you do need to slow down, gather your thoughts and pamper yourself! And when I need to seek refuge, I never fail to think about afternoon teas at Annabelle's Place.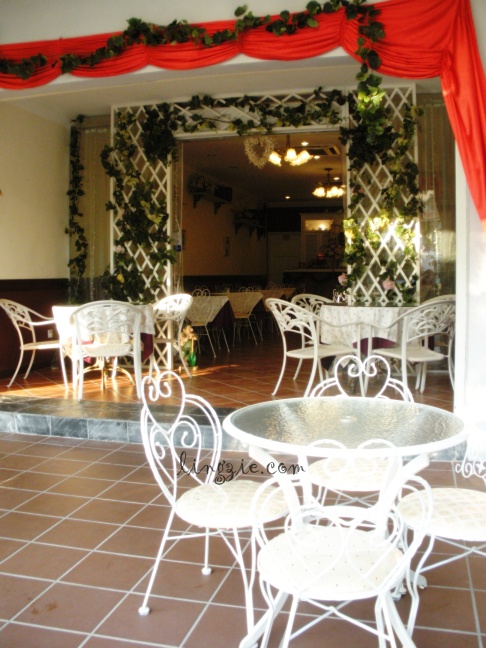 Annabelle's Place is pretty, comfortable and cottage-like. The perfect setting for English afternoon tea.
And for as long as I can remember, I have been fascinated with English Afternoon Teas! The influence of many an Enid Blyton book perhaps? 🙂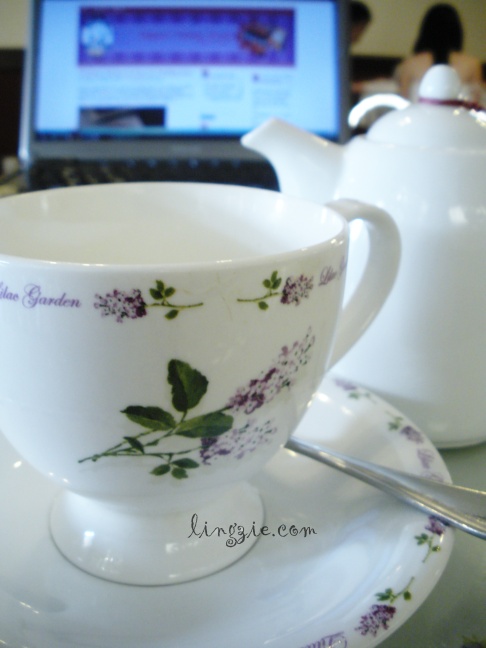 Before I arrived at Annabelle's Place, I already had my heart set on the afternoon tea for one.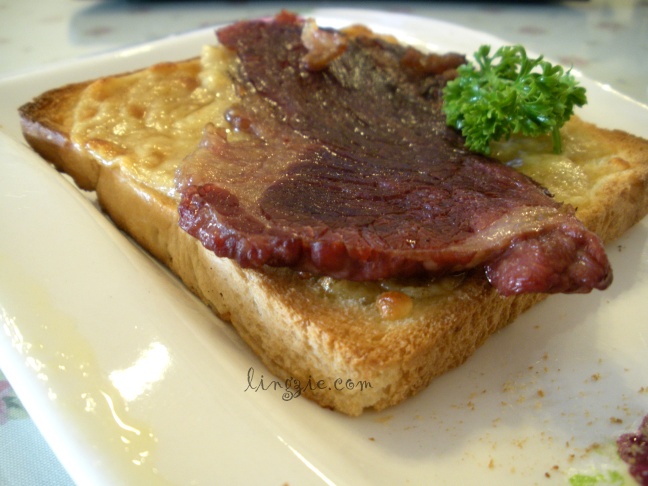 But upon browsing the menu, I couldn't resist ordering the Yorkshire Rarebit (RM9.90). Rarebit? Rabbit? Funny sounding name right? But luckily it didn't taste odd at all! In fact it was pretty yummy! Authentic rarebit calls for ale/beer in the cheese which I think is omitted in Annabelle's version. Nevertheless, I enjoyed every bit of it! Generous slice of delicious bacon on top of lots of cheese on a slice of toast.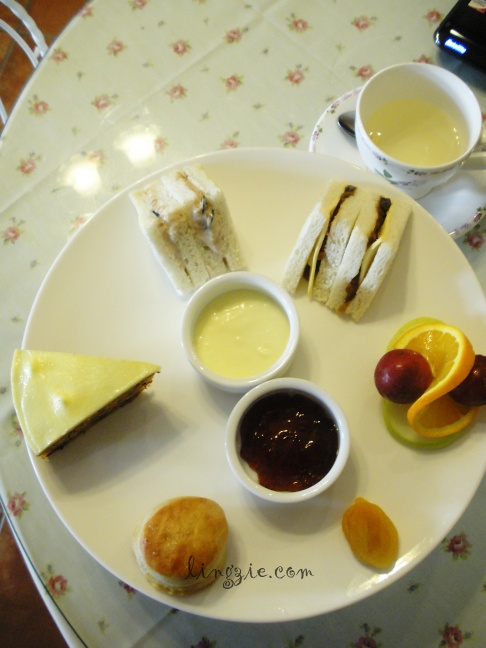 Overview of the Windsor Tea for One (RM17.90) – you get a scone with home made strawberry jam and clotted cream, a slice of cake (it was carrot cake on the day I was there), sandwiches and a pot of tea of your choice.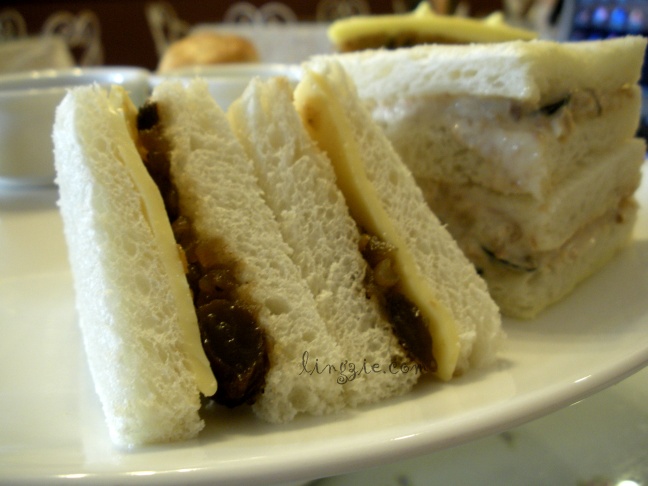 The sandwiches were simple and dainty but tasty – tuna sandwiches and relish & cheese sandwich which I particularly enjoyed! I was wondering how traditional cucumber sandwiches would taste like though! 😛 Is it really just slices of cucumbers sandwiched in bread?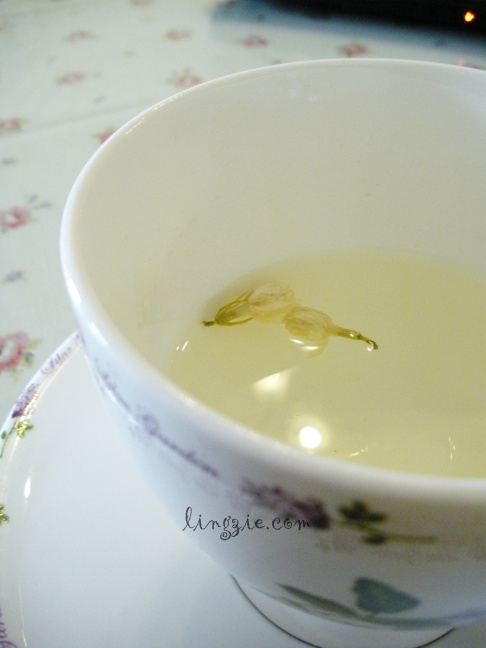 For my choice of tea, I chose Jasmine tea. It's different from the Chinese Jasmine tea that we're more accustomed to. Instead, this version has got a lovely vanilla scent to it which suited my palate really well! It had slightly sweet undertones thus eliminating the need to add sugar or cream.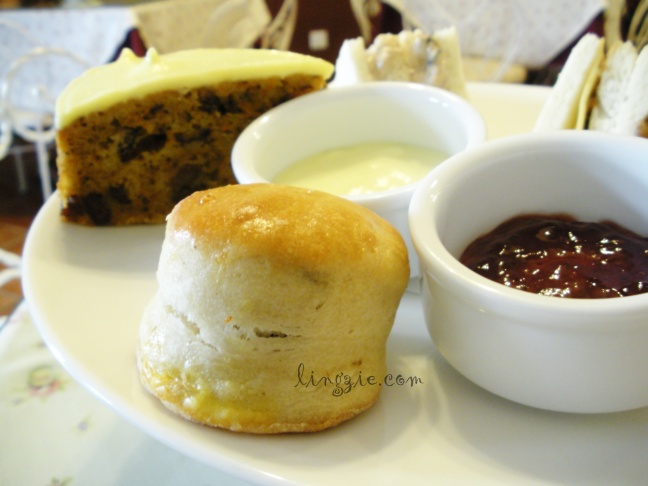 The scones! Ah I LOVE the scones here at Annabelle's Place. They're chewy and soft. And I love them slathered with thick layers of jam and clotted cream! Yum~~~!
The carrot cake too was a winner – moist and chunky from the walnuts, with a layer of cream cheese frosting to bring out the flavor.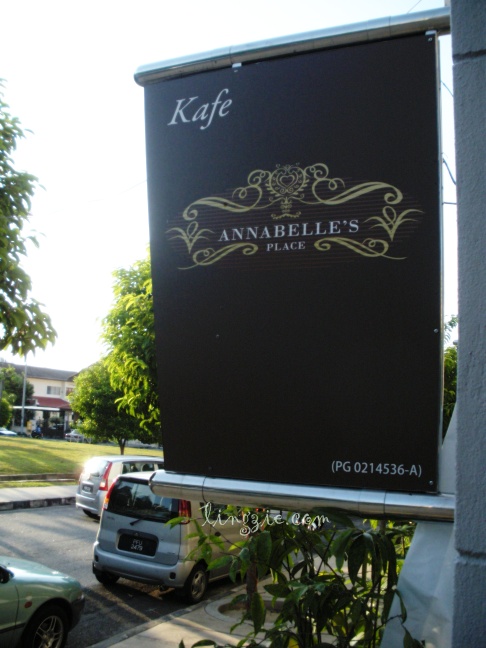 So, the next time you're having a rough day and need a lil pick me up, why don't you head on over to Annabelle's Place for some English Afternoon tea? 🙂
Annabelle's Place is opened from Tues-Fri 11.30am-2.30pm, 4.30pm-10pm. Saturdays & Sundays 11.30am-10pm. Closed on Mondays. Wifi available.
Address : 10, Lebuh Lembah Permai 4, 11200 Tanjung Bungah, Penang.
Tel: 04-8901098.