Here's a meaty start to the week… yummy wholesome pork burgers…… ~drools~ (home made pork burger patties too mind you!) I had first read about Cristang from Absolut Ginger who should really be a flogger herself, what with her frequent drool-worthy, saliva enducing makan trips!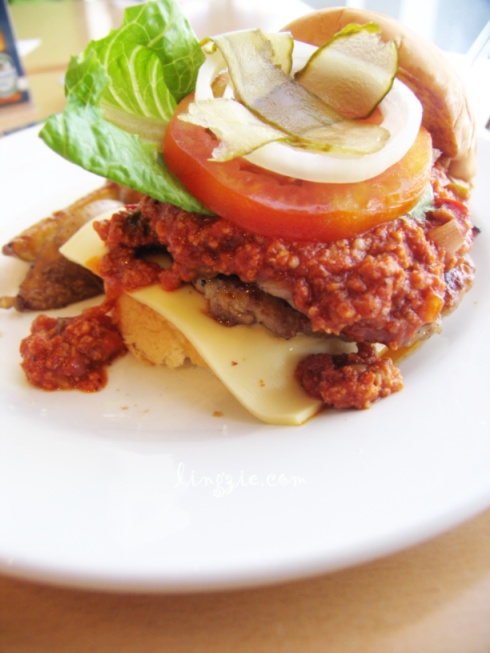 Cristang is a quiet, laid back place that serves Malacan style Portugese cuisine with some western cuisine dishes too. And their current best seller would be their 6 varieties of pork burgers (named P1 to P6)

I chose the P3 (RM22.80) which is a deliciously tender pork burger patty with pork chilli con carne, bacon, cheese, lettuce and gherkins.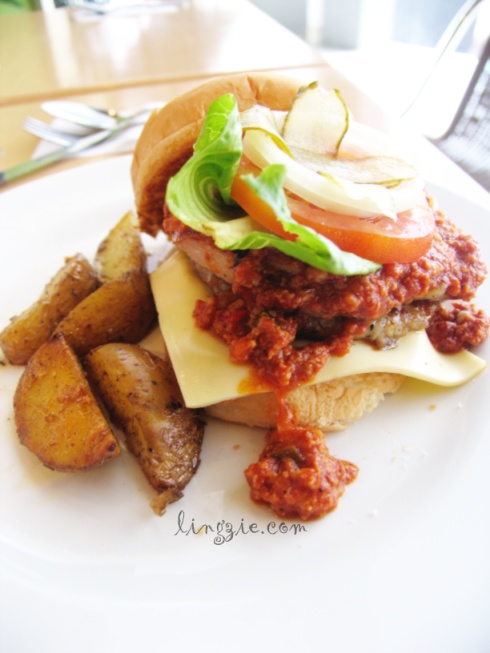 Served with wedges, this pork burger definitely hits the spot! Portion size was just right for me, but it might be a lil small if you're really hungry.
Oh! And one important thing to note about these burgers…. 20% off all pork burgers on Wednesdays!! The pork burgers range from RM14.80-RM29.80
And there's even a petai version 🙂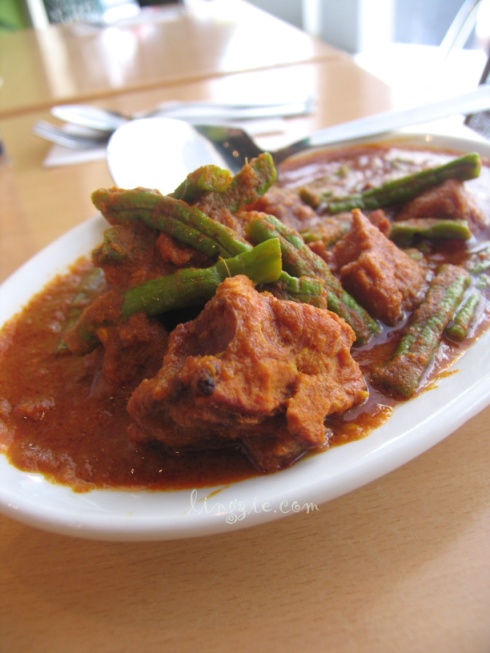 We couldn't leave Cristang without trying something Portugese, so we picked the Pork Rib Ambila (RM16.80 for the small portion). This, we are told is a family recipe passed down from generation to generation and originally uses bacon bone. The affable owner Gerald tells us that he wasn't able to source for bacon bone previously. But now, he's found them and so will be switching to bacon bone, the way its meant to be made! And we were lucky enough to try the ambila curry with bacon bone.
And how does the Ambila taste? It was absolutely delish!! Rich thick curry, which was not too spicy or salty. The long beans gave the dish a nice crunch. Perfect eaten with rice.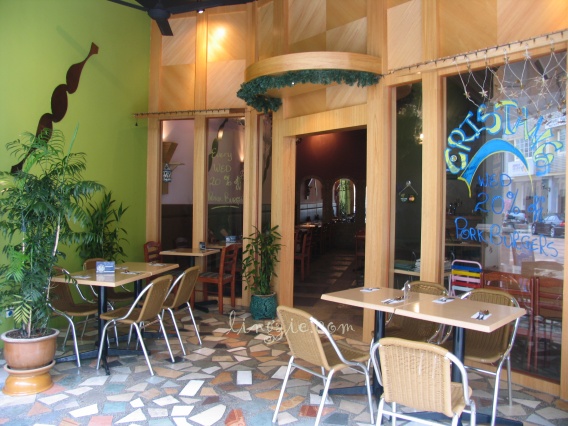 I also spotted Chicken Vindaloo (I heart!!) and Portugese Lamb Curry on the menu which looked very enticing. What I like is that Cristang offers 2 portion sizes for these dishes to cater smaller groups as well as large groups.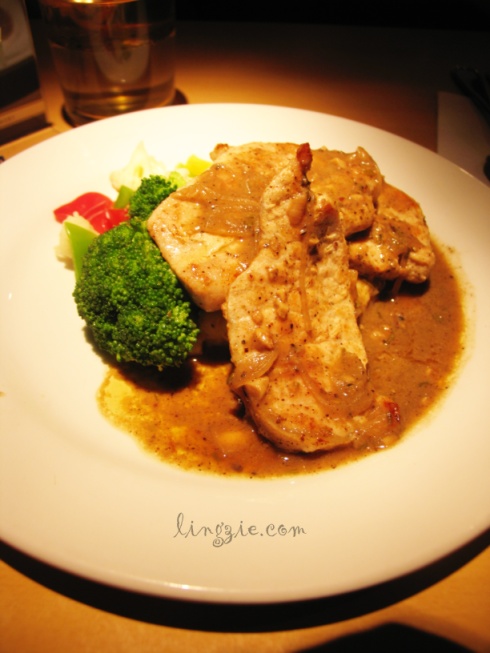 Feeling rather ravenous, we decided to order a grilled pork chop with mushroom sauce (RM17.80). This was mediocre after the bursting flavours of the ambila curry and pork burgers. We found the pork chop to be a little tough as well.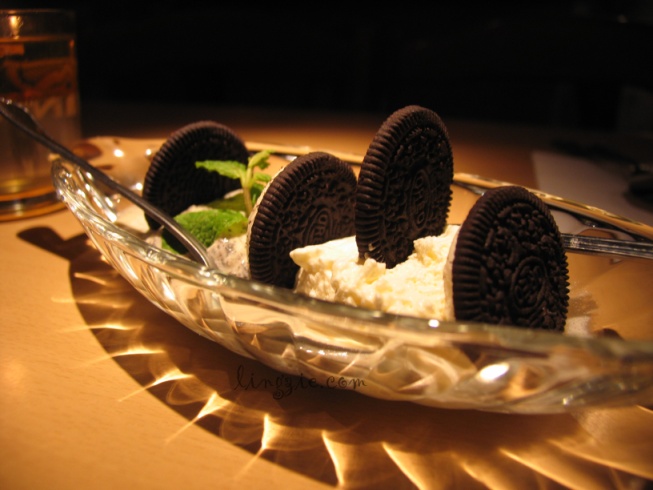 To end the meal, we tried their special Home Made Oreo Ice Cream (RM12.80). The ice cream was a bit soft though, melting rather quickly after I snapped some photos. But it was still a sweet end to a satisfying meal.
Cristang Restaurant also offers various fried rice meals, noodles, Laksa and lots of Portugese style dishes (which I intend to 'attack' on future visits!!)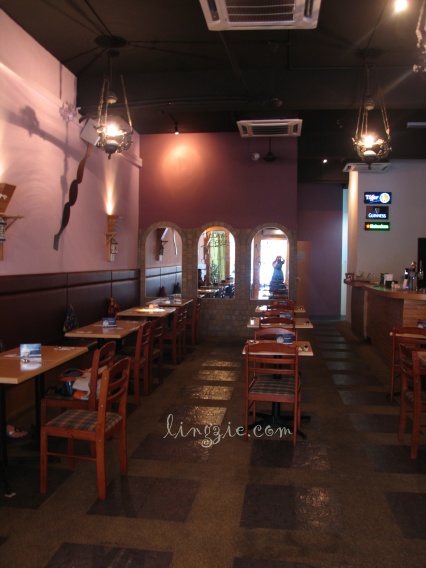 And where is this lovely establishment? The address: B-G-19, 8 Avenue, Jalan Sungei Jernih (8/1), 46050 Petaling Jaya. Tel: 03-7956 7877
Opening hours: Tues to Sun 11am-3pm, 5.30pm-11pm. Closed on Mondays.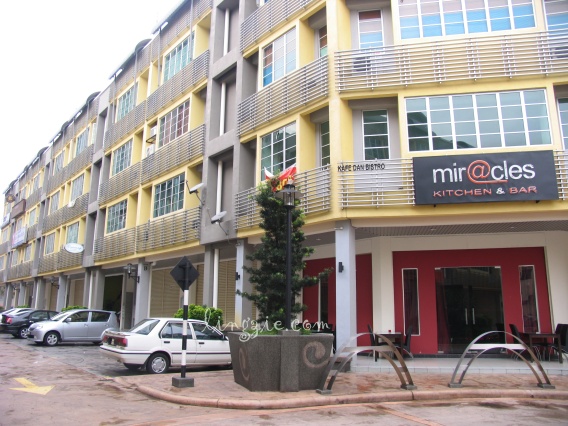 Its located behind the row of shops opposite PJ Hilton hotel. Click here for map and here for Cristang's Facebook account. The Cristang signboard is rather small and unassuming. But when you spot this huge Miracle's signboard, you'll know you're on the right track as Cristang is just a few doors away (see the oval shaped white signboard on the left of the photo? That's Cristang's signboard)
I can't wait for my next visit!