Ah pancake oh pancake, how I love thee, let me count the ways….
Ok so this pancake is not your normal 'ban chang kueh' type nor is it the 'apom' type. But it is one unique chinese pancake which I reckon is only available in Penang. And it's one that I have featured more than once in this blog. Mainly because the lady who makes it keeps moving!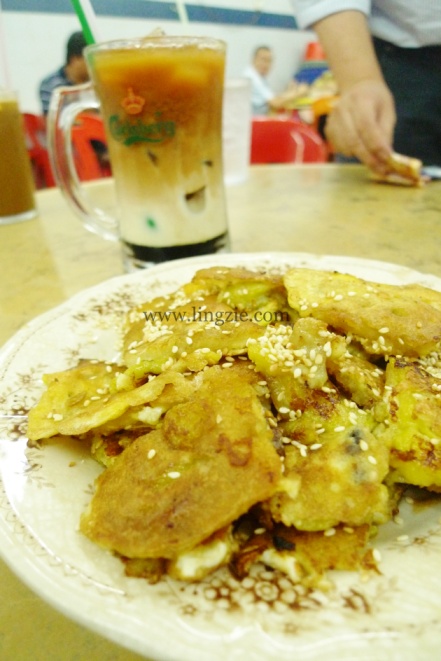 The last we saw of this pancake was in Church Street – within the Beach Street financial district. But alas, a short few months after I discovered her in Church Street, she moved again!! I heard rumors that she had moved to Macalister Road but wasn't sure where until CH mentioned it to me on my blog.
So where did she move to? None other than Sim Kim San Cafe along Macalister Road, once famous for Top Taste Hokkien Mee in the mornings.

Currently however, we saw banners proclaiming that Top Taste has moved to Pinang Delicious Cafe on the opposite side of the road and I think they also have an outlet now in Lorong Selamat? Fans of this Hokkien Mee, please enlighten me as I've never tried Top Taste. 🙂
In it's place is a new stall – Ah Soon Kor Hokkien Mee.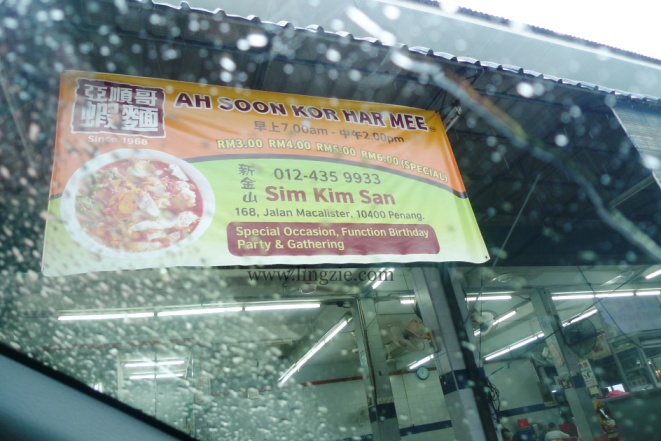 Sounds promising, especially the 'Since 1968' claim…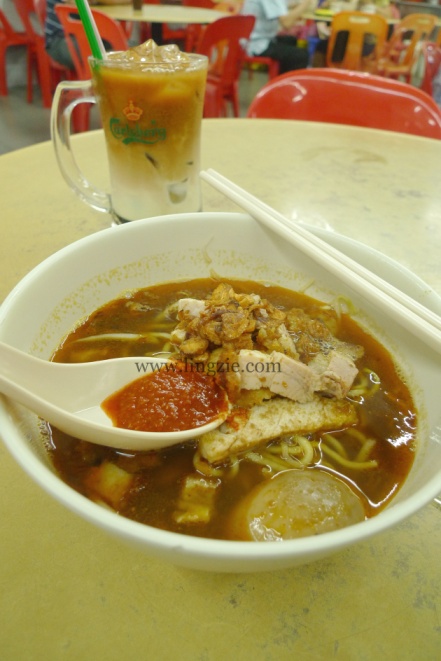 Visually it looks less oily than Super Hokkien Mee and Swee Kong. (Personally I think that Super Hokkien Mee is way too spicy and oily for me, prefering Swee Kong's) We ordered the Hokkien Mee with added roast pork and mantis prawn – RM5 per bowl. Notice a trend here? Almost very other Hokkien Mee stall in town is now adding roast pork and other sides in order to boost their earnings. Nothing wrong with that, but the most important thing in my opinion is to maintain the taste of the soup base.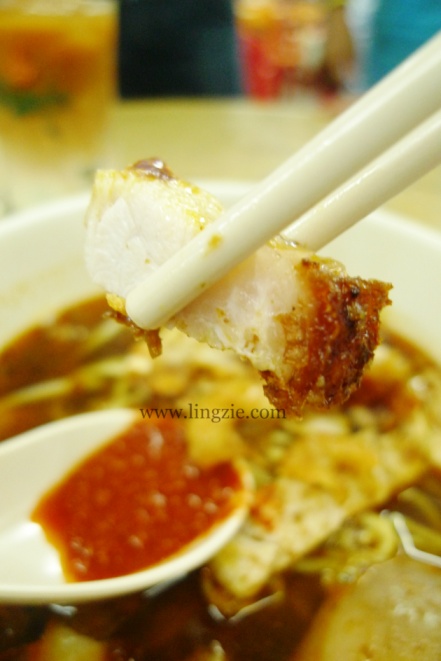 The verdict? The soup base was sweet and hardly spicy at all, which was rather surprising! So if you're a fan of Super Hokkien Mee which is fiery hot, then I'm afraid Ah Soon Kor's version might not do it for you. Ah Soon Kor's version is much more mild. And our resident Hokkien Mee critic did not think much of it, not liking the type of fat yellow noodles used. The resident critic still prefers the lesser known Hokkien Mee stall in Bangkok Lane which is famous for its mee goreng (though some like it and some don't). Which reminds me, I really must blog about that stall one day!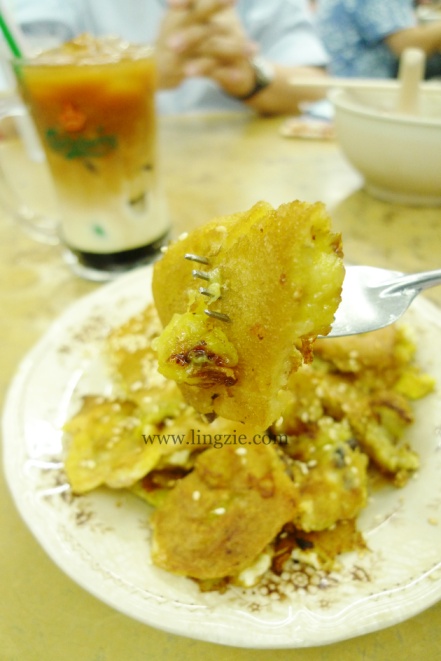 Then came the highlight of our meal – the chinese pancake in all its banana-y and raisin-y glory! Now I do realize that Sim Kim San used to have a stall selling chinese pancake as well. But I am quite certain that it was manned by a different operator. Whatever the case, I was just so happy to have found my Chinese Pancake lady once again!! 😛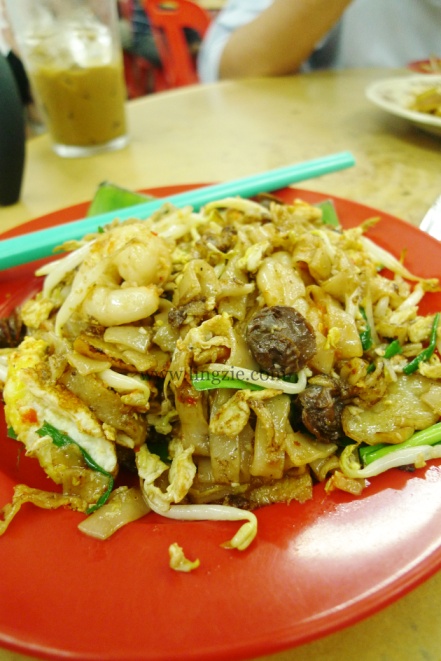 The only other stall that was operating that morning besides the pancake and Hokkien Mee was the Char Koay Teow stall. So we gave it a try…. and was disappointed. So next time, I'm either gonna 'ta pao' the pancake or eat something else first before coming here for my 'dessert'!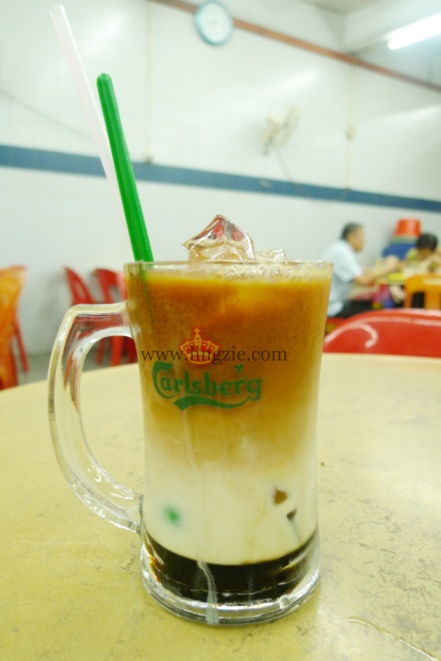 Oh! And the other highlight of the meal was this lovely glass of  3 layer 'Teh C Peng'. Native to Sarawak, Penangites can now enjoy this delicious drink right here on our sunny shores! I had thought that it would be very sweet looking at that layer of gula melaka at the bottom. But surprisingly it wasn't. And the gula melaka gave it a most unique and malty flavor. I foresee that I shall be coming back for more pancakes and 3 layer Teh C Pengs!
Chinese Pancakes at Sim Kin San Cafe available in the mornings from about 8am til 2pm. Mon-Sun. (Closed alternate Mondays) Sim Kin San Cafe is located along Macalister Road (a few doors down from Red Rock Hotel, opposite the Esso petrol station)