I've been curious about this lil stall selling curry mee along Jalan Sir Ibrahim at Taman Green Lane for quite some time. Every time I drive pass, it's always busy and packed with people. So like any other Penangite, it piqued my interest for it is usually assumed that a place that is packed should technically serve good food. Especially when its a lone push cart stall selling only one item with virtually no car park in sight!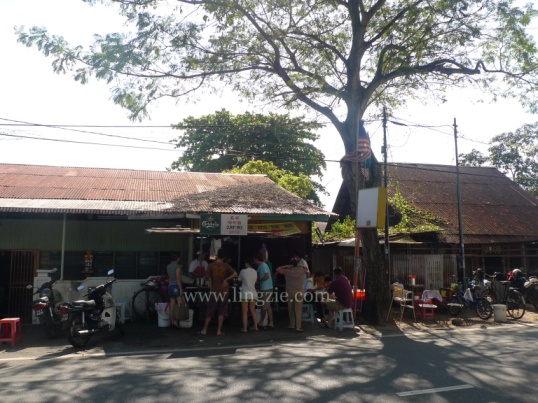 But being creatures of habit, I keep forgetting to come to this stall for breakfast, until one fine Sunday morning, we made it a point to come to this place.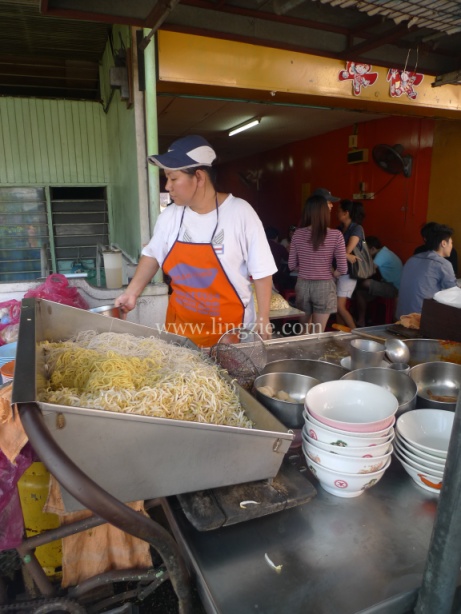 We arrived a lil after 10am to a packed narrow shop. All the tables were filled and there was already a line waiting to 'ta pau' (pack home)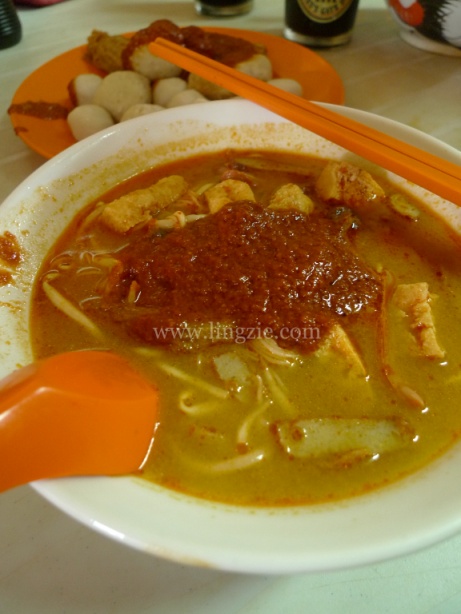 We were lucky to get a table about 5 minutes after arriving. And quickly ordered our bowls of curry mee which arrived rather promptly considering the crowd.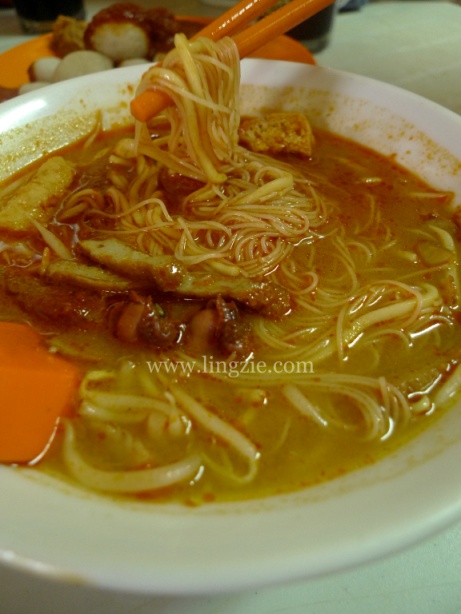 Visually, the curry mee soup base looked much clearer and less creamy than the usual curry mee's we find in most stalls in Penang. There was abundant cockles, fish cake strips, bean sprouts and 'tau pok' (fried beancurd) and a whole lotta chilli paste.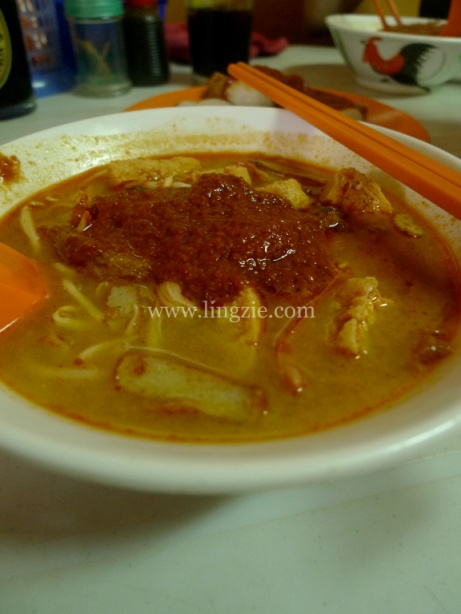 Taste wise, the soup base had the fragrance from ginger flower (bunga kantan) but unfortunately it didn't really excite me or my family members. I did like the type of yellow noodles used. But perhaps I'm more used to creamier soup bases instead of this lighter, clearer version. Plus, the whole lotta chilli paste made it too spicy for me. Next time, I'd remember to ask for less chilli paste.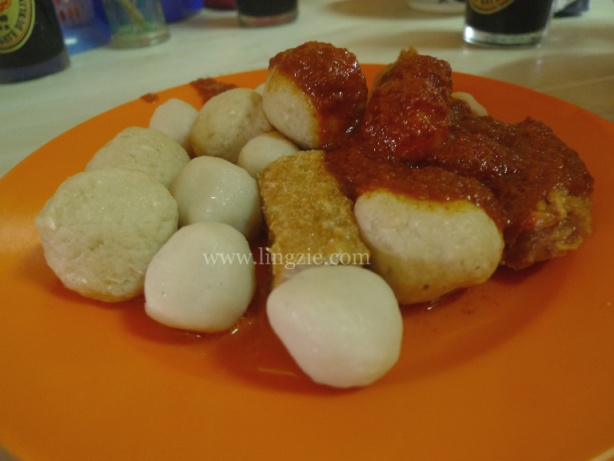 Perhaps the most interesting thing about this stall's curry mee is that you can order a side of 'liao' (extra side orders) which in this case includes fish balls, pork balls and fish cake with a dash of their signature chilli paste. You can also order extra blanched bean sprouts and noodles too!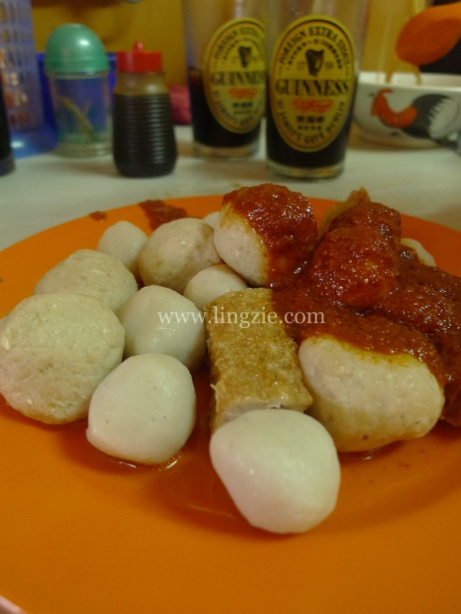 Almost every table has a plate of this 'sides' together with their bowl of curry mee. The chilli paste was rather salty though in my opinion. Total damage for 3 bowls of curry mee and a plate of sides plus 3 kopi O ice was RM14.60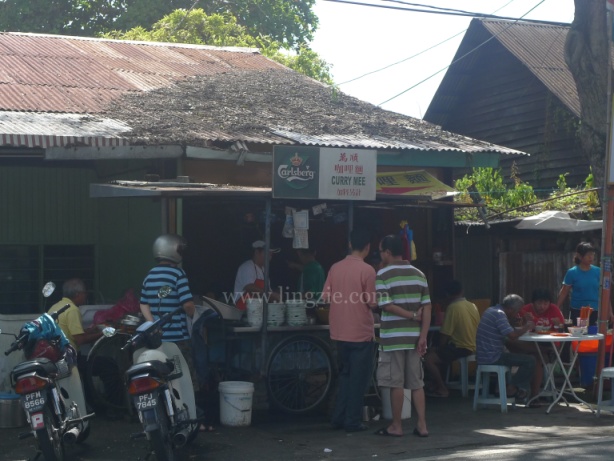 And though Wan Soon's curry mee isn't really one of the best curry mee's in Penang (in my opinion), it certainly has its own fans judging from the crowd! Plus, this stall has been in operation for the past 20 years! So if you're a Penangite who's looking for a new curry mee stall, it's worth trying out Wan Soon's to see if it suits your tastes. 🙂
Oh and another thing to note is that they only have four types of drinks for you to order – Kopi O, Kopi O Ice, Chinese tea and 'Keko' Bottled drinks (chrysanthemum)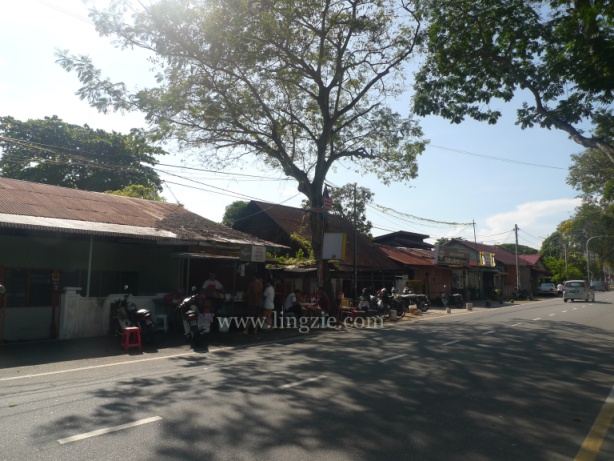 Wan Soon Curry Mee is located along the rather busy road of Jalan Sir Ibrahim (which as you can see from the photo above, has virtually no parking space! but Penangites are pretty creative when it comes to finding places to park :P)
Jalan Sir Ibrahim is near the Batu Lancang flats and Taman Green Lane. Other nearby landmarks are So Young Cafe. For google map location, click HERE.
Opening hours: 7am-11.30am (or til they're sold out) Closed on Mondays.
Other reviews: Penang Street Foods and Cokeworld Citizen