The blogosphere seems to be abuzz with Pineapple tarts! What with Chinese New Year a mere 3 weeks away! In fact, Food4Tots was also making them almost the same time I was, so we launched into a long discussion about them, exchanging tips and stories. 🙂
My family and I love this delicious, addictive tart and I have always said that I would try my hand at making this one day. Well, that one day has come! Finally!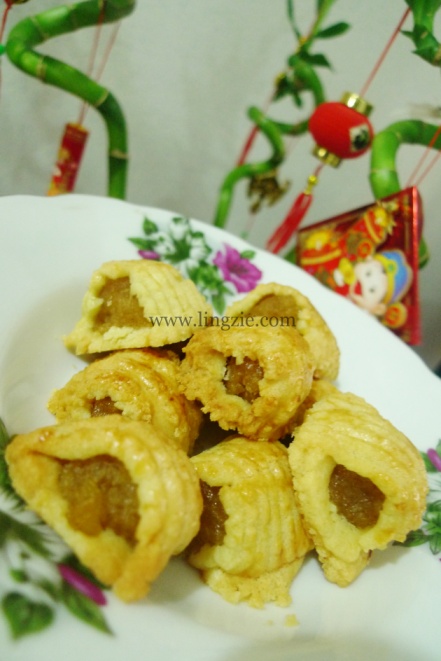 My first attempt at Pineapple Tarts! (do forgive the odd shapes :P)
I had marked down Pineapple Tart recipes scoured from the net yonks ago – mainly from Rasa Malaysia, Malaysia Best and House of Annie. And after reading them hurriedly, I got all gung ho and decided to make my own pineapple jam too.

I tossed aside fears of tediously grating pineapples and squeezing out the juices, and forged ahead to the market to get pineapples. But that was where I made my first mistake. I bought sweet pineapples ("bali ong lai" in Hokkien) or Josephine pineapples (at least that's what I think they're called in English). Totally skipped the part in the recipe which read – "use unripe pineapples if possible".
Oh well…. all was not lost, for I just adjusted the amount of sugar instead. And I got the guy at the market to skin the pineapples for me (hehehe), otherwise it would have taken me even longer to make the jam. 😛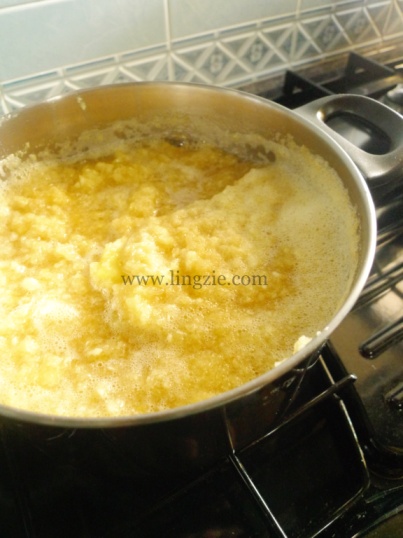 Pineapple jam…boiling away…. (beware for it's hot! and it splurts and splatters!)
I bought 3 large pineapples and took a shortcut of blending instead of grating them. And boiled away… all in all it took me TWO whole HOURS in front of the stove, constantly stirring the jam til it was thick and a nice shade of caramelized brown. And because I had bought such huge pineapples, I had to split the making of the jam into two batches and ended up with quite a lot of jam!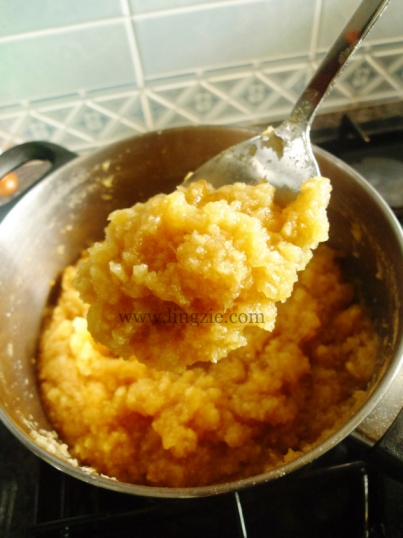 First batch of pineapple jam – Done! (as you can see, the amount reduced to about half from the original and the color is darker)
Home Made Pineapple Jam Recipe (adapted from House of Annie and Rasa Malaysia)
3 large pineapples
1 cup castor sugar (please adjust this accordingly to taste, I got really sweet pineapples hence reduced the sugar to this amount)
3 teaspoons ground cinnamon powder (optional)
3 teaspoons cornstarch mixed with 3 tsp water
Directions:
1. Cut skin off the pineapples (including the 'eyes' – see Chez Annies page for a step by step on how to slice the skin off the pineapples).
2. Cut pineapples into slices/cubes and remove the core. Blend in a food processor/blender. (Traditional method requires one to grate the pineapples which results in a more fibrous jam, hence more bite) But since this is the first time I'm trying my hand at this, I decided that blending them was a forgiveable shortcut! 😛 Blending is really so much faster! Resulting jam tastes smoother.
3. Strain out about half of the juice from the blended pineapples as this will help the jam to cook faster. (Plus you get refreshing pineapple juice to drink while you stand in front of the hot stove to stir the jam!)
4. Place blended pineapples into a pot along with the sugar and cinnamon.
5. Start the fire and boil away. Stir constantly to prevent the jam from burning.  Be careful of hot splurting pineapple juice! (I used a ladle with a long handle to stir and stood far as far away from the pot as I could :P)
6. Continue cooking until all the juices have evaporated. The jam will thicken and the color will change to a darker golden brown.
7. Add in the corn starch mixture to thicken up the jam further. Let cool completely.
Note: I wanted to make pineapple tart rolls instead of open faced tarts, so I followed Chez Annie's instructions to make sure the jam was pretty dry (to ease the rolling part later on) Also advisable to make the jam ahead of time since it's a relatively long process and also takes time to cool.
After making the jam, you can store them in an air tight container and in the fridge. Whip them out the next day (or two, or three, as you wish), roll them into small balls and proceed with the pastry! (that's where the 'fun' starts :P)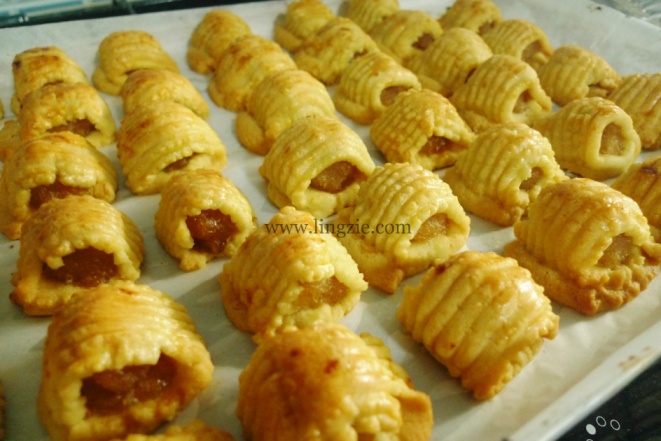 Pineapple tarts – fresh from the oven! Yummm~~~ (a lil something to encourage you along… :P)