I might have mentioned before in this blog that my dad is a Nasi Kandar fan. And it is a known fact in our family that he gets up really early before the crack of dawn, carries out his daily chores and usually stops by for a quick breakfast at a nasi kandar stall of his choice. How he can wolf down a plate of rice with heavy curries, meats etc so early in the morning may baffle most, but hey he's had a lot of 'practice' after all these years 😛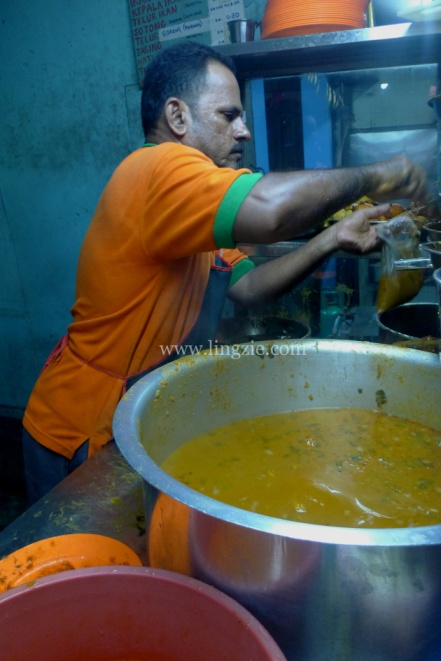 Many a time have I heard him mention this unassuming Nasi Kandar stall as we drive past the busy Jelutong Road, claiming it to be one of the best in town (he prefers this over the more famous Line Clear Nasi Kandar). Also, there are claims that this is one of the very first Nasi Kandar stalls in Penang.
When dad told me the vendors still use the 'kandar' (long pole used to balance the pots of rice), I was intrigued and decided that it was time I followed him to his 'haunt' to see what the fuss was all about.
And so, very unwillingly I dragged myself out of bed at 5.30am one Sunday morning (and this was after I had only about 3 hours sleep, having taken in a midnight movie the night before! How this happened was well… because I had completely forgotten that I had boldly informed dad that I was following him to his nasi kandar haunt and subsequently agreed to a midnite movie! So in order to avoid any 'lazy bum' jokes, do or die I had to get up from bed that morning…)
Anyway, I digress… Back to the matter at hand…..food! 🙂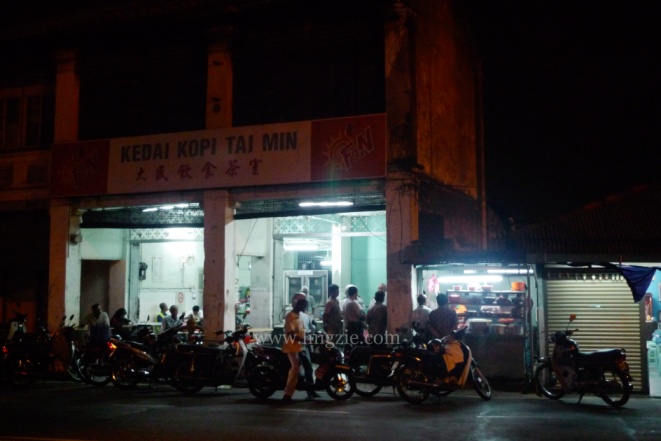 Jelutong Nasi Kandar at Kedai Kopi Tai Min
It was still pitch black when we arrived at a very old and nostalgic Kedai Kopi Tai Min, which houses the sole food stall – the Nasi Kandar.  Already there was a small queue forming to 'ta pao' (take away). So it would seem my dad had 'buddies' who also ate nasi kandar at such an early hour! I could tell almost everyone there was a regular, me being the only female patron at that time, and also the 'foreign object' as I garnered curious, almost hostile stares the moment I whipped out my camera. 😛 (well, to be fair, it was only 6am and I think anyone would stare suspiciously at a camera wielding woman at that hour!)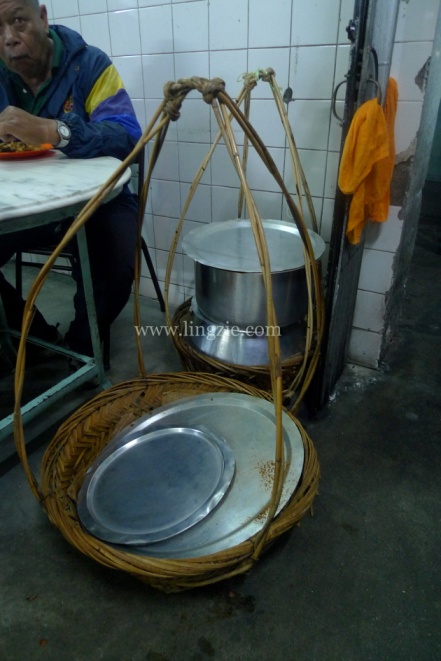 "Kandar" bearing the rice
I left the ordering to dad, and he requested for his 'usual' (but added in a few things to accomodate me).  Normally, one's Nasi Kandar meal would consist of rice, whatever dish chosen would be piled on top and then flooded ('banjir') in an assortment of curry. But dad… he eats it a lil differently. He likes the curries and dishes on the side. So that's how we ate it that morning.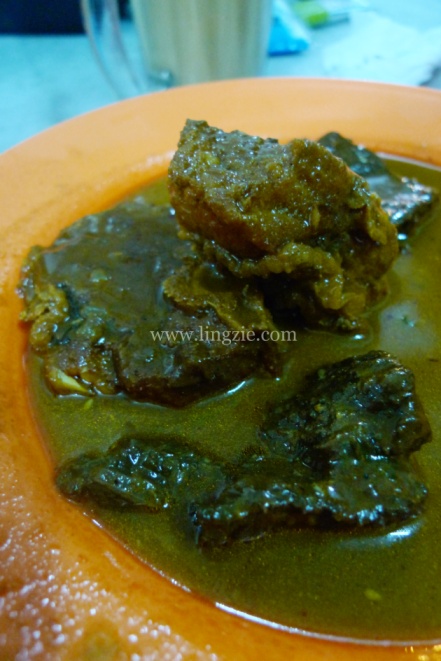 Nasi Kandar dishes – Fried Fish & Beef in curry
We had 2 pieces each of fried fish and beef served in plate with a curry mix (Ok, this is weird even for me, but if that's how dad eats it…then ok la…) And another plate held a huge piece of fried chicken drenched in chicken curry. I had asked for a very small portion of rice.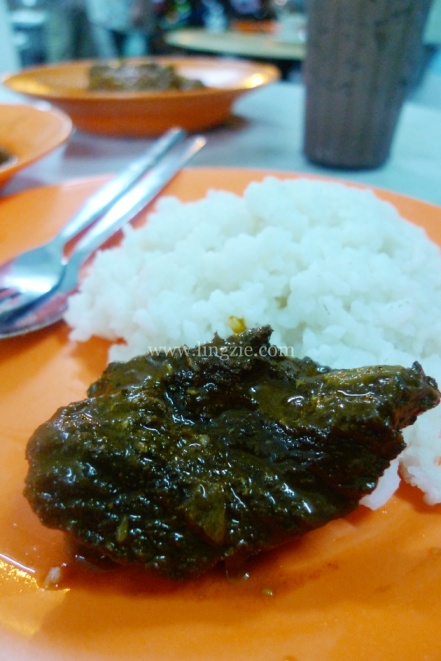 The Beef – fished out from the curry
I dug in, even though I wasn't quite ready for such a heavy meal at such an early hour. But, I was pleasantly surprised. The curries here were not at all heavy and thick. Instead, it was light, yet tasty. I am told they hardly use 'santan' (coconut milk) in their cooking, which perhaps explains the light curries.
I could see why dad likes his fried fish drenched in curry – the fried fish meat gets to soak up the yummy curry! Meanwhile, the beef wasn't as tender as I would have liked but still imparted lots of flavor.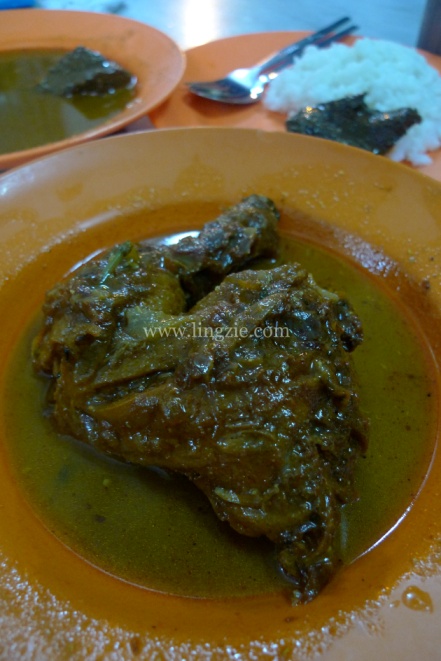 Fried Chicken with curry
Dad also told me that they place a bit of salt in their rice. Most interesting! And one of the reasons he favors this place is because of the piping hot rice (something very important to him!)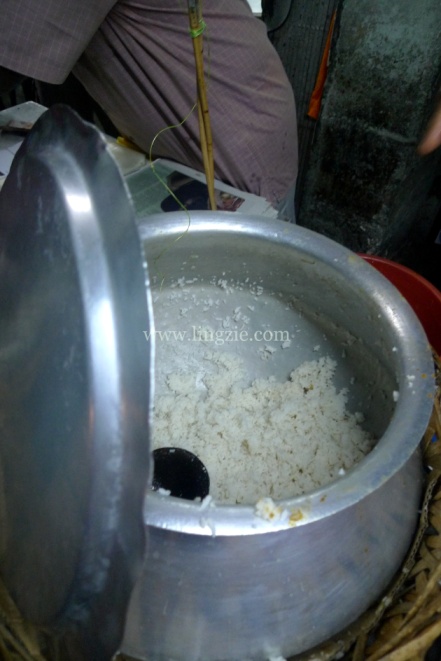 By the time we finished our meal (about 30mins after we arrived), the nasi kandar stall had already sold off nearly a bucket of rice! How's that for brisk business?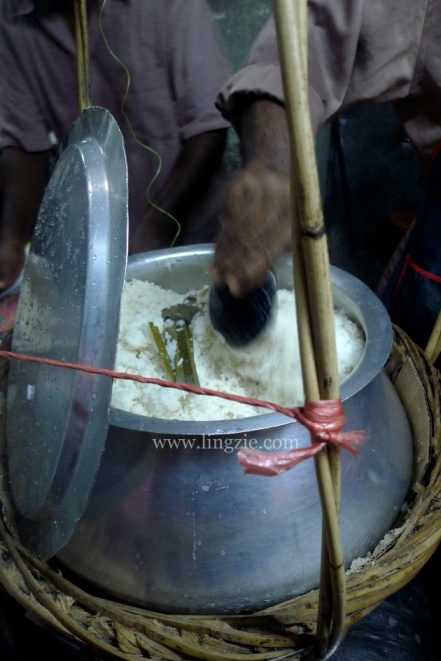 Fluffy hot rice
Perhaps another reason for this stall's popularity is their reasonable prices. Dad tells me they are reasonably cheaper than other franchise Nasi Kandar stalls. Our meal that morning with 2 plates of rice, 2 pieces each of fried fish and beef and a huge piece of fried chicken cost us less than RM10.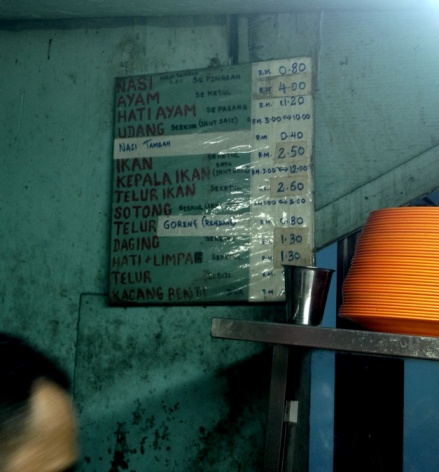 Perhaps Penang's very first Nasi Kandar stall is located in Kedai Kopi Tai Min, along Jelutong Road (opposite the Jelutong Police station). Starts business from as early as 6am til their sold out (usually til lunch hour on week days, might finish before that on week ends). Usually open 7 days a week, but they do take a day off or so every now and then.
I would say this place definitely warrants a visit, for a slice of old Penang nostalgia. The place has a very down to earth feel to it, nothing fancy. Just fast, efficient, food that feeds your soul.
More on this stall here and here.