Looking for a new place to have beef steamboat? Beef ball noodles and claypot beef noodles? Then head on over to Kang Beef House at Jelutong Road, Penang! Having opened its doors this February, they offer plenty to whet a beef lover's appetite!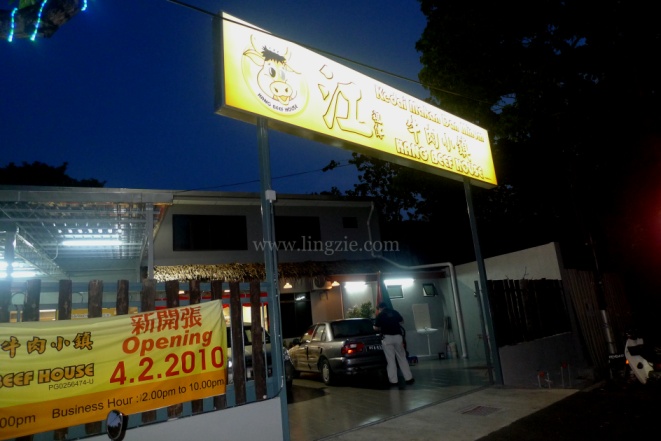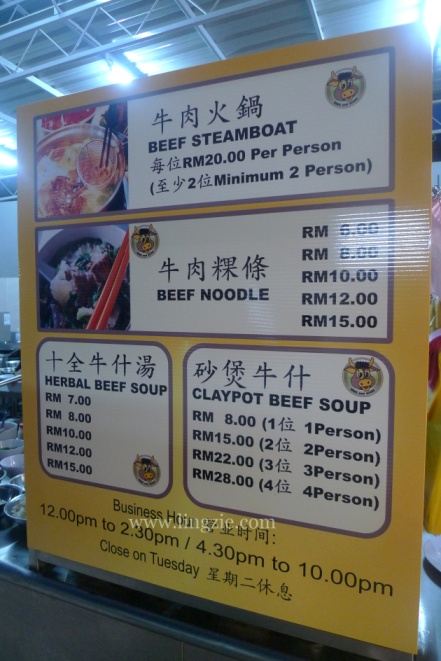 We had the opportunity to try the signature Beef Steamboat (RM20/pax, minimum 2 persons), which was made up of everything beef including…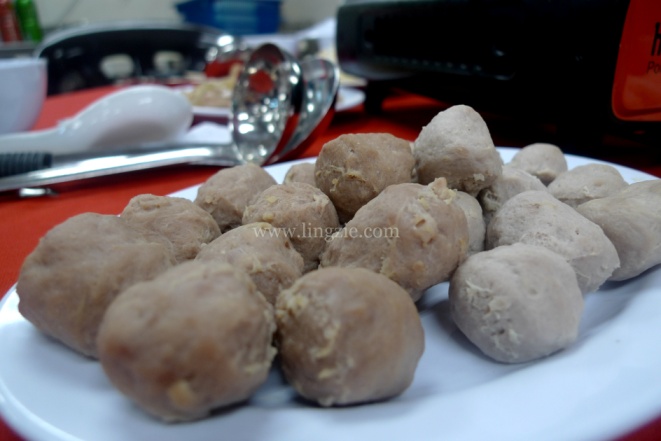 Beef Balls (notice the 2 different colors? the darker colored ones are more coarsely minced, which in my opinion tastes better as it has more 'bite')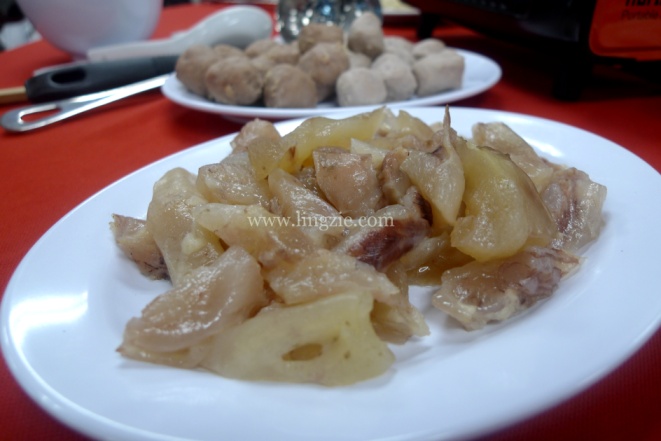 Beef ribs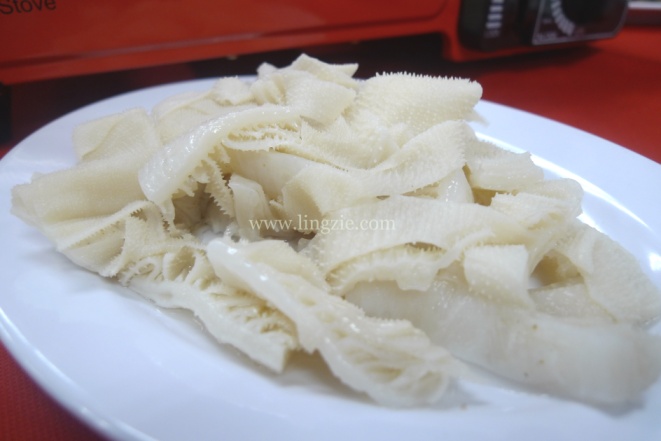 Beef Intestine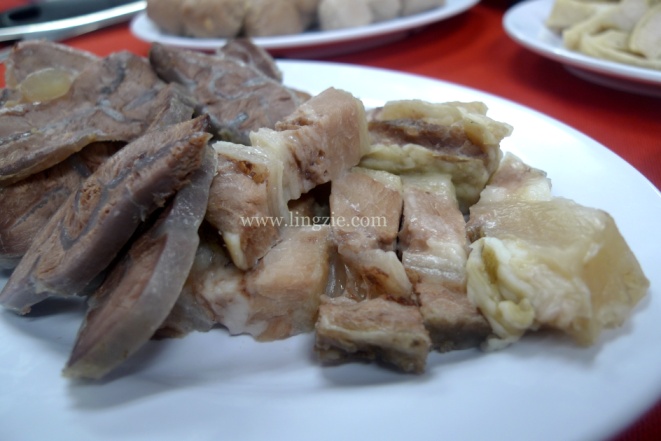 Beef Tenderloin & Sirloin – one of my favourites!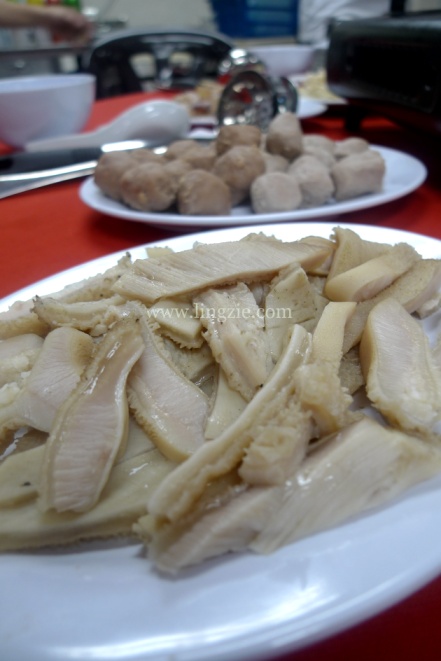 Beef Tripe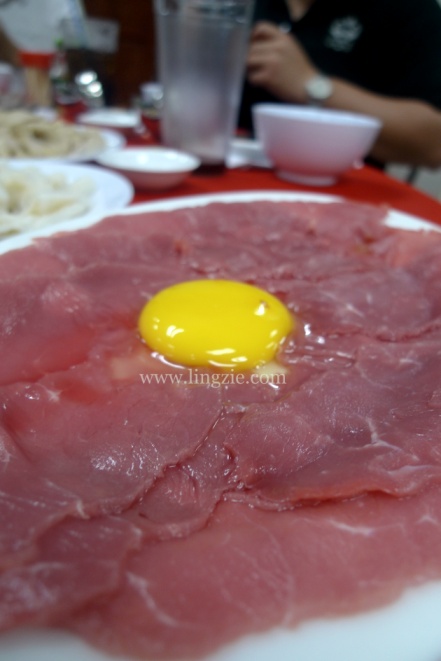 Thinly sliced beef meat… yummm~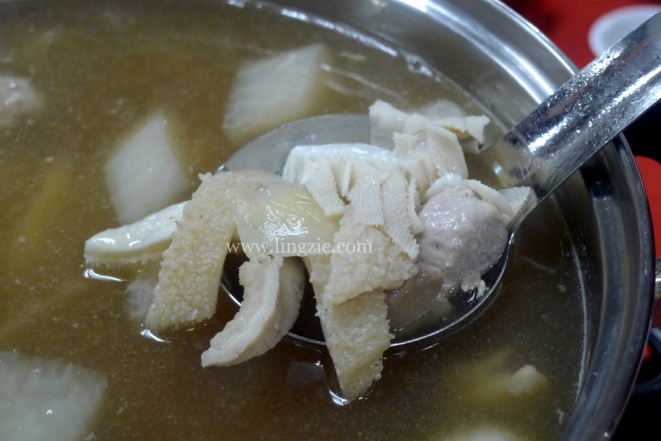 The beef steamboat was heart warmingly delicious. A sweet soup base of radish and preserved vegetables made even sweeter after adding in all the beef and vegetables (2 different types).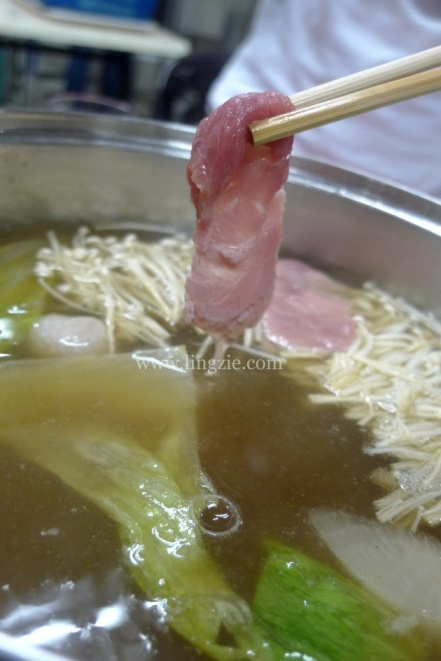 Gently dipping in the thin slices of beef into the boiling hot soup to ensure that it's not overcooked…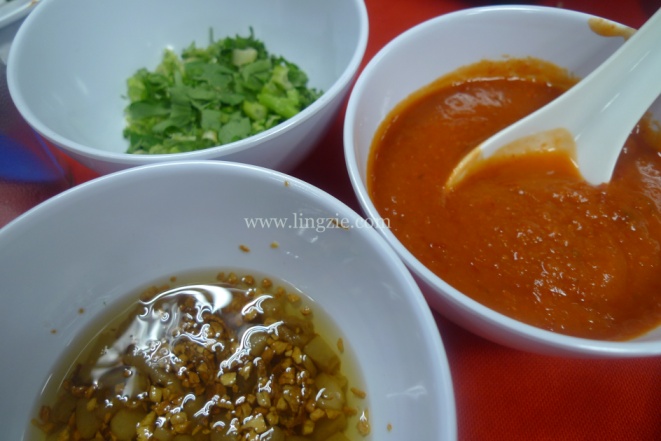 The various condiments available to accompany the beef steamboat. I must say that the chilli sauce dip is one of best I've tasted thus far. Slightly tangy and spicy it definitely packs a punch! Even more so when you add the garlic oil/lard condiment together to the chilli. A winning combo that compliments the beef.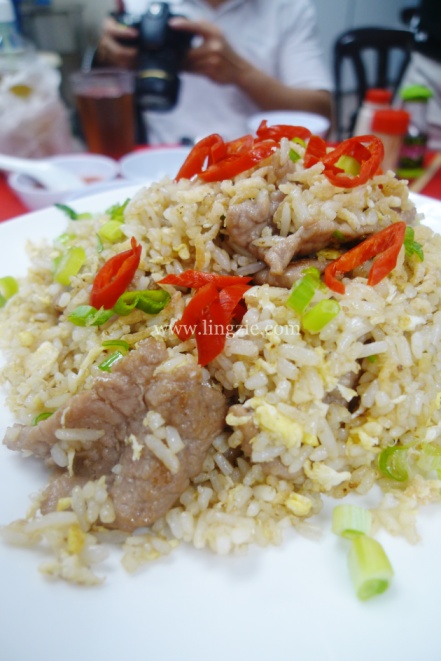 If you're not in the mood for steamboat, fear not for Kang Beef House also serves a few individual meals such as the Crystal Beef Fried Rice (RM12.80 plus a meatball soup). It may look like any ordinary fried rice but oh its not! You'll discover that there's a crunch to the fried rice, hence the name 'crystal'. Intrigued? 🙂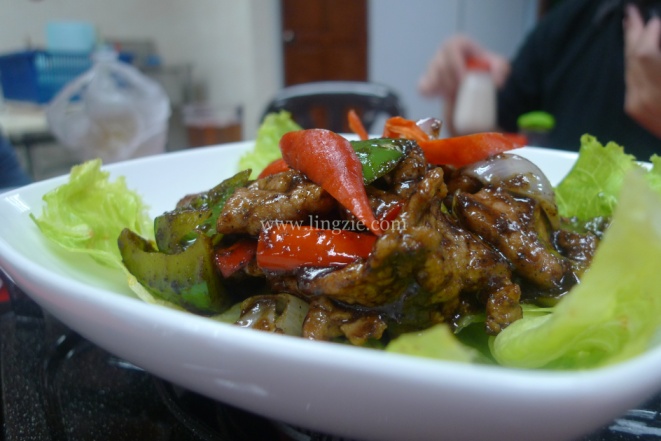 Next, we got to try the Black Pepper Beef (RM15 for the small portion). It was tender and smooth, coated with some starch to ensure smoothness. I was glad that the black pepper sauce wasn't too overpowering. Makes for a great snack on its own, or eaten together with the aforementioned fried rice.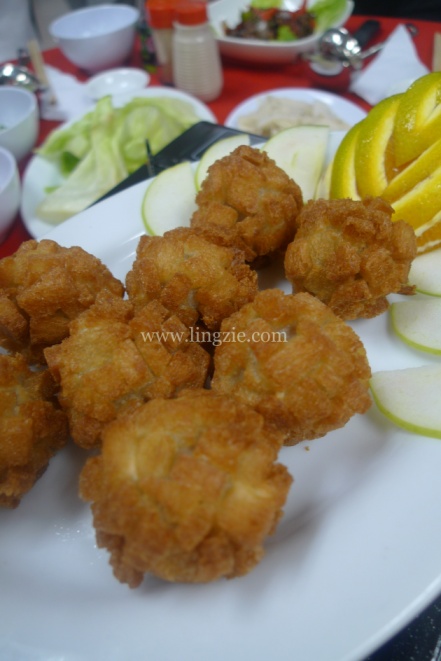 Another unique appetizer/snack would be the Crispy Beef Balls (RM4.80 for 6 pcs). Deep fried croutons encasing a beef ball.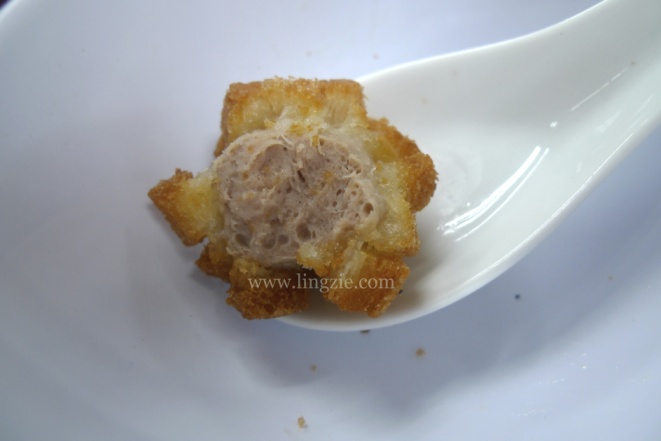 Needless to say, these Crispy Beef Balls quickly disappeared off the plate. 🙂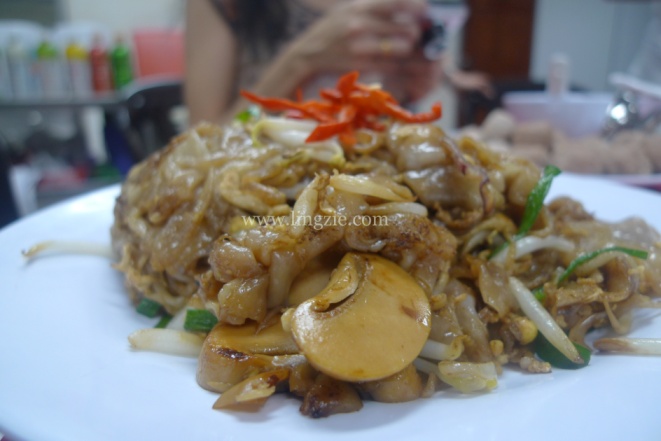 Because we had a guest with us who doesn't eat beef, we had requested for this Dry Hor Fun with only mushrooms and vegetables. There's also the beef version – Dry Fried Hor Fun with Beef (RM9.80) which I'm keen to try during future visits as the hor fun had lovely 'wok hei'.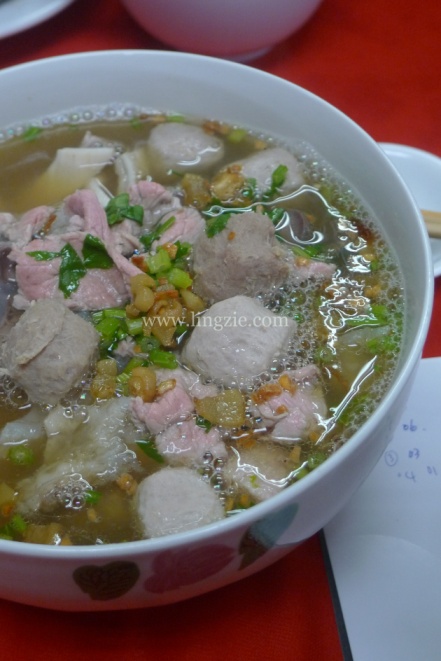 And of course, we couldn't miss yet another signature dish – the Beef Koay Teow soup (RM6, 8, 10, 12 15). The portion shown above is the RM15 portion. A hearty bowl of smooth koay teow with a mixure of beef & beef intestines. It has the same soup base as the steamboat. What I really liked about Kang Beef House is the freshness of their beef. Hence they impart wonderful flavor to the soup noodles as well as the steamboat.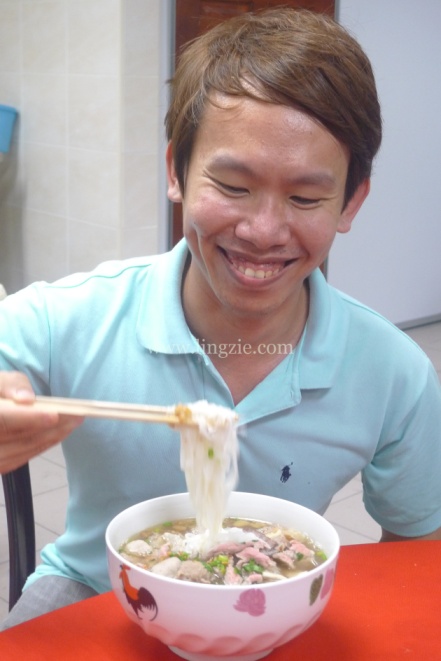 The owner of Kang Beef House digging into a bowl of piping hot Beef Koay Teow…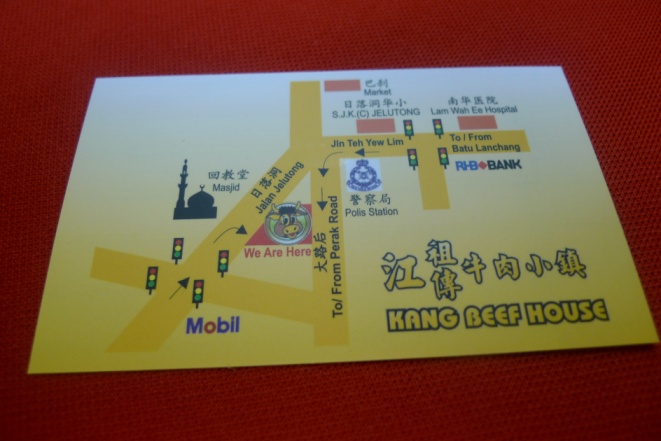 Map to Kang Beef House. Although the address states Jelutong Road, it is actually easier to access the place via Perak Road (more parking space).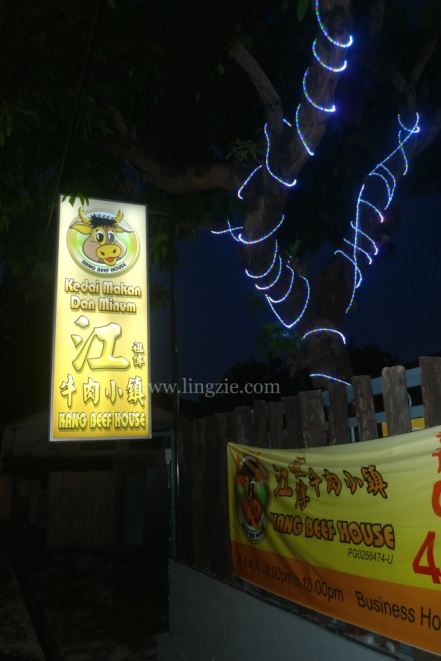 Kang Beef House
474 Jalan Jelutong, 11600 Jelutong, Penang
TEL: 04-281 0892
Opening Hours: 12pm-2.30pm, 4.30pm-10pm CLOSED ON TUESDAYS