The month of March is certainly a month of celebrations for me. Because it is a month that is filled with birthdays… And not just one, or two… but SIX birthdays of my closest friends all jammed packed into just one week of March! These wonderful people have shown me much love and comradeship over the years, for which I am always grateful for. And though I may not be able to physically celebrate each and every one of their birthdays with them, they are indeed not forgotten!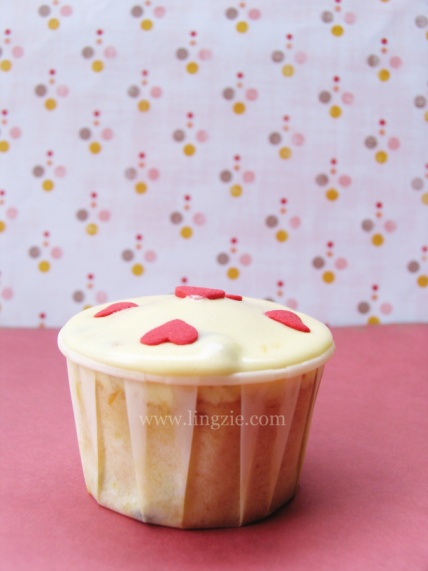 Coincidentally, I happened to stumble upon fresh passion fruits at Cold Storage early this week. Being a huge fan of passion fruit, I just couldn't resist snapping them up, especially since they're really hard to come by here in Penang.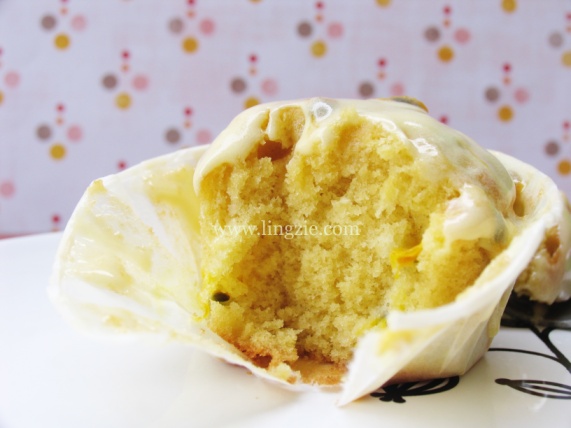 And so I pay tribute to my wonderful friends (you gals know who you are… :P) with these delectable Passion fruit Cupcakes… with a sincere wish that your lives are always filled with joy and passion!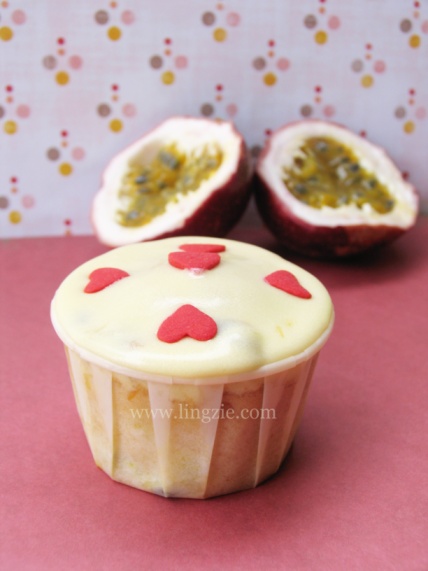 Passionfruit Cupcakes with Passionfruit Cream Cheese Frosting (adapted from a recipe by Julie Le Clerc, from Mabel Tan's Blog)
For the Cupcake (Supposed to yield 12, but I got 10 cupcakes using 3.25oz Solo Cups)
Ingredients:
75g butter
100g caster sugar
1 tsp vanilla essence
2 small eggs
Passion fruit pulp from 2 fruits (about 1/4 cup)
130g self raising flour
Method:
1. Preheat oven to 180 degrees Celcius.
2. Beat butter and sugar until the color lightens (pale) and creamy. Add in vanilla essence and beat slightly just to incorporate.
3. Gradually add 1 egg and beat to incorporate, followed by 1 tbs of  self raising flour and just mix lightly. Add the other egg and beat to incorporate.
4. Fold in remaining flour gradually. Do not over beat.
5. Stir in passion fruit pulp and mix lightly just til incorporated.
6. Spoon the batter into cupcake cases til about half full. Bake in oven for about 15-20minutes. Check with the skewer test (cupcake is cooked when the skewer inserted into the cupcake comes out clean)
7. Leave to cool completely before icing with passion fruit cream cheese frosting.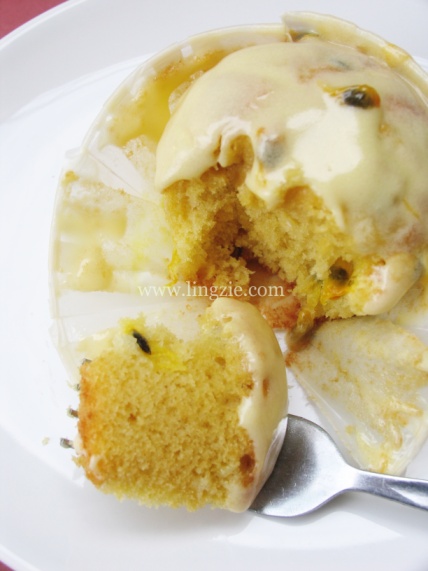 Passion fruit Cream Cheese Frosting
Ingredients:
80g cream cheese (softened)
30g butter (softened)
120g icing sugar (sifted)
Pulp of 1 passion fruit (original recipe calls for 2 fruits, but I found that adding 1 fruit already made the icing runny)
Method:
1. Place the cream cheese and butter into a mixing bowl and cream until creamy. Add in the icing sugar in 2-3 additions, mixing til thoroughly combined. But don't overbeat the frosting.
2. Stir in the passion fruit pulp.
3. Swirl the frosting onto cupcake. Enjoy!
Note: This frosting is not stiff enough to pipe. It's quite runny so just swirl onto the cooled cupcake. You can spoon some fresh passion fruit pulp onto the top of the cupcake to decorate, or just decorate with some pretty sprinkles! 🙂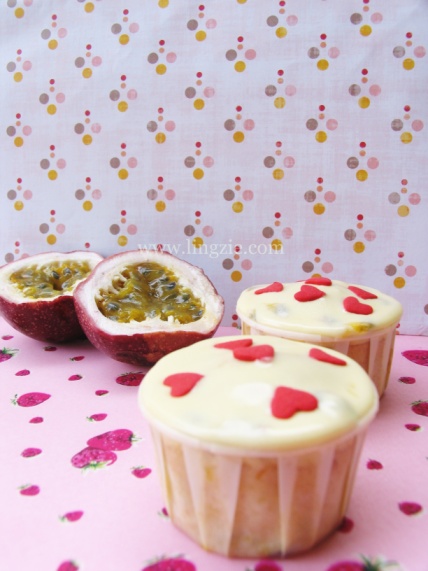 Eat. With passion. Live. With Passion.