Hungi? What's that you ask?
Well thanks to Sigi's Bar & Grill at Golden Sands Resort, us Penangites will get a chance to find out what exactly a Hungi is this Saturday!
In conjunction with Earth Hour this Saturday, Sigi's Bar & Grill will be offering a traditional New Zealand Maori Hungi which is usually prepared during special occasions. It is a simple and organic way of cooking where packets of food are wrapped and buried in hot ground for a few hours to cook slowly.
Earlier during the week, the chefs of Sigi's Bar & Grill had worked hard to dig up a hole in the sand, laid down bricks and charcoal, covering it with a damp cloth to create steam. Food was laid down in trays and then topped with banana leaves and finally buried in sand.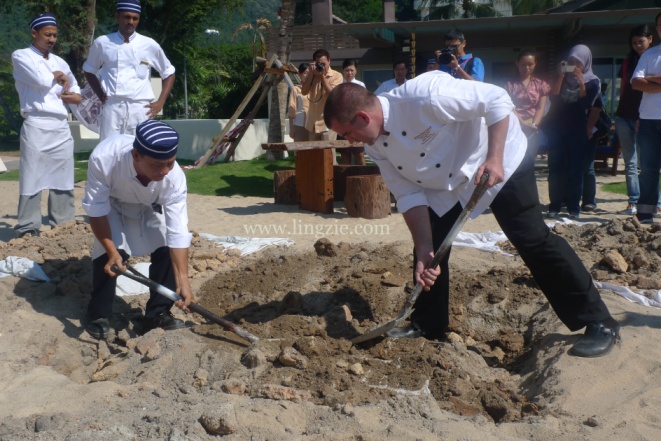 The unveiling we were all waiting for with bated breath… Chef John and his crew digging up the Hungi… 🙂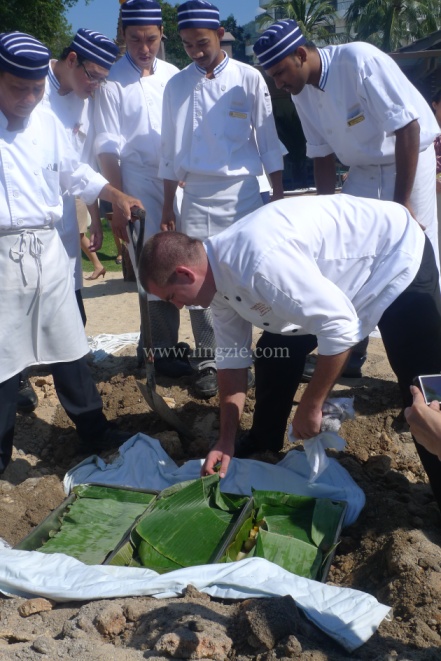 Removing the layers of banana leaves…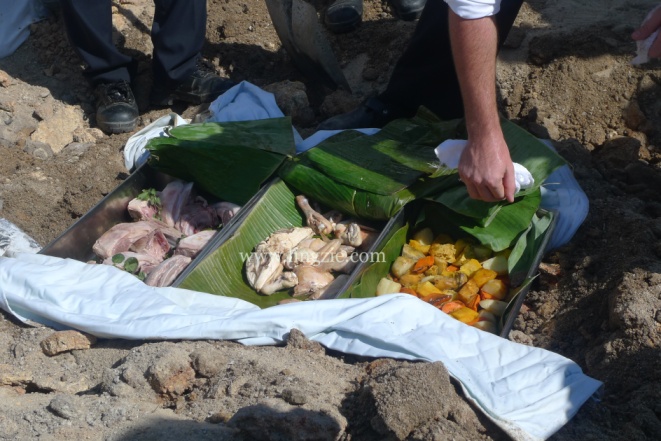 The Hungi – unveiled! Trays of chicken, lamb and vegetables. The earthy smells wafting through the air were simply tantalizing!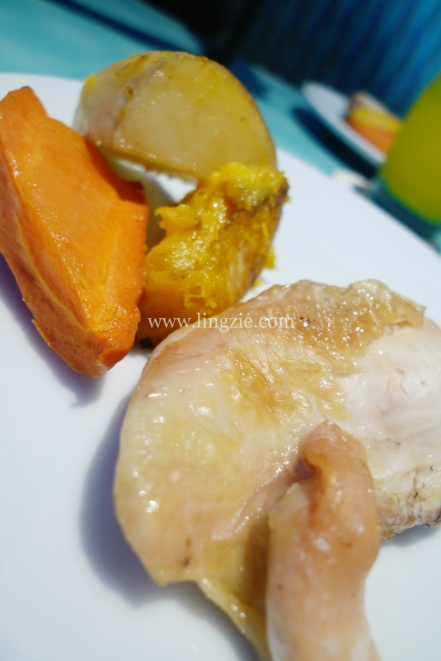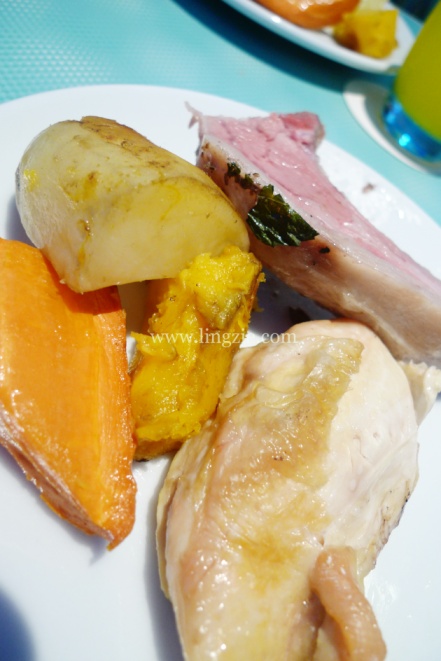 I especially enjoyed the vegetables and the mutton. The Hungi is meant to be simple and down to earth hence minimal seasoning is used so that the earthy flavors of slow cooking it in the ground can be brought out. The vegetables were especially tender and fragrant, letting one savor its natural sweetness. Meanwhile, the mutton which was seasoned with a lil mint looked rather raw at first glance. But sinking my teeth into it, I must admit it was lovely! The meat was very tender and had minimal gamey-ness. Also, the Hungi is definitely a healthy way of preparing food for virtually no oil is used!
Being an eco friendly and organic way of cooking which doesn't require the use of electricity, the Hungi is indeed an apt meal to celebrate Earth Hour. For a taste of Maori culture, don't miss this opportunity to try the Hungi offered for one time only at Sigi's Bar & Grill this Saturday 27 March 2010!
The Hungi meal is being offered at RM45++ per person consisting of a Hungi style meats and vegetables, coffee/tea, and a surprise mystery dessert. Do call ahead for reservations to avoid disappointment!
In addition, in conjunction with Earth Hour, the grounds and gardens of Golden Sands Resort will be lit with energy-saving parasol lighting. Sigi's meanwhile will operate on partial lighting and air-conditioning.
For reservations of this unique Hungi meal, call Sigi's Bar & Grill at 04-886 1911 (Ext 7859)
Sigi's Bar & Grill on the beach
Golden Sands Resort by Shangri-La
Batu Feringgi Beach, 11100 Penang, Malaysia.
T: 04-886 1911 (Ext 7859)
F: 04-881 1880