I love traditional Chinese style desserts or more commonly known as "Tong Sui' (directly translated from Cantonese as 'sugar water'). Unfortunately, these popular tea time snacks sold by vendors I know of are only available in the afternoons and finish by early evenings. Therefore I hardly get to patronize these stalls unless its a weekend.
On a recent weekend lunch with a friend, I was introduced to this roadside Tong Sui stall at Sungai Dua (on the Island, not on the mainland), within the vicinity of Tesco Extra (formerly Makro Hypermarket).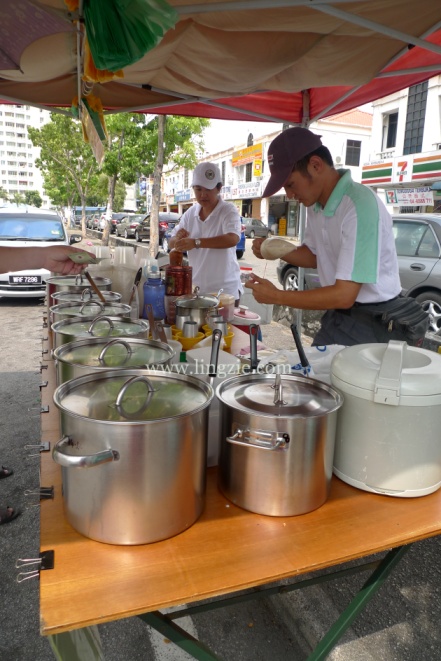 This road side Tong Sui stall is operated by a friendly husband and wife team, Soon and Ong. Notice that they wear caps too? Perhaps for some shade which also acts double duty as a hair net of sorts.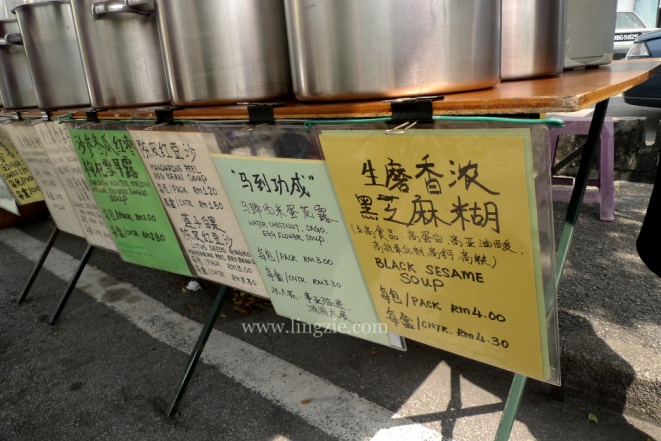 Clearly written and laminated menu (I'm very thankful for the English menu! lol)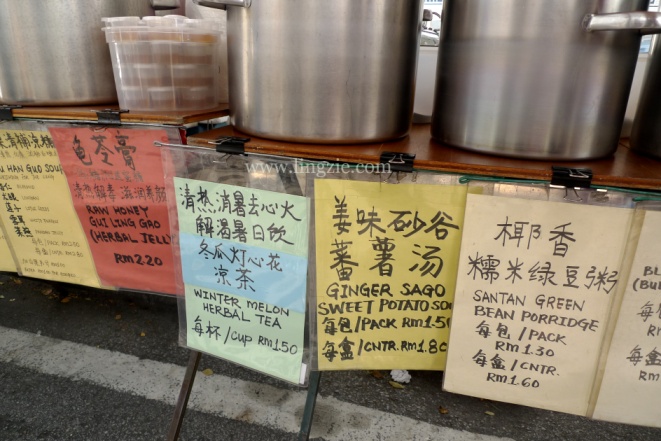 Also notice that they add a lil twist to traditional tong sui by adding new ingredients! (see ginger sago sweet potato soup)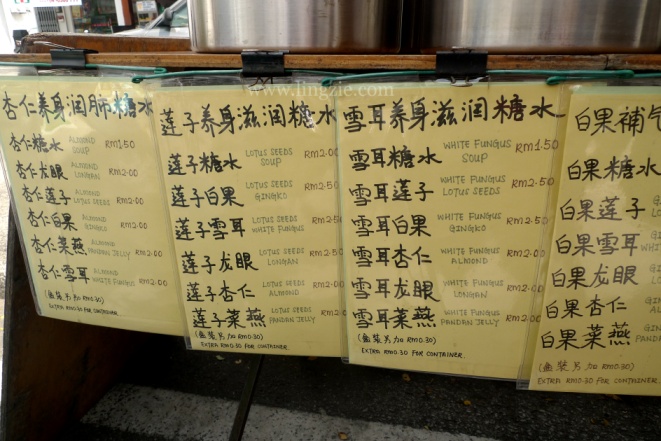 One thing you would notice immediately about this Sungai Dua Tong Sui stall is the sheer variety of Tong Sui's being offered! You could easily get at least 10 different types! Plus they have some specials that change daily depending on what raw materials are available.
One of the specials they had during my visit was the Black Sesame Tong Sui. I was told they make their own freshly ground black sesame for the tong sui hence it is a more pricey than normal. But at RM4 a bowl for fresh Black Sesame tong sui, I'm not complaining! And it tastes so much better than the instant packet mixes too!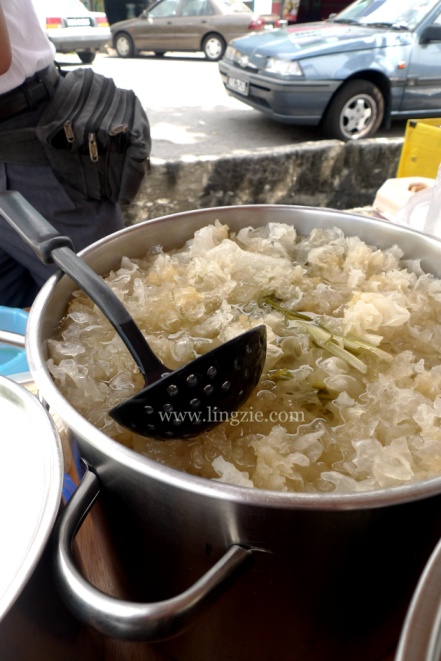 White fungus – said to help combat infections and have cooling effects to the body, hence its perfect to combat the hot weather in Penang!  For more on the health benefits of white/snow fungus, click here.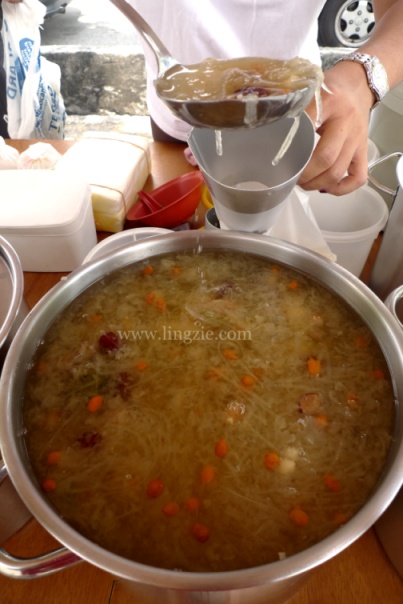 Another cooling tong sui available here is a concoction made up of "sha shen" (ok not too sure what this is cos I can't read Chinese), winter melon, red dates and white fungus. This Tong Sui is popular amongst the customers to help cool the body system.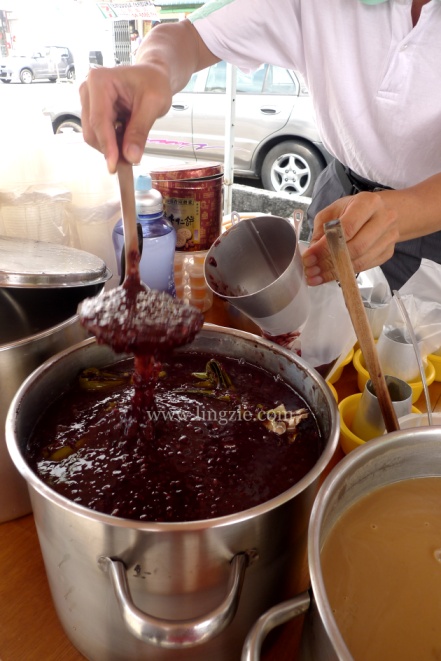 Edited 9 April 2010: My mistake – the photo above shows the Black Glutinous Rice Tong Sui and not the red bean soup (this is what happens when I write blog posts into the wee hours of the morning!) Apologies!! The black glutinous rice dessert is served with a dash of coconut milk.
One of my all time favourite Tong Sui is the Red Bean Soup! The ones sold here include a bit of mandarin peel to bring out the flavour. I didn't get a chance to try this as I had opted for the green bean soup (more on that later)! Definitely want to come back again to try this red bean soup!
I couldn't resist the Santan Green Bean soup Tong Sui. It was thick and creamy due to the 'santan' (coconut milk), plus the best thing was that it wasn't too sweet! The green beans had also been boiled thoroughly resulting in a lovely soft texture. I hate biting into hard half cooked beans in my Tong Sui!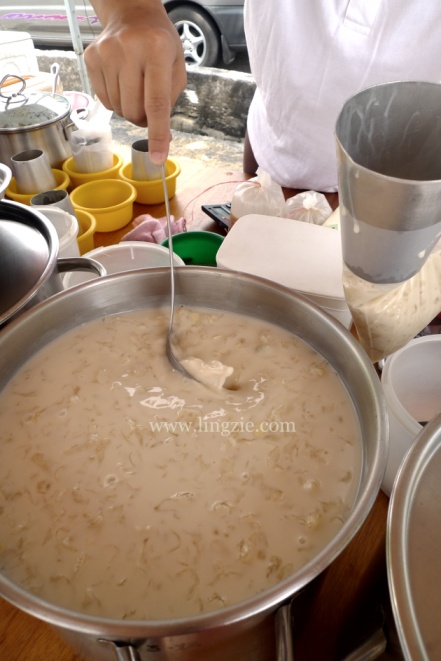 This is another popular Tong Sui – similar to "Yi Mai Fu Chuk" (barley with dried beancurd strips). Instead, the one sold here is without the barley but adds soya beans, white fungus and gingko. Another favourite Tong Sui of mine! It's said to be very nutritious as well and good for the complexion (I should probably eat more of this tong sui then! lol)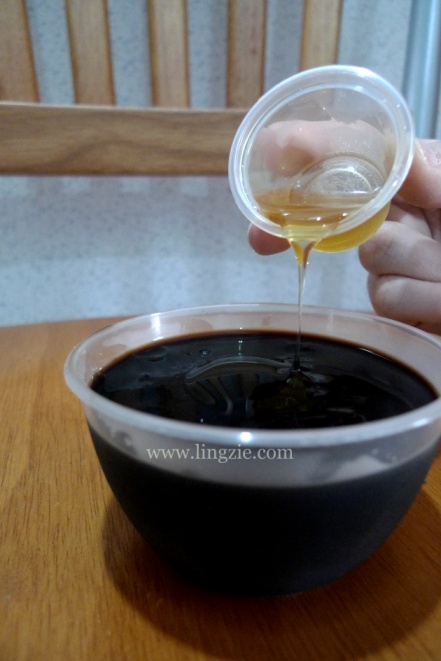 This Sg Dua Tong Sui stall is also famous for its "gwai ling kou"/"gui ling kao" or herbal jelly (RM2.20 each) which comes with raw honey. I'm not a fan of this herbal jelly as it is bitter in taste. However, family members who tried this dessert which is said to have medicinal and detoxification properties, agree that this is one of the better 'gwai ling kou' that they have tried thus far.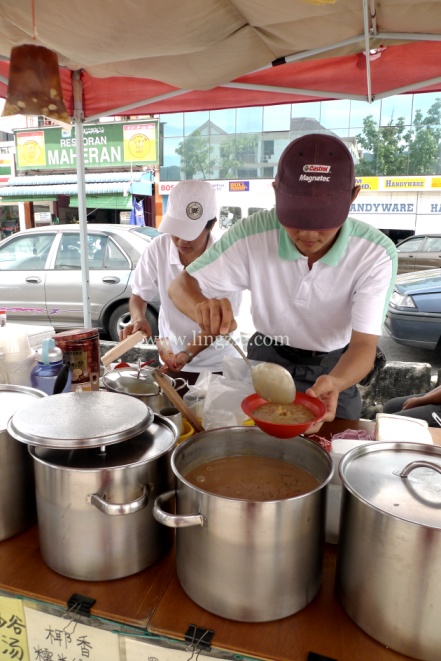 Do check out this Tong Sui stall at Sungai Dua! I like that they have a lot of variety and service is fast and friendly. Plus the ones I've tried are not overly sweet (which is a huge plus point in my books!)
Sungai Dua Tong Sui is available from 3pm onwards until about 7pm/sold out. Off days – Saturdays (I'm told because to make way for the Pasar Malam/night market at that area on Saturdays)
To get to this roadside tong sui stall, if you are travelling on Jalan Sungai Dua coming from Taman Pekaka shop lots and Tesco Extra (which will be on your left), at the traffic lights directly opposite Tesco Extra turn right. Go further down the road (lots of shop houses here) til you reach a T-junction. This stall is just on the left after the T-junction.
Edited 9 April 2010: included map to this Sungai Dua Tong Sui (the stall is the red square) as below and also TEL: 012-4853627