So I finally finally made a trip to Ipoh after wanting to visit this quaint lil town for so long! The home of the legendary Motormouth, Ipoh is actually just 2 hours away from Penang! Despite that fact however, I hardly every visit Ipoh, and even when I do, I'm hopelessly lost in the town of round abouts and lots of traffic lights where very junction looks the same!! (to me anyway). My last visit to Ipoh was about 3 years ago for a day trip. This time, it was going to be a short 2 day 1 night get away.
Thanks to the Motormouth's recommendations, we decided to stay at Tower Regency Hotel Ipoh and I managed to find the hotel easily with his clear directions (truly a life saver Motormouth!!) We opted for Tower Regency's 2 room apartment at RM276 per night nett (this is the weekend surcharge rate which comes with breakfast for 4)
Upon finding the hotel without much hassle, we were greeted with a tall greyish building which actually looked a lil drab. Hence I didn't have high hopes for the hotel, despite Tower Regency Hotel being one of the newest and tallest hotels in Ipoh. Incidentally Tower Regency Hotel Ipoh shares their building with DKLS office, so don't be surprised to see some reserved lots in the car park for DKLS staff.
But one should not judge a book by its cover. For after a quick and speedy check in, where the reception staff were most polite and efficient, we got the key card to our apartment on the 16th floor. They did have a weird 2 door system thingy to enter the apartment, but once we opened the door, we were greeted with this….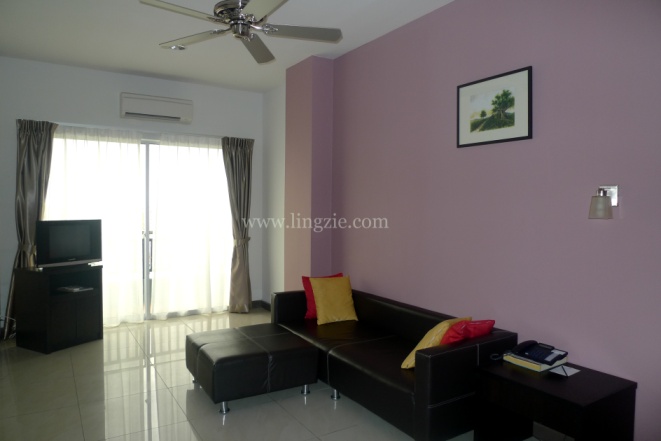 Bright, clean and airy living room! We totally didn't expect such a nice apartment! Plus don't you just love the lavendar wall?!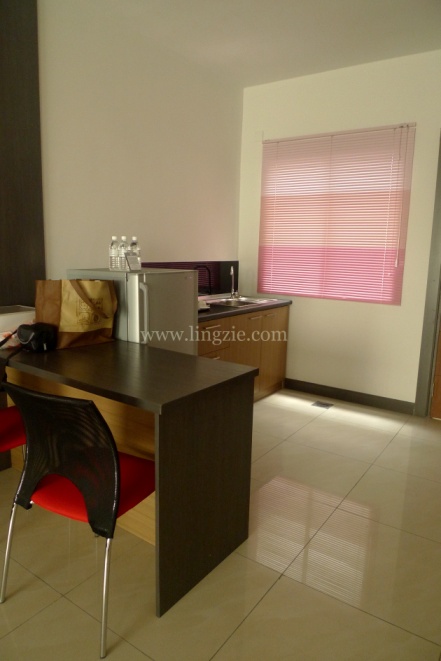 The small kitchen area – note the 4 complimentary bottles of mineral water. Yay!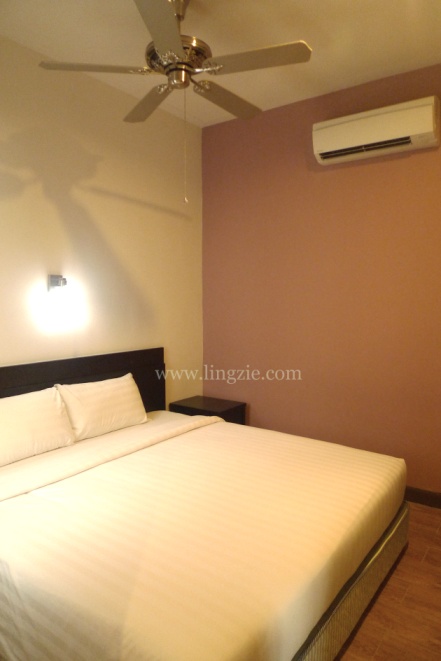 First room at the Tower Regency Apartment – nice and clean double bed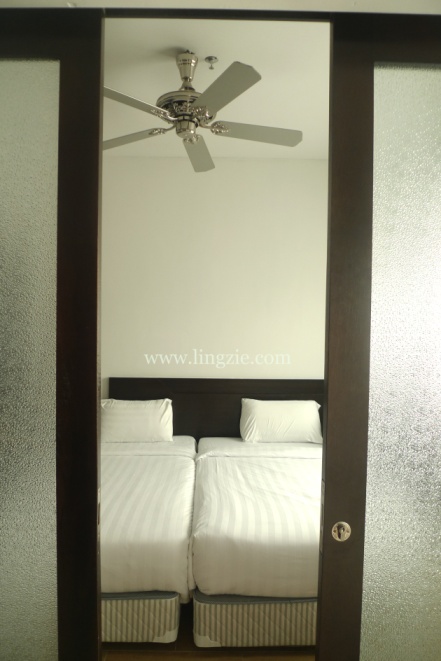 Second room at the Tower Regency Apartment – I love the sliding doors!! Opens up to reveal another bright and clean room…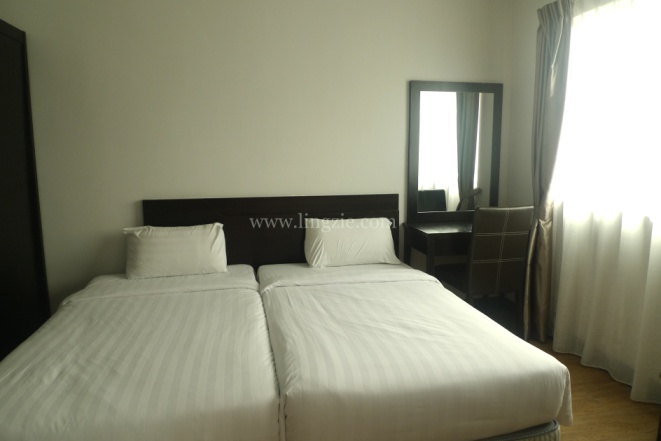 Another thing I like about the rooms is that they have both fans and air cond. So you can opt to use either the fan or the air cond depending on your preference. Plus, the sheets are soft and the bed is really comfortable!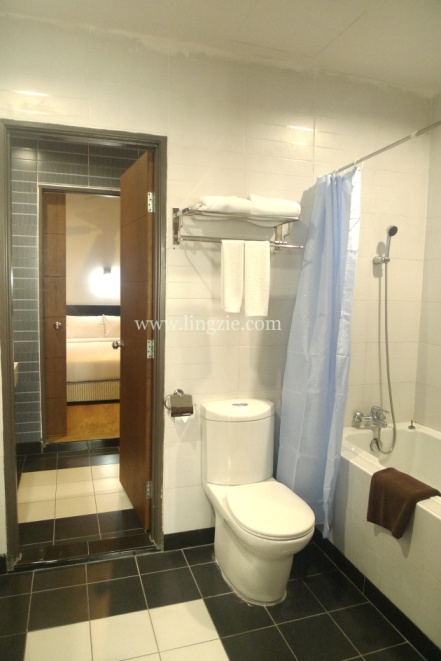 Initially, I had thought that there was only one bathroom in the apartment unit and thought that it was rather inconvenient. But upon closer inspection, there are actually 2 bathrooms! Can be separated by closing the door in the middle. One bathroom comes with a bath tub, while the other comes with a shower stall.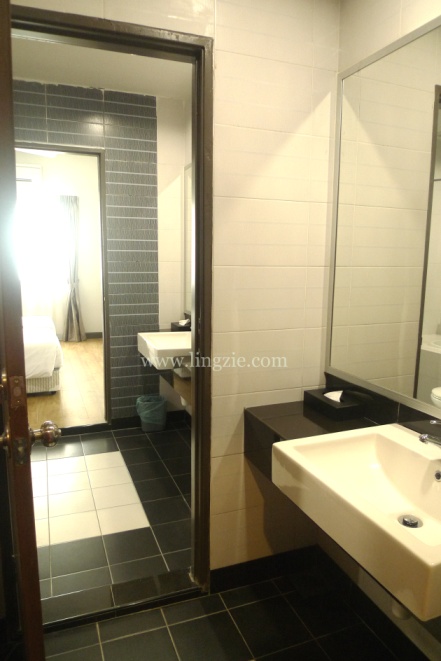 Two sinks, two separate bathrooms…
Needless to say, we were all very happy with the apartment. It was clean and comfortable and we felt right at home. Plus, the hotel staff we encountered were friendly and helpful too!
Another huge plus point is the strategic location. Little did we know that Tower Regency Hotel is actually very near famous street food locations in Ipoh! I would definitely stay at Tower Regency Hotel again the next time I visit Ipoh!
Tower Regency Hotel
Jalan Dato Seri Ahmad Said,
Greentown, 30450, Ipoh, Perak.

Tel: 05- 241 8888 (reservations)
Email: inquiry@towerregency.com.my (this actually works! We made our reservation via email! 🙂 )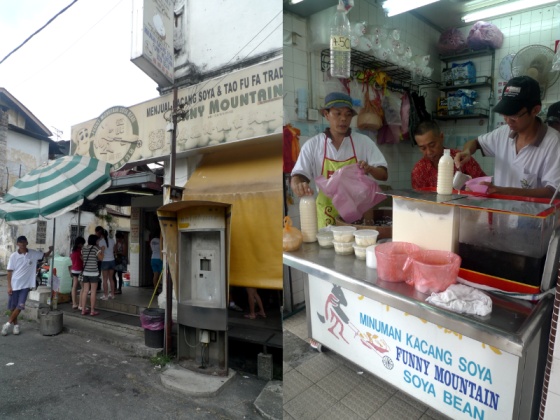 Taking advantage of the convenient location, we went for a drink of Ipoh's famous Funny Mountain Soya Bean to freshen up. (actually we didn't know that it was so nearby, we just drove around and discovered its proximity!)
Don't ask me why it's called Funny Mountain Soya Bean, but it is. And it's good! It is also perhaps the one and only 'drive through' soya bean stall in the whole world! (ok that may be a big claim, but I did say 'perhaps' :P) What do I mean by drive through? Well since this stall is wedged in a small lil shop lot and parking is scarce around that area (what with all the other tourists and locals alike thronging the area for food and biscuits), all you have to do is drive your car up to the shop (or join the line of cars) and the friendly Funny Mountain guys will run to your window to get your order. They'll deliver it to you in your car, you can eat your 'tau fu fah' or drink your soya bean, return the glass/bowl, pay and drive off!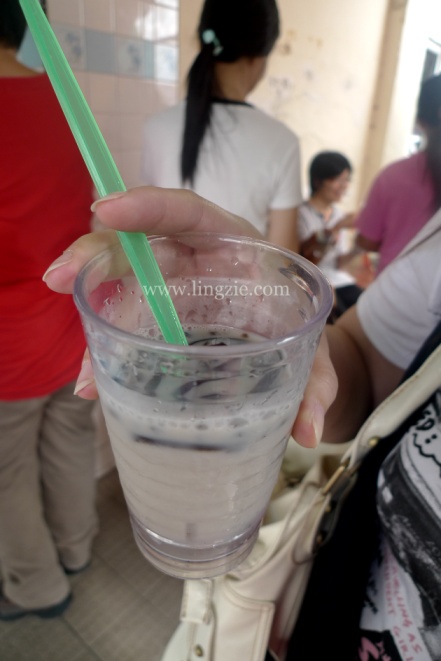 Cold soya bean cincau (or commonly known as Black n White). 2 glasses of Black n White, 1 glass of White (normal soya bean) plus a bowl of 'tau fu fah' – RM4.10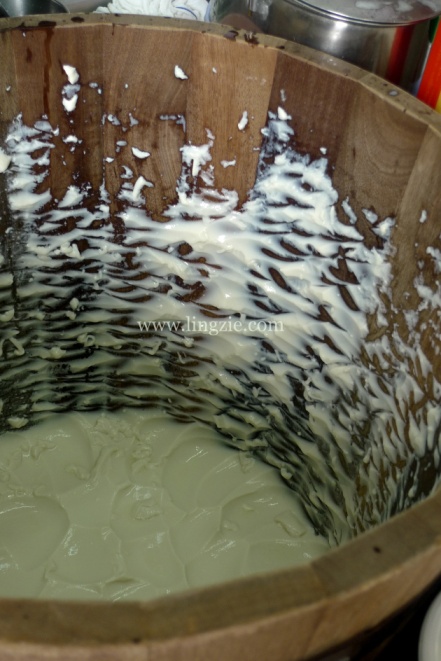 Funny Mountain's famous 'Tau fu fah' – known far and wide for its silky smoothness. The 'tau fu fah' was almost all gone when we were there (around 3-4pm). I had asked for permission to snap a photo of their tau fu fah and they gladly obliged but jokingly asked me to be careful with my camera. My friend joked back that if it were to fall in, I would give him my camera. But guess what he replied?? He said he didn't want my camera! It was his precious 'tau fu fah' he was more worried about!
Can you imagine? The Funny Mountain guy didn't want my Lumix LX3? Instead his 'tau fu fah' was more important and precious to him!! lol~ If the tau fu fah wasn't so good, I think my LX3 would have been seriously offended. 😛
Funny Mountain Soya Bean
49 Jalan Theatre, Ipoh, Perak.
10.30am onwards til finish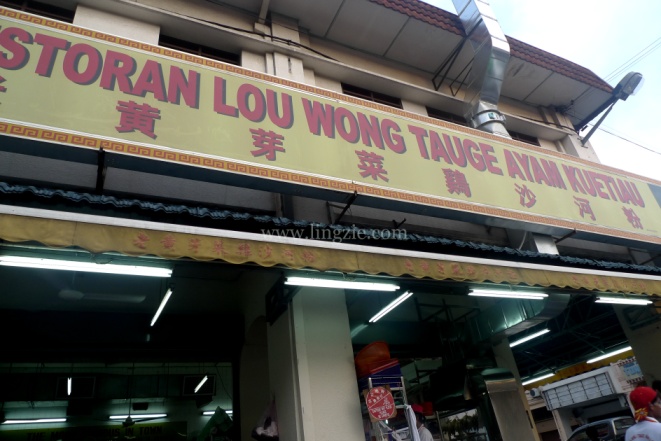 For dinner that night, we did what everyone who goes to Ipoh would do – eat 'Nga Choy Kai' (beansprout chicken) at Ipoh's Lou Wong Restaurant. I must admit I'm not really a big fan of the chicken. But what I do like very much is the 'hor fun' (flat rice noodles) and the succulent, crunchy bean sprouts!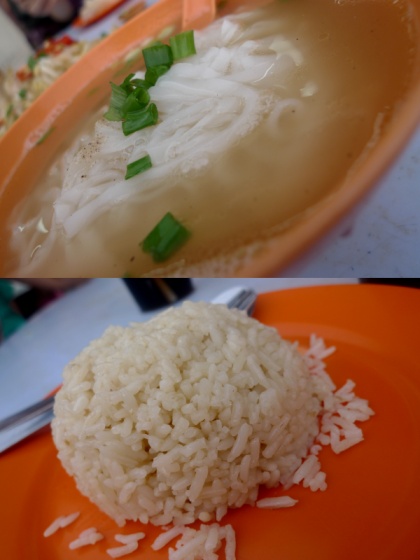 "Hor fun" or rice to go with the chicken and bean sprouts. There is really nothing like Ipoh Hor Fun! Its silky smooth texture is definitely in a league of its own and you honestly just can't find it anywhere else!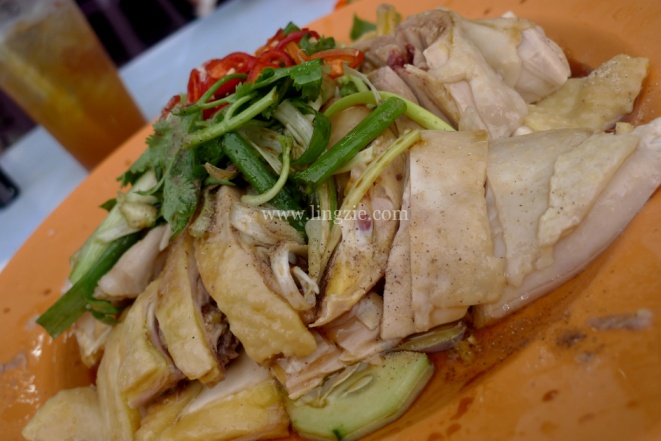 The chicken…. somehow I find this just mediocre. (don't throw brick bats at me ok?!)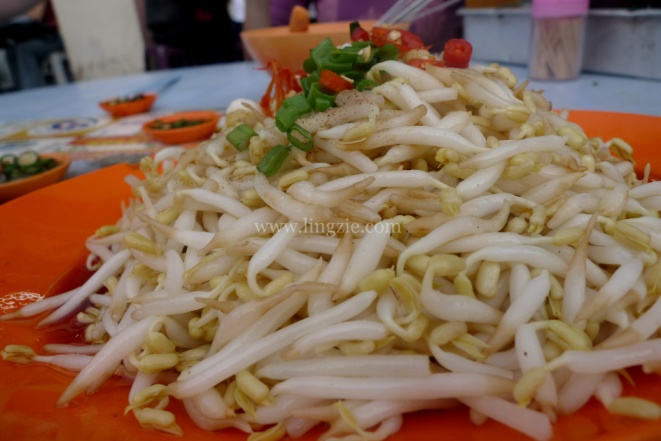 The bean sprouts! Now these are definite gems!! Succulent, fat and crunchy! Why is it we can't find bean sprouts like these in Penang?? (some say its the water in Ipoh…)
Chicken and beansprouts for 5 of us, plus a bowl of fish balls and pork balls, 3 plates of rice, 1 bowl of hor fun and 5 drinks – RM46.50
Restoran Lou Wong Tauge Ayam Kuetiau (Nga Choy Kai)
49, Jalan Yau Tet Shin,
30300 Ipoh Perak.
Open for lunch, dinner & supper. Warning: Notoriously PACKED
For location map go to this post HERE
Coming up next in Part two of my Ipoh escapade – Yong Tao Foo!!!