Nestled in the midst of busy jam packed roads and the hustle and bustle of the city is this cozy sanctuary also known as That Little Wine Bar where one can relax over a glass of wine, catch up with friends and feel the stresses of life melt away…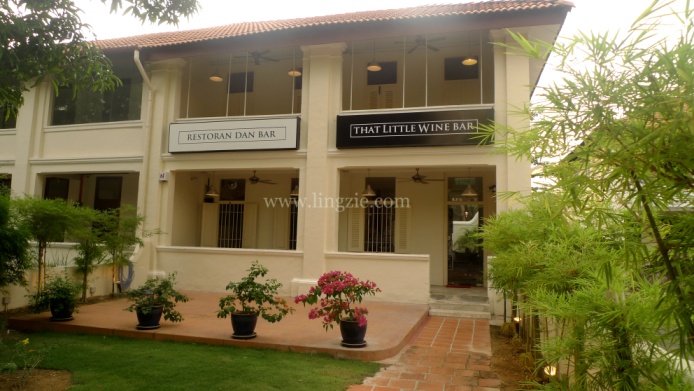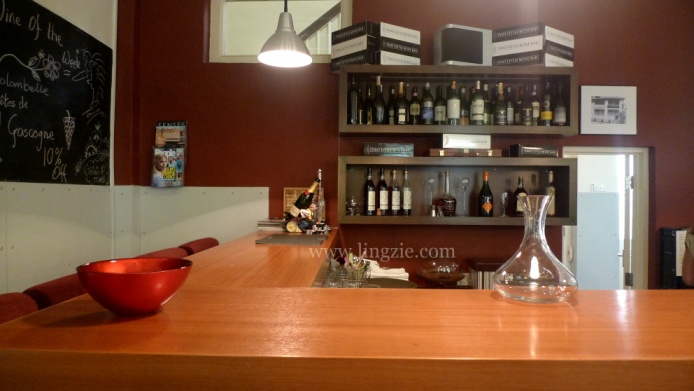 The interior of That Little Wine Bar is warm and cozy. And many may not know that the wine bar itself was designed by German-born owner Chef Tommes who is not only a professionally trained chef, but also an exhibited artist! (He also counts being a boxer and a corporate executive in his long list of achievements but that's another story for another time…)
While wine bars may sound rather snooty and intimidating, That Little Wine Bar has that touch of sophistication yet is so very inviting. And Chef Tommes' English wife Louise is so pleasant she makes you feel right at home!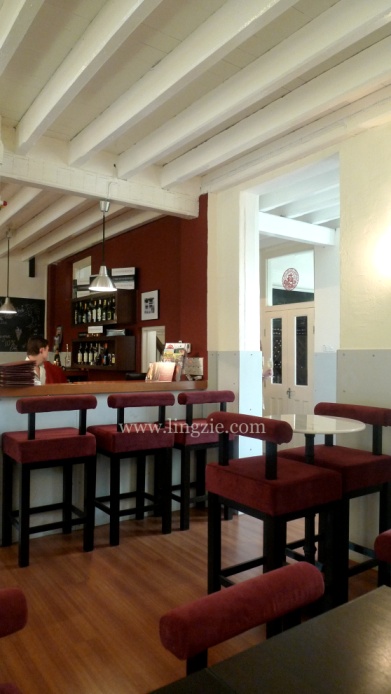 Now don't be fooled by the name and jump to conclusions that this place only serves wine, for they do cater a varied tapas style menu where their food is meant for sharing.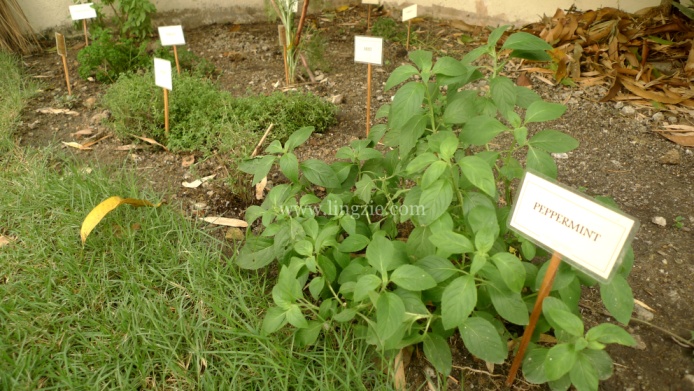 On the side of the entrance is a lil herb garden which German-born owner Chef Tommes has started cultivating, to be used in That Little Wine Bar's ktichen.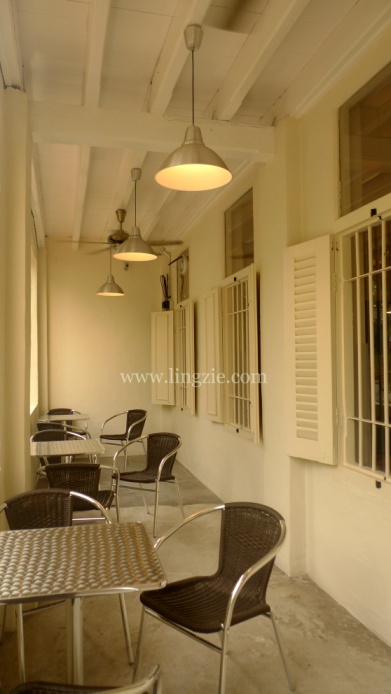 Outdoor seating of That Little Wine Bar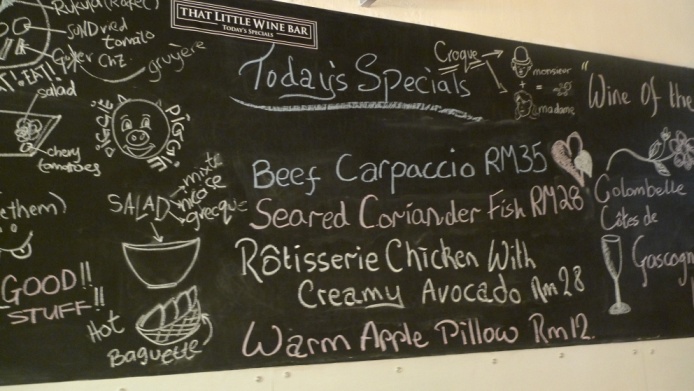 Other than the food offered in their menus, do remember to check out their Specials board for daily specials….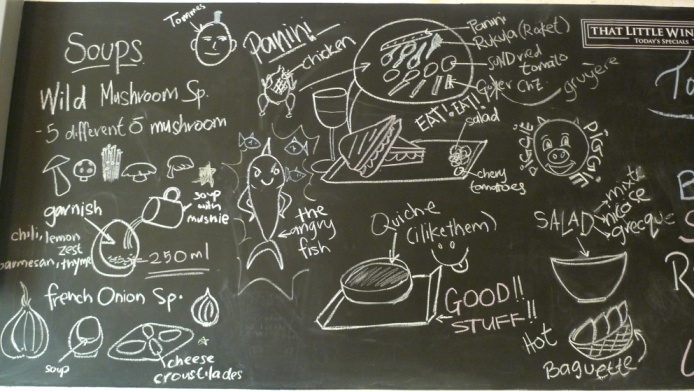 And also cute drawings of how certain signature dishes are being prepared! 😛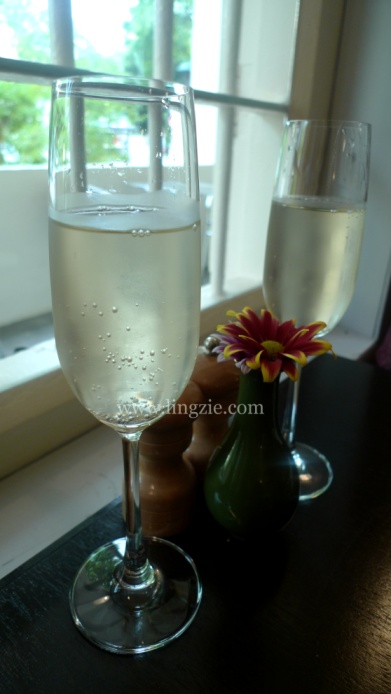 We kicked things off with a lil bubbly aptly named the "Tommes Sparkle" which is a champagne with elderflower syrup. Did I like it? Well…. let's just say a girl can't really say no to champagne, especially one as fruity as this! 😛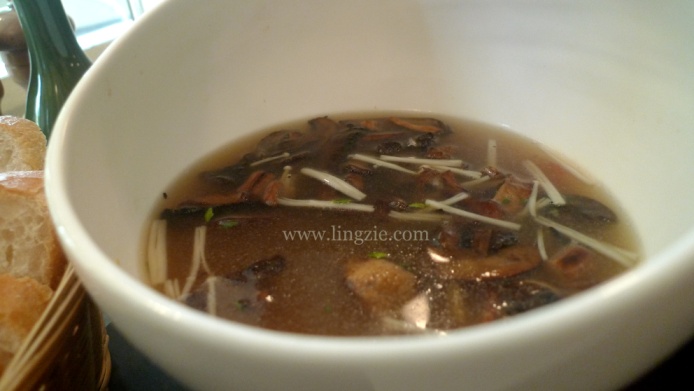 Louise recommended that we start our meal with their signature Wild Mushroom Soup (RM25). We were expecting a cream of mushroom soup but instead were pleasantly surprised by the clear herbed broth we were presented with. Made up of 5 types of mushrooms, we were told by Chef Tommes that this is more a French infusion than a soup as he felt that this light infusion would be more suitable for our hot weather rather than a heavy creamy soup.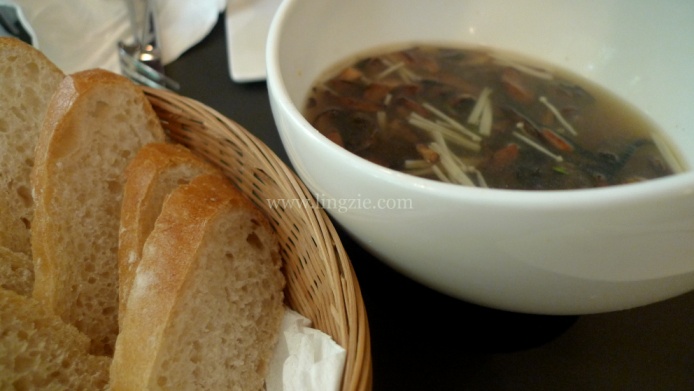 The light sweet soup has a slight lemon-y tang to it, making it very refreshing indeed. It is served with That Little Wine Bar's baguette, baked fresh daily in their kitchen.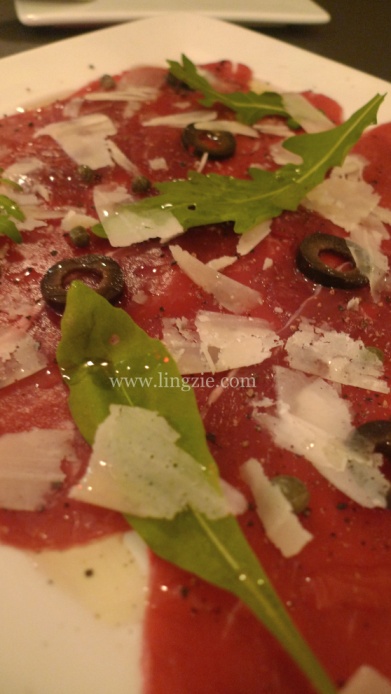 Next, we tried their new special – the Beef Carpaccio (RM35). Seriously, I never knew thinly sliced layers of raw beef could taste soooo good! The beef literally melts in your mouth, sending you to gastronomic heaven! Definitely one of my favourite dishes of the night! A must try!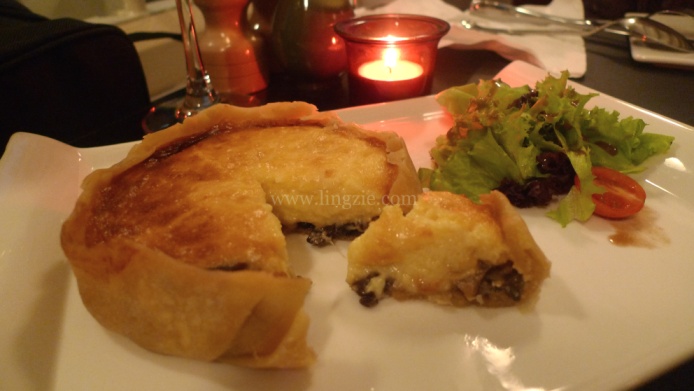 After that heavenly Beef Carpaccio, I was afraid the rest of the meal might be mediocre in comparison. But boy was I wrong! The next dish – a humble Mushroom Quiche (RM28) bowled me over and took me completely by surprise. I'm not really a fan of quiches, as the ones I've tried thus far have far too strong a taste of eggs which I don't really fancy. But this Mushroom Quiche is… In. A. League. Of. It's. Own.
Seriously!
It is rich and cheesy, melts in your mouth and best of all, has mushrooms! (big fan of mushrooms here)
Louise tells us that this Mushroom Quiche is so popular they're in 'danger' of becoming That Little Quiche Bar instead! ~chuckles~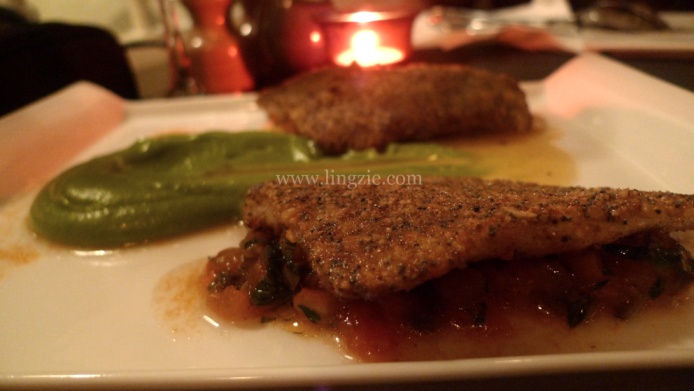 After such a heavy cheesy quiche, we were recommended yet another new special (I like that Chef Tommes is constantly coming up with something new!)- a light fish dish in the guise of a Seared Coriander Fish (RM28). And if I had to describe this dish in one word, it would be this – refined.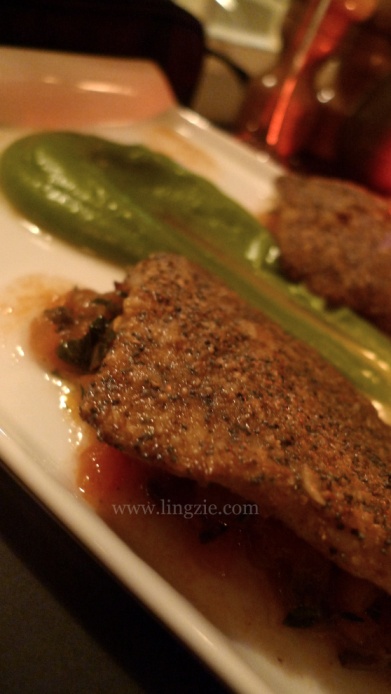 This dish looks deceivingly simple. But the flavours blend so well together from the lightly seared pepper encrusted fish to the tomato concasse to the mysterious green colored mashed potatoes. Yep you read that right – green mashed potatoes! So smooth it glides down your throat. And why is it green? Ah…. there in lies the 'secret ingredient'. I have no idea what the secret ingredient is… all I know is it comes from a vegetable. You try it for yourself and see if you can identify it! 😛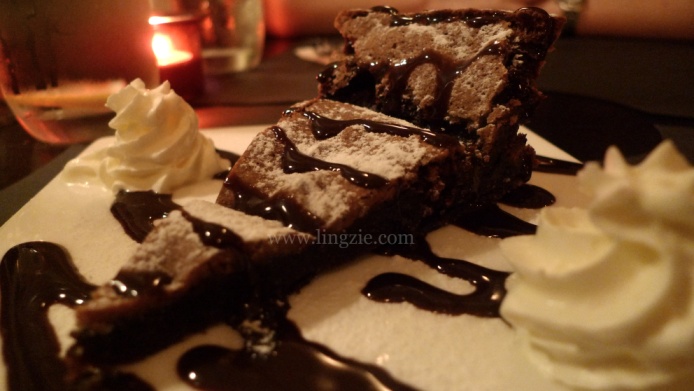 Then came dessert. That Little Wine Bar's Chocolate Cake (RM10). Which practically calls out to you… ~eat me! eat me!~
The chocolate cake which reminds me of a flourless chocolate cake, is deeply chocolatey enough to satisfy one's chocolate cravings…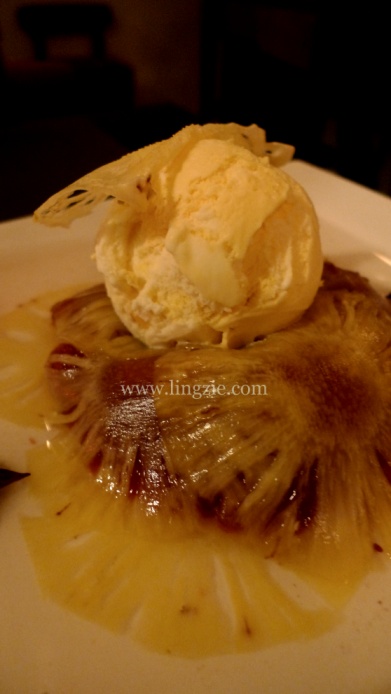 We also tried the Carpaccio of Pineapple (RM18) – thinly sliced pineapples served with strawberry and raspberry coulis and ice cream. This unusual dessert was certainly a delight! The tanginess of the dessert was balanced well by the ice cream and had us wanting more. Certainly a refreshing end to a lovely lovely meal!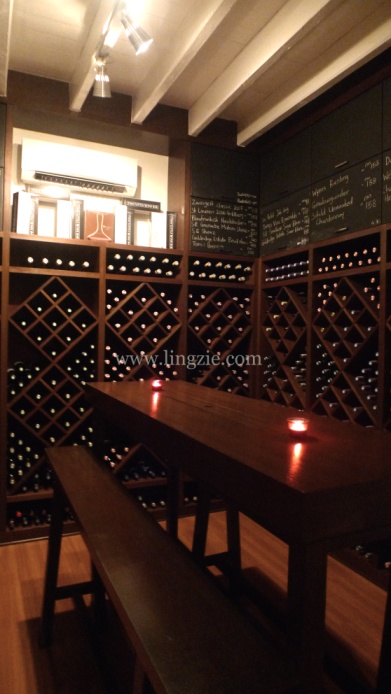 That Little Wine Bar boasts a wine list of more than 50 labels and also caters for private functions and wine pairing sessions with 2 private rooms themed the Western room and Eastern room. And they also have regular wine tasting sessions. In fact, there's one happening tonite! Spanish wine tasting! Perfect for wine aficionados and novices alike!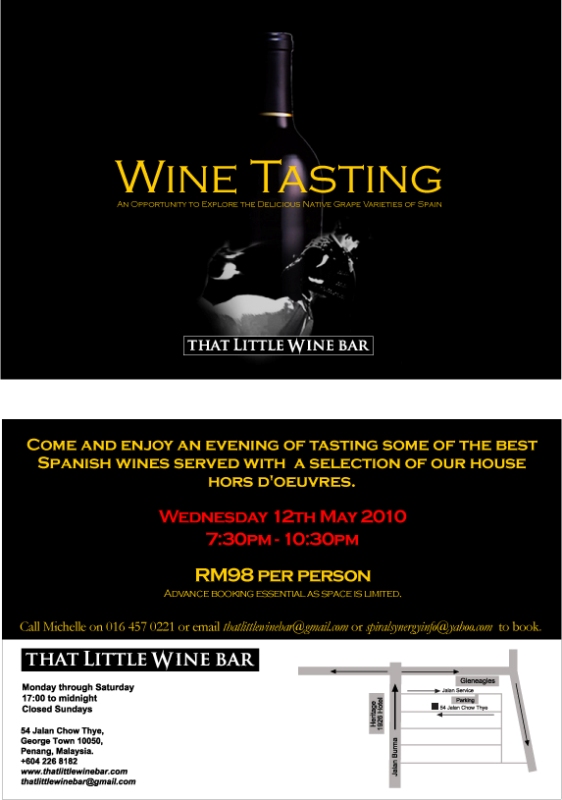 That Little Wine Bar definitely is a welcome addition to the Penang dining scene as we've never had a European style wine bar quite like this. Aren't we lucky that this well traveled husband and wife team fell in love with Penang and decided to open their very own place here? 😛
It was indeed a lovely dining experience and I thank both Chef Tommes and Louise for having me!
That Little Wine Bar
54 Chow Thye Road,
10050 Georgetown, Penang.
Tel: 04-226 8182
Opening Hours: 5pm til Midnite Mondays-Saturdays. Closed on Sundays.