We had noticed a new place under renovation in Gurney Plaza some weeks ago, taking over the lot previously occupied by Manila Place. Chicago Rib House, said the banner. Hmmm…doesn't that name ring a bell?
Well that's probably because Chicago Rib House used to operate from Juru AutoCity! I had dined there just once and was sad to see them close down their Juru outlet. So it was indeed a welcome surprise to see them here in Gurney Plaza and so much nearer to me! 😛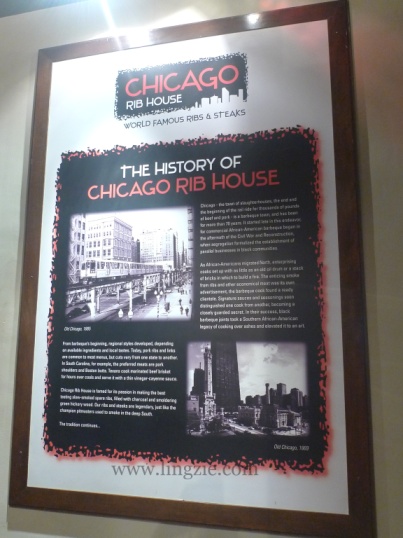 Since Chicago Rib House's opening this month, I've been there twice. The first time was an impromptu visit hence I didn't have my camera. Our first visit was pleasant but with some hiccups. To sum it up – ribs were good, fries were cold and waiting time for the food to arrive was waaaayyy too long.
Fortunately, things improved thoroughly during the second visit.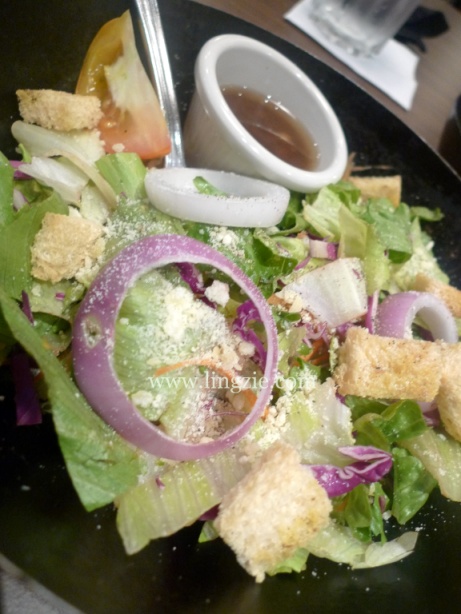 We kicked things off with a House Salad (RM9.90) and from the various dressings available, we chose the Sesame Ginger dressing, which was interesting and delicious. The vegetables were fresh and had a lovely crunch.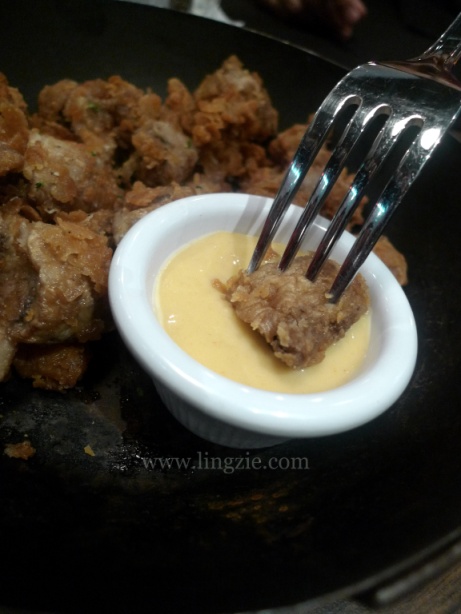 And because we ordered 2 main courses, Chicago Rib House is now giving away a free appetizer – Fried Mushrooms. (the servers don't tell you this though when you order, so we were quite surprised when this arrived on our table!)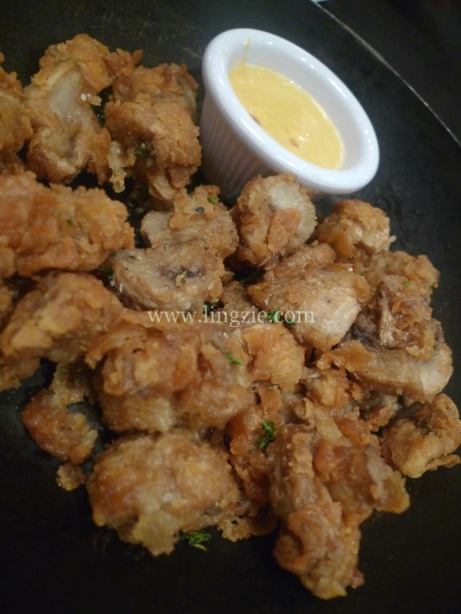 The Fried Mushrooms were nicely battered and juicy. Needs to be eaten with the mustard-y dipping sauce for better flavour. 🙂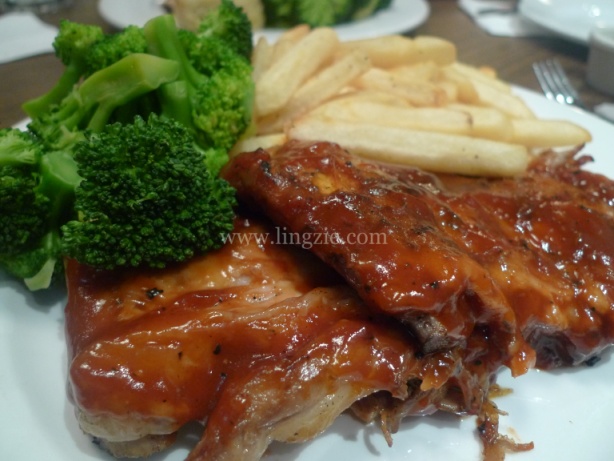 St Louis Pork Ribs with Fries & Fresh Vegetables
And since we were at  Rib House, we had to order their specialty – ribs!! Their St Louis Pork Ribs is available in two sizes – half or full rack. We choose the half rack Pork ribs (RM30.90) and had the choice of 2 sides dishes (you get to choose from Fragrant Rice, Fries, Mash Potatoes, Fresh Vegetables or Coleslaw)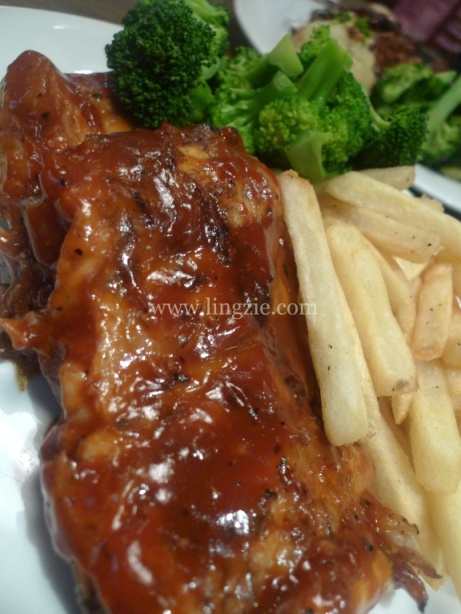 Chicago Rib House's pork ribs are basted with their special BBQ sauce. The meat is tender and well marinated. Delicious! Best eaten with your hands 😛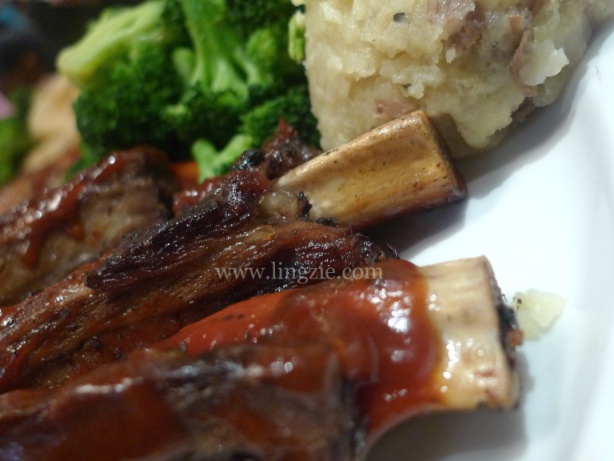 Chicago Rib House Beef Ribs with Mash Potatoes & Fresh Vegetables
Next came their Beef Ribs (RM45.90) And we all unanimously decided that in the battle of Beef Ribs vs Pork Ribs, the beef ribs win! Hands down! It could be just that we prefer the taste of beef. But seriously…. very very good Beef Ribs!!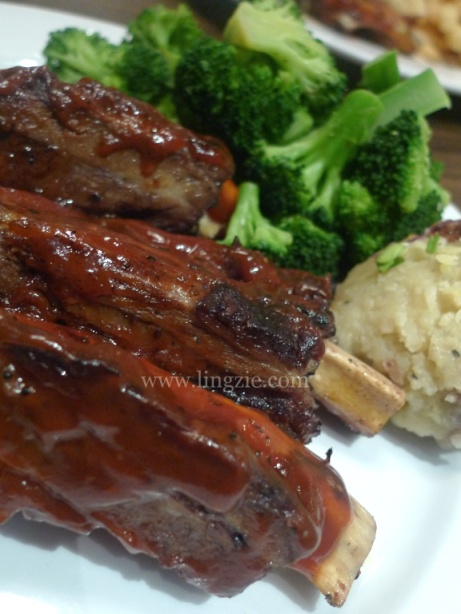 The meat is almost falling off the bone, and has a slight crisp before giving way to tender scrumptious meat within. If you take beef, you simply must try this!
Oh and I must also mention that I prefer the buttery chunky Mash Potatoes to the fries. The broccoli added much needed fibre to the meal too!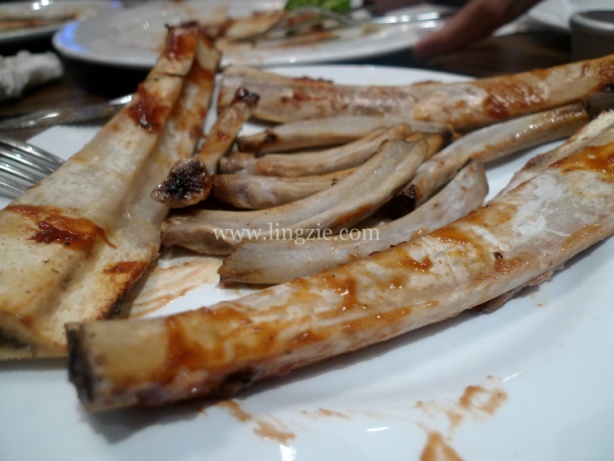 Aftermath….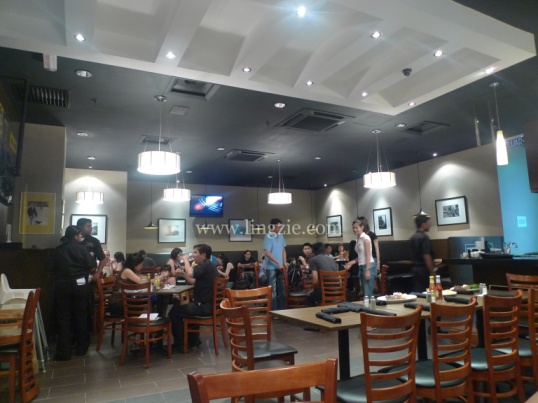 Another thing I like about Chicago Rib House (other than the fact that they serve both pork and beef ribs!) is that they have combo meals for their ribs which allows you to pair the ribs with some other item in the menu such as a steak.
Set lunch also available with a soup of the day and drink.
Service during the second visit was prompt despite the fact that they were nearly full.
Chicago Rib House – finally a new eatery outlet in Gurney Plaza that I'm excited about! Sorry Chilli's Gurney Plaza, but I think you guys have just got yourselves a huge contender. (thank goodness!) 😛
Chicago Rib House (Next to Dome)

Gurney Plaza
Persiaran Gurney, 10250 Penang
Tel: 04-2290763
NON HALAL