Feringgi Grill at the luxurious Shangri-La's Rasa Sayang Resort & Spa is no newbie in the Penang food scene. Having been around for three decades, it has been perceived by most as the creme de la creme of fine dining restaurants in Penang. Hence, the perception that dining there also comes with a hefty price. Perhaps its for that reason, that I've never stepped foot into Feringgi Grill until now…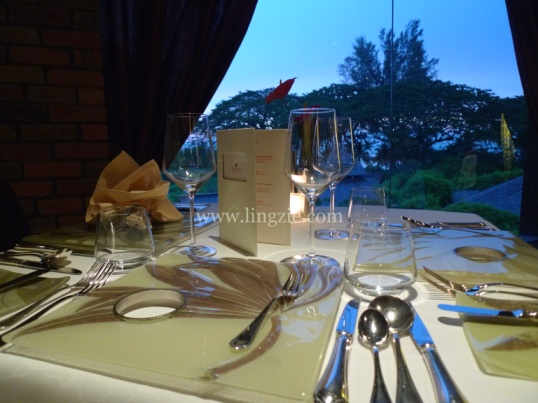 Walking into the restaurant, a sturdy masculine feel resonates… somewhat akin to a Gentleman's club perhaps? After all, Feringgi Grill does offer cigars and have their own wine cellar with a pretty extensive collection of wines..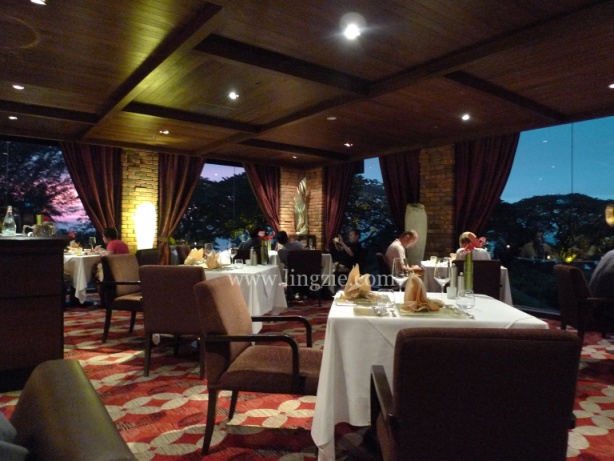 On the menu for the night were some specials – a sampling menu of sorts, put together by Chef Adam. I was excited! 🙂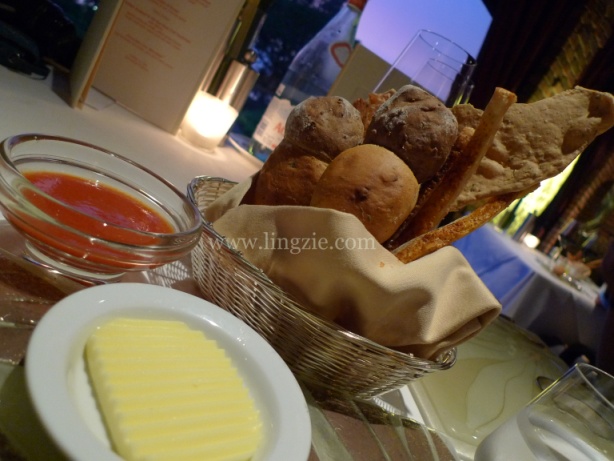 We were first presented with Feringgi Grill's bread basket. And what an impressive one it was! Served with unsalted butter and a roaster pepper dip, we were spoilt for choice! I especially loved the parmesan cheese sticks with the roasted pepper dip.
As the name suggest, Feringgi Grill serves mostly grilled and smoked dishes. And from the comforts of the restaurant, guests can peer into the shiny bright kitchen where this impressive looking grill sits…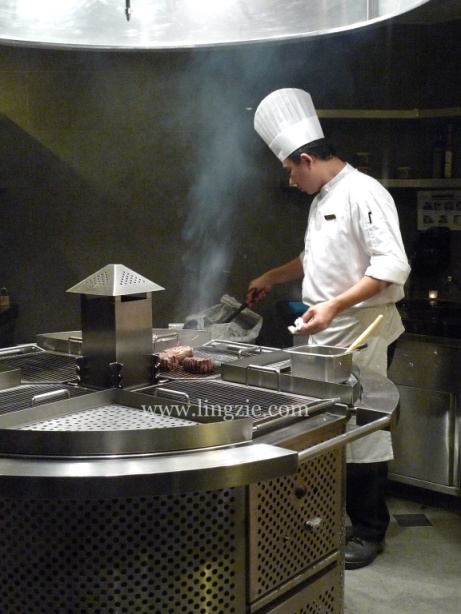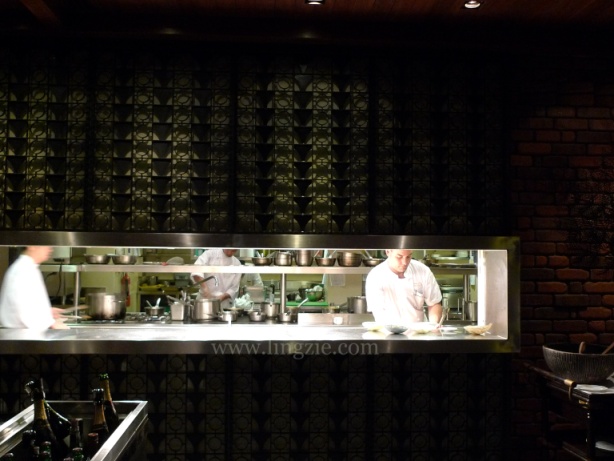 I love this design of the service station! And… I managed to get this shot of Chef Adam at work… 🙂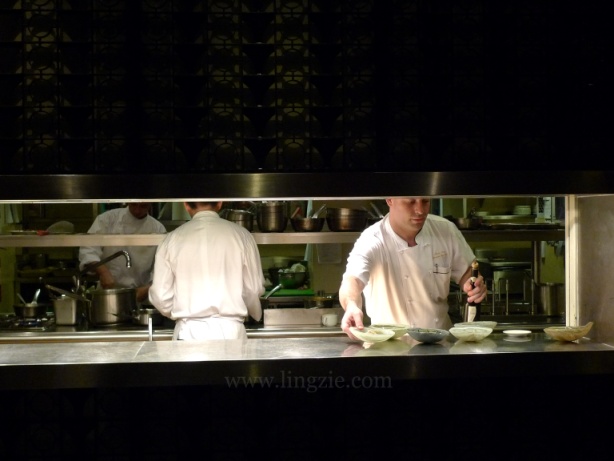 Shortly thereafter, we were served the Amuse-Bouche – grilled chicken with tomato salsa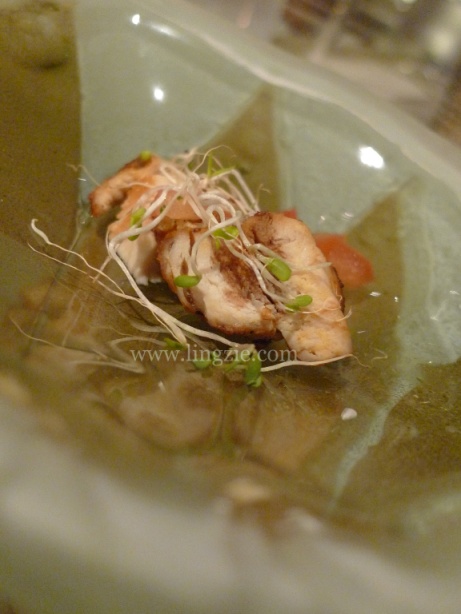 For the appetizer, we were served a sampler of Grilled Scallops with a Spicy Guava Salad, Pear Chutney and Smoked Salmon Cheescake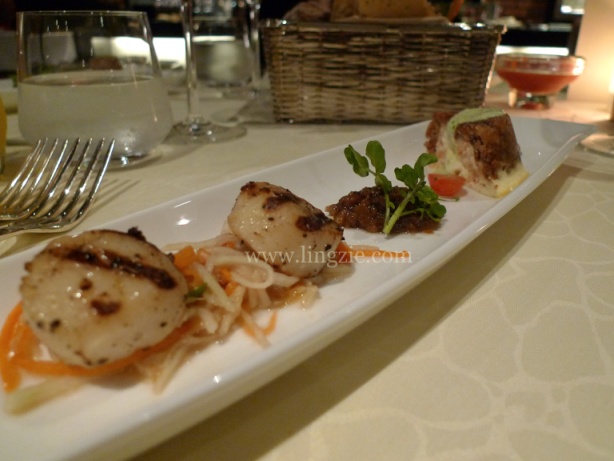 I thoroughly enjoyed the lightly grilled juicy scallops. They had such a wonderful smokey flavour that had me wanting more. Plus the spicy guava salad brought a contrasting crunch to the soft juicy scallops.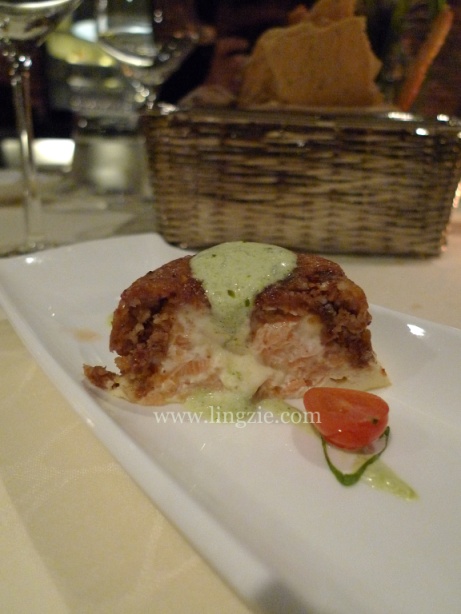 I didn't quite know what to expect with the Smoked Salmon Cheesecake, having not had savoury cheesecakes before. But I must say that this savoury version does the rich dessert justice! Right down to the crunchy muesli macadamia crust! A definite must try!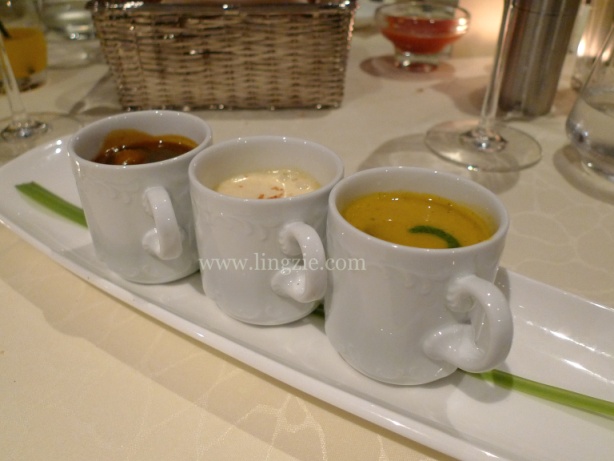 For the soups, we had not one but three different types to taste! This sampler of soups is also available on their regular menu at RM29.
Lined up for tasting were the Grilled Carrot-Cream Soup, "She" Crab and Corn Chowder and a Burnt Pumpkin Soup. Our server advised us to start with the carrot cream soup (moving from right to left) as the flavours deepen.
I loved all three soups! The Grilled Carrot Cream soup has hidden treasures inside in the form of lamb bacon bits. The "She" Crab & Corn chowder is creamy and sweet while the Burnt Pumpkin Soup is topped with fragrant pandan oil and a duck liver dumpling. I approached the duck liver dumpling rather apprehensively…but one bite and it won me over. The flavour is rich and deep and oh so satisfying!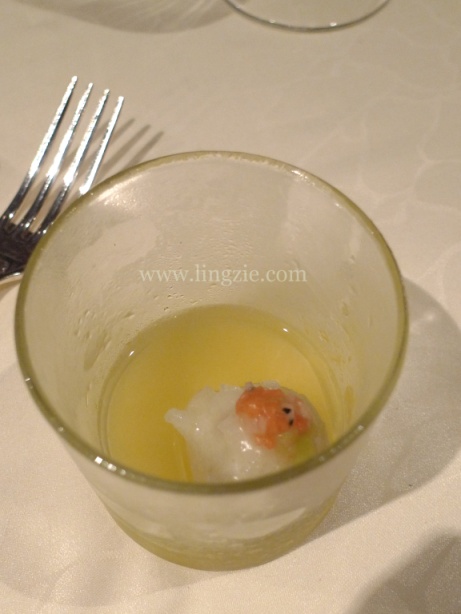 We were then served a Citrus Sorbet as a palate cleanser before moving on to the main meal….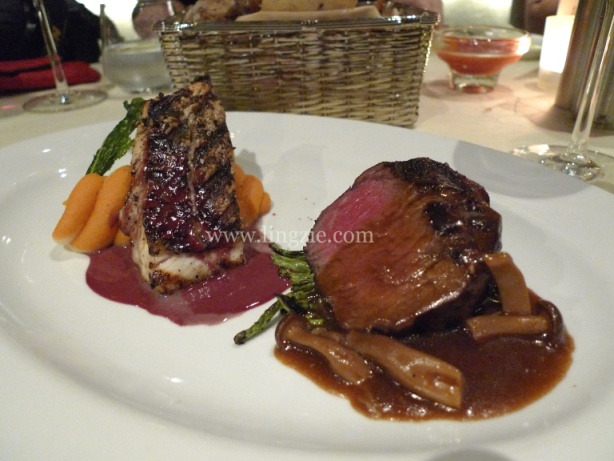 For the main course, I was delighted to find that Chef Adam had arranged for us to try two different main courses (yay for variety!) The Golden Snapper with red wine cream was surprisingly good. The snapper was very fresh! And I loved the swirled mash potatoes side dish.
Meanwhile the 100 Day Grain Fed Tenderloin was fantastic! Done medium rare, the meat was very well marinated, really tender with slightly charred edges… delicious with the forrest mushrooms! Now, that's what I call a good steak!
By the time I had polished off my main course, I was stuffed!! But I definitely had to make room for dessert! Especially when dessert sounds as decadent as this… Chocolate Lava "Bombalai" and home made peanut butter ice cream!!
Feringgi Grill serves 10 different types of home made ice cream by the way, and I must say that the peanut butter ice cream is to die for! Luxuriously smooth and nutty! I almost almost liked this more than the Chocolate Lava 😛
The Chocolate Lava has hot molten chocolate oozing out from its center… heaven!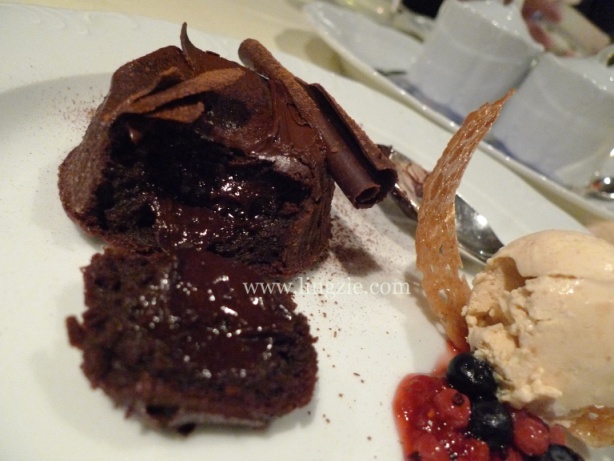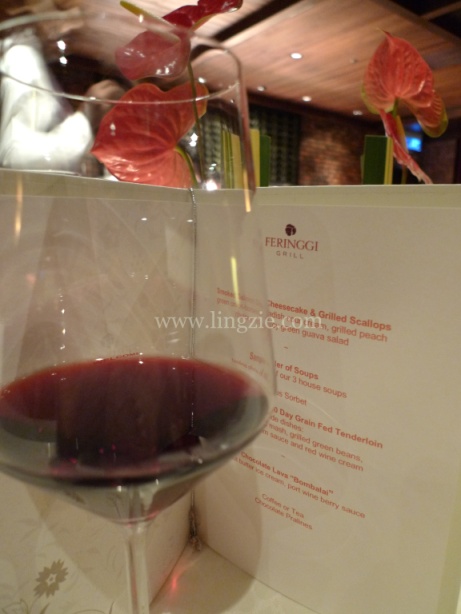 A glass of Red Wine to go with the meal…
Browsing through their new revamped menu, I must say that the earlier perception I had about this place being ridiculously exorbitant began to change… Soups and appetizers start from RM19, Grilled Meats served with a choice of veggies and potatoes start from RM56 (for the chicken) and RM98 (for the steak) and meanwhile Chef Adam's signature mains start from RM55 (the delicious Grilled Golden Snapper that I sampled!). Feringgi Grill also offers a vegetarian/meatless menu with appetizers and soups and mains such as a Mixed Mushroom Risotto and a heartwarming Baked Bean Stew.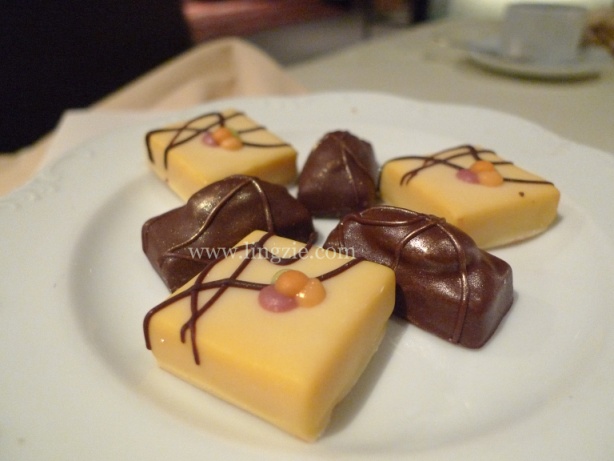 We ended the lovely meal with some chocolate pralines! (which definitely made me a happy camper!)
Feringgi Grill currently offers 35% off their ala carte menu til 31 July 2010! There's a few days left to grab this really good opportunity to wine and dine a loved one with excellent food and a spectacular view…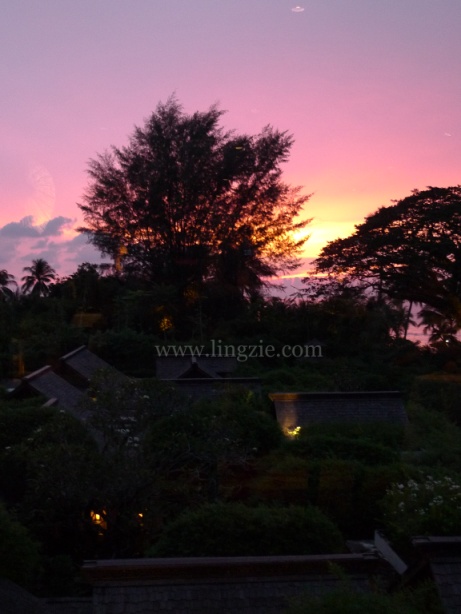 Feringgi Grill (Rasa Wing Lobby)
Shangri-La's Rasa Sayang Resort & Spa
Batu Feringgi, Penang.

Open for Dinner: 6.30pm-10.30pm
Tel: 04-888 8888