How long has it been since I last went food hunting? I almost don't remember. Nevertheless I do still keep an eye out for new food places popping up in Penang. And one of the new places I've noticed is Queensbay Mall's new 'food area' – Queens Street, which is supposed to showcase international cuisines.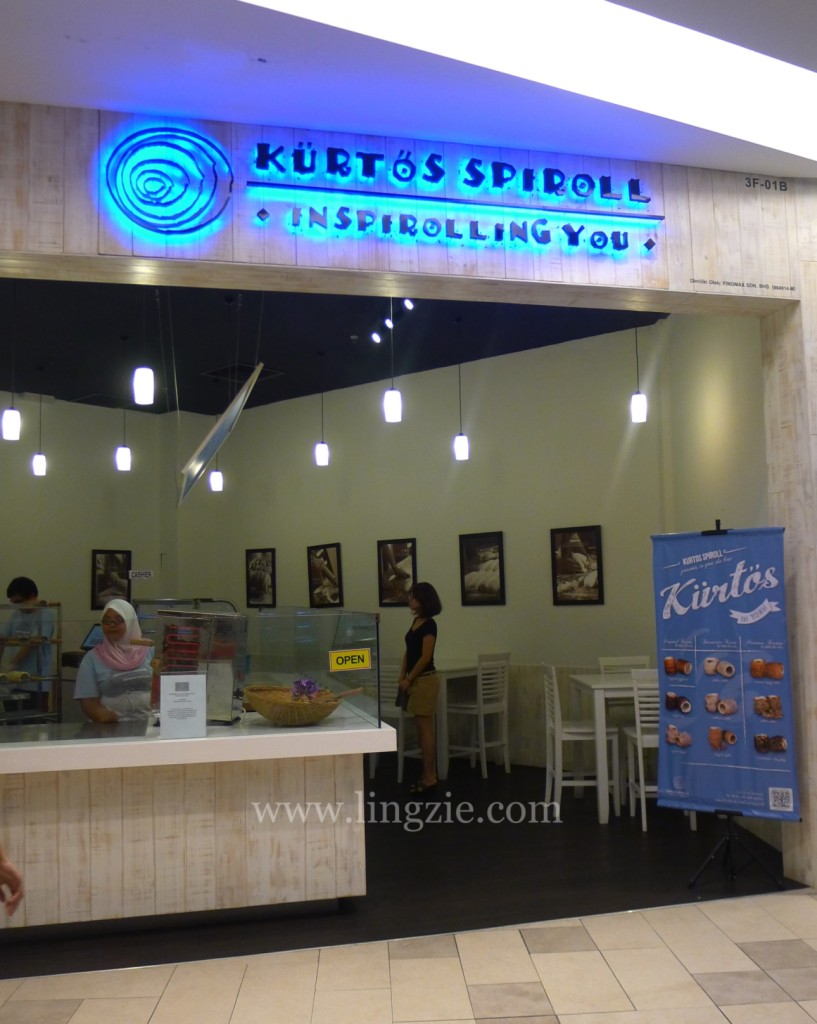 And tucked in a corner of the new Queens Street at Level 3 of Queensbay Mall (this is where the old Kamay furniture store used to be) is Kurtos Spiroll. Definitely foreign sounding. But don't let the weird name deter you. Kurtos Spiroll offers a Hungarian pastry – also known as Chimney cake. It is called a 'chimney cake' because once baked steam rises up from the cake much like a chimney.
Kurtos Spiroll is not a franchise at the moment, its started by local Malaysians who saw Kürt?skalács being made on TV and found it interesting. They then decided to do more research and finally brought in this unique pastry to Malaysia! 🙂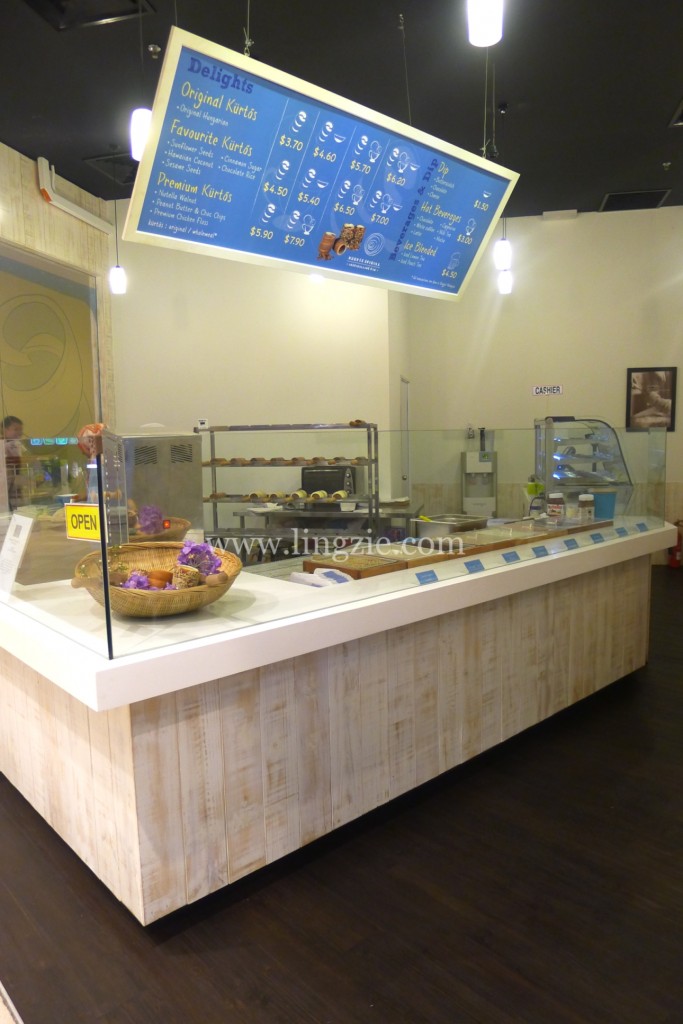 A Kurtos starts with a carefully prepared dough. And it is essentially a yeast based dough rolled onto a specially imported wooden skewer, and left for 2 more stages of fermentation before being baked in a wooden spit over an open fire (but in the case of Kurtos Spiroll, they're baked in a special oven)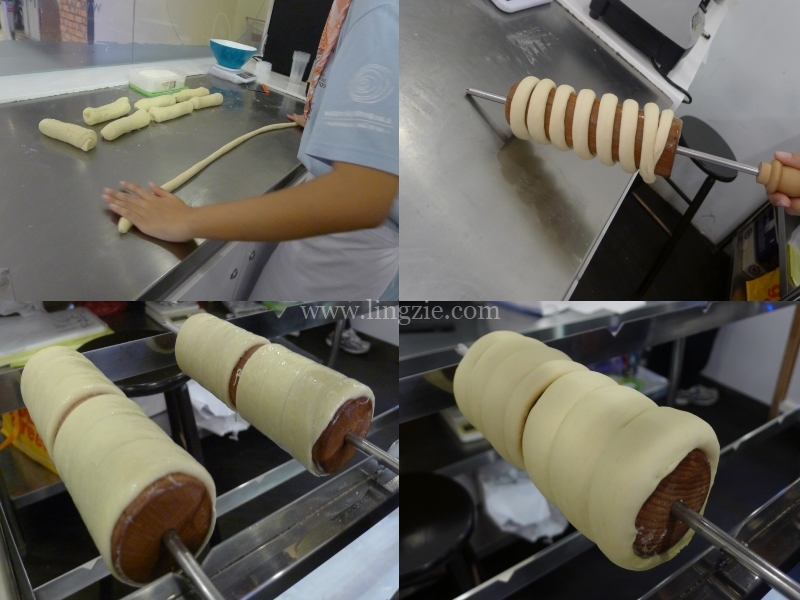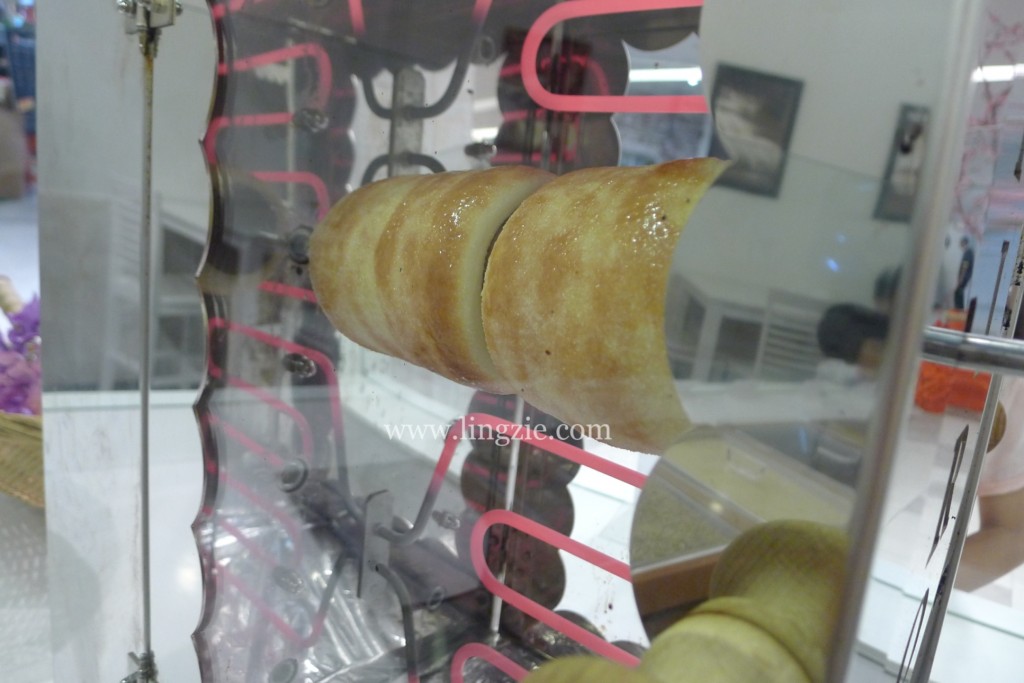 The baking is relatively quick, just a few minutes and don't let the small oven fool you, it's really really hot!
The result is a sweet, "crispy on the outside, soft in the inside" pastry. Best eaten hot for maximum yumminess.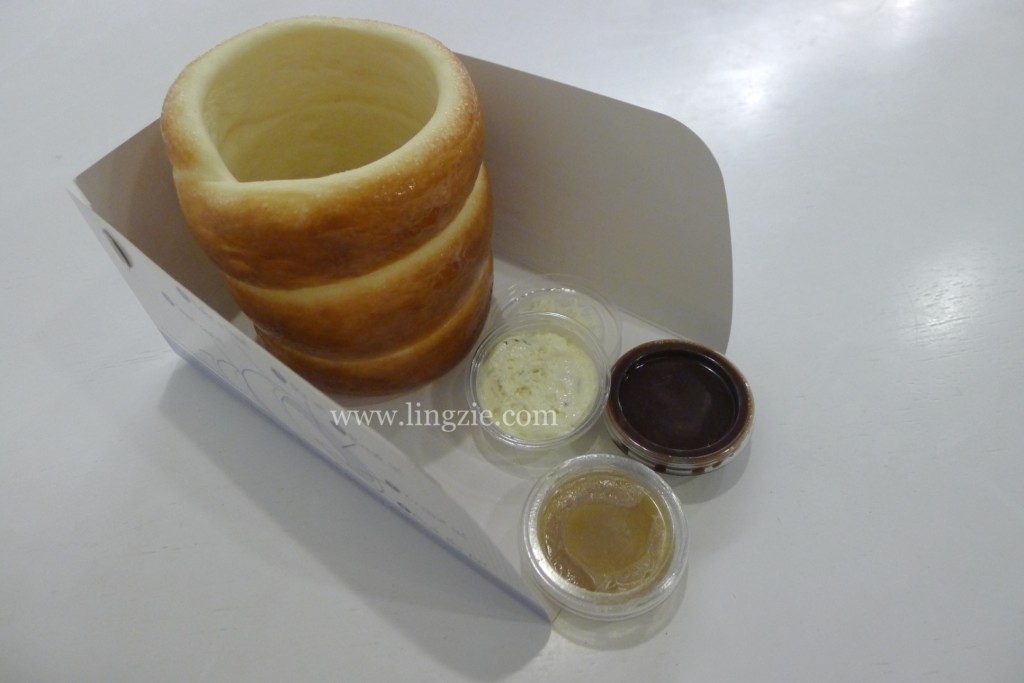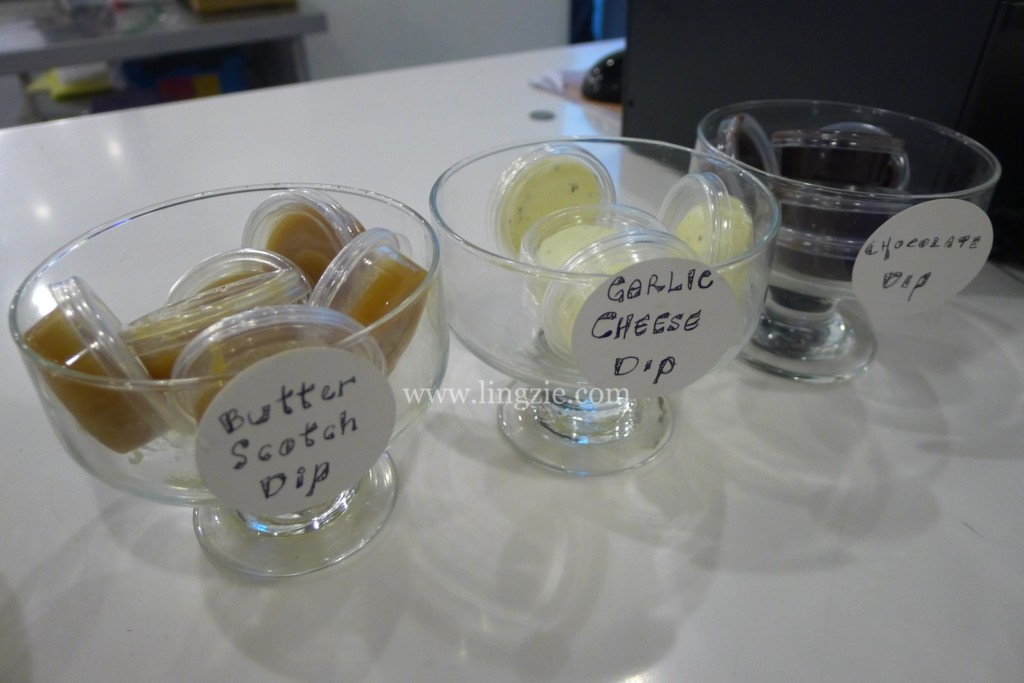 Kurtos Spiroll offers a variety of 'toppings' which are slathered on the outer rim. Or you can also opt for the 'Original Hungarian' and pair it with the 3 different home made dips – Garlic Cheese, Butterscotch or Chocolate.
Although I really enjoyed all 3 dips, the one that I liked the most was the Garlic Cheese. Mainly because it pairs really well with the slightly sweet Kurtos kalacs, giving it a salty sweet taste. The garlic taste was not too overpowering as well.
I also chose to try the premium flavour (and best seller) – Nutella Walnut (because I am a chocoholic at heart who can never quite say no to Nutella!)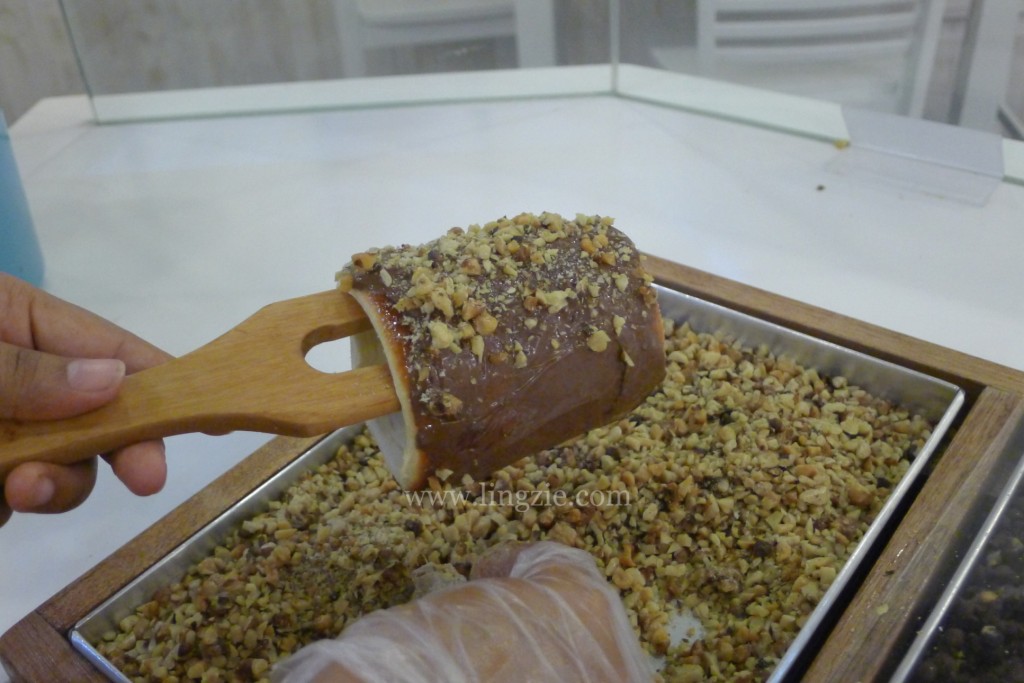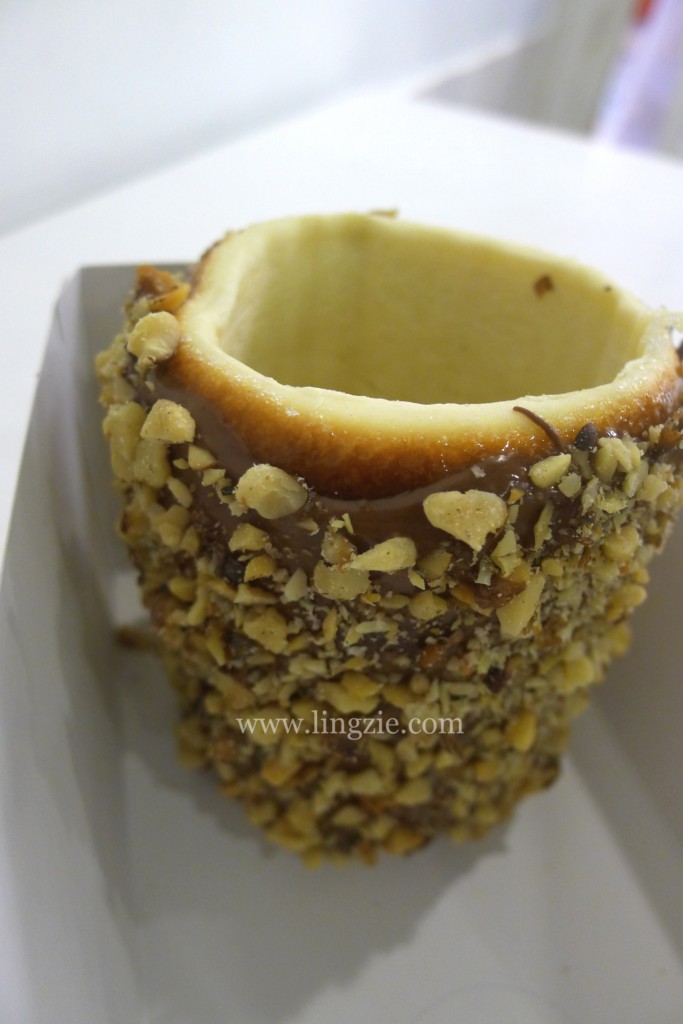 The walnuts used were fresh and of course there were no objections from me on the Nutella 😛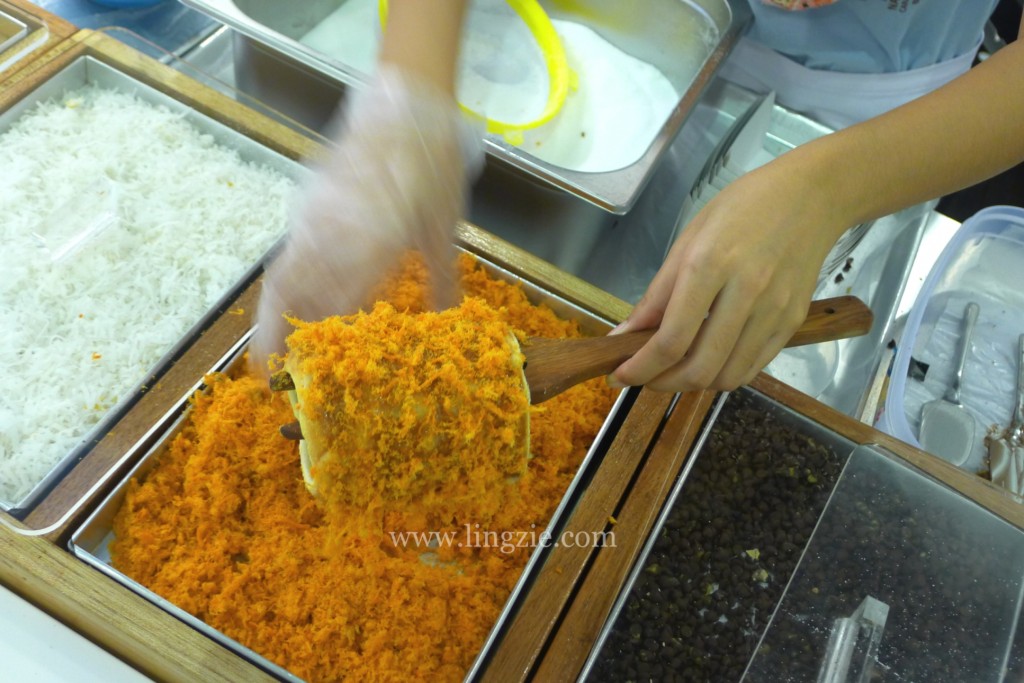 Going on the same principle of salty sweet, I also chose to try the Premium Chicken Floss. This was also a winner in my books. 🙂
There are also other 'toppings' available ranging from Coconut Flakes, Sunflower Seeds, Cinnamon, Sesame Seeds to Peanut Butter Chocolate Chips (this sounds to die for, but since I've already had THREE of them I think it would be best to save that for another day…)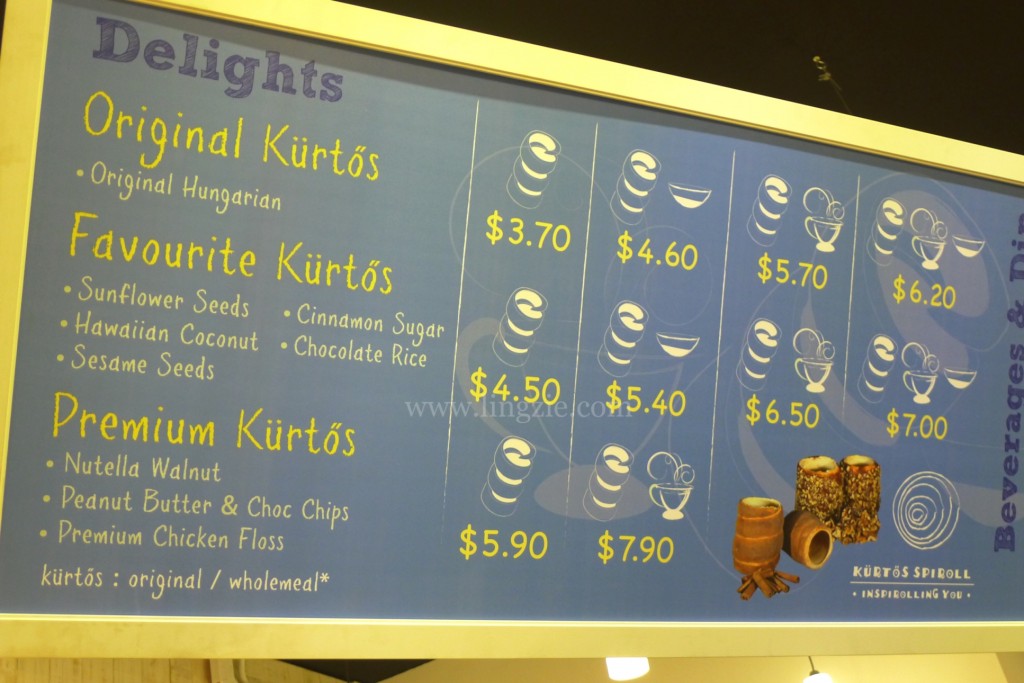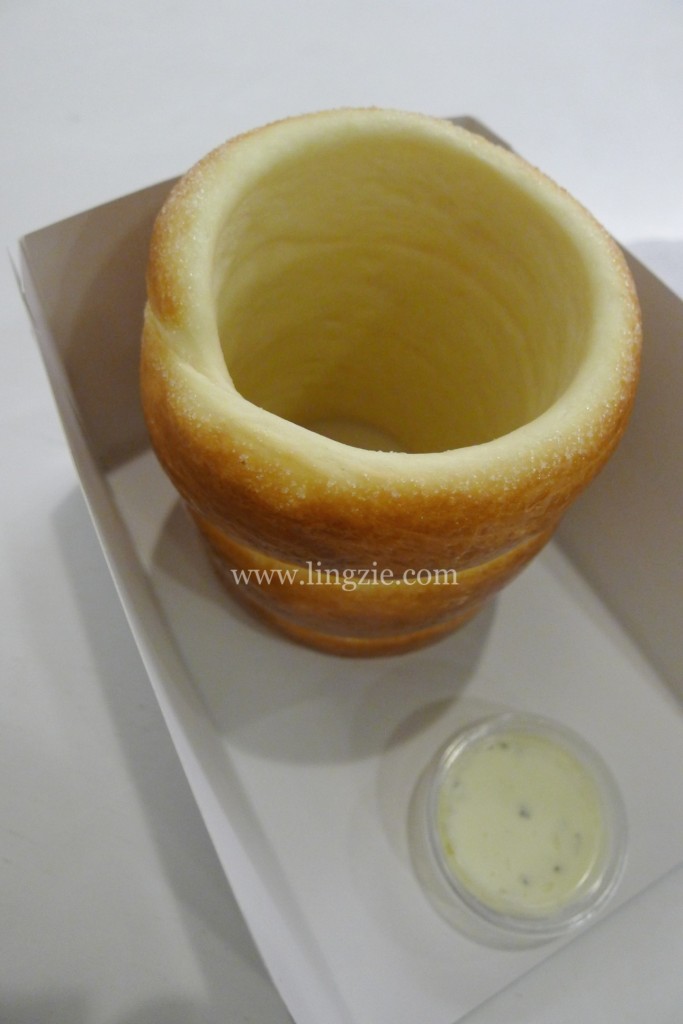 And finally here's a lil tip on how to eat a Kurtos… 🙂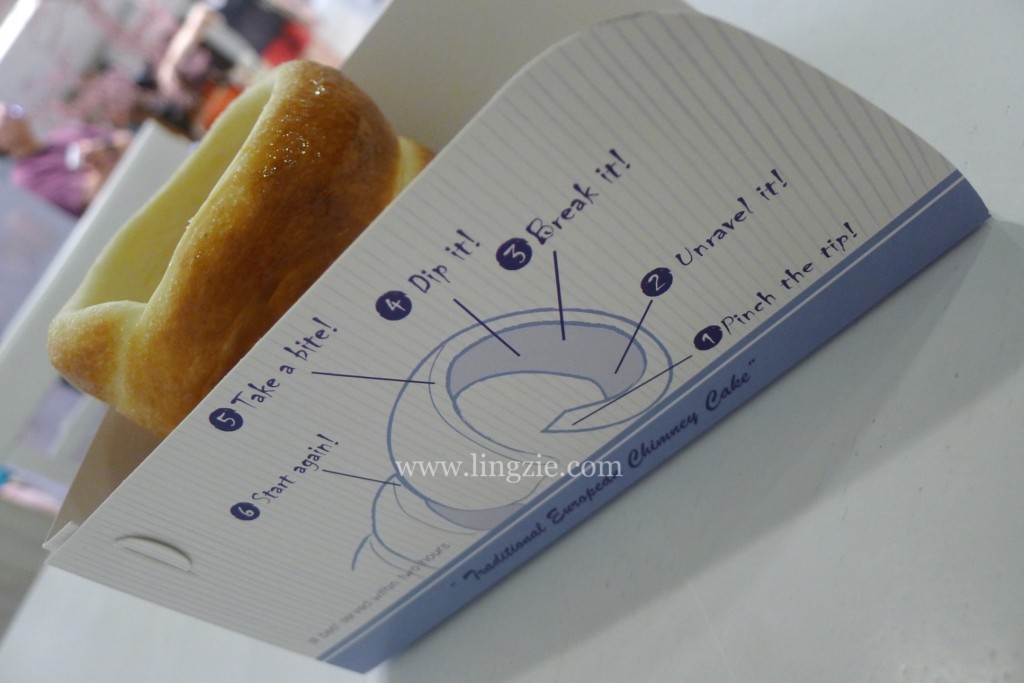 Overall I did enjoy the Kurtos kalacs. I had initially thought it would taste like a pretzel, but I find that its lighter and not as dense or chewy. Makes a good snack when you're feeling peckish. My pick would be the Original Hungarian with Garlic Cheese dip (in the end I found the Nutella Walnut a bit too sweet for my liking – horrors! can it be true that I actually picked something else over Nutella?? lol) But do give it a go and see which one suits your tastes buds better.
I would like to go back and try the Sesame Seed and the Peanut Butter choc chip (or I could perhaps persuade the very nice Kurtos Spiroll people to make me one with Peanut Butter and Nutella! Now that would be AWESOME!) hehe
Kurtos Spiroll is located at Level 3, North Zone, Queens Street, Queensbay Mall (next to Seoul Garden & Habanero)
Facebook page:- http://www.facebook.com/kurtosspiroll
April DENIM Promotion:-  Get a FREE hot beverage (Mocha, Latte, Hot Chocolate, White Coffee, Cappuccino or Milk Tea) and a FREE Homemade Dip when you come to Kurtos Spiroll with an element of DENIM and spend above RM8 in a single receipt from 19th April 2013 to 27th April 2013!
*Limited to one (1) redemption per receipt. While stocks last.
Psst… Kurtos Spiroll is also slated to open soon in the new upcoming Gurney Paragon! (mid July I'm told) 🙂
Happy Spiroll-ing!
Other reviews:-