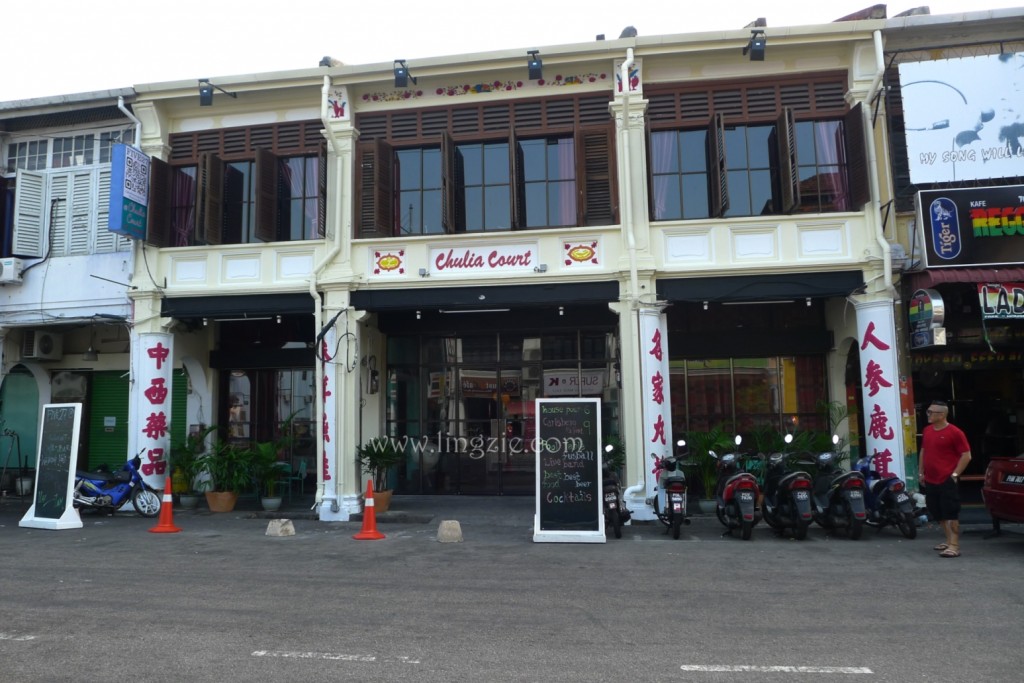 If Five27 sounds familiar to you, then you're right. Previously located at Straits Quay, Penang, Five27 have moved downtown to the heart of Georgetown along Chulia Street. The new location opened at the end of January 2014, called Five27@Chulia Court boasts a bigger space and hence a new concept – offering All Day Dining, cafe, watering hole, bar and night club.
How would all these concepts work together in one space? Five27 sections off its premise – downstairs is the cafe and formal dining area. While upstairs is the bar where there is a live band every Friday & Saturday. Upstairs there are also comfy couches for more a more private & relaxed chill out area and also an outdoor balcony with pool tables.
I was lucky enough to be invited to check out the new Five27 with its new concept. Upon entering the venue, I am immediately taken by the bright bold colours – splashes of yellow, turquoise and purple! The colours help to define each space. And as with pre-war buildings, there are the wonderful high ceilings.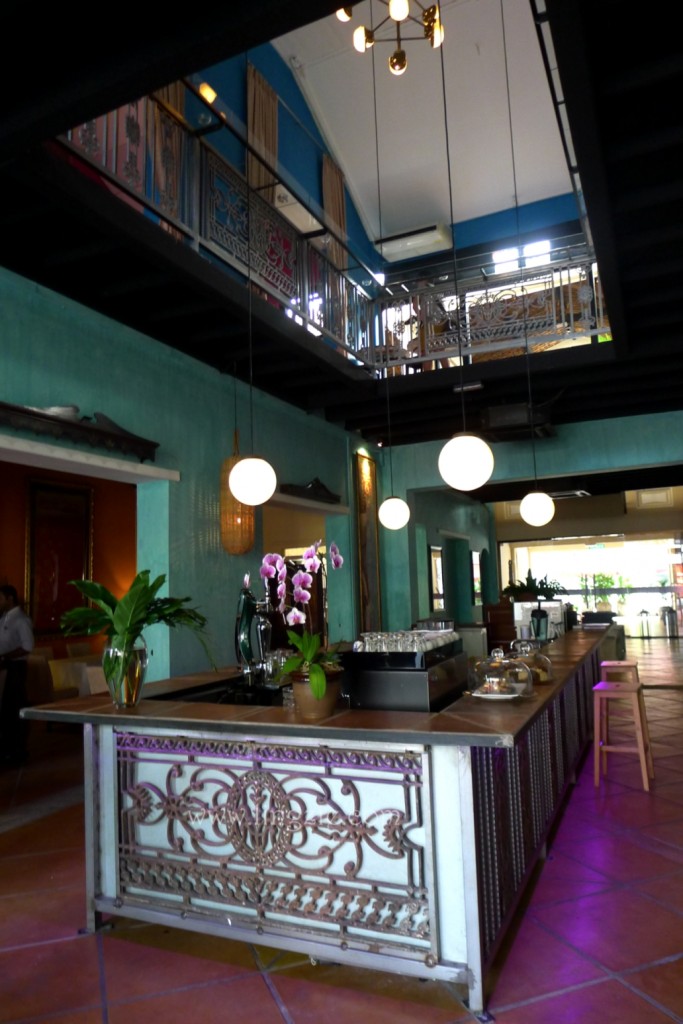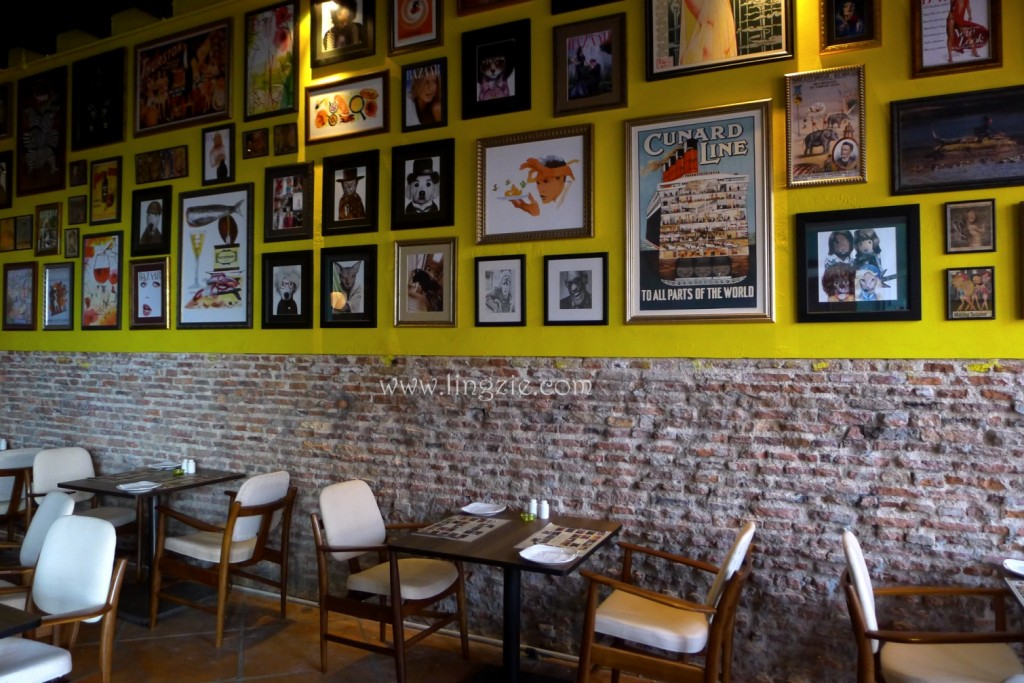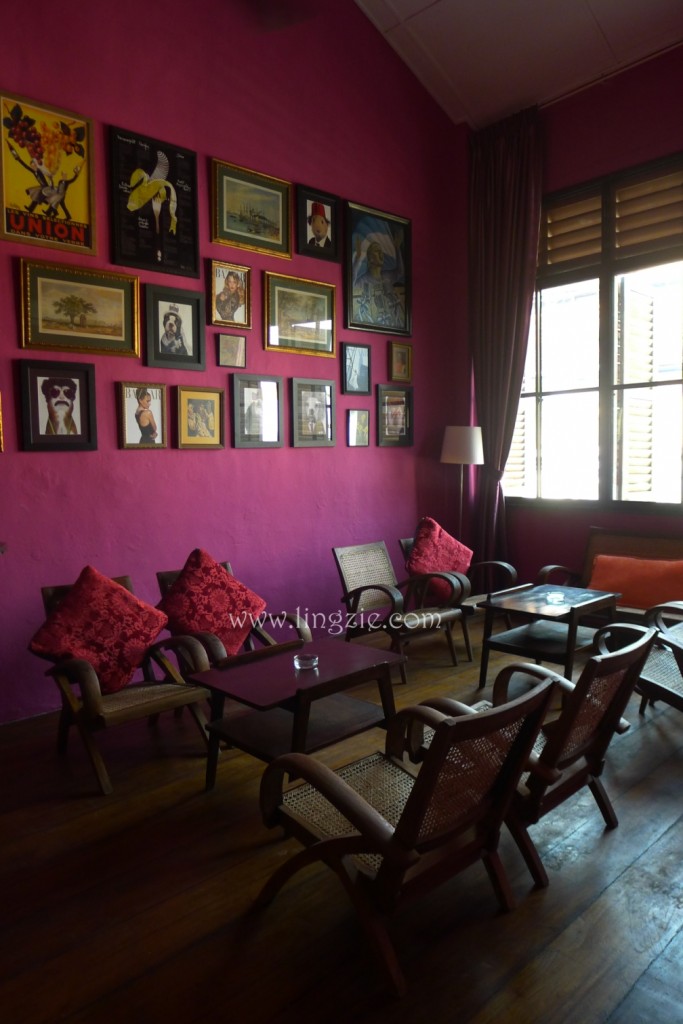 We kicked things off with some drinks – Fruit Punch for the non alcoholics and the refreshing Red Sangria (for the *ahem* alcoholics) The Red Sangria was lovely and its available by the glass (RM18), half litre (RM45) or full litre (RM75) It's also worth noting that all prices are NETT.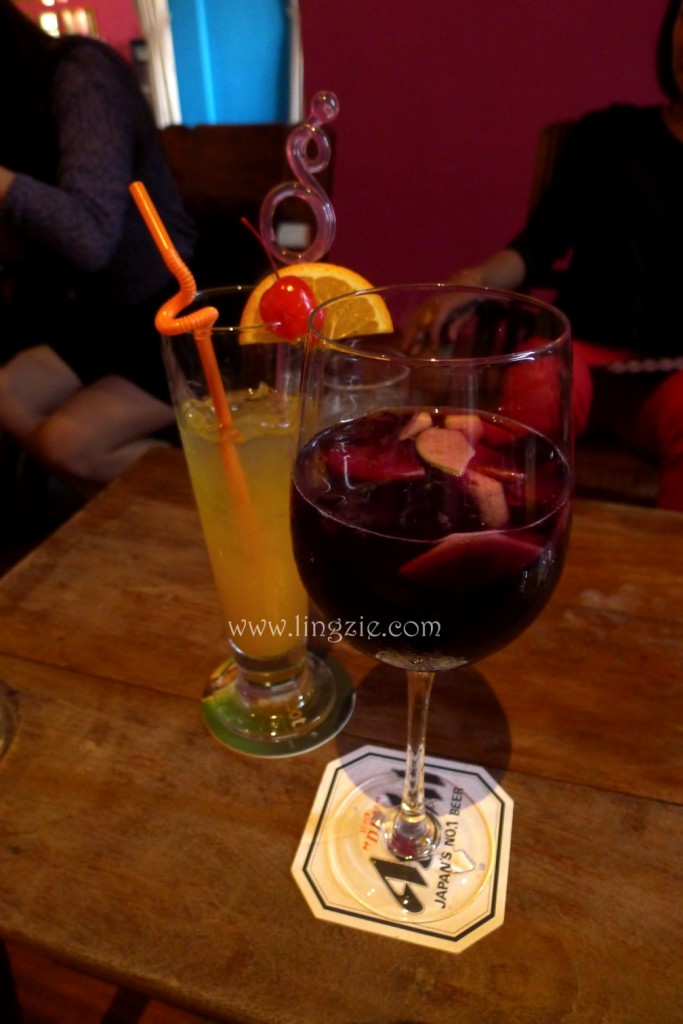 We also got a chance to try various appetizers, one of the best being the Japanese Tuna Tataki Salad (RM26). The chunks of tuna were lighted seared on the outside and coated with black & white sesame seeds, served with a peppery ponzu dressing. While some might find the ponzu dressing to be very peppery but I loved it! Definitely one of my favourite dishes of the evening!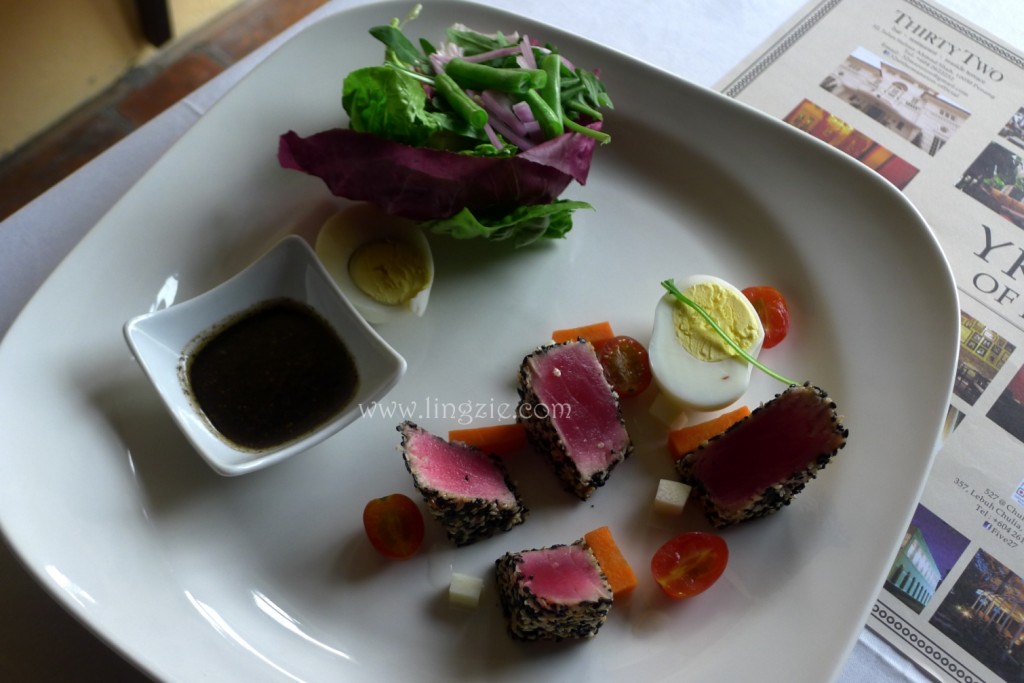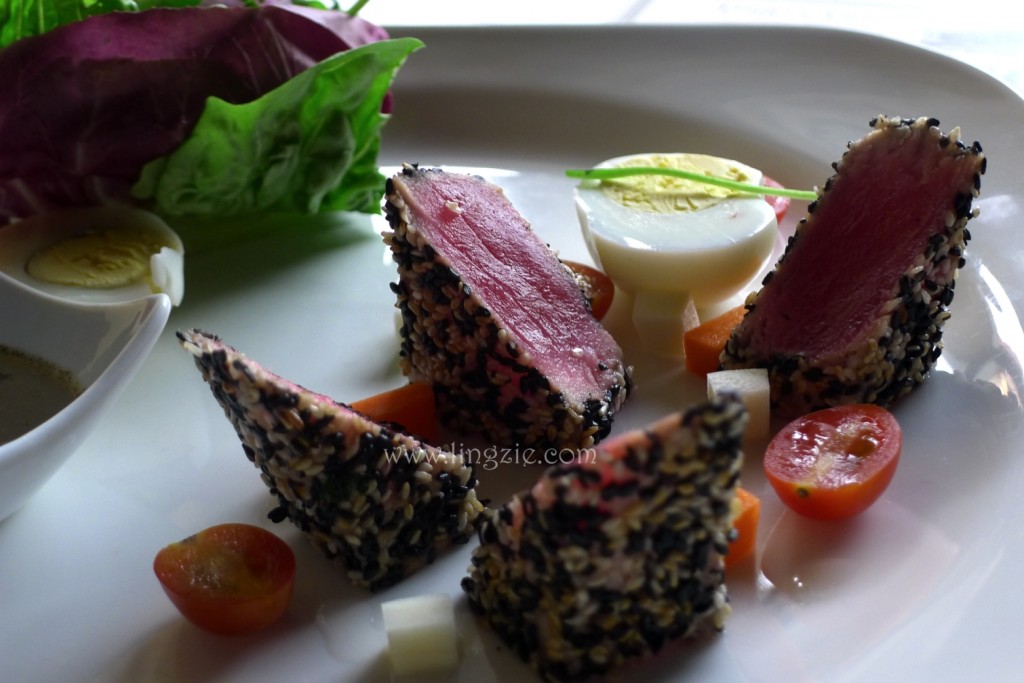 Next up were the soups. We got to try the Indonesian Oxtail Soup (RM25). I was surprised to see the soup served with rice. While the oxtail was tender, I found the soup to be rather mild and light. Perhaps I'm more used to a thicker more robust oxtail soup. The soup is also served with pickled vegetables and a very very spicy sauce on the side (so be warned!)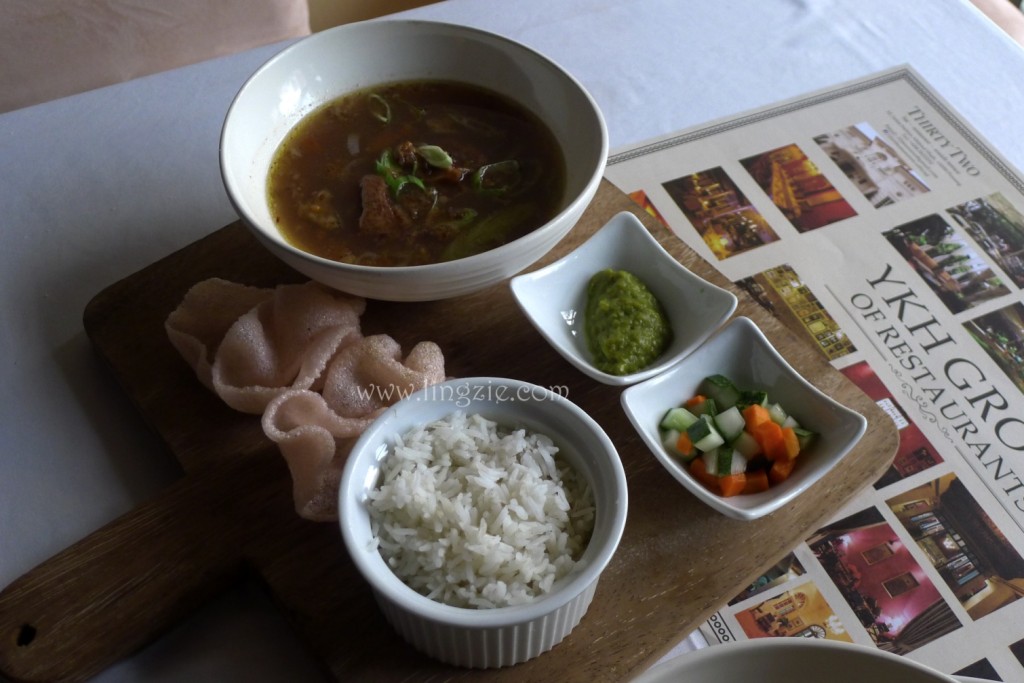 Next up was the Mushroom Soup (RM12) to cater to the masses. The soup was actually pretty decent and a generous portion, but I didn't really care for the garlic toast served on the side. Perhaps I was hoping for better quality toast or maybe a slice of baguette even?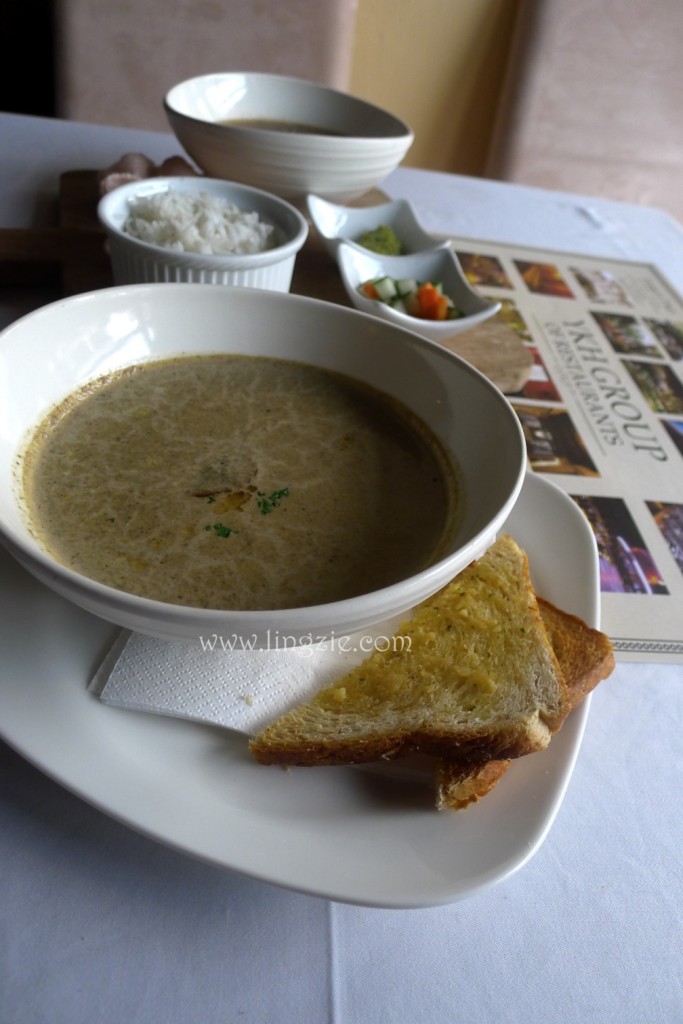 For snackers, the Loaded Nachos (RM24) would be a good choice. Served with guacamole, sour cream and chilli.  The nachos are homemade corn tortilla chips. They were cheesy and crispy, paired well with the guacamole and sour cream.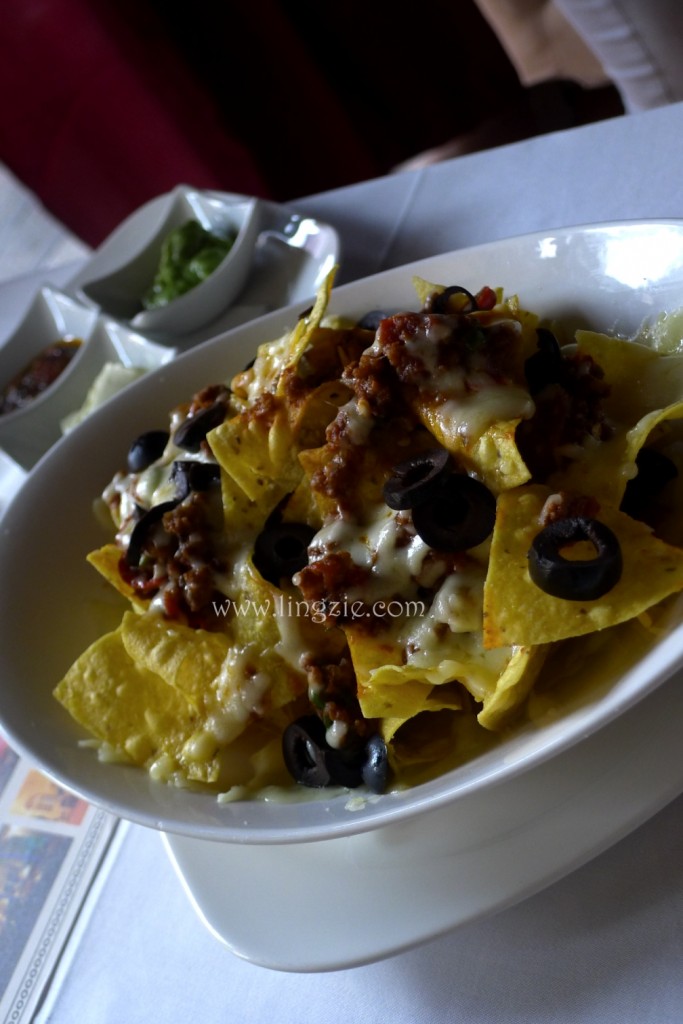 Next we got to try various main dishes. Starting with the crowd pleaser Spaghetti Aglio Olio (RM25). The spaghetti was pretty good – al dente pasta with fresh seafood. However, I thought that the lemon flavour was a bit overpowering for my taste.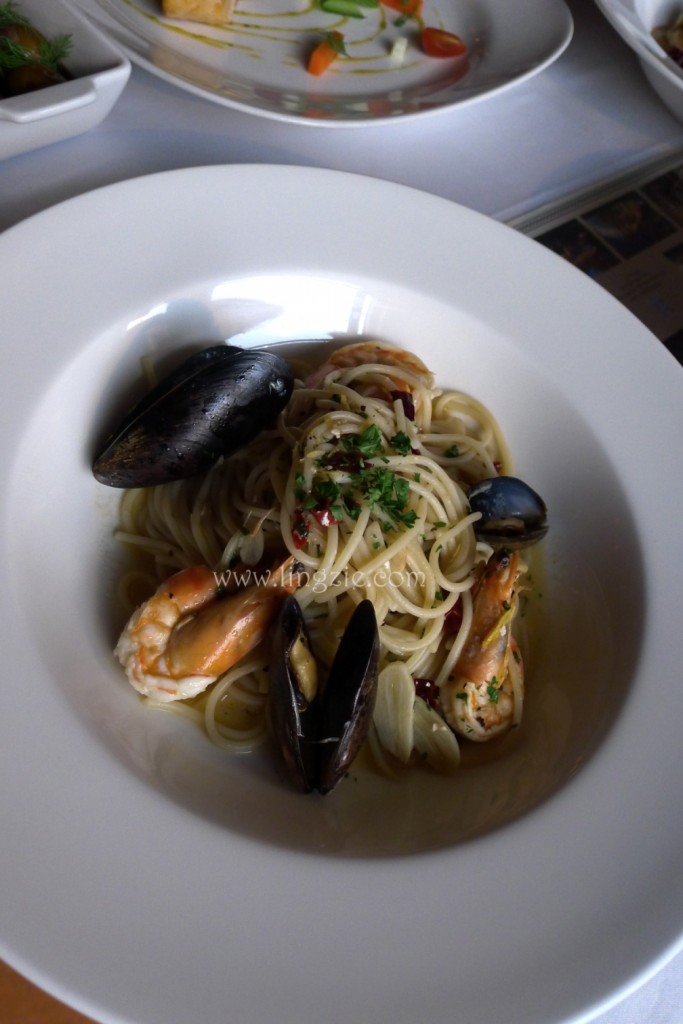 The next dish the Pan Seared Salmon (RM33) was pleasant. Served with a side of baby potatoes, I found that the salmon was coked just right with a crisp skin. This mild tasting dish would be good for people who prefer something light.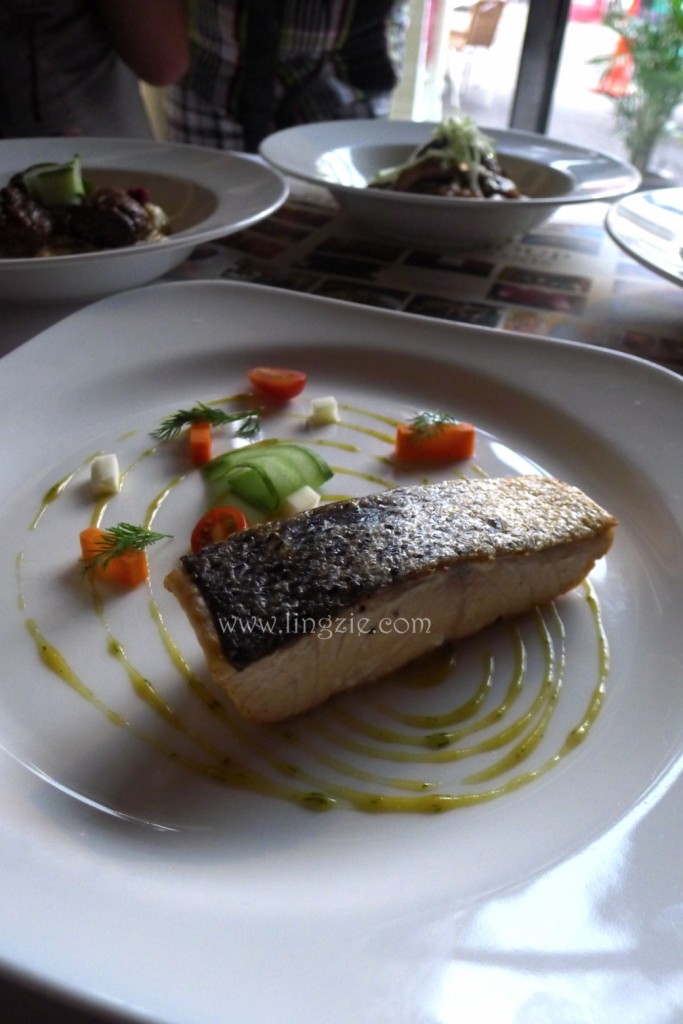 Next up was the Slow Cooked Lamb (RM48) served with creamy mash potatoes. artichokes and apple salad. The lamb was tender due to the slow cook process. The apple salad was a refreshing and welcome addition to the dish.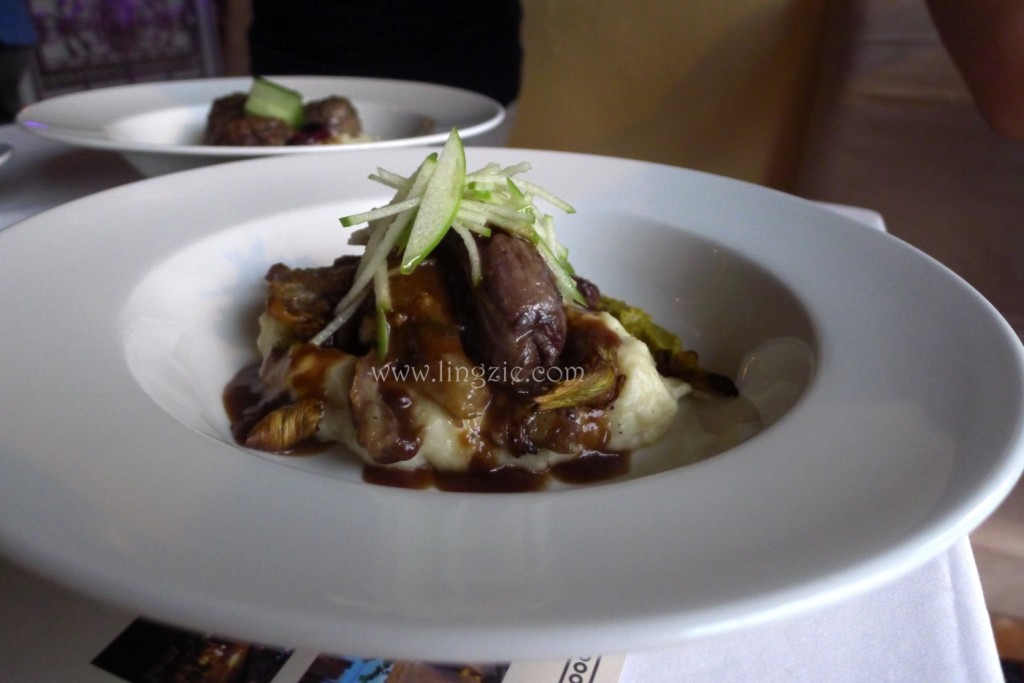 The Beef Meatballs (RM39) was my favourite main dish of the night. Juicy and flavourful, the meatballs came with brown sauce and cranberry jam with a generous portion of creamy mash potatoes. Definitely a dish worth trying.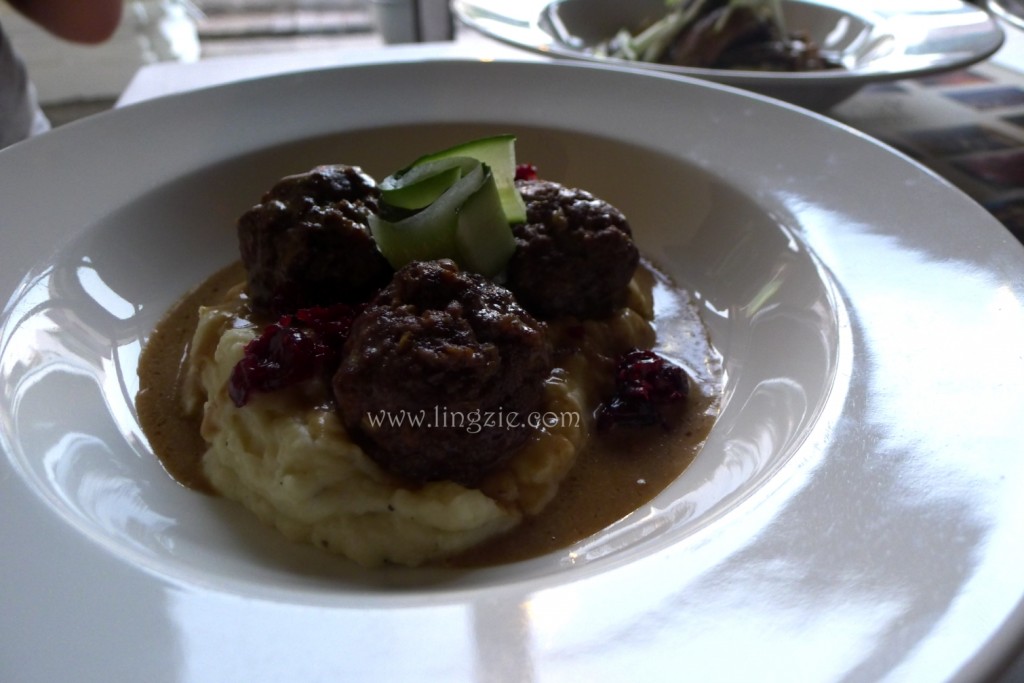 Next came my favourite part of the meal – dessert! And Five27 very generously let us try 4 different types too! 🙂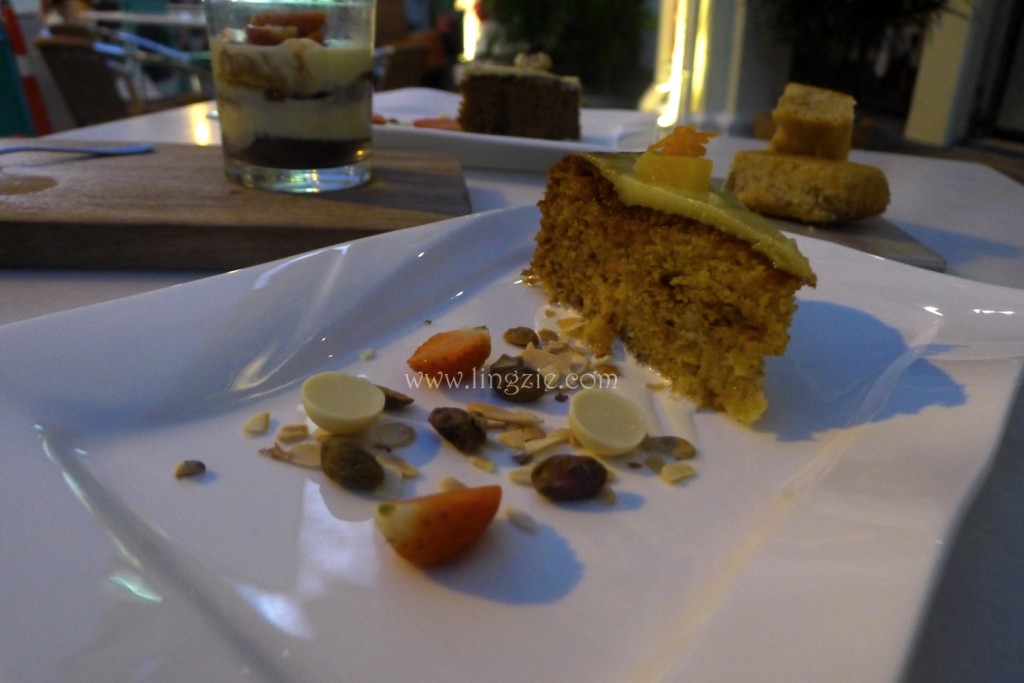 The Carrot Pineapple cake was pretty good – nice and moist due to the addition of the pineapple. I would prefer a bit more cream cheese frosting though. but otherwise the cake was decent. I also liked the nuts, white chocolate buttons and strawberry garnishes on the side.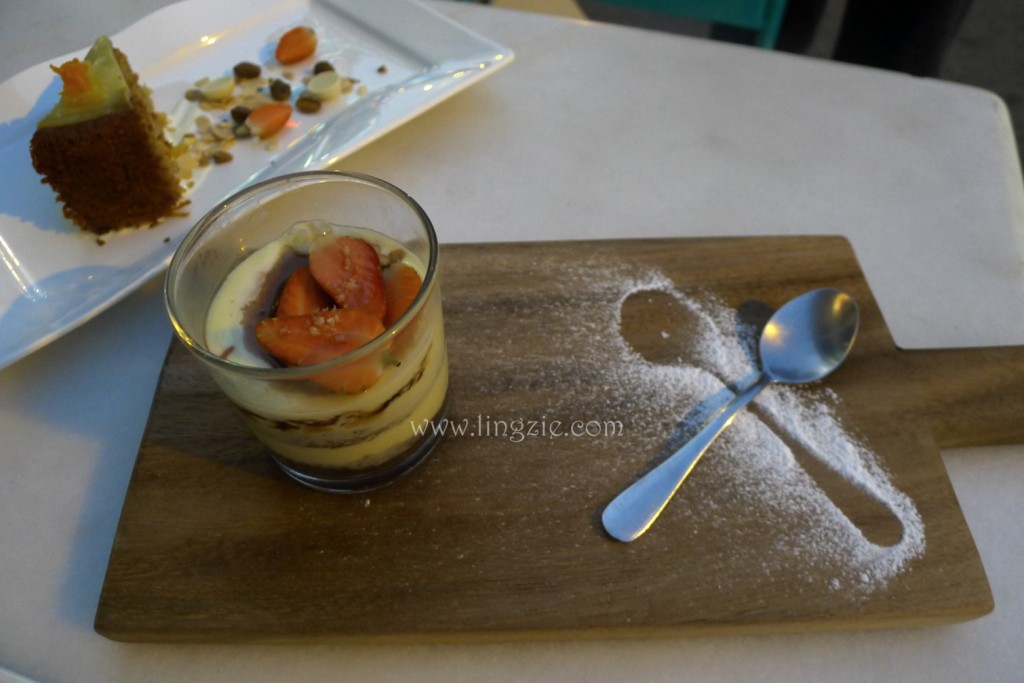 The Chocolate bomb (RM15) came looking very impressive. A combination of 3 types of chocolate – white chocolate, milk chocolate and truffle. Served with strawberries dipped in balsamic vinegar giving the dessert a slightly sourish taste.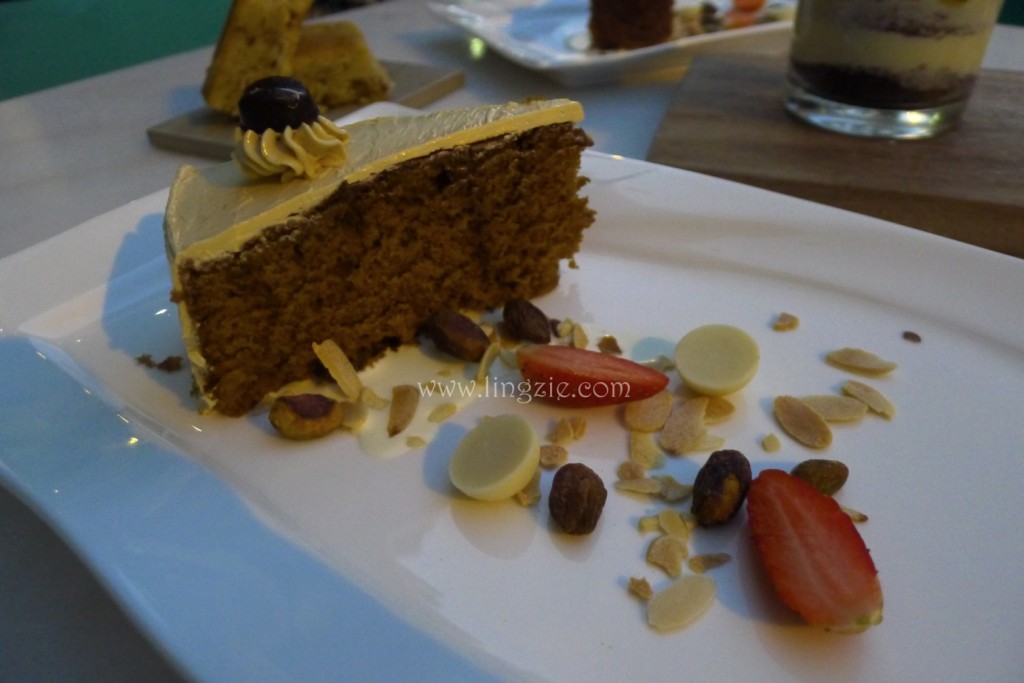 Out of all 4 desserts, my favourite would be the Coffee Gula Melaka cake. The cake was moist and I loved the gula melaka taste. It might be a bit heavy as a dessert after a meal, but do give this cake a go especially if you're feeling peckish in the afternoon (after all they do offer all day dining! hehe)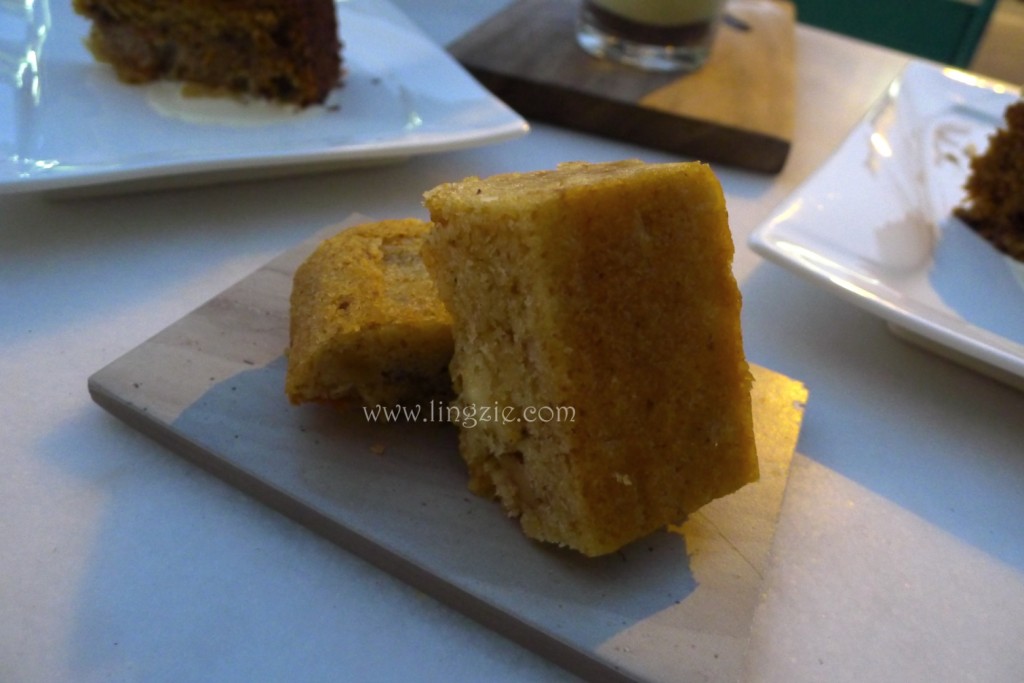 Final dessert of the night was the Chocolate Blondie (RM15). This was a decadent white chocolate dessert, made even better with the addition of nuts. It was dense, moist and had a lovely butterscotch-like flavour. While it may be too sweet for some, I found the flavours to be comforting and pleasing. Perhaps as an indulgence? Defintely a good dessert to go with a cup of coffee.
Overall I found the food to be pretty good and would like to come back for more, not just for dining alone, but also to check out their live band (and to try more of that Red Sangria…!:P)
The Essentials:-
Address: 357, Lebuh Chulia, 10200, Georgetown, Penang.
Business Hours: 11am to 1am for Weekdays (last call for Kitchen is 12.20am). 11am to 2am for Weekends.
Bar opens from 5pm to 1am (weekdays) until 2am on weekends
Happy Hours at 5pm to 10pm. Opens daily.
Contact Number: 604- 261 3809
Parking: There is ample parking space behind Five27 (entrance of the parking is at Carnarvon Street). Parking fee  is RM3/entry (redeemable for spending of RM30 and above)